So what was in the box that arrived from Dreamlove in Spain? I was sent a lovely Christmas card and a sealed gift bag, and that was lovely.
The gift bag contained a set of instructions, and the Shushu from Ritual together with a magnetic USB charging cable. This one is the raspberry coloured Shushu, but there are three colours to choose from black, raspberry and teal.

It was a delight to receive the Ritual Shushu in this package from Dreamlove
Design and materials
On first look, the Shushu Clitoral Stimulator from Ritual is a cute little thing. It reminds me a little of a small hedgehog (without the sharp spines phew). It has two ears and eyes, and a large open mouth, most of it is covered in a silky smooth, medical silicone, which is body-safe, pthtalate and BPA free.
The back has a hard ABS plastic grooved area, which is excellent for grip and adds to the luxury look of this sex toy. Just under his mouth is the single control button, then a little lower are the two magnetic charging points.
The shape and size is designed to fit into the palm of your hand comfortably. The chunky width makes it very comfortable to hold for extended periods. It also has a nice weight to it.
The mouth is an oval shape and is surrounded by a soft silicone ridge to fit snuggly against the clit and create a good seal.
Making sure it has a full charge before use is made easy as the button flashes when charging, then changes to a constant light when fully charged. Always give rechargeable sex toys a full charge before using them for the first time as this will increase the battery life. Plus it also means it won't run out of power when you need it the most.

The Shushu from Dreamlove just looks so cute with its little face and open mouth
The button is easy to find and also lights up every time it is pressed, as well as when the toy is switched on. You hold it in to switch the Shushu on and off again, a single press changes patterns and a double click swaps between vibration and suction modes.
The fact it is waterproof makes it very easy to clean, switch it on and hold in warm soapy water to clean out the mouth and the rest of this little guy. It also means it is so much fun in the bath. The suction effect is even more pronounced if used in the bath where it feels incredible.
The USB charger cable is a good length, and will only connect a set way around. This means that you cannot get the terminals the wrong way round. Like most magnetic charging cables, you need to check it is still connected when you place the toy down to charge.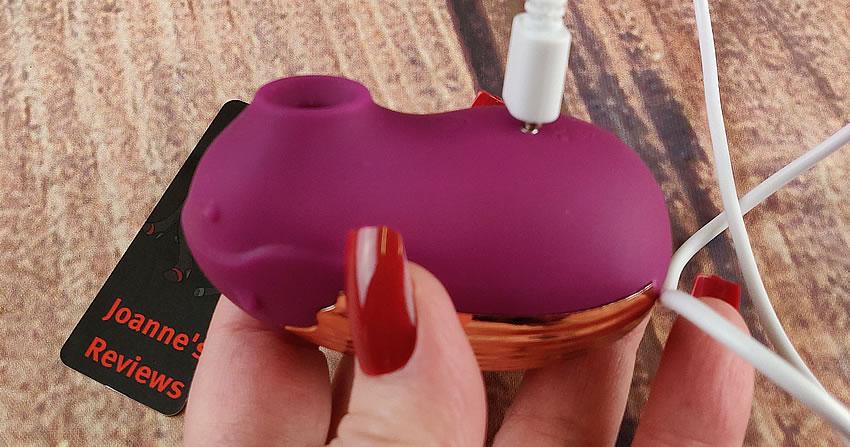 The Shushu is easy to charge with its magnetic charging cable
The Ritual Shushu is marketed around the concept of Chakras. There are the concentrated energy centres of the body. As the advertising message states, this toy is designed to harness this energy and channel it towards sexual wellness. The logo on its head signifies this.
"According to the bases of the kundalini, energy is something that must flow freely and without hindrance through our body. Energy blockages are common in our daily lives. On the sexual level of women, this translates into difficulties in reaching orgasm."

Dreamlove
I have to admit that the Shushu definitely performed as expected to leave me with no "difficulties in reaching orgasm".
Performance
As with all silicone sex toys it is best to use a water-based lube. While not essential, I find a little lube helps to seal around the mouth of the toy when using it in suction mode.
This cute little guy may be a little misleading due to its size, don't be fooled into thinking it lacks power though. It has a powerful motor which you may not be expecting. It's a delightful surprise, one which my clit entirely agrees with LOL.

The Shushu looks amazing and the large ABS panel on its back makes it easy to hold
The powerful motor is reasonably quiet too, that is as long as the mouth is completely sealed over your clitoris. This is an advantage if you have others in the house with you when you want to play.
The Shushu's small size and quiet motor also means that you can travel with it if you want some fun when away from home. Indeed, its small size makes it ideal for travelling with or simply for slipping into your handbag just in case you need it on a night out.
In use, it delivers delightful waves of pleasure through your clitoris in suction mode. A moving diaphragm makes the air pulsate feeling like a sensual tapping directly on your clitoris that feels amazing. When in vibration mode it delivers intense sensations all around the clitoris, and these sensations penetrate deeply, and this feels really intense.
The only problem I found when using it was the location of the button. As it is so close to the mouth, I found it very difficult to access while using it. I found that I needed to remove the Shushu from my clit to gain access to the button, the lube that inadvertently ended up around the mouth also made this harder.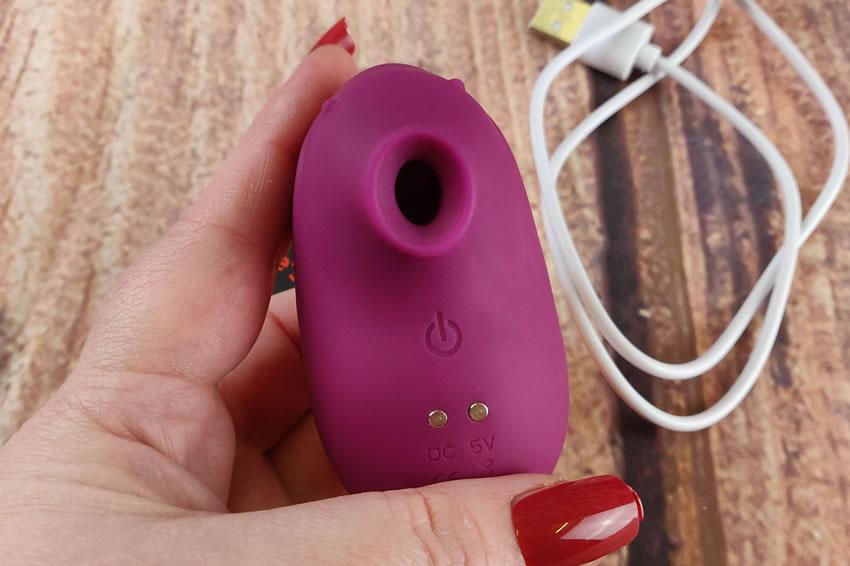 The Shushu only has one drawback and that is the proximity of the power button to the mouth
The Shushu has seven suction and seven vibration modes. The suction modes include not only several speeds, but also a few patterns to choose from, and the same goes for the vibrations. However, Ritual has made changing through the settings a little different from other similar sex toys. You double click the button to alternate between suction and vibration modes. Although this seemed strange to begin with, I soon found that I liked it as it meant that I did not switch modes by mistake.
It's a shame that you can't use suction and vibration at the same time, you can choose to either have suction or vibration but not both. Having said that I just played around to find the perfect settings for me, I enjoyed playing with the vibrations to start with, then would switch to the suction for a while, before switching again. I found by changing back and forth I could fully enjoy the Shushu and prolong the fun I was experiencing.

The Shushu just looks so cute with his open mouth
The powerful motor gives either gentle suction or much more powerful sensations depending on your preference and the settings you have selected. This flexibility allows you to edge yourself for prolonged periods or to get off quickly.
The vibrations travel through the entire toy, so can be felt not just around the mouth, but over the rest of the toy as well. The motor provides lovely rumbly vibrations that I do love and enjoy.
I also enjoy using this type of toy on my nipples, the suction feels fantastic. It feels almost like I have someone sucking on my nipples. I love to enjoy feeling the vibrations around my stiff nipples, even using the ridged back against my breasts.
With the powerful motor, the battery lasts for a surprising amount of time before recharging is needed. The compact size this is a toy as well as its cute looks mean that it could be a firm contender on my favourite list.
I have really enjoyed getting to know it and also enjoyed using on my submissive, the lovely sub'r'. She also had no problem reaching orgasm with it. In fact, she has run off with it as I type this and I know what she will be doing with it.
[mx_youtuber type="video" id="s2eUIvtECyw"]
The Ritual Shushu is a cracking little clitoral suction vibrator from @DreamloveInt, see what Joanne thought of it.
Click to Tweet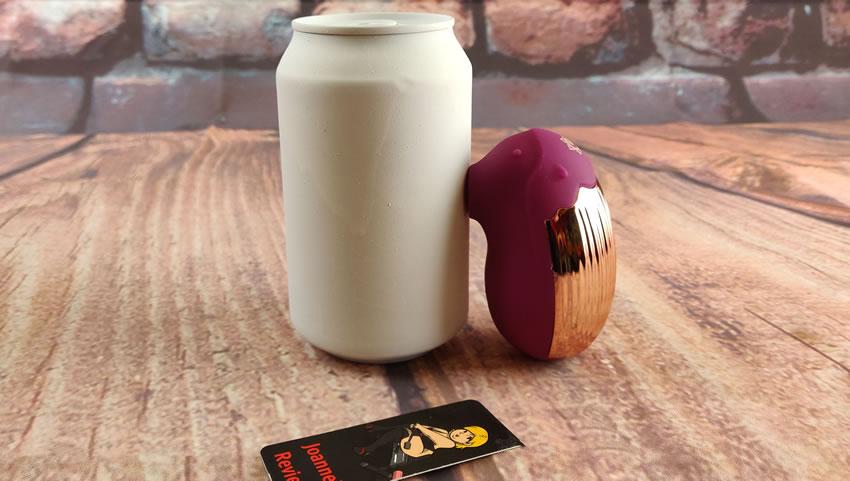 The Shushu is tiny and that makes it a very good travelling companion
Key Features
Key features:
Made from body safe Silicone and ABS
Seven vibration and suction settings
Simple one button control
Rechargeable
Waterproof
Magnetic charging cable included
Small and lightweight form
I would recommend it to:
Anyone who enjoys intense clitoral stimulation
Anyone who is looking for a travel sex toy
Anyone looking for a sex toy made from body-safe materials
Anyone who struggles holding large heavy sex toys
I wouldn't recommend it to:
Anyone looking for a penetrative sex toy
Anyone who doesn't like direct clitoral stimulation
Final Thoughts
I am grateful to Dreamlove for sending me the Ritual Shushu for review. It is a lovely little clitoral suction vibrator that delivers intense sensations while having a cute and tiny form.
The rechargeable battery is more than adequate to allow you to enjoy long play sessions. Still, with its performance, you probably won't last long. The clitoral suction sensations are sublime, I love the way is taps and sucks on my clitoris. In vibration mode, it also feels great and is even fun to use on hard nipples.
I can highly recommend it to anyone looking for a clitoral suction vibrator with a small form, it is ideal for use as a travelling sex toy. Pop it into your bag, and it is ready whenever you feel the need to get off quickly.
I love the Shushu, and so does sub'r, which reminds me I must get it back off her as I am keeping it.
I was sent the Ritual Shushu by Dreamlove and I would like to thank them for giving me the opportunity to review it for them.
Joanne's rating
Where Can I Get One From?
Grab one of these cracking little vibrators from Andorsex.com for just €50.16 (approx £42.59).
Check them out and don't forget to tell them that Joanne says "Hi".
Disclosure
This review does not contain affiliate links, for more information about affiliate links check out my disclosure page.