Delivery and packaging
Every time Rocks off sends me something to review I can guarantee that it will arrive under plain packaging. They take customer discretion very seriously, and I am happy to recommend them for this fact.
Packaging is a big concern when shopping online, but rest assured if you buy anything from Rocks Off it will arrive without the postman knowing how kinky you really are.

I love the packaging of the Zeppelina, the steampunk design really clicks with me
Now, on to the product packaging of the Zeppelina and it looks gorgeous. The dark steampunk branding looks fantastic and really shows off the Zeppelina well. The back of the box has lots of product information on it in multiple languages although the text is a little small in some areas.
Rocks Off have done a great job with the product packaging, and it's made from sturdy cardboard which will last. So, if you are like sub'r' and always store your sex toys in their original boxes, you will be as happy with it as she was.
Inside the packaging, you will find the Zeppelina, a set of basic instructions and its charging cable.

The rear of the packaging of the Zeppelina carries lots of useful information
Charging
The first thing that you should always do with a new rechargeable sex toy is to give it a full charge, and that is what we did.
You just insert the plug on the end of the charging cable into the hole at the end of Zeppelina's handle. The charging cable is rather short though, so you will need to think where you charge the Zeppelina.
When charging, a light in the base will flash red and then light up steady green when the Zeppelina is fully charged. You should not use the Zeppelina while it is charging.
Rocks Off state that a two-hour charge will give you up to four hours of play time. My reality was a little different though, and after a full charge I only got an hour and a half out of the Zeppelina before it needed charging again.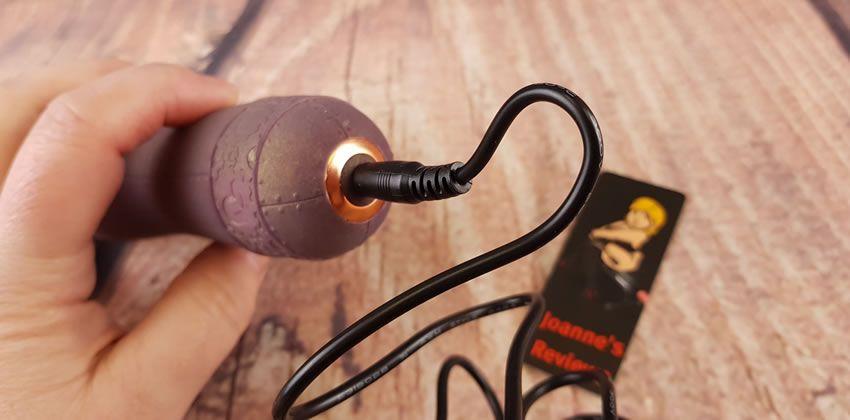 The charging port is easy to find in the base of the Zeppelina
I wasn't using it on the highest settings, but because of that, I recommend giving it a full charge before each play session as you wouldn't want it cutting out on you. That said an hour and a half with the Zeppelina takes some doing and I enjoyed many orgasms with it during this period.
Materials and design
The Zeppelina looks like its namesake the Zeppelin but with a heavy steampunk influence. The boilerplate with rivet look really becomes this vibrator, and the colour of it is simply sublime.
I have no idea how Rocks Off have managed to create a metallic looking body-safe silicone, but they have, and it looks amazeballs.

The silicone coating on the Zeppelina has an almost purply bronze colouration that looks stunning
The Silicone material is hypoallergenic, non-porous and of course latex and phthalate free making it the perfect sex toy material.
Cleaning after use is simplicity in itself, just rinse in warm soapy water and pay attention to the surface detailing as it can be a vag-goo trap.
The Zeppelina measures in at 7"/18cm long of which you can insert 6"/15cm, the widest part of the Zeppelina has 5"/12.9cm of girth which is a diameter of 1.5"/4.5cm.
The Zeppelina has an ABS core covered in Silicone, and this makes it pretty rigid, the silicone is a little draggy which is just how I like it. Once you add some water-based lube like Sliquid H20 or Secret Play Natural things get very slippery.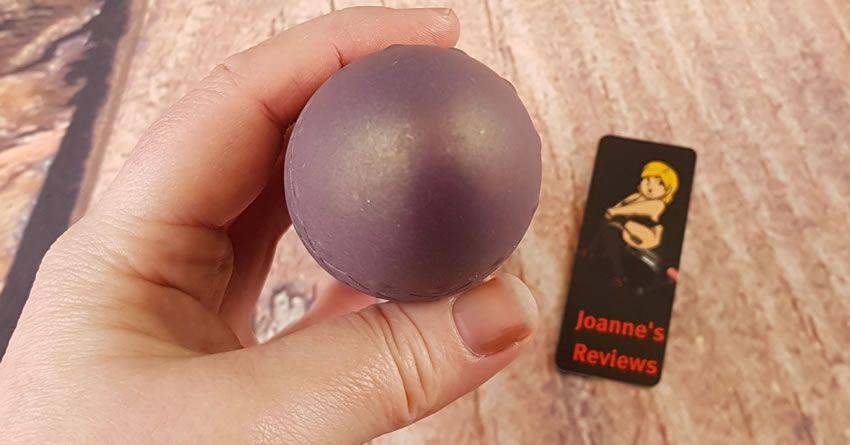 The Zeppelina has a smooth tapered tip that makes insertion an easy process
Only use just enough lube as if you get it on your fingers then controlling the Zeppelina can get tricky if you like to thrust with it.
I was surprised at how light the Zeppelina is weighing in at only 165g. This makes it ideal for anyone with arthritis or problems gripping and holding heavy sex toys.
It is totally waterproof which means bathtime can get very personal and sub'r' enjoys using it for long slow masturbation sessions in the bath. The combination of warm water and intense stimulations always gets her off this way.
To turn the Zeppelina on you need to locate the power button and this can be tricky if you have poor eyesight. Around the base, there are a series of gear cogs, and one of them has the Rocks Off logo in it. This is the power and selector switch, just hold it in for three seconds to turn the Zeppelina on and off. Once running you can press it quickly to cycle through the ten settings.

The Zeppelina has a power button that can be tricky to find
Performance
The 10 vibration modes on the Zeppelina are fantastic, if you want to enjoy a long slow leisurely wank with your Zeppelina stick with the first setting, for a faster trip to Orgamsville use the last few settings as they are very intense.
The Zeppelina delivers deep rumbly vibrations that are most enjoyable especially when thrusting with it past your g-spot where the girth of the toy will ensure good contact. The surface texture also makes this a fantastic thrusting sex toy too.
I was delighted when sub'r' commented on just how good the vibration settings are to play with, she uses a lot of vibrators, so that is praise indeed. She loves the last three settings and takes great delight in thrusting to some fantastic orgasms with the Zeppelina.
She likened the first setting to being on the receiving end of some delightful oral sex, and I know what she means there. I love using this first setting to warm myself up before some more aggressive masturbation play. Call me a lazy wanker LOL.

The Zeppelina has a stunning profile and some nice textures for added stimulation
We were both delighted by just how quiet the Zeppelina is in use, even on the highest settings. It's what I would describe as a discreet vibrator making it ideal for anyone in a busy household or shared accommodation. I was genuinely taken by how quiet it is given the exceptional vibrations that it delivers.
The girth of the Zeppelina feels great, and I love feeling it open me up before I swallow it inside my vagina. Thrusting with it is lots of fun and orgasming with it deep inside me feels fantastic as my kegel muscles clamp down on it mid-orgasm. I always prefer to be full as I orgasm as for me it just feels so much better to clamp down on something.
Both sub'r' and I have no problems orgasming while playing with the Zeppelina and for me, it is because of the strong vibrations targeted at my g-spot when it is inside me. It's also fantastic for use externally on my clitoris and nipples where its quiet nature is a definite bonus.
The Zeppelina from @rocksoffltd is simply stunning in all of its steampunk beauty. It is a vibrator that has the performance to match its exquisite looks too.
Click to Tweet
Key Features
Key features:
Body-safe silicone and ABS construction
10 powerful functions
USB rechargeable
Waterproof
Steampunk themed - a huge bonus in my opinion

The Zeppelina is another fantastic vibrator from Rocks Off, one of my favourite manufacturers
I would recommend it to:
Anyone who wants a nicely proportioned vibrator
Anyone who likes rechargeable vibrators (no more battery changes)
Anyone looking for a light sex toy
Anyone who enjoys patterns of vibration
I wouldn't recommend it to:
Anyone who only uses smaller sex toys
Anyone who likes easy to identify controls or who has eyesight problems
Final Thoughts
Once again Rocks Off has come up with a classic, a winner in both of our books. The Zeppelina not only delights the eyes but it positively delights you in more nuanced ways as you play with it.
The silicone is a fantastic blend, and the colour is excellent, it's velvety to the touch and just lightly draggy. The textures on it not only look good but feel amazing as you thrust with it or draw it over your clitoris.
The deep sensations that it delivers in ten different ways should please most people, I am sure there is something there for everyone. For me the only downside is how hard it is to find the power button and how slippery it can get as it tends to draw itself deep inside you, getting the area you grip coated in lube and vag-goo.
I love the Zeppelina, and once again it had re-affirmed my belief that Rocks Off are at the top of their game, their offerings just seem to get better and better. I have no hesitation in giving the Zeppelina a strong recommendation.
I was sent the Zeppelina by Rocks Off and I would like to thank them for giving me the opportunity to review it for them.
Joanne's rating
Where Can I Get One From?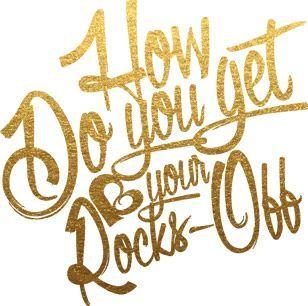 Grab a Dr Rocco's Pleasure Emporium Zeppelina Vibrator from Rocks Off for just £64.99 and take your masturbation sessions to new highs. Check out the rest of the Dr Rocco's Pleasure Emporium range too to see some of their other stunning creations.
Check them out and don't forget to tell them that Joanne says "Hi".
Disclosure
This review does not contain affiliate links, for more information about affiliate links check out my disclosure page.