Over the last couple of years, Doxy has dominated the market with their incredible sex toys. First, they brought out the Dox Original, then the Metal Doxy, followed by the Don and finally the culmination of all of their research and product development resulted in the Doxy Number 3.
This is the second wand vibrator that I have reviewed for Meo, and their Alpha Male Letten Wand hit the spot for me but this one blows it out of the water, and I will discuss why that is in this review. A review that I have to admit has given me a healthy respect for the design team at Doxy.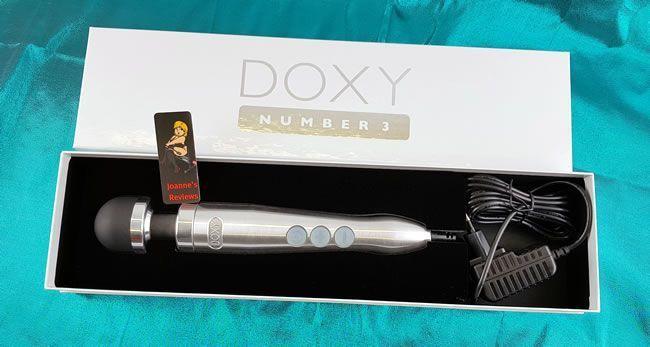 The Doxy Number 3 is a stunning looking wand vibrator
So what is the fuss all about?
Doxy are UK based company, and they identified a need for a powerful, rumbly wand vibrator. To make that happen, they needed to go in the opposite direction to most other designers who were all clamouring to create rechargeable sex toys. Doxy realised that to get maximum power out of their motors then needed to reverse this trend and opt for a mains-powered sex toy.
That was a gutsy move and a massive gamble on their part, but it is one that paid off, and to their credit they made it happen. Their creation, the Doxy Original was universally well received. With excellent reliability, Doxy give their sex toys a 12 month guarantee.
They pioneered the use of Aluminium bodies in wands, and the Doxy Number 3 has an Aluminium/Titanium alloy, so it is very light and very strong.
The Doxy Number 3 is smaller than its bigger brother, measuring in at only 10.3"/26cm long which is a good few inches shorter than its bigger brother. It hasn't traded performance for its smaller and lighter form though which is fantastic.
It comes wired to its power adaptor (this one has a European style plug) with a 3m long cable, that is very generous, and I can use it anywhere on my bed with that much cable.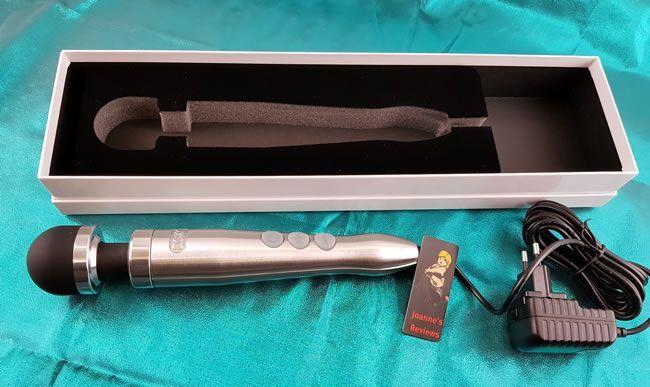 The Doxy Number 3 comes with a 3m cable and power adaptor
Now while having a cable can be a pain, the advantages of it outweigh the inconvenience of a trailing wire.
There is no need to keep it charged and no need to worry about the battery dying just before you experience the orgasm of a lifetime. The main benefit though is you get bags and bags of power and in a wand vibrator power is king.
However, as it is mains powered it isn't waterproof, so keep it away from the bath and shower.
I'm getting carried away here; I usually start a review by talking about the packaging and what is included, so, moving swiftly on.
The Doxy Number 3 comes in a beautiful white box elegantly embossed with the brand name and model number on the top. This box is inside a cardboard sleeve which carries lots of product information.
Once you remove the lid, you get to see the wand nestled securely in a foam liner with its cable and transformer at the end of the box. It's a thing of beauty, and your eyes are immediately drawn to the smooth polished metal surface. The high lustre shine is the result of a five-stage polishing process that gives this vibrator a luxurious look and feel.
The wand carries the Doxy logo embossed on its front above its three large round control buttons. These light up when in use and they allow you to cycle through the program settings and increase and decrease the power levels with ease.

The Doxy Number 3 has three easy to use buttons
One great function with Doxy massagers is the fact that they remember the last setting you were using when you turn them off and when switched back on again they carry on with that setup. This negates the need to cycle through lots of settings to get to your favourite setting again.
You use the centre button to switch it on and off again and cycle through the inbuilt patterns, with the +/- buttons increasing or decreasing the power settings. The large well lit buttons make it easy to operate the Doxy Number 3 in the dark or even with lubed up fingers.
Its light weight coupled with its small form makes it easy to hold, even for extended periods of time. The black head is much smaller than the massive lump on the Doxy Original, and I wasn't surprised when I learned that it is made out of silicone. I have become used to associating expensive sex toys with silicone; the Doxy Number 3 doesn't disappoint.
You can unscrew the head for cleaning and no doubt some entrepreneur will soon bring out silicone attachments for the Doxy Number 3. With having a threaded head, the design options are limitless regarding penetrative heads or even double penetration heads (now there's an excellent thought).
The head has a metal base, and this is an excellent feature as in use you can vary the intensity of the rumbly vibrations by merely using the metal rim or the much softer head. I like to rotate between the two for some variation.
Packing A Punch
As I have already said the Doxy wands have an excellent reputation for powerful, rumbly vibrations, but I was unprepared as to just how powerful they are. Let's just say the first encounter between my Foof and the Doxy Number 3 was a brief one that required me changing the sheets afterwards. I came in under a minute and a half which really surprised me - a lot. It blew my socks off. I loved my old Hitachi but the deep rumbly vibrations from the Doxy penetrate so deeply, and I don't get that numb feeling after a while which is also a bonus.
I recommend using a water based lube on and around your clitoris when using the Doxy; the vibrations are so intense that I find some lube helps them to spread more and it smoothes them out a bit which means you can up the power a little.
I like to use my Doxy Number 3 with a low setting to start off with. I let the soft head roam all over my vulva, loitering over my clitoris for some extra stimulation and I raise the power settings as I quickly become aroused.

The Doxy Number 3 is a nice easy to use size
The rumbly vibrations travel very deeply, and I feel them throughout my pelvic area, as I increase the power levels I am usually surprised by my orgasms as they tend to sneak up on me before breaking and sending me shuddering into a post-orgasmic glow.
This stealth orgasm thing makes it difficult for me to edge with the Doxy, I guess it isn't a tool for edging but one to quickly send you over the edge.
I have had a few BDSM forced orgasm scenes with this Doxy, they were terrific, after a couple of orgasms my legs were like jelly, and I just had to lay there getting my breath back.
One thing that surprised me about the Doxy Number 3 was its noise level; it's much quieter than my old Hitachi which sounded like a 747 taxiing for take off.
On the higher settings it can be heard pretty much throughout the house though, but on lower settings, it is quite discreet, in wand terms that is.
If you don't own a vulva, I have good news for you. The Doxy Number 3 isn't just for vagina owners; it is very, very effective on a penis as well. Just try resting it against your frenulum (banjo string) for some intense sensations that will have you shooting your little fellas across the room in no time at all.
I love this wand so much; it is everything that I was expecting it to be and more. My Foof is going to have to go into rehab after experiencing a Doxy for me to give any other vibrator a fair review.
The Doxy Number 3 is definitely a wand that has to be taken seriously. It rips orgasms out of you.
Click to Tweet
Key Features
Key features:
Aluminium/Titanium body, silicone head
Extra-powerful wand vibrator for intimate stimulation and sensual massages
Strong constant vibrations plus a multispeed escalating pulsation mode for customisable play
Mains powered - 3m cord
12 month warranty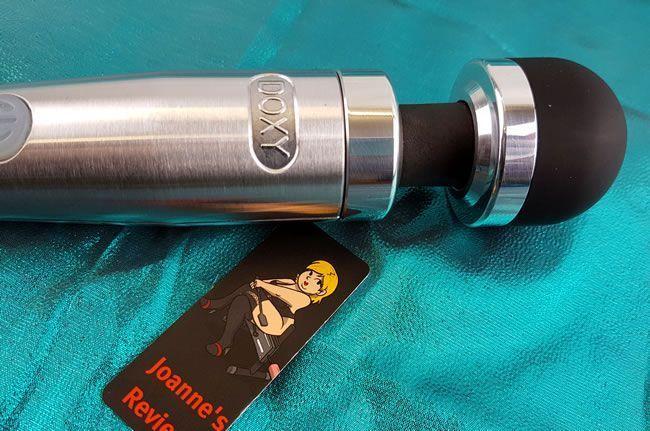 The Doxy Number 3 has a superb head with a hard face and softer silicone
Final Thoughts
The Doxy Number 3 is everything I thought that it would be a much more, its build quality is excellent. Its performance is fantastic with the patterns and vibrations delivering deep rumbly sensations that really get you aroused and at the point of orgasm very quickly indeed. I can see why it is creating so much positive feedback from customers and reviewers. If you are looking for a reliable, robust and easy to use wand style vibrator, then the Doxy Number 3 should be on your shopping list.
I was sent the Doxy Number 3 Massager - Wand Vibrator by Wolf at meo.de and I would like to thank them for giving me the opportunity to review it for them.
Joanne's rating
Where Can I Get One From?

Grab one of these amazing wands from Meo.de for 129,00 € (£113.99) and give your body a real treat.
Check them out and don't forget to tell them that Joanne says "Hi".
---
---
Disclaimer - I was sent the Doxy Number 3 Wand Vibrator to review free of charge and this has in no way affected the outcome of this review. This post contains affiliate links and if you purchase something when you follow one of these links I may receive a small commission at no cost to you. For more information check out my disclosure page.