This Doxy Die Cast was sent to me by Crimson Princess who are one of my sites sponsors to review for free in exchange for a fair and honest review. Check out their website as they are an awesome company.
This Doxy Die Cast came in the old box system which is beautiful, it arrives nestled securely in a white branded box, and this presents it in its best light to you. Now though, you get a zip up padded storage case for your Doxy, that is very functional and a great way to store your Doxy out of sight.
The Doxy is a mains powered vibrating wand, and as such, it comes with its power adaptor that you can plug into the wall. This is a permament fitting on the wand.
The Doxy Die Cast is an upgrade to the original Doxy, and it obviously costs more than the original. But, is the added price worth it? Well, firstly let me tell you about the main differences between the two models.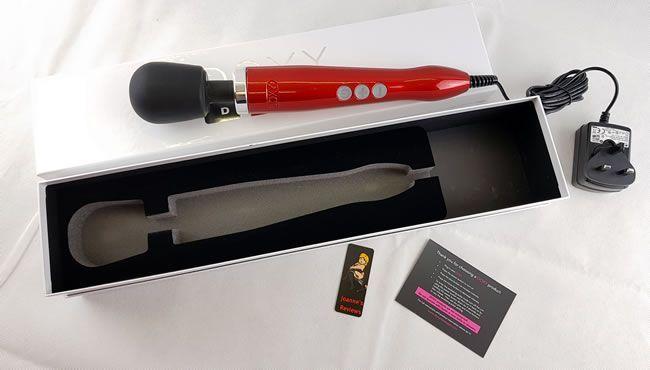 The Doxy Die Cast is held securely in its box whilst in transit to you
Starting at the business end, the Doxy Die Cast has a black Silicone head that is pretty dense, and it weighs more than the original. This translates into deep thuddy vibrations that penetrate deeply. The head is sized to take the vast majority of after market wand covers available.
Next, the body of the Die Cast is constructed in-house from an Aluminium/Titanium alloy, and it feels and looks divine. The new head and body materials means it weighs 680g (830g with power adaptor) which is more than the original which is good if you want the extra feeling of quality. But, not so good if you have a disability or wrist issues.
The control buttons on the Die Cast light up which makes it easy to find them and control your play in the dark.
Finally, the original Doxy had a ridged neck whereas the Die Cast version has a smooth neck which makes cleaning easier.
Other than those points the rest of the mechanics match the original Doxy Wand.
Cleaning after use is simple, just use a sex toy cleaner or soap and water to clean off the head and neck. The new neck makes that job easier. With this being a mains powered device and not waterproof be careful when you clean it to prevent water ingress.
The head, being made out of Silicone is non-porous, and that makes it very easy to clean as there is nowhere for bacteria to hide. This material coupled with the alloy body makes this a great sex toy that is phthalate and latex free making it completely body-safe.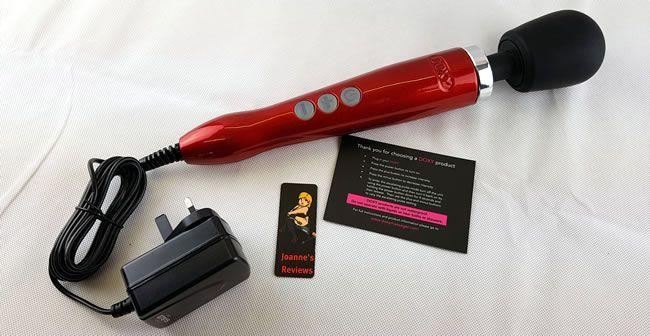 The Doxy Die Cast has sleek and sexy lines and the cherry red colour really pops
The wand is 13.5"/34cm long, and the maximum diameter of the head is 7.7"/19.6cm. The silicone in the head is quite firm which means for those of us who like to jam these things into our genitals it is nice and hard.
It looks sleek and sexy, the curves on the body give it a stylish look, and the red colour is such a stunning shade. It's like the red apple in Snow White, it entices you to take a bite, or in this case take a journey on the Doxy bus, next stop orgasm land.
As it's mains powered it delivers some serious power, this thing is like a Sybian on a stick. The long 2.8m cord gives you the freedom to use it where you want.
With a maximum speed of 9,000 RPM, it has more than enough power for even the biggest power queen. I rarely get over half power on it as I prefer the lower speed rumbly vibrations. Set it on full power and I risk making myself numb down there pretty quickly.
I have weak wrists, and so higher power settings also give me problems in my wrists so because of those two factors I like to take it slow. When I say slow I mean I use the lower settings, orgasms with the Doxy can be quick, very quick in fact.
I love the deep rumbly vibrations, they don't just sit over or around your clitoris, it seems to make my whole groin region pulsate when I am using it, and I love that.
The handle is very easy to hold, and the buttons are large, easily seen and very easy to operate even when biting your lip and writhing around on your back. The buttons while easy to find can be a bit clumsy though but you soon get the hang of them.
On the lowest setting it still delivers deep sensations, and as you crank up the power, these rumbles stay and just get stronger. Being such a powerful wand it is pretty loud, especially on the higher settings.
The Doxy isn't just a girl's best friend though, I have used it on my Stunt Cock, and it quickly got him erect and even brought him to orgasm when placed against his frenulum (banjo string as he calls it). He was surprised at its effect, and I enjoyed using on him immensely. I encourage everyone to experiments with sex toys, most sex toys are gender neutral as there is nearly always a way to get off with them.

The Doxy Die Cast has three large control buttons that light when in use
It's also a fantastic piece of BDSM equipment and readily lends itself to forced orgasm play. You just can't hold out when a Doxy is pressed into your soft flesh. Throw in some restraints and a blindfold, and I am in utter heaven. The red colour gives it a look of danger, and that lends itself to BDSM play nicely.
Masturbating with the Doxy Die Cast is easy, you can even use it through clothing. I prefer to grind against it, feeling it push between my labia and directly onto my clitoris. The silicone head feels fantastic when doing this and the thumping vibrations are felt deeply, and it never fails to bring me off.
I have a new appreciation for Doxy, I have long known just how powerful they are, but power isn't everything, it is how it is delivered that is important. With the Doxy Die Cast, you are getting a weighty toy that is well balanced and provides deep rumbly sensations when you use it. I want to scream at the top of my lungs, "Buy a Doxy".

Using the Doxy Die Cast is a fantastic way to get yourself or your partner off
I had reviewed the Lelo Smart Wand Large in the past, and this is another cracking wand, but the Doxy beats it hands down. Power wise they are pretty comparable but when you factor in other things like customer service and warranties the Doxy wins every time. I used to recommend the Lelo wand but not anymore. If anyone asks me what type of wand to get next, it will be Doxy that I recommend.
When you buy a Doxy, you are buying reliability, power and performance. It wholeheartedly deserves its incredible reputation, and I can see how the brand has risen to be the pinnacle of the wand vibrator pyramid.
Is it perfect? Nothing is, but it is pretty damn close to perfection. The only negative for it and this is purely personal preference is the weight. For me, I prefer the Doxy Number 3 as it is lighter and more comfortable to wield. But regarding looks and performance, I would still recommend the Doxy Die Cast.
Doxy sets the standard that other wands are measured against. Check out why the Doxy Die Cast is such a great choice.
Click to Tweet
Key Features
Key features:
Body-safe silicone head
Mains powered for incredible, reliable power
Deep rumbly vibrations
Upto 9,000 RPM delivering amazingpower
Pulse or vibration modes
Aluminium/Titanium alloy body
Light up easy to find controls
Final Thoughts
Doxy has a thoroughbred champion in their stable in the form of the Doxy Die Cast. It is style and functionality fused with raw energy, and it delivers the kinds of vibrations and orgasms that leave you wanting more.
I don't think I will ever find a wand to match the Doxy's regarding aesthetics and performance and now that Doxy is exploding into the US marketplace they are going to go from strength to strength.
If I was asked which I would buy, the original or the Die Cast I would go for the Die Cast. It's an engineering marvel but also a stylish freak under the bedsheets and that for me makes for lots and lots of fun?
Check out the Original, Die Cast and Number 3 Doxys on the Crimson Princess website.
I was sent the Doxy Die Cast Red by Crimson Princess and I would like to thank them for giving me the opportunity to review it for them.
Joanne's rating
Where Can I Get One From?
Grab one of these fantastic wand vibrators from Crimson Princess for just £134.99 it sounds like a lot but you are getting the best for that price and it's a sex toy that you are just not going to get bored of.
Crimson Princess are an established UK retailer who offer free shipping on all orders over £30 and very discreet packaging.
They are a customer focussed organisation and they have an stunning range ofthe best sex toys, lingerie and other adults products on their website.
Check out Crimson Princess who are also one of my sponsors (they are amazing) and don't forget to tell them that Joanne says "Hi".
Disclosure
This review does not contain affiliate links, for more information about affiliate links check out my disclosure page.