Features
As with everything that I have ever ordered from E-Stim Systems the Double Electro Pinwheel arrived quickly and securely packaged in very plain packaging, you can always rest assured that they take your privacy and discretion as top priorities when dispatching products.
The Double Electro Pinwheel arrives sealed in a plastic bag within one of their signature electrode cases. I love these cases as they securely hold all of my electrodes and they are very clearly labelled. They are machine tool cases and they have an inner and outer tube that screw together securely.
Pinwheels or 'Wartenburg' wheels, were originally designed and used by a neuroscientist to test nerve responses. This pinwheel has another purpose though and that is to deliver pleasure or pain.
I wanted to review the Double Pinwheel instead of just the Single Pinwheel that E-Stim Systems also produce for only one reason and that is functionality. You see, to use a single pinwheel as an electrode you need to use a second electrode such as a pad to allow a circuit to be created when using it for electrosex fun and games. The Double Pinwheel can still be used that way but as it is a Bipolar electrode you can just use it on its own with each pinwheel being an electrode.
The Double Pinwheel is simply two pinwheels bolted together but very cleverly using an insulator between them to electrically isolate each from the other. The end of the pinwheel features two sockets that accept 4mm plugs, one on each pinwheel and these securely hold the cable in place. The handle area is 4" (100mm) long and it is insulated so that the users hand doesn't short out the current. As with everything that I have reviewed from E-Stim Systems it is of excellent quality and it really feels comfortable and well balanced in your hands.
It comes with a 12 month guarantee from e-stim systems as they are that confident of their quality control and their products.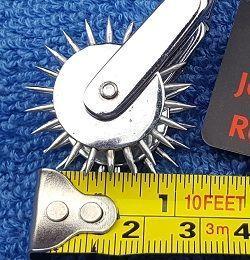 The business end of the electrode features two rotating pinwheels, each having 22 pins on them that are incredibly sharp so be careful especially when removing it from its storage case. Each wheel is 1 1/4" (30mm) in diameter and the total length of the Double Pinwheel is 7 1/2" (190mm).
These rotating pinwheels are what this toy is all about and they strike fear into anyone who is about to have it used on them as they just look so incredibly dangerous and painful. However, whilst it looks painful and dangerous how it feels in use is not what you would expect.
Use
The pins are incredibly sharp but when drawn lightly across the skin they elicit some very pleasurable sensations, to increase the sensations simply press a little harder. This pinwheel can be used as a standard Wartenburg pinwheel, drawing it across areas of skin but it really comes into its own when you couple it with an e-stim control box.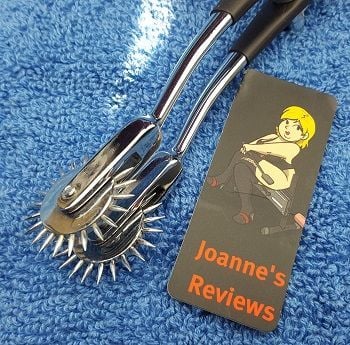 I was surprised at how freely the wheels rotate when you draw it across bare skin, it is effortless and this means you can use it very lightly. I like to have virtually no pressure at all, just its own weight pressing the pins down. That is probably as I am a bit of a wuss, you can of course use much more force and that it increases the sensations. You can even draw blood if you push down hard. I know this as I accidentally dropped it on my leg and it of course landed pins down - ouch.
You can use this pinwheel with a pad electrode placed anywhere on your body and with the other cable attached to the pinwheel but for more intense sensations attach both cables to the pinwheel.
Electricity needs fluids to flow well and so use a good quality water based lube or E-Stim Systems ElectroGel on areas of skin that you are going to use this on to really heighten the sensations.
I am surprised that pinwheels get so little attention as they are really remarkable toys and I am now using mine constantly when masturbating and especially when having fun in a BDSM scene where it really comes into its own.
Both myself and my partner enjoy playing with it and as he is pretty Domly he enjoys tying me up and teasing me with it. I enjoy the feeling of helplessness and nerves as it is used on me but I soon lose myself as the sensations wash over me.
Performance
As I have already stated I was pretty scared and intimidated by the Double Pinwheel before I used it but I absolutely adore it. The sensations it can generate when used as just a standard pinwheel are very intense. Drawing it across areas of skin can be very pleasurable especially when used in a BDSM scene with some tie tease. Obviously certain areas of the body are more sensitive than others but I can attest that when drawn across breasts and nipples or your labia the sensations are much stronger than say across your back or bum cheeks.
It is really hard to describe the sensations caused by the pinwheels, whilst the pins are incredibly sharp as there are so many of them you always have a couple of them in contact with your skin when rolling it along and so the load is spread between these pins meaning that they don't pierce the skin. Instead you can see them causing little indentations on your skin with the blood being pushed away from the areas of the pins causing a light white dotted trail to be left behind it as it rolls along and this feels soooo good.
I particularly like having it drawn across my bum cheeks but if I have had a bit of a spanking the sensations are incredibly intense in the area of the spanking causing some good sharp intakes of breath.
It feels great but add an e-stim control box and that takes the fun to a whole new level of enjoyment or torture depending on how you are using it. Make sure that you start on a very low setting and slowly build up the power until you start to feel your skin tingle with exquisite pins and needles sensations that seem to dance between the pins. The prickly sensations that it can generate with some electricity flowing between the wheels really is quite addictive, I was very surprised at how enjoyable it was. The sensations are a mixture of light pain and tickling pleasure and I can't get enough of it. I particularly like it on the lower settings where I get to feel a combination of the pins on my skin and the feeling of butterfly wings caressing my skin and dancing around as I draw the wheels along.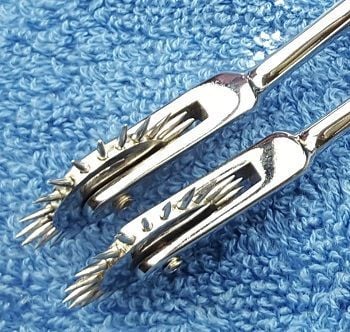 Cranking up the power causes the sensations to get more and more intense moving from gentle caresses to pins & needles and then through the sensation of little shocks to full on ouchie pain if that's what tickles your fancy. You can easily dial in the settings on your control box to add a bit of spark to the pin wheels performance.
Drawing it across my nipples is particularly enjoyable for me on low settings, no doubt others with enjoy stronger sensations and that is the beauty of this simple but effective electrode system. You can vary not only the pressure but the e-stim current as well to create unique sensations. Some of the more advanced programmes on my ElectroPebble, ElectroHelix and 2B control units feel amazing and I particularly enjoy the 'Milk' routine as I can set it a bit higher than I would normally use when using pulse or continuous settings as the rising and falling current means it isn't too intense.
Note: Only use the pinwheel in e-stim mode above the waist if you are attaching both wires to it and using it as a Bi-polar electrode. Never use it with a pad if playing above the waist and never use it in any mode above the neckline.

Key Features
Key features:
Heavy duty materials
Two Wartenburg pin wheels
Bi-polar electrode
4mm connections
Very sharp pins
12 month guarantee
Final Thoughts
I was unsure as to whether or not this electrode would win me over as it looks so menacing and the pins are just soooo sharp but I love it. I now realise that e-stim is more than just insertable electrodes and pads, it really has opened my eyes and it has me wanting to try other unusual electrodes such as the Electro Speculum. If you enjoy electrosex fun and games then this electrode will add something very different in your play whether you are using it on your own or on a partner either for pleasure or punishment. It is very versatile and produces some very intense sensations and it is something that I will be using again. Especially as some of my control boxes have dual channels so I can use it in conjunction with an insertable electrode for some really kinky sessions.
Recommendations
I would recommend this sex toy to:
Anyone looking for a Bi-polar electrode that looks scary as hell but feels great.
Anyone looking for a very visual way of teasing their partner.
I wouldn't recommend it to anyone who:
Has very thin blood or someone who bleeds easily.
Has an aversion to needles or anyone who doesn't like external e-stim play.
Where Can I Get One From?
You can get the Double Electro Pinwheel from e-stim.co.uk from just £49.00 and I am delighted to be able to recommend it to anyone looking for an interesting skin bipolar electrosex electrode.
Website links:
Joanne's rating
About E-Stim.co.uk
From their humble beginnings in a garage back in 2004 e-stim.co.uk has grown and grown with an army of loyal customers. Their range of e-stim equipment is second to none and they manufacture their own goods in house. This gives them total control of their products and they offer a lifetime guarantee on their wares so you can tell that they have total faith in their quality control.
Their customer service is second to none and they are really nice and approachable, always willing to give good advice where needed. Check out their site for lots of information about electrosex and their products. You can find lots of information about this kinky activity on their site and on their forum which is a wealth of information.
I can highly recommend the ElectroPebble and the ElectroHelix packs if you are looking for a quality control box to use with an electrode such as this one.
---
If you enjoyed reading this review then check out my other reviews of E-Stim Systems products:
CONTROL BOXES
PUSSY & ASS ELECTRODES
PENIS/BALL PLAY
OTHER
Website links:
---
This toy was sent to me in order to review it and this review contains affiliate links. If you clear your cookies, then click through one of my affiliate links before making a purchase, I'll make a small commission at no extra cost to you. This money will be used to run this blog and of course buy me new sex toys to review. Many Thanks!
I would love to hear what you thought of this review. What can I do better, what did you like? Let me know in the comments form below. Thank you for taking the time to read it. Joanne xx