I read an article on Deadline about this way to help the frontline workers, and it struck a chord in me. I have the capability and skills to join in with the vital work of making face shields for the NHS through a non-profit organisation in the UK that is coordinating this effort - 3D Crowd UK
They are using the design pioneered by Prusa in the Czech Republic. Their design for PETG face shields has been approved by the Czech Ministry of Health and it allows home users of 3D printers to mass-produce them at home before sending them to a central point to be assembled and sent to the NHS trusts that need them the most.
So I am using my skills and materials to print out face shield headbands and bases, and these will then be forwarded to 3D Crowd UK for distribution to the NHS.


I will be making face shield components to help protect NHS workers (pic copyright 3D Crowd UK)
My first problem was that my 3D printer was at my office, but Stunt Cock picked it up for me while out on a food shopping trip. Yes I know technically, that wasn't a 'necessary journey' under the lockdown rules. But, I consider it to be most definitely necessary as it allows me to contribute to the drive to produce PPE for the NHS.
If you want to support this activity, then please donate directly to 3D Crowd UK through GoFundMe to help offset shipping costs and the costs of the PETG faceplates.
Materials
I'm footing the bill for the PETG I am using to print these headbands out, but if anyone wants to help chip in for materials, then please feel free to do so.
The clear PETG shields are being procured by 3D Crowd UK and they will combine 3D printed parts from the community with the shields and elastic for securing them in place on the head before shipping them out to hospitals and surgerys.
I hope to be able to churn them out at a rate of one every seven hours (3D printing is a long slow process). But I will be happy in the knowledge that even in my disabled state, I will be able to help others and contribute to the fight against this horrible virus.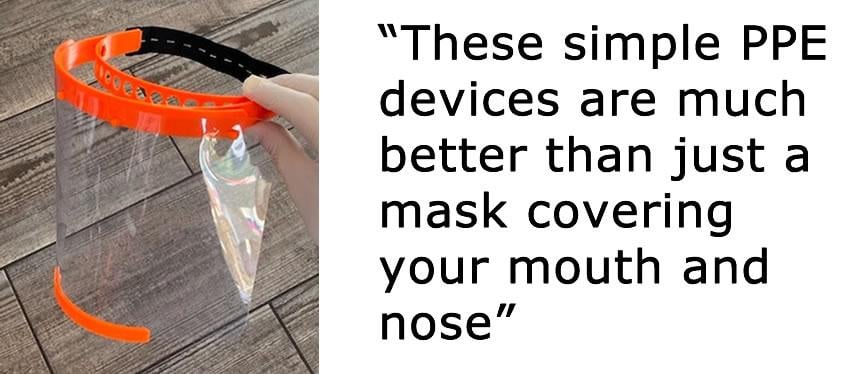 These face shields will hopefully save lives (pic copyright 3D Crowd UK)
Please check out 3D Crowd UK and support their work if you can. Better yet, if you have access to a 3D printer, please consider joining the fight and helping to keep the NHS Safe.
I will post updates with pics and videos here as I continue to make these headbands and components.
Safety Advice From The NHS
Do
Wash your hands with soap and water often – do this for at least 20 seconds
Use hand sanitiser gel if soap and water are not available
Wash your hands as soon as you get home
Cover your mouth and nose with a tissue or your sleeve (not your hands) when you cough or sneeze
Put used tissues in the bin immediately and wash your hands afterwards
Don't
Do not touch your eyes, nose or mouth if your hands are not clean
UPDATE: 4th April 01:30am First Print Finished
My first pair of face shield components have just finished printing. It took seven hours and fifteen minutes to print out, that means I can make three a day with my printer running constantly with short breaks between jobs. While that may not sound like a lot but it's three lives possibly saved and with 4,800+ people just like me (well maybe not as kinky as me) making these components we can make a difference.
Here is a pic of the first set of parts printed in my usual yellow colour of course, they came out perfectly. I am honestly blown away by just how good this little Creality Ender 3 printer actually is. So here is a pic of the first one of many. Now, I'm off to bed.

The first one finished, many more to do. I am really happy with the quality
UPDATE: 5th April 23:34 More Prints Finished
Well today has been trying, I now have four face shields made so far but I spent a good three hours with my printer in pieces tweaking bits and bobs and making sure it will stand up for what I have planned for it next. I had a feed problem which means I had to throw one print away which is not just a waste of materials but I lost valuable time on that print. The feed issue is sorted now though which is good..
My Stunt Cock worked with me this afternoon to tweak the code and make the printer settings much more efficient. I am now printing face shields that are just as strong, the surface finish is still good and comfortable against the face but here's the best bit. With the printer modifications and tweaks to the settings and code we are now printing one faceshield every two and a half hours instead of one every seven and a half hours which is a huge saving on time. Between us we are now manning the printer 24 hours a day so we can keep churning them out.
I am shattered and off to bed with Stunt Cock manning the printer throughout the night tonight, I will relieve him (probably in more ways than one) in the morning.

I am now making one of these every two and a half hours - woohoo!
UPDATE: 7th April 13:27 My First Pick Up By DPD
Today, I boxed up and dispatched 20 sets of Face Shields for the NHS. I'm sat here with the noise of the 3D printer still running in the background making more and sipping on a mug of Hot Chocolate. I'm very happy that I have been able to do something productive while stuck indoors towards this great project. I know 20 face shields doesn't sound like a lot but that keeps 20 people just that little bit safer on the front line in the battle against Coronavirus.
There are now over 5,500 people in this great project, making face shields at their own expense and over the last weekends, between us we made 16,704 of them and we are only just beginning. Through the pooling of knowledge and advice we are all making them quicker than when we started and with new people joining the cause daily we will be making more and more.
One sad thing, is that I have actually been receiving some hate mail over doing this. Yes, I know it's unbelievable, with some common themes like "You're only helping to cover up the Governments mismanaging of the crisis", or "You should not be doing this, let the number of deaths increase to prove the government is useless". I'm not phased by these self-centered cockwombles, I cannot understand the logic though, as with people having to make protective gear for the NHS to help keep them safe, it seriously highlights the underfunding within the NHS.
To the haters, I simply say FUCK YOU! I am doing my bit and what I'm doing could potentially save lives. What are you doing? Nothing but complaining!
I will continue making this kit for the NHS staff and I am bloody proud to be able to contribute this way.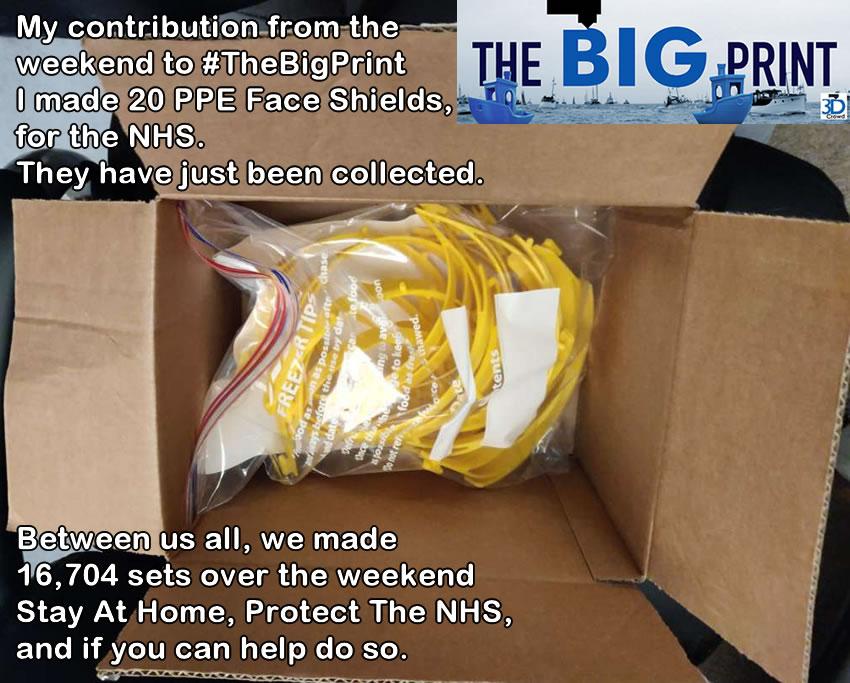 I have had my first batch collected by courier - woohoo!
Joanne is trying to help protect NHS members by making PPE equipment on her 3D printer.
Click to Tweet