DELIVERY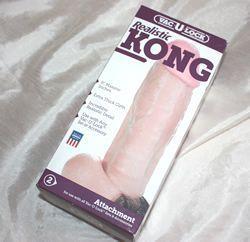 The dildo arrived quickly via Royal Mail by first class post on a signed for service. I was very excited to receive my package and it arrived early which meant I could really get down to trying it out for this review, thank you - F Machine Fun. The packaging had no indication as to the contents which is appreciated and the norm for this supplier.
FEATURES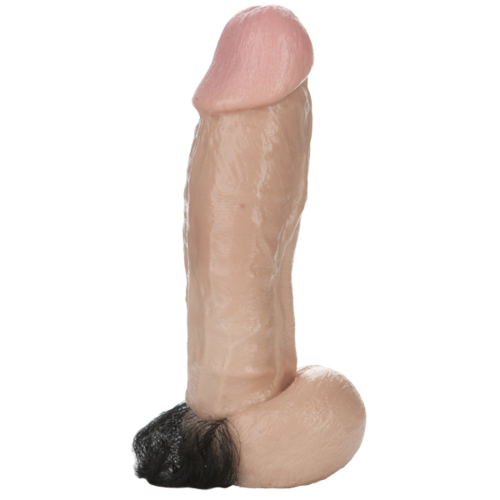 This dildo is firm yet squishy (not sure if that description even makes sense), take it from me holding this dildo in your hand brings a smile onto your face when you start squeezing it - I just couldn't wait to give it a go. Fitting it to my F-machine was really easy due to the Vac-u-lock system. Top Tip put a small amount of talcum powder in the dildos vac-u-lock hole to make it easier to remove at the end of the session. The dildo being quite heavy droops a little on the machine but not as much as with the Jeff Stryker.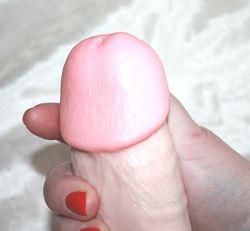 This dildo measures 8.2 inches (20.8cm) from its tip to its base and at its widest point it is a sigh-inducing 6.9 inches (17.5cm) circumference. The widest parts of this toy is the insertable section which makes sense, it means that almost the instance it stretches your pussy lips open you get to appreciate its full girth. It has lots of nice detail and has a nice texture, the only funny thing about this toy is the pubes at the base of the dildo.
It is the only toy I have that has pubes and its probably just me but I don't really like them, I think they look funny and would have preferred the toy to be "smooth-shaven", I might have to give him a trim. That said though it is a great toy and it is my favourite when I feel the need to just lay back and get hammered by a fucking machine for long sticky sessions.
As I always do I washed this toy before use, make sure you always wash new toys and definitely ensure that you wash off all the soap as it can be an irritant to your lady bits.
FUCKING MACHINE FRIENDLINESS
As I have already said this is a great toy and looks great on the F-Machine Pro. I noticed no reduction in its maximum speed which means for very high-speed action with this sex toy. The vac-u-lock system held it in place no trouble at all. It still amazes me as to how effective a mounting system it is.
PERFORMANCE
As I have already said this is now my favourite fucking machine attachment, it really stretches me open and fills me completely, in use I can feel its balls slapping against me as I take it all and this is just an added turn on for me.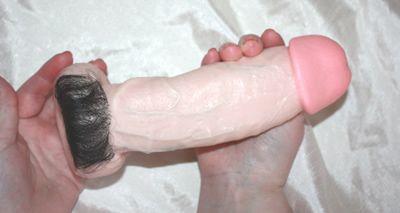 Its texture allows for a lot of vaginal wall stimulation and the way that my lips cling to it means that my clit gets a lot of stimulation from my lips moving in time with the toy. I can bring myself off very quickly with this one or really take my time to ride the waves of bliss for long period of fucking machine fun.
I'd recommend a bit of lube to get you going as it is quite a girthy toy but if you are like me you won't need it once you get going.
I use this toy on and off the machine, it's a great all-rounder and I would highly recommend it to anyone wanting a nicely filling fun sex toy.
KEY FEATURES
Key features:
8 full inches
Nicely detailed
Use with any Vac-U-Loc Set or Accessory
Made in America
FINAL THOUGHTS
This is my favourite dildo and have now used it numerous times both on and off the fucking machine and can recommend it to anyone wanting to try something a little bit bigger than norm. It is flexible yet firm and allows a certain amount of squirming when used in a fucking machine yet it is small enough to be comfortably used by hand. It's a great all-rounder and as long as the pubic hairs don't put you off its definitely one for your toy box.
WHERE CAN I GET ONE FROM?
I got mine from Fmachinefun.co.uk.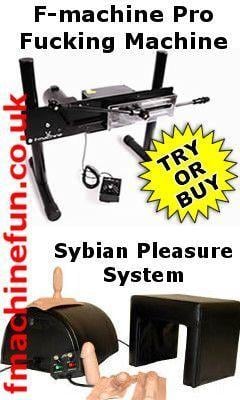 www.fmachinefun.co.uk

This is the site that got me interested in Fucking Machines and Sex Machines and they are a firm favourite of mine for their customer service and great down to earth attitude. Nothing is too much trouble and they are very helpful and a great source of information on sex machines in general.
They are the people that I rented a Sybianand got my F-Machine Profrom.
For anyone interested in trying a Fucking Machine or Sybian out before spending a lot of money on one it makes a lot of sense to check them out. Feeling kinky? Try out a sex machine for yourself in the comfort of your own home.
They run both a shop and a great rental service where you can hire a F-Machine Proor a Sybianto use in your own home and I can attest to the discreet service that they provide. They include new attachment with their rental machines and you get to keep them so you are safe in the knowledge that they aren't recycling them "Eeew what a thought".
Check them out and don't forget to tell them that Joanne says "Hi".