So what is it and what does it do?
Anyone who has read my popular guide Penis Play Guide For Hands-Free Orgasms will be aware that it is best to stimulate the two principal pleasure nerve bundles at the same time.
The Dorsal nerve runs down the top of the penis, and the Perineal nerves run between the anus and into the testicles. A lot of guys use cock loops to stimulate these areas, often putting one just under the glans of the penis and the other around their cock and balls.
The main problem with this setup is that the current flows along the top of the penis mainly focusing on the Dorsal nerves and the Perineal nerves get much less stimulation.
To rectify this problem guys often insulate the top of the lower cock loop using barriers like insulating tape. This works, but it is usually a pain to get set up just right.


It is definitely better to insulate the top half of the lower cock loop
A cock loop insulator works by only exposing the bottom section of cock loop to the skin while insulating the top. It also has the benefit of preventing pinching when tightening the loop too.
By insulating the top of the lower cock loop, you can direct the current through the Dorsal nerve and then down through the Perineal nerve group too doubling the fun. The sensations from the Dorsal nerve are often drowned out by the feelings you feel in your glans but your brain still interprets them, and this helps you on your way to some excellent hands-free orgasms.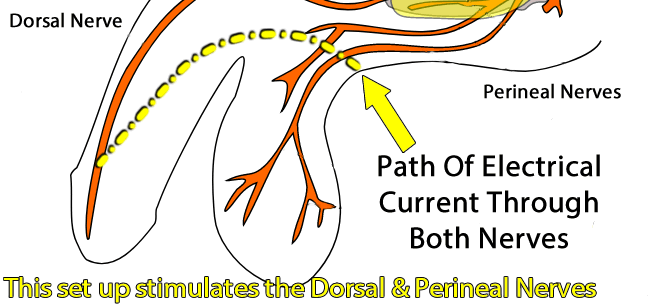 Using an insulator allows you to direct the current through both sets of nerves
Joanne comes to the rescue
So to make insulating the lower cock ring much easier I designed this insulator.
After checking up on lots of scientific research on the average penis size and girth I came up with an average circumference of 4.8"/12cm for an erect penis, and that works out as a diameter of 1.5"/3.8cm.
*cough* I have also done extensive, in-person research throughout my life and so that conclusion sounds about right LOL. ;)
I used that measurement for this design, and of course, it can be quite easily scaled up or down. So here is my take on the cock insulator. It prints standing up with raft support and only requires supports under the centre section of the arc. Once printed these supports are simply snapped off easily and that area is given a light sanding to smooth it down.

Print time is in the region of an hour and a half
To get the best results thread a solid copper wire through the centre of your cock ring, this will make it stiffer, and it will transfer the current throughout the conductive rubber loop with no hot spots. This will also help with its longevity as the CR starts to break down over time raising its resistance.


Here is the first cock ring insulator design printed and painted ready for use
Great feedback and version 2
I have been getting some fantastic feedback from penis owners who have printed out my design and used it to good effect.
I have also got some great feedback on Smartstim and this has spurred me on to create Version 2 which is even better. It now features:
Fully Parametric Design: Just by changing some numbers you can adjust the CR tubing diameter, wall thickness, clearance gap, angle of insulation and exit dimensions to fit your locking method.
Addition of two holes that can be used with elastic cord to secure the cock ring round your waist or testicles to stop it walking during extended sessions
The design has changed to allow extender arms to be fitted to allow you to vary the size of the insulated section of CR tubing. This means you can fine-tune it for cock or cock and balls play.
So here is the design so far.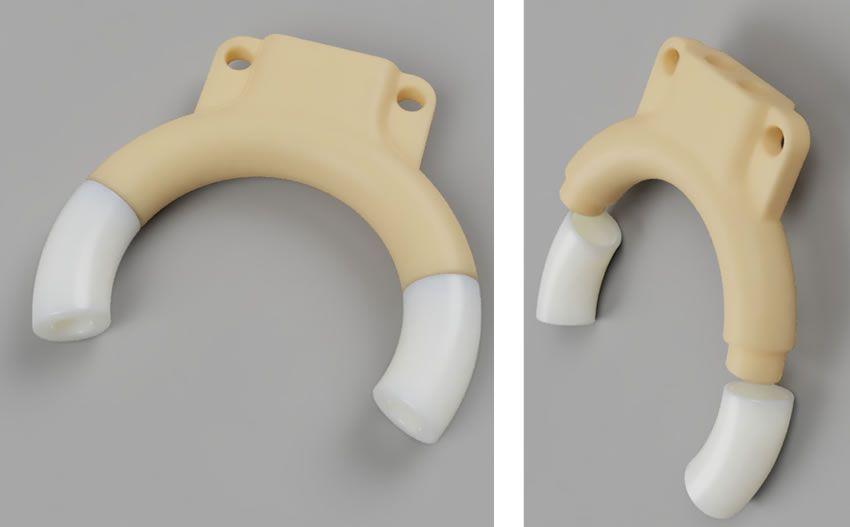 Version 2 is much more functional and adjustable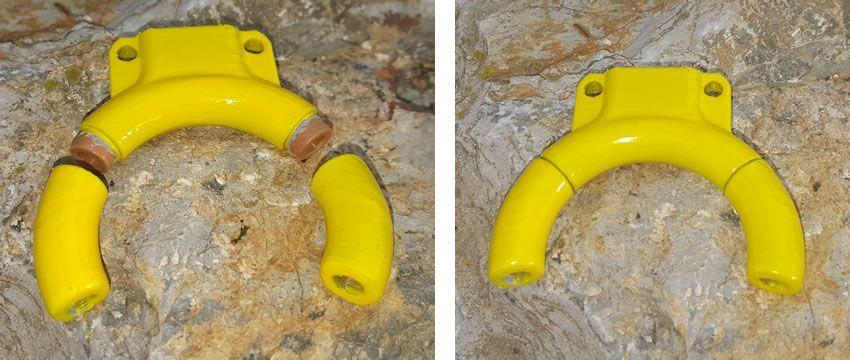 Here is the second cock ring insulator design printed and painted ready for use
Free download
If you have access to a 3D printer, you can download the .stl files for it for free and print one out for yourself.
Version 1 Cock Ring Insulator
You can download the STL files to load into your slicer from my GDrive.
I used the following settings on my Ender 3 printer:
0.1mm layer height
2mm wall thickness
2.5mm top and bottom layers
20% infill, gyroid or grid pattern
Supports - in contact with bed
PLA material
Raft adhesion
Print time at 0.1mm - in the region of two hours
Tweak the design yourself in Fusion 360
Download the Version 1 Fusion File to experiment with it and create your own version. I will upload Version 2 here once the design is finalised.
Not got access to a 3D printer?

I have now taken a huge step and that is to offer to print out these cock rings for anyone without a 3D printer for less than you can get them printed at Sapeways (aren't I nice). They will be supplied unpainted and will require a light sanding and then painting it with a plastic paint such as Krylon Fusion For Plastic. I just haven't got the time to do that myself hence the incredibly low prices for them.