I will accomplish this by sealing it with PVA glue, this will seep into the model and will form a protective barrier once dried. I will then give the whole model a coat in an etch primer and finally a layer of car spray paint to ensure it is sealed and smooth.
Once sealed and painted I can then fit the 4mm conductive rubber to the channels and wire it all up before screwing it together and then enjoying it.
3D Printing the Electrode
I printed this model out with a 0.1mm resolution, and it took 14 hours to print on my Ender 3.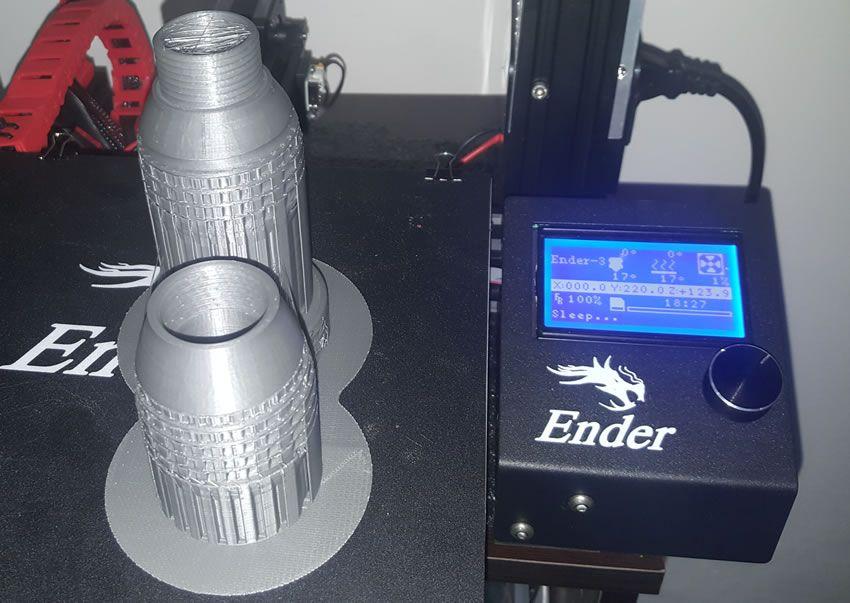 The finished print with all of the supports so you can't see much of it
As you can see there are a lot of supports to remove and lots of post printing cleaning to be done.
I then had the unenviable task of removing all of the printed supports to see the model concealed inside. First impressions were good, and it will now be a case of lots of sanding and filing to smooth off any rough edges before treating it to seal it.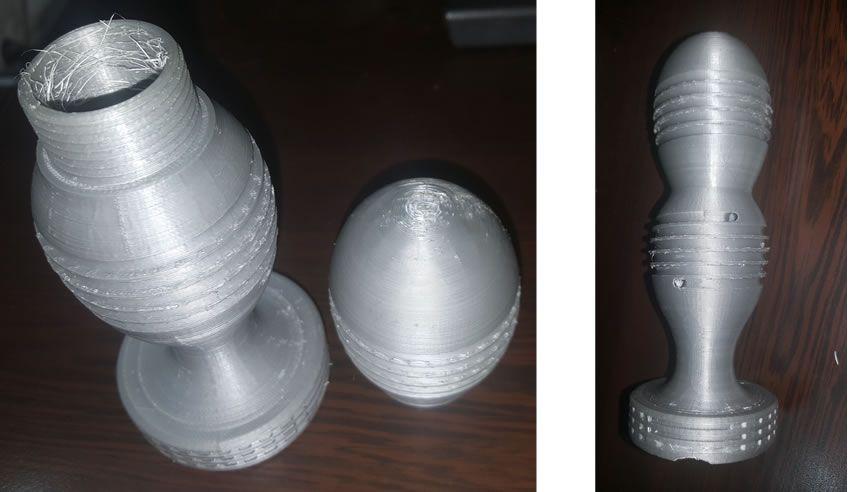 The two parts screwed together very well but there is a lot of work to be done
Sanding, in fact more sand than Lawrence of Arabia had to deal with I think
After sanding with progressively finer sanding paper, starting with P300 then going to P600 and then P1200 the electrode is coming on well.
As you can see in this picture, it is quite a transformation, and it is looking much smoother which is more than can be said for my skin. I couldn't do this for a living that's for sure.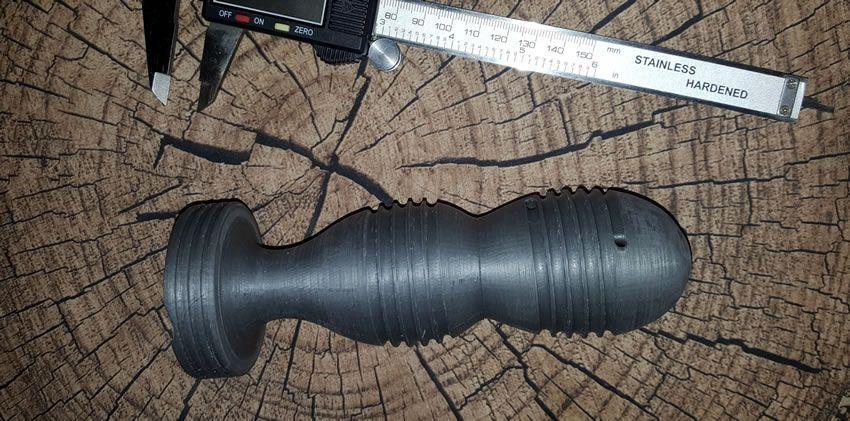 After a good sanding it looks totally different
After a good sanding, I decided to put on the first layer of primer. This should help me see any more uneven spots which can be sanded down before adding another layer or primer.
Priming
I used car bodywork primer as this etches into the plastic sealing any voids and providing excellent adhesion for further layers to be laid on top.
I covered the male screw thread with insulating tape as I didn't want to paint the threads as that would lead to problems screwing it together.
I used two metal rods to put the electrodes halves on top of so that I could rotate them and lay on an even covering. But alas I did have a run or two, but these will be sanded down again.
The electrode when primed looks, and it is starting to take shape. I have decided to go with a bright yellow Krylon Plastic Paint for the final coat, yes its weird I know but the contrast with the black CR tubing will be amazing, and it fits in with my Bumble Bee theme on my last electrode - the Bumble Bee Tri-polar estim electrode.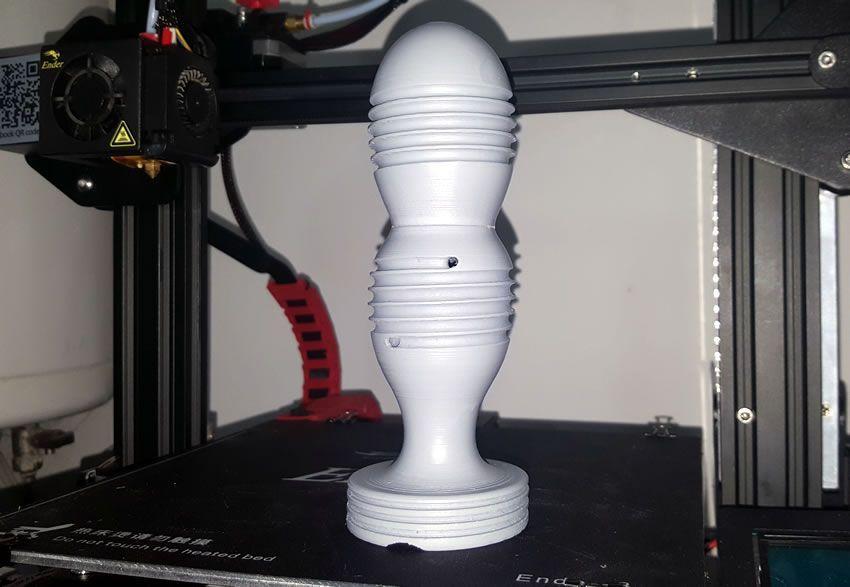 After its first layer of primer it is looking very nice
Ding, ding, round two
I managed to get the electrode sanded again ready for another layer of undercoat to smooth things out a bit more.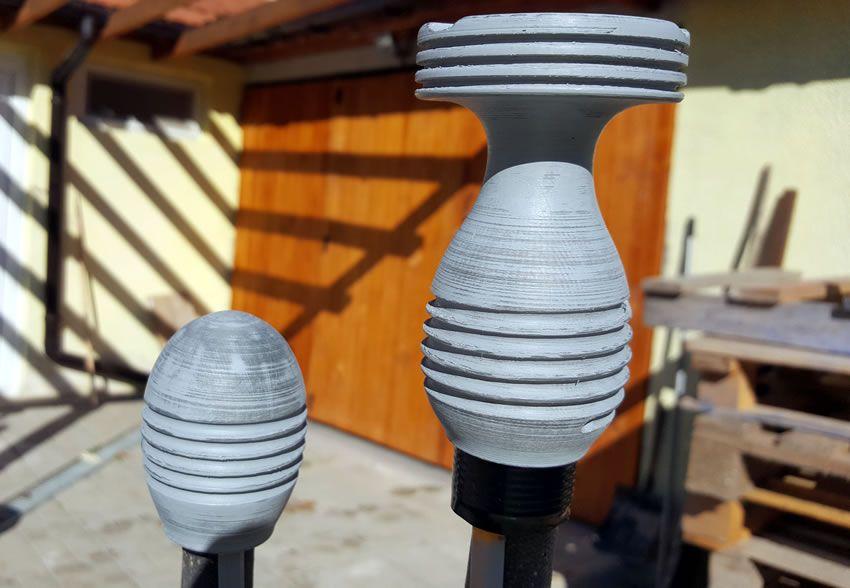 Sanded back and ready for priming once again
Once painted I was more than happy with the results and when the paint had cured I added the first layer of top coat and yes it is yellow and it will look amazing with the black CR tubing wrapped around it.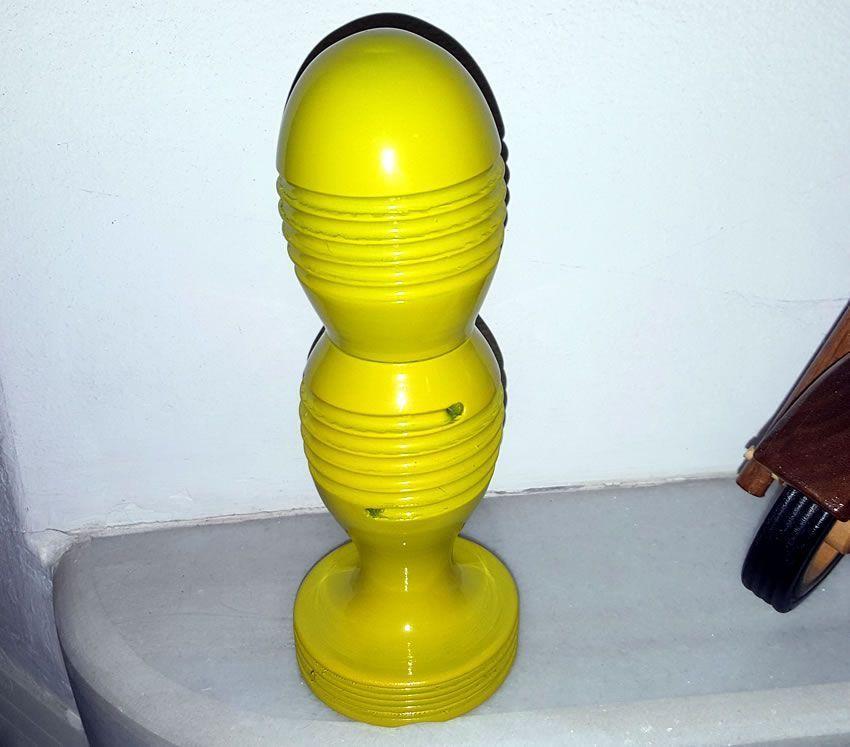 The first layer of yellow top coat is now on and it looks great
Cable and Conductive Rubber
I obtained some 1.5mm2 copper wire and stripped off the insulation. I threaded the copper wire through the two lengths of conductive rubber that I had cut for the channels on the curly wurly.
I thought I may need some lube to aid threaded it through the conductive rubber tubing but it went in really easily. Top Tip - Twist the conductive rubber around the copper wire as you thread it into the tubing as it makes it slide through much easier.
I left a generous length of wire showing through the conductive rubber tubing.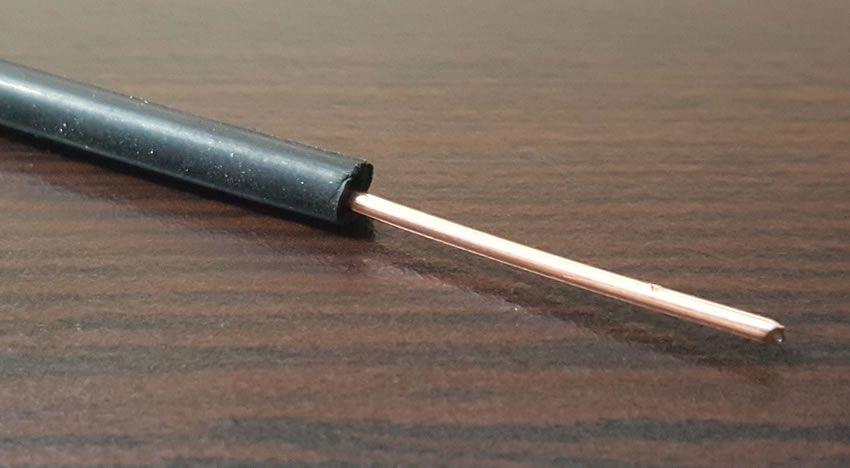 I threaded 1.5mm2 copper wire through my conductive rubber tubing
Once the copper wire was through the conductive rubber tubing it was on to fit it into the grooves. First, thread the bare wire through the wall of the top section of the curly wurly. Using some snipe nosed pliers then grab it and pull it through. I then put some lube on the end of the conductive rubber and pushed 5mm into the hole.
When you bend the wire tightly around the grooves it holds the conductive rubber in place. Wrap it all around and then fit the other bare end of the wire in through the other hole. Again use snipe nosed pliers to pull it through. Measure how much conductive rubber tubing you need and trim off any extra that you have.
Then lube up that end and feed it into the body of the electrode. Once in use some pliers to twist both free ends of the wire together to tighten everything up locking the conductive rubber in place.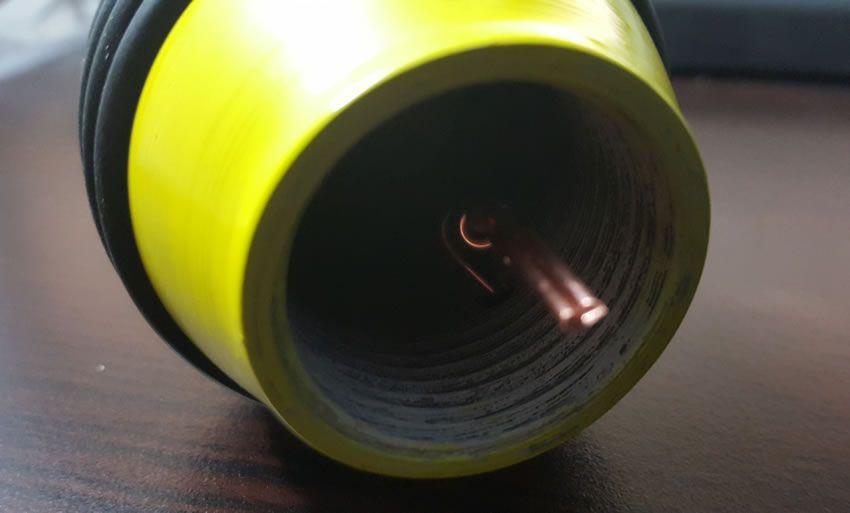 Once the conductive rubber tubing was fitted the wires were twisted together
Next, move onto the lower section and repeat the same process. This time tough ensure that when you twist the wire together it sits flush with the wall of the electrode so that it won't interfere with the wire going up to the top section.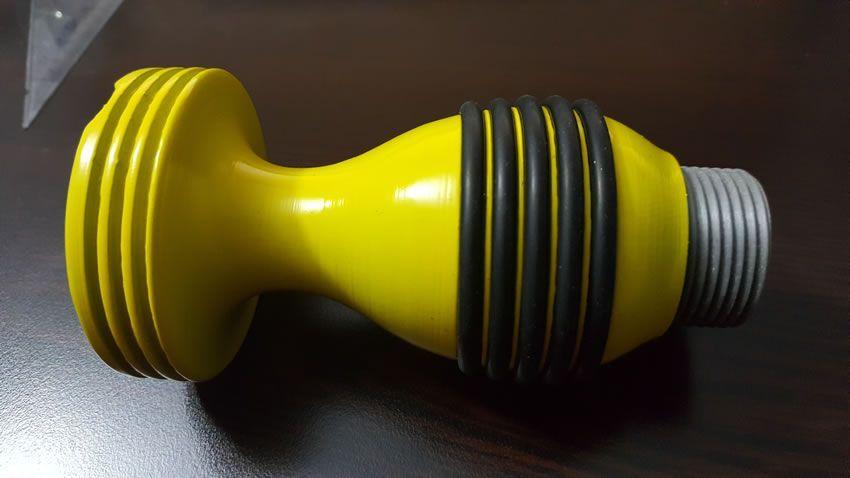 Repeat the process with the lower part of the electrode
Once the conductive rubber was fitted I had to screw it all together to admire its looks. Next job will be to feed the wires through the base and then solder them to each electrode before cladding the joints in heat shrink tubing.
I must admit it is starting to look pretty good.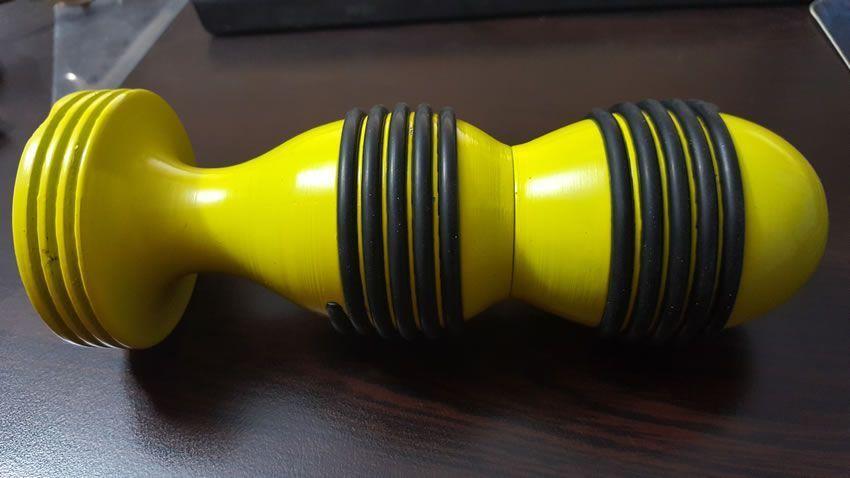 The Curly Wurly is starting to look the part just the wiring to do now
Finished
I threaded the cables through the holes in the base. I had to drill them out slightly larger than the ones that were printed as I used a heavier gauge wire. The red wire goes through the centre hole, and that leads to the top end of the electrode. The copper wire was twisted and then tinned with a soldering iron before bending it so that it was central in the hole. Some heat-shrink tubing was then slid over the wire before I soldered in its place. Once secure I slid the heat shrink tubing over the joint and shrank it in place. This is just to put some insulation around the joint.
The black wire was then fitted, but this time the copper wire for the lower spiral was twisted together and bent so that it sat against the edge of the hole. This means it is away from the central red wire which needs to be able to rotate when you screw the two sections together. Again this joint was covered by heat shrink tubing.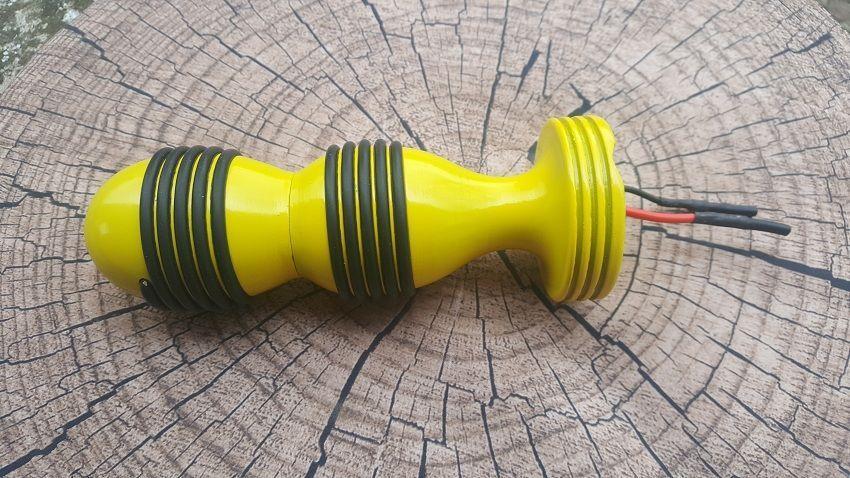 The Curly Wurly is now finished and looks great
I then trimmed both wires, so they were roughly the same length and exposed about 10mm of wire which I then tinned. I slid some more heat-shrink tubing onto the wire and then forced each wire into a 25mm section of conductive rubber tubing. Once tightly fitted I then pushed the heat shrink tubing over the wire and conductive rubber before shrinking it in place. This does an excellent job of holding the conductive rubber in place, and the rubber acts as a socket for my e-stim plugs to be slid into.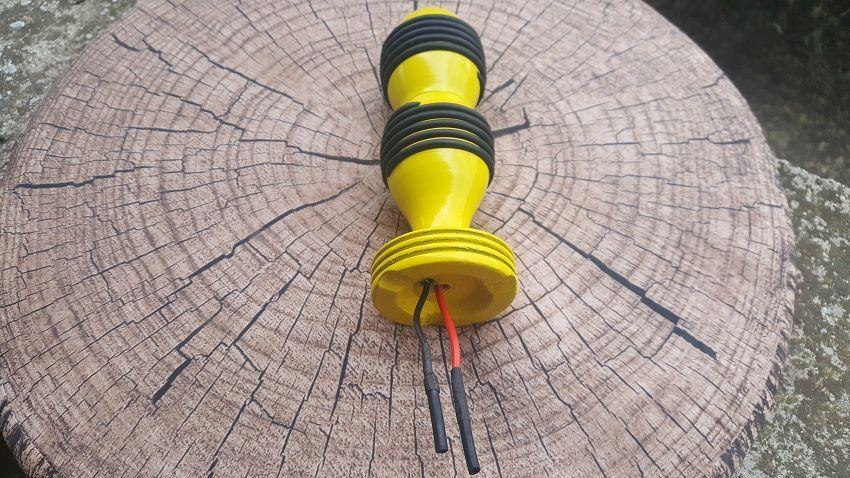 The Curly Wurly uses two short pieces of conductive rubber as the sockets for the estim cables
Performance
This is what I had waited so long for. I applied lots of conductive lube before getting myself comfortable. I had already warmed up using the Medium from the Black Collection, and I was ready to begin.
Inserting it was straightforward due to the gently rounded tip. Its dimensions meant it was still a slow process though but one I really enjoyed.
Once completely inside me I laid back with my 2B Control Box and selected waterfall which is one of my all-time favourite routines, and I was rewarded with some fantastic sensations, and I cranked up the power.
I was really enjoying the sensation of ghost fucking and was soon lost in a world of pleasure, savouring the sensations of something that I had made delivering so much pleasure.
It wasn't long before I was rewarded with a hard orgasm and I really clamped down hard on the Curly Wurly, having to hold it in place for fear of shooting it out of my pussy and the electric jolt that would have ensued.
I enjoyed two more orgasms during that first session. This isn't a quick or easy build, but it is one that I have thoroughly enjoyed, and it looks fantastic, I am proud to say that it performs as well as it looks and I am looking forward to trying it on sub'r' next to see how she enjoys it.
Make Your Own
If you want to make your own Curly Wurly Bi-polar Electrode you can download the 3D printing STL files here Top Section & Bottom Section.
Thank you to very talented e-stimson over at smartstim.com for designing this bi-polar electrode and for allowing me to share the files.
To Be Continued....