DIY Bi-Polar Estim Labia Shield - The Panty Pleaser
For Teasing Your Outer Labia
I had so much fun making my Bumble Bee Tri-polar estim electrode, and my Curly Wurly Bi-polar Electrode. So I was delighted when the very talented e-stimson on smartstim.com got in touch with me to tell me that his latest design was now live.
I just love his electrode designs, they are created to be printed out at home using a 3D printer and some basic materials. His Curly Wurly design is a favourite of mine, and I had so much fun building it myself. I couldn't wait to get started on this one, the Panty Pleaser as I am calling it.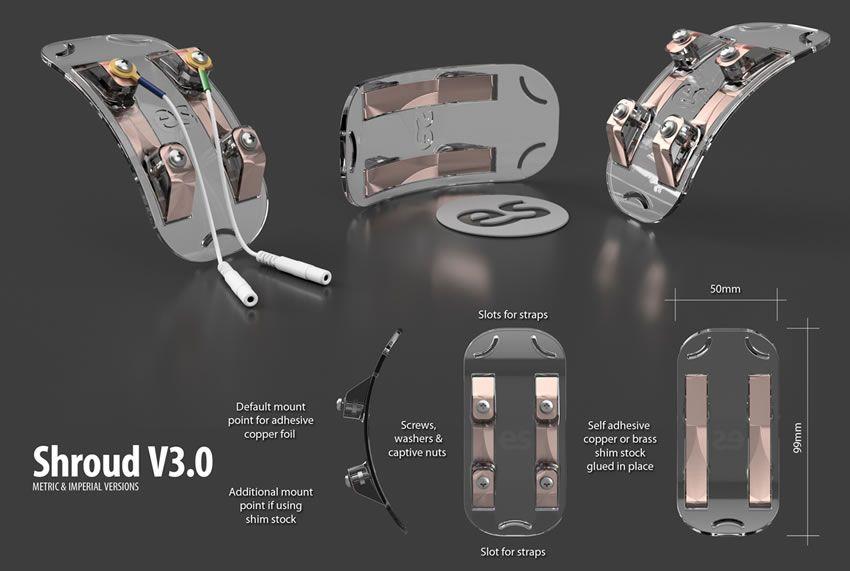 I just love this render by e-stimson of his labia shield design
This is a pretty simple build, the only thing to note is that you should print the shield on its side to minimise the use of support structures. I used the experimental 'Tree Supports' in Cura with some interesting results.
The shield is designed with two channels for two strips of self-adhesive copper or aluminium strips to be glued in place. You can even use shim stock for this. The design file comes with a set of clamp faces that you can print and use if using shim stock and glue.
The back of the shield has four ramps with hollow areas for nuts to be inserted. The foil comes through four slots from the front face of the shield and up four ramps to where the conencting cables can be screwed down as shown in the picture above.
The Shield has three curves slots, and these are for some knicker elastic so that the shield can be worn and the elastic will hold it against your labia.
The two metal strips act as the contacts for this electrode and with some electrogel will pass the e-stim current through your labia from one side to the other. I can't wait to see how this feels as I often use self-adhesive electrode pads on my labia.
Parts List
All components are 18-8 stainless steel unless otherwise stated. McMaster-carr numbers for reference:
Metric:
4 x M3 x 10mm machine screws (McMaster-carr 92000A120)
4 x M3 washers (McMaster-carr 93475A210)
4 x M3 nuts (McMaster-carr 91828A211)
Imperial:
4 x 4-40 UNC 3/8th long machine screws (McMaster-carr 91772A108)
4 x #4 washers (McMaster-carr 92141A005)
4 x 4-40 UNC nuts (McMaster-carr 91841A005)
Conductive bits:
2 x 10mm wide self adhesive copper foil tape (or shim stock which will need to be bent in to shape to match the curves on the shield) You can use a strip of paper to work out the correct length for your print.
2 x tens sockets with leads (optional)
2 x crimpable insulated ring terminals (optional)
3D Printing The Electrode
3D Printer Settings
I used the following settings on my Ender 3 printer:
0.1mm layer height
2mm wall thickness
2.5mm top and bottom layers
14% infill, gyroid pattern
Tree supports on
PLA material
Raft adhesion
The STL file already has the electrode correctly orientated on the bed and I just had to slice it and upload the G-code to my printer. Printing was easy but it took about four hours if my memory serves me well.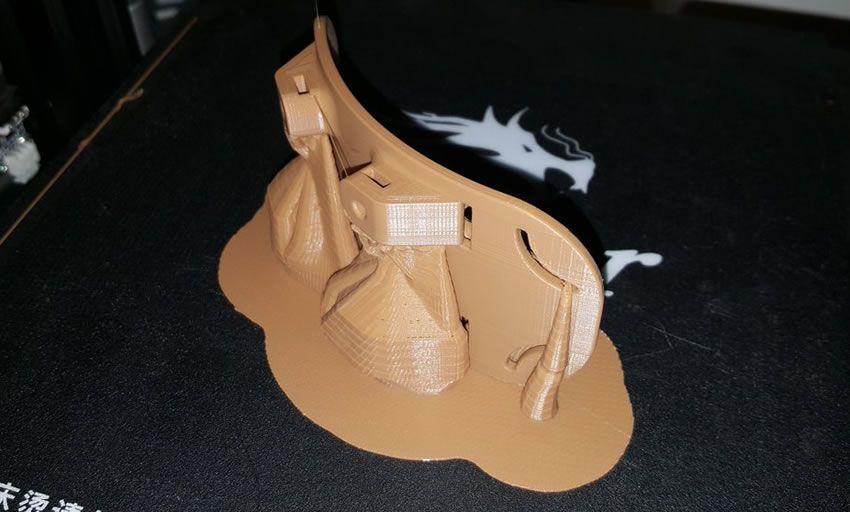 The print was an easy one and the tree supports look almost organic and they support the overhangs
I was left with an electrode on a raft and on its side surrounded by tree supports. The raft came away easilly as did the tree supports leaving me with a labia shield that only needed minimum post printing work.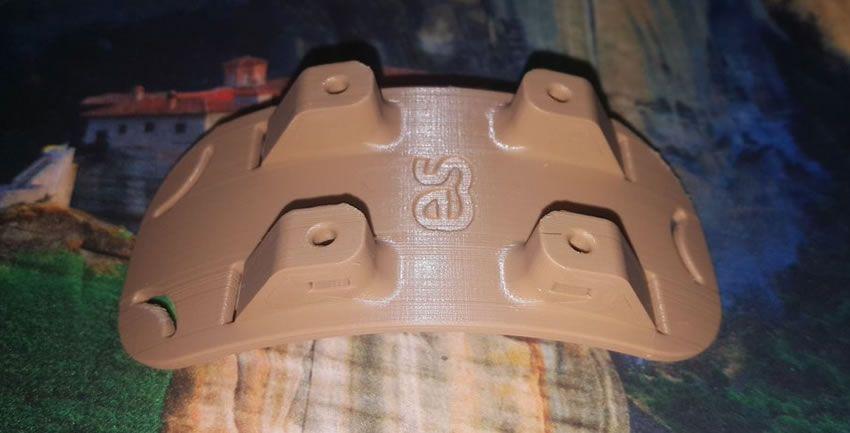 The shield came out really well with not a lot of post work to be done
All I had to do was give it a quick sanding all overt to help the paint to adhere to it. One problem with 3D printed objects is their porosity and you need to seal them to prevent bacteria getting inside and multiplying - yuck. I did this simply by using an etch priming car spray paint to give the initial coating on the electrode.
I used three layers of primer to seal the body completely and to also smooth out the surfaces to get rid of most of the legacy lines you often get with 3D printed objects.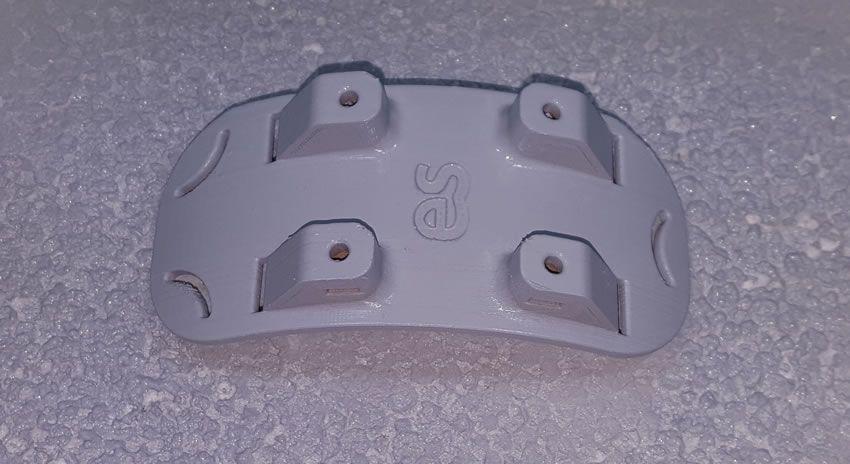 The first coat of undercoat was applied and then I sanded it flat again before adding the next coat
Finishing The Paint Job
Once I was happy with the undercoat I switched to a bright yellow Krylon plastic spray paint for the top coat and I gave it three coats on each side. Take care to get the paint uniformly around the back of the shield around the ramps.
It is starting to look the part now and it is almost ready for finishing off. I just need to order and fit the conductive metal strips now and the hardware.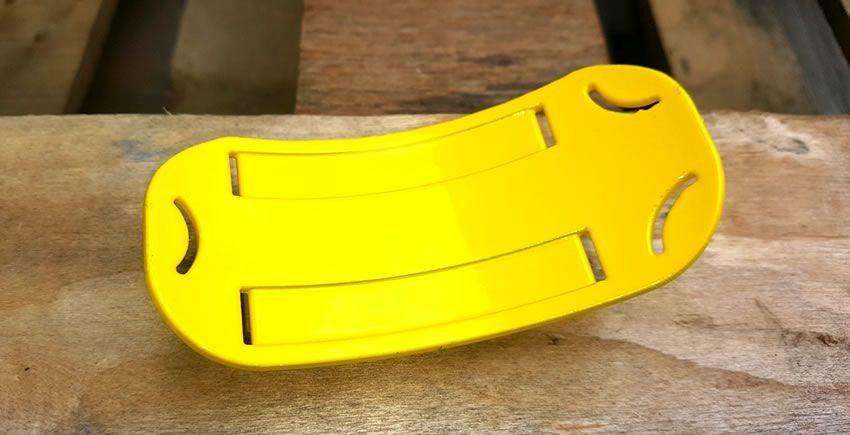 The first coat of the top coat of paint looks lovely
I received the conductive self-adhesive tape and it was so easy to apply to the electrode. I just started on the top of one platform and ran it down the ramp and through the slit to the other side of the electrode. Then it was a simple task of sticking it to the front and then running it through to the back again and up the other ramp.
I have now finished this little DIY electrode project and it was so much fun. All I have to do now is add some knicker eleastic and hook myself up to one of my e-stim control boxes for some kinky fun.

The conductive taoe finishes it nicely
Make Your Own
If you want to make your own Bi-polar Labia Shield you can download the 3D printing STL files here STL files from Smartstim.com and print one of these elctrode for yourself.
---
---
Additional Info
Brief Synopsis:

I enjoyed printing and making this bi-polar labia shield electrode and this is how I made mine.
You May Find These Articles Interesting