About Crowned Jewels
Working out of a 300 year old barn in the beautiful Norfolk countryside the crowned jewels artisans create amazing luxury adult products and they cater for all sexes and tastes. What sets them aside from their competitors is both their customer service and attention to detail. Their extraordinary packaging has to be seen to be believed.
"We are an independently owned luxury adult sex toy, accessory and lifestyle brand. As the Crowned Jewels Artisans, we are passionate about us creating beautiful, body-safe toys and accessories to explore and enjoy your body, enhance it's potential and improve your sex life with style and confidence."
They create beautiful toys in Titanium, Gold, SIlver and Aluminium and their highly polished finish is stunning, you can even have some of them anodised in a myriad of colours.
---
Delivery
The packaging of the Farringdon deserves a special mention. It was shipped in a plain cardboard tube which is unusual in itself but upon opening this tube I was amazed to find another nicer one wrapped in tissue paper and this one was sealed with a ribbon and wax seal. It felt like I had gone back in time and I had received a message from the King. The wax seal was a lovely touch and it felt really special opening it to get inside this tube.
The Faringdon was inside its own black cloth storage bag that has the Crowned Jewels log on it and a drawstring to close it. It was again nicely wrapped in tissue paper. I can honestly say that this was the nicest unboxing of any sex toy I have ever received and it made me feel really special, so well done Crowned Jewels.
Features
When I first laid eyes on the Farringdon after taking it out of its black storage pouch it almost took my breath away, it is just so shiny and sumptuous looking. I was amazed at the highly polished finish and it felt incredibly light in my hand. I stared at it in awe as I took in its curves and bulges - this was going to be a lot of fun.
The Farringdon is made out of Titanium Enriched Aluminium and you just won't believe the finish, they have obviously spent a lot of time on the surface treatment of these dildos and it means that they are entirely body safe, hypo-allergenic, Nickel free and of course non-porous.
It is also available in Titanium which costs a lot more and is 100 grams heavier, If you opt for the Titanium version then it is available in six distinct anodised colours and these are:
Blue
Bronze
Gold
Magenta
Natural Grey
Purple
These anodised colours are amazingly vibrant and give the toys an unique and bespoke look.
The Farringdon has a nice curve to it and this makes it really easy to hold and use no matter which end you opt to use. It is designed both for G-spot and also P-spot stimulation.
Its ends are totally different and provide unique sensation when used. My preference is for the end with the four graduating globes, each being wider than the previous and these feel great in use. The other end has a tapered tip with only the one bulge that tapers back until it meets the other end of the toy at the mid point. It is great for both pussy and anal play.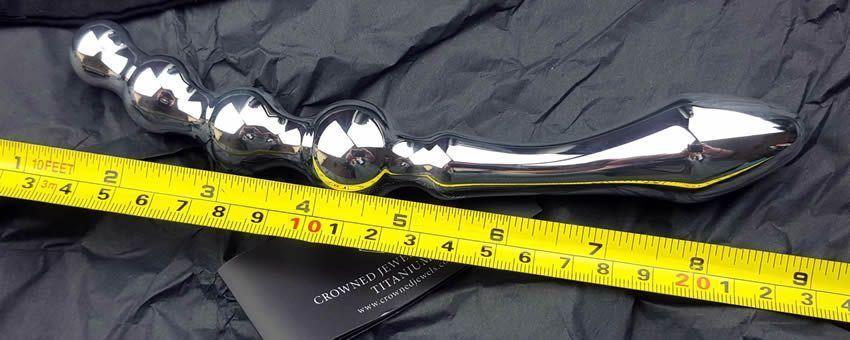 The Farringdon measures in at 7.2" (18.5cm) in length and its widest point is 1.15" (2.9cm) meaning that it is by no means a large toy but it is incredibly comfortable to use. It is also very lightweight and easy to handle weighing in at only 6 ozs (172grams). It isn't the biggest of dildos but it is perfectly proportioned.
If using the Farringdon anally then it is recommended that you only insert a maximum of half of the toy and maintain a firm grip on it as it has no flared base. Failure to do so could cause a rather embarrassing trip to A&E (if you do end up going there then I'd love to hear what excuse you used).
One great property of aluminium is that it heats up and cools down quickly so its can be a lot of fun for temperature play especially if you want to quickly go from one extreme to the other.
Use
It was almost a shame to slide this stunning looking toy into an orifice as it is such a work of art - who am I kidding, I couldn't wait to try it out.
You may need to be careful when using lube as it can make the toy slippery, although if you are holding it by the ball end you have more to grip onto. That said I found that the smooth surface meant that I didn't need to use much lube at all, but if you do opt for some lube you won't be needing much at all and being metal you can use any type lube that you like. Top Tip: Try some silicone lube in the bath or shower for some long lasting fun.
The Farringdon isn't a large toy by any stretch of the imagination and would probably make a great starter toy for both pussy and anal play. The ball end features a total of 4 balls, each one larger than the one before, so if using it anally you can slowly increase the size when you are ready.
I decided to start off with some pussy fun and it slid in really easily due to its incedibly smooth surface and I really enjoyed the feeling of each ball stretching me wider as it slid in. Taking all four was no problem at all for me and I soon set up a steady rhythm enjoying the great feeling of the balls moving in and out. Tilting the toy forward meant that I could readily control the amount of pressure on my G-spot and that felt great and I mean really great.
I found that sliding the toy completely out so that each ball also rubbed my clitoris before sliding it all the way back in really sent me over the edge and I had a great orgasm with it deep inside me.
After re-gaining my composure I decided to try the other end so I cleaned up the toy and get to work again. It did feel really nice but I definitely prefer the end with the four balls. I decided that it would be a good point to change to a bit of anal fun and so I applied some Sliquid Sassy Lube and I slowly let the tip dilate me and it slipped inside quite easily, if felt really good and after a few minutes I cleaned it up and tried my favourite end and this rocked my world.
I gasped as each ball went in, each larger than the last and I closed my eyes and bit my lip as I slid it back and forth.
I played with it for ages before bringing myself off with it and I just lay there marvelling at how amazed I was to find a dildo that I prefer to use up my bum LOL. There's a first for me.
Cleaning is so easy just use warm soapy water before treating with you favourite antibacterial sex toy cleaner (especially important if you have just had anal fun with it). Let it dry and then you can buff it to a high shine before placing it in its storage pouch ready for next time the mood strikes.
Performance
I think that this is the first dildo that I have found that actually gives me more pleasure anally than vaginally and that is a rare thing for me I absolutely love every minute of using it.
Guys you are going to love this dildo as well and girls you get the best of both worlds with it as it is not a large toy its easy to have anal fun with as well as pussy play.
I have since used it many times and have actually given myself some anal orgasms in the bath (hence the silicone lube tip earlier LOL) it is a great toy for long relaxing sessions and is perfect for pussy or anal fun.
Key Features
Key features:
100% body safe Titanium Enriched Aluminium
Two different ends to explore
Highly polished surface
Its curve makes it easy for G-spot and P-spot play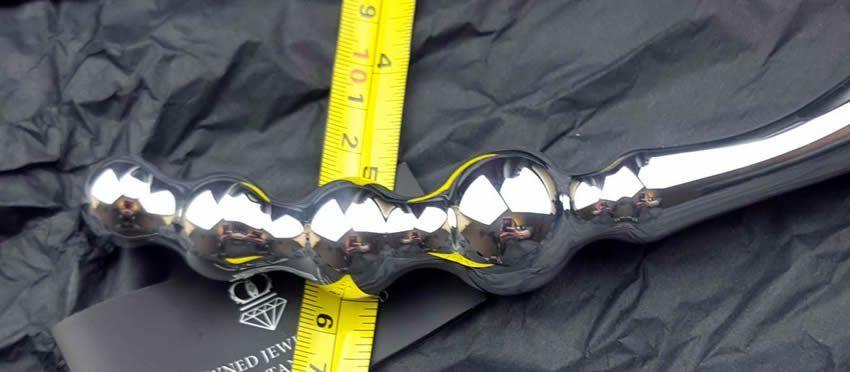 Final Thoughts
I love this toy, I usually prefer girthier toys but the Farringdon has proved to me that size definitely doesn't matter. I love the design, the material, its packaging, its finish but above all its performance. For me it was a real eye opener, I never in a million years would have thought that I would prefer to use it anally but there you go you learn something new every day.
Aulimium is a great sex toy material that I have never experienced before, due to its lightweight I could easily use it for long sessions without getting tired hands and wrists and its so easy to clean.
It would make the perfect gift to give a loved one as the packaging is absolutely first class and unique, couple that with its looks and form and you will make someone very happy with it. Better still why not treat yourself to one.
Recommendations
I would recommend this sex toy to:
Anyone looking for a body safe rigid dildo.
Anyone looking for a dildo for use anally and vaginally.
Anyone looking for a beautiful dildo.
Anyone looking for a dildo with two distinct textures.
I wouldn't recommend it to anyone who:
Wants a thick dildo.
Doesn't like hard dildos.
Where Can I Get One From?
You can get the Farringdon from crownedjewels.co.uk for just £72.99
Check out the full range of Aluminium and Titanium dildos, butt plugs and other sex toys to find something to tickle your fancy.
I was given this toy in exchange for an honest and fair review, this review doesn't contain any affiliate links.
I would love to hear what you thought of this review. What can I do better, what did you like? Let me know in the comments form below. Thank you for taking the time to read it. Joanne xx