Delivery & Packaging
I received two boxes of dildos. This review is for Diablo's Finger.
The box was very discreet, with nothing to indicate what the contents are. It was also sealed very well, so no way of taking a sneaky peek inside. You can be assured of discreet packaging when you buy from John Thomas Toys.
On opening the box, I found the four sizes of Diablo's Finger, packaged inside between layers of paper. Two John Thomas Toys design vac-u-lock compatible suction cups and a storage bag for each dildo.
Each dildo is wrapped in a robust, clear heat sealed film. It also has a sticker to let you know the firmness rating, one to remind you to wash the dildo, plus the JTT brand holographic sticker.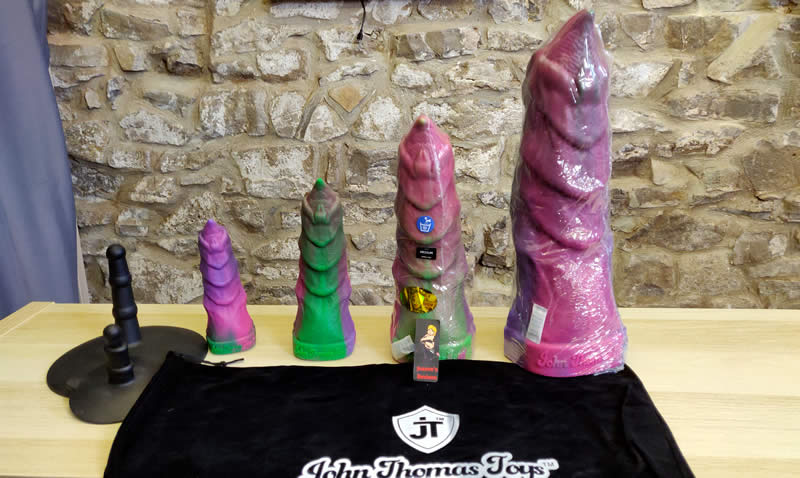 I received all four sizes together with their storage bags and suction cup adaptors.
The storage bags were each inside a small John Thomas Toys branded carrier bag. These storage bags are made from thick black faux velvet with John Thomas Toys branding on one side. The bags are sturdy enough to hold the weight of each dildo securely, and because of the thickness of the fabric, they should last for a long time.
I really like the John Thomas Toys design of the vac-u-lock compatible suction cup. They are strong, no matter which size you use. The ridges are rounded to not damage the dildo. That makes them easier to pry off the dildo when you are ready. You could probably pull a dent out of a car's bodywork with one, although I have to admit that I have never tried that.


I love the suction cup adaptors from John Thomas Toys and the storage bags are great too.
Diablo's Finger dildo is fascinating, and I am looking forward to telling you more.
---
Check Out My Unboxing Video On Youtube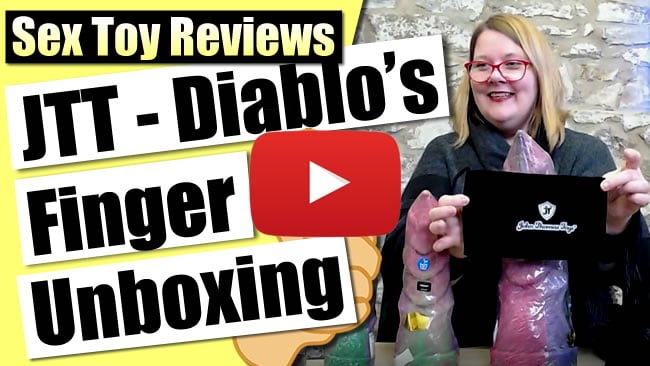 ---
Diablo's Finger has some fantastic features, from the claw, then on down the finger's shaft.
Materials and design
John Thomas Toys have used high-quality medical-grade silicone. This is a really great choice for any insertable toy. It is not only body-safe, but it's also non-porous, phthalate, latex and rubber free. Silicone is also more robust than other materials. As long as you look after it properly, it will last for years.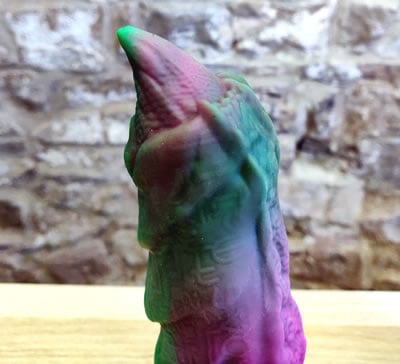 You can enjoy temperature play with silicone; just chill or warm it before use. You can also clean it in the dishwasher or even boil it. Just do not let the kids (or mother in law) empty the dishwasher for you, LOL. Finding a large enough pot could be a challenge for the large and XL size if you want to boil it.
One important thing to remember with silicone sex toys is to use a good quality water-based lube. My personal favourites are Sliquid H2O or Secret Play Natural. If you are playing with a partner and oral sex is on the cards, I recommend a water-based flavoured lube like H2O Candy Shop.
John Thomas Toys are very proud to say that they use copper moulds to manufacture these dildos. While it is more expensive than other casting methods, it ensures that every dildo will have precisely the same features as the first. John Thomas Toys even offer a free John Thomas Toys® No quibble replacement Life Time Warranty with Diablo's Finger.
This dildo is great for those who have a fantasy fetish. However, even if you don't care what a dildo looks like as long as it delivers, this one demands consideration.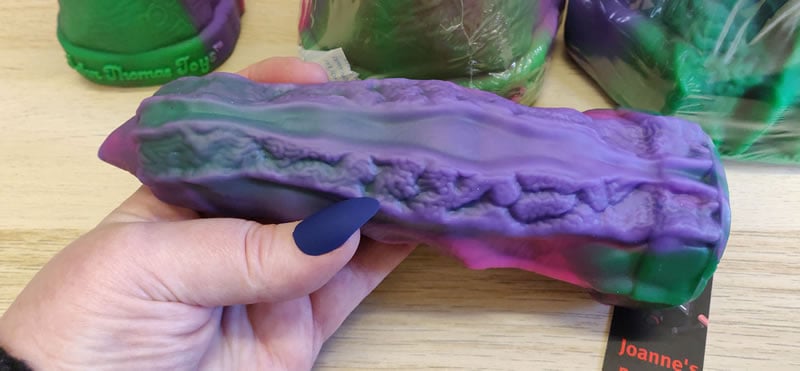 The textures on this dildo feel incredible as you use it.
Let me talk about the design from the tip of the claw down. As this is insertable, and no one wants you to get hurt, the tip is not sharp.
The silicone blend on the medium firmness I was sent is actually quite flexible at the tip. But having said that, I was looking forward to feeling the sensations it would create on my pussy walls (no, I am not talking about anything to do with a cat, lol).
Once past the claw, you have a hard ridge of the fingertip. Then as you move down the shaft, there is an abundance of deep ridges to enjoy. The entire dildo is covered in texture to add to your enjoyment. The surface of the dildo is covered in an array of stunning rune shapes that add to the texture on the surface but also look incredible.
I was actually getting very excited to try this dildo out as soon as I removed it from the packaging to take the photos.
A quote from John Thomas Toys website. "A truly stunning design created by Lily-Lu @anuskatzz which was apparently started off as being a T-Rex dino finger.
Stunning detailing from base to top of claw, Diablo's Finger is truly a piece of artwork just waiting to get rammed in your hell hole, which is where he feels most comfortable."

The ridges do feel very good as you trust with this dildo and rubbed on my g-spot nicely.
I have to admit that I can honestly agree with its being a work of art. It's not just the design of the dildo but also the colours used. Even though Diablo's Finger is available in several colour choices, they all look stunning. I love the effect the hand pouring technique called fusion makes. This technique also means that the colour finish of every dildo will be slightly different. This is due to the way the various colours mix whilst the colours are being poured.
Around the base is the John Thomas Toys branding, and then there is the vac-u-lock compatible hole. This means that you have much more play options to enjoy.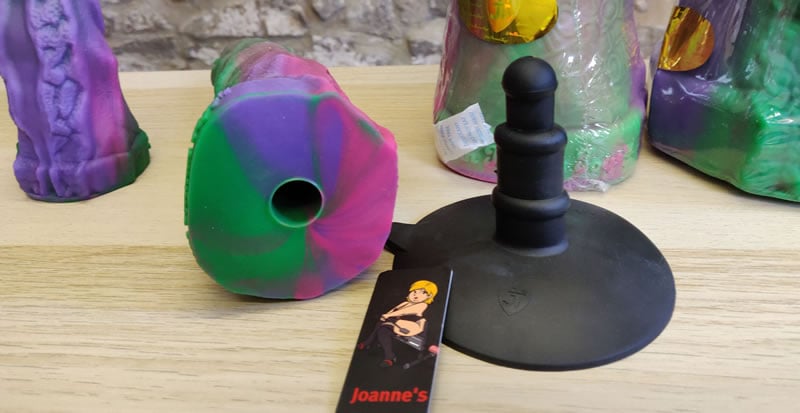 Each dildo has a vac-u-lock compatible hole in the base which means it's also good for strap-on play and fucking machines too.
You can use the suction cup holder provided with every dildo. If you have a strap-on, you can use that. Although if you have purchased the XL size, you may also need some back support ;-). These also work well on vac-u-lock compatible fucking machines. However, you will need to take into account the weight and size of the dildo together with your machine's motor.
With four different sizes to choose from, it's not a case of one size fits all. More like there is a perfect size choice for most people.
| * | SMALL | MEDIUM | LARGE | X LARGE |
| --- | --- | --- | --- | --- |
| Length: | 7"/17.78cm | 9"/22.86cm | 12"/30.48cm | 16"/40.64cm |
| Circumference (top of shaft): | 5.1"/13.00cm | 6.1"/15.50cm | 8.2"/21.00cm | 11.4"/29.00cm |
| Circumference (middle of shaft): | 5.9"/15.00cm | 7.4"/19.00cm | 9.8"/25.00cm | 13.8"/35.00cm |
| Circumference (bottom of shaft): | 6.4"/16.50cm | 8.6"/22.00cm | 11.4"/29.00cm | 15.7"/40.00cm |
| Circumference (base): | 7.4"/19.00cm | 9.8"/25.00cm | 13"/33.00cm | 17.5"/44.50cm |
| Max Insertable Length: | 6.3"/16.00cm | 8"/20.36cm | 10.6"/26.929cm | 14"/35.56cm |
| Weight: | 0.28kg (*variable) | 0.6kg (*variable) | 1.45kg(*variable) | 3.45kg (*variable) |
| Price: | £69.99 | £99.99 | £169.99 | £229.99 |
Performance
Oooohhh, now onto my favourite section. So how do you think it went? Ok, I will not leave you hanging to find out, no matter how tempting it may be (insert evil laugh here, lol).
It's easy for me to say that this dildo design for Diablo's Finger is absolutely amazing. It really does feel as good as it looks. I enjoyed exciting myself by rubbing the claw tip against my lubed up clit, before finally letting the finger take the plunge.
As every inch slips inside, it creates delicious sensations, and when I start to move it in and out, then adding a slight twist, and it is just WOW! Toe-curling orgasmic is the phrase that springs to mind. As I expected, I felt every single ridge and bump along my sensitive walls. If you get the angle and dildo size right, you can even rub the claw against your g-spot.
The choice of medium firmness is perfect for me. It is also available in a soft firmness option if you prefer it to be squishier than mine.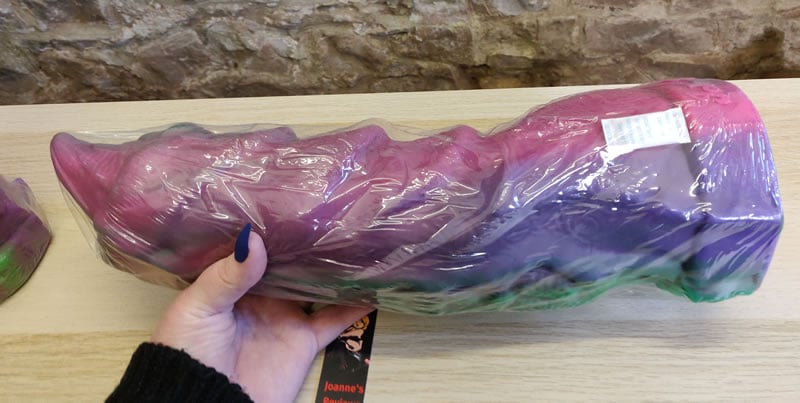 I take my hat off to anyone who can handle the XL Diablo's Finger dildo.
I highly recommend checking the measurements on the website before you buy, so you are not disappointed or taken aback by the size you receive. Also, bear in mind that the shaft gets wider as you travel down.
Cleaning Diablo's Finger is a little bit of a challenge if you cannot use a dishwasher. As all those ridges and bumps can storge vag-goo or other bodily fluids. I find that soaking it in a sink full of very hot soapy water does the job, then just to be sure, I rinse it off in the shower. You could also use a cotton bud or a super soft toothbrush to ensure nothing is missed.
It is best to air dry silicone dildos. But only if you do not have any nosey people in the house that you would not want to find it. In that case, you could blow dry it. Only put it safely away in the faux velvet storage pouch once you are 100% sure it is dry.
Don't forget, you can also use temperature play with silicone. If you have never tried it before, do not use any extreme temperatures; it is not something you want to go to A & E for.

The rune textures on the Diablo's Finger dildo look amazing and feel sublime, they really make this dildo stand out from the crowd.
Conclusion
Diablo's Finger has now taken my favourite spot for John Thomas Toys dildos. It not only looks truly stunning, but it also feels just as devilish as you want it to. (I was going to say heavenly, but that is the wrong word to use for Diablo's Finger.)
Even if you do not have a fantasy fetish, you could still find Diablo's Finger thrilling to ride.
---
Check Out My Unboxing Video On Youtube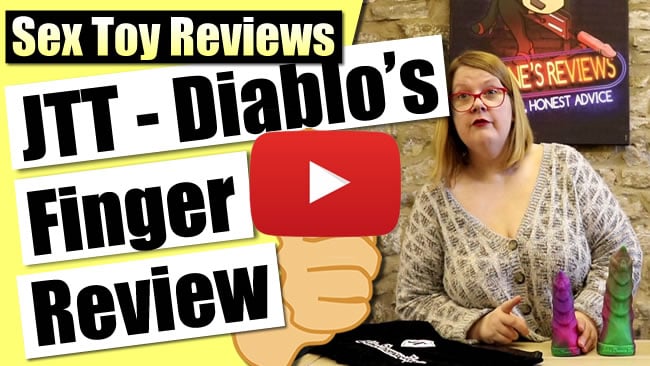 ---
Check out Joanne's review of the Diablo's Finger silicone dildo from @JohnThomasToys and see why it really did scratch her "itch".
Click to Tweet
Key Features
Key features:
100% Medical grade silicone.
Lots of Ridges and bumps.
Looks stunning.
Four sizes to choose from.
Two firmness options.
Vac-u-lock compatible hole in the base.
I would recommend it to:
Anyone who enjoys fantasy toys.
Anyone who enjoys the feel of plenty of ridges and bumps.
Anyone who wants vac-u-lock compatible dildos
I wouldn't recommend it to:
Anyone who prefers realistic dildos.
Anyone who likes smooth shafts.

The rune textures on With four sizes of Diablo's Finger dildo to choose from there is something for eveyone but remember to check the sizing table.
Final thoughts
With four sizes to choose from, there really is a size for most peoples requirements. This dildo truly is a work of art from top to bottom, and the colours only add to its beauty.
If you want a dildo with lots to enjoy, why not check out Diablo's Finger. You could even display it, and no one would realise it is what it is. Why not be a little devil and treat yourself. As you can also boil wash silicone, you could get one for anal too.
Just remember to always check out the measurements on John Thomas Toys website before you buy.
I was sent Diablo's Finger by John Thomas Toys and I would like to thank them for giving me the opportunity to review it for them.
Joanne's rating
Where Can I Get One From?
Grab one of these delightfully textured silicone dildos from John Thomas Toys with prices starting at just £69.99.
Check them out and don't forget to tell them that Joanne says "Hi".
---

If you enjoyed reading this review then check out my other reviews of John Thomas Toys products:
Silicone Dildos
---
Disclosure
This review does not contain affiliate links, for more information about affiliate links check out my disclosure page.