Ordering & Delivery
I found this device via the electrical play forum on Fetlife. I have played quite a bit with basic TENS units, and have been fortunate to have the Estim Systems 2B and ET312 control boxes used on me in the past, so that gives you an idea of my experience levels.
I bought the Coyote direct from the manufacturer, DungeonLabs in China. https://dungeon-lab.com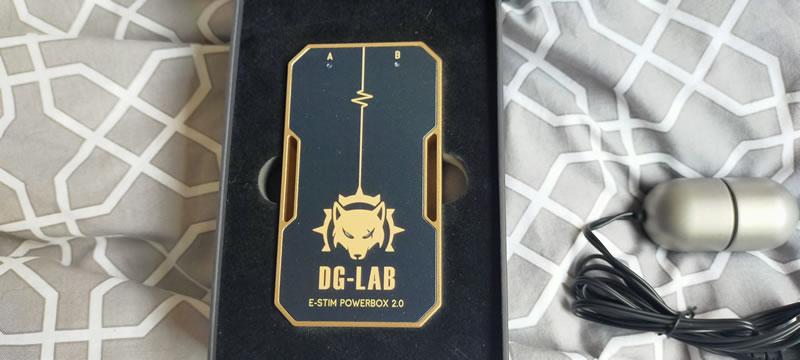 The Coyote Control Box
I opted for the combo package, which includes all of the different attachments. This cost me about US$120 with free postage.
Including a small amount of import duty, this equates to about £110 at the time of writing. Delivery by DHL took a not unreasonable 4 weeks.
Included in the package:
The Coyote Powerbox.
USB C charging lead.
Bipolar anal plug, this weighs about 170g.
Bipolar vaginal egg. Can also be used anally, this weighs about 280g.
Flexible rubber cock electrodes.
Flexible rubber urethral sound.
Connecting leads.
TENS pad style electrodes.
Leg/arm strap.
The power box feels very solid and contains a rechargeable lithium-ion battery. On the top edge, you have the two electrodes sockets, and the on/off toggles, which also vary the power.
On the face of the device are led 'eyes' that glow red when charging the device, and switch to green when it is fully charged. Charging takes about 3 hours, and the charge lasts well. There are also LEDs to indicate when each channel is operating.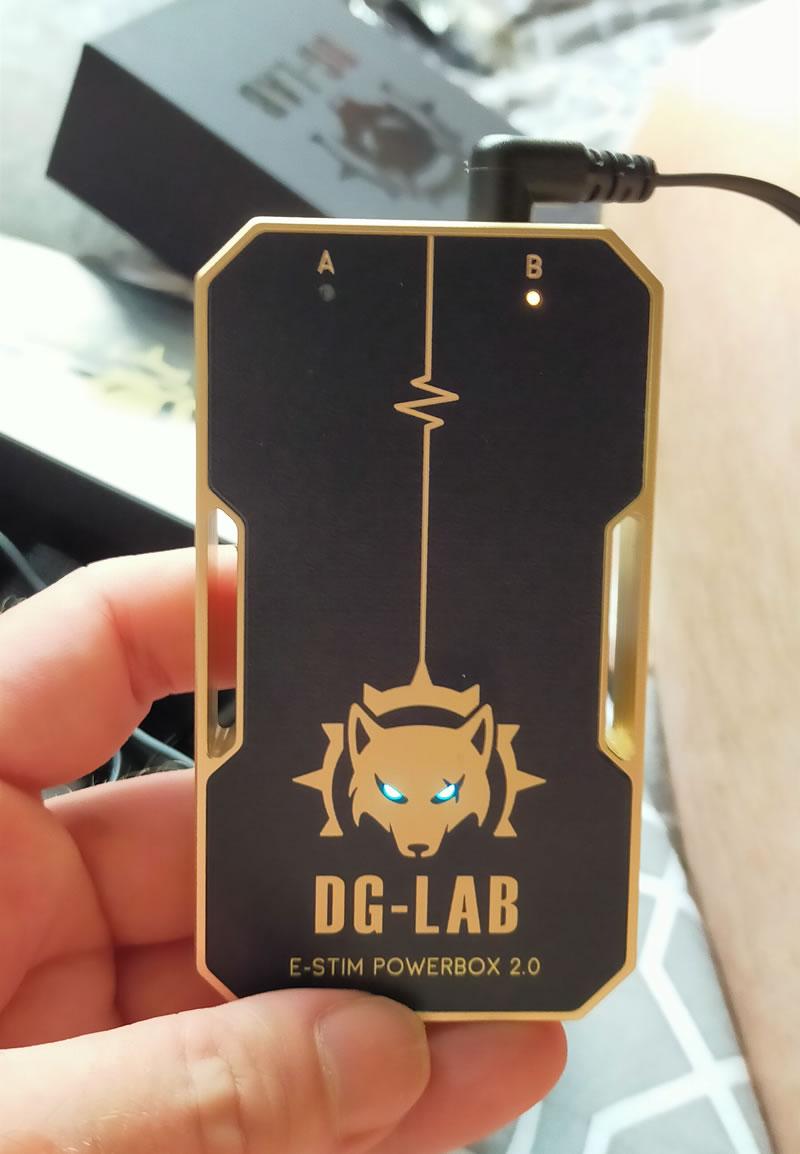 The Coyote Control Box is very well made and feels good in your hand, the eyes are a nice touch
Independent Operation
The box can operate on its own. Each channel can be switched on by pressing the switch wheel (rather like a computer mouse). Another press selects mode, then pushing the toggle switch up or down varies the power.
While the device works in this mode, it is quite tricky to spot which mode each channel is in, which you can only tell by the frequency that each channel led flashes.
App Controlled Operation
The box is more versatile when connected via Bluetooth to an Android phone or tablet. You can then control all functions from the phone or tablet, and another even more remote device can also be controlled in this way, though I have not used this option.
Once logged in (a one-off operation, involving emailing for an activation code), the device pairs with your phone and all functions of the power box can be controlled from the touchscreen, including various wave patterns.
You can customise the wave patterns, using the touchscreen of your device, and timers can be set to call a halt to proceedings or turn the device on or off. I have not fully exploited these options, as I have plenty of time.
Each channel is controlled independently, so you can have different waveforms through each set of electrodes/attachment.
There seems to be plenty of power, though sometimes the app takes a moment to respond, which is no doubt due to it talking to the device via Bluetooth.
There does seem to be an interconnect between the channels - I have not reached full power yet, and if say, channel A is on a high setting channel B is slower to respond.

The Coyote Control Box comes with four types of electrode that gives you lots of play options
I have now used all of the attachments, if only briefly. The buttplug is nice and smooth, but in my opinion, could do with being larger.
Nothing is stopping you from buying other accessories, as the leads are standard 2mm tens size.
The egg produces a different feeling as it can be fully inserted - I was slightly concerned about getting it out, but it was easier than I thought. The flexible rubber cock loops work well as does the urethral sound. This was my first time using this type of insertable, but it's definitely something I will repeat.
In summary, I think the device is very good value, especially if you buy the combo pack.
Experienced stimmers might find it lacking in outright power, but I will certainly enjoy exploring its capabilities further.
The COYOTE Control Box is creating quite a stir, check out the guest post from @rbraccountant about it on Joanne's site.
Click to Tweet
Key Features
Key features:
Small, light and portable
Bluetooth connectivity
App controlled
Extensive program customisations
Remote capability
Short pulse lengths reduce painful stinging
Joanne's Thoughts
This is a control box with a very low price point and some exciting features. I love how portable it is and when you couple that with its ease of control through an app and the capability for online play, it is very enticing.
There is a lot of talk about it over on Fetlife, and I look forward to hearing others thoughts on it. Do you own one? If you do tell us what you think of it using the comment form below.
Thank you Guayule-Nomisma, for taking the time to write and share this review with us all.
Where Can I Get One From?
Grab one of the COYOTE Control Boxes from https://dungeon-lab.com
Check them out and don't forget to tell them that Joanne says "Hi".
Disclosure
This review does contain affiliate links, for more information about affiliate links check out my disclosure page.