Delivery
My DewciBox arrived under plain cover very quickly and when I opened the box I was delighted to see the attention to detail with the actual Dewci Box itself. It looks amazing wrapped in a ribbon with a knot in it and it actually felt like I had received a rather nice birthday present. This was a very good start.
The box is very nice with the Dewci Box logo embossed into the top in red and white. It has a magnetic catch on the lid, the products inside were well presented and were protected in transit with lots of black shredded paper which gave a very nice effect when you lift the lid for the first time. Once opened I was greeted with a welcoming leaflet with a discount code for future purchases and a list of contents and instructions.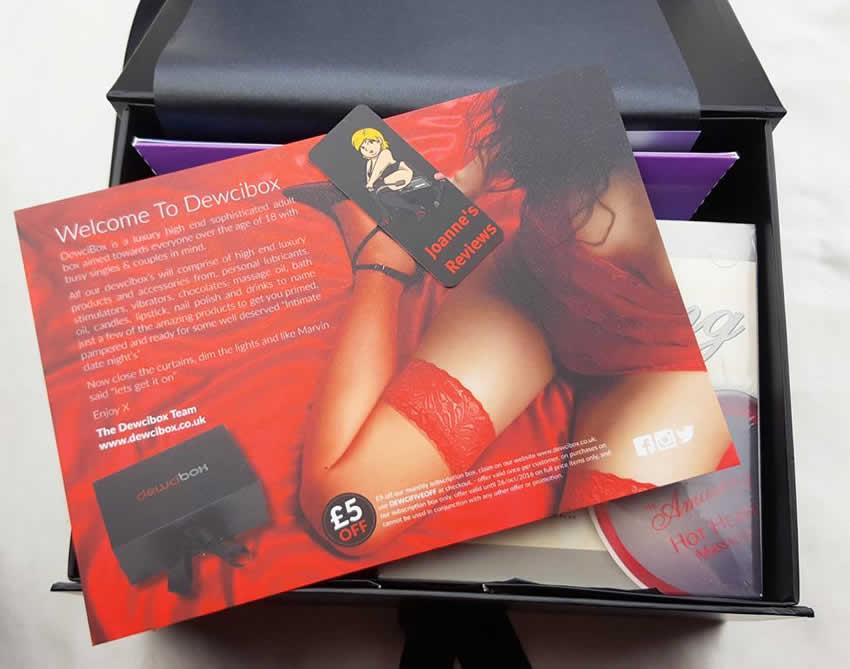 Features
Dewci Box provide a subscription service where monthly luxury boxes are sent out to their customers, each box contains intimate products aimed at both sexes. These boxes contain high end treats including blindfolds, vibrators, massage oils, lubes, lipstick, wine, bubbles and drinks to name but a few. Each box is different and packed full of goodies for you to enjoy, I was very impressed with both the quantity and quality of the contents of mine.
As well as offering the subscription service you can also buy individual boxes on a one off basis. With subscription prices as low as £21 a month when taking out an annual subscription and a normal price of £25 a month it really is good value for money.
Contents
Inside the lovely black storage box were the following items:
Welcome message with discount code for another box
Contents list and instructions for use
Box of Luwi Female Comdons
Playboy Latex Lubricated Codnom
Hot Heart Massaer
Zuyosa Natural Sexual Vitality Suppliment For Men
Power Bullet Vibrator
Ayumi Naturals Tranquility Massage Bath & Body Oil
ID Glide Lube Sachet
Give Lube Premium Aqua Gel Lube Shot
Chocolate Love Heart
Can of Pimms and Lemonade
Box of Luwi Female Condoms
I have never tried female condoms before receiving my Dewci Box so I wasn't entirely sure of what to expect really. Luwi female condoms are made out of ultra thin polyurethane so they feel great, they also contains no latex at all so are safe to use if you have an allergy to latex. Each box of them contains four condoms, in use they transmit heat very well and I have it on good authority (from Stunt Cock) that it feels just as good as not using a condom at all. The Luwi condom consists of a large condom with two rubber rings one of which is smaller than the other. To fit it you squeeze the small ring flat and insert it into your vagina, then simply use a finger to push it into place just like a tampon and the larger ring stays outside of your body.
I recommend using some water based lube with the Luwi and in use it felt amazing, you can insert it up to eight hours before your planned fun so there is no pause, so you don't lose the 'moment' trying to fit it. In use it felt like there was no condom involved at all and Stunt Cock loved it. When you have finished and your partner has slipped out you simply twist the outer ring to seal the Luwi to hold any semen inside before pulling it slowly out.
I think that these were a great addition to the Dewci Box as to be honest I would never have ever thought to try female condoms out before receiving some in the box. Having used them I will definitely be doing so again as they feel so good for both partners - nice one Dewci.
Playboy Premium Latex Condom
Like lots of guys Stunt Cock hates wearing condoms but in the interests of science we used the Playboy one and after trying it we have affirm that it is really quite good. It's nice and thin so no loss of sensation was had when wearing it and the only downside we can see is the fact that as it is latex some people won't be able to use it due to allergies. It went on easily and was fun to use. It did add to the fun knowing that it was Playboy Brand with Stunt Cock asking where my bunny girl outfit was.
Hot Heart Massager
This was one of the surprising additions to the Dewci Box but again for me it was great as I use heat packs regularly so it was nice to have a re-usable one to play with. This one is in the shape of a heart and having that shape made it very easy to hold. It is soft and flexible containing a thick liquid with what looks like a one pence piece moving around inside.
This is were is gets really clever as if you hold the metal disc and bend it then it will click and you will see an immediate chemical reaction in the liquid where is goes opaque and generates a lot of heat that lasts a good deal of time.
Once you have used it you can place it in a pan of boiling water for a couple of minutes to turn it back to its original state ready for use next time you need it. Now that is really cool, or should I say hot.
Zuyosa Natural Sexual Vitality Suppliment For Men
This is the only product that really made me question its inclusion in the box as everything else is pretty much unisex. Yes I know that the Luwi and Playboy Condom are for single sexes but as both were included we can safely say that the birth control included is unisex. The four tablets included with the box can't be used by all men as if you read the instructions there are quite a few caveats to using them and if you didn't bother to read the instructions I guess there could be problems.
Stunt Cock doesn't need performance enhancing additives as he is so horny that when I bend over to pick something up I have to check behind me as he would be up me like a ferret up a drainpipe if he had the opportunity. That said though he did take them and reported no real difference to his libido (or his performance from my perspective). I think Dewci should maybe have a rethink about including supplements like this one, after all the couples receiving these boxes might not even be male/female. Just my opinion though, as they could be ideal for other customers I guess.
Power Bullet Vibrator
The one speed bullet vibrator is made out of ABS plastic and takes one AAA battery which is inserted into the vibe after unscrewing the end cap that contains the power switch. The vibe is switched on and off by pressing in the rubberised button on the end cap. In use I found the vibrations adequate for my needs but nothing to shout about really, in terms of strength I would rate it as middle of the pack having high pitched shallow vibrations that don't penetrate deeply. I enjoyed using it for clitoral and nipple stimulation but as with all bullet vibes don't be tempted to use it anally as without a ridge there is a very real risk of 'losing it' mid play which would be very embarrasing at A&E.
Ayumi Naturals Tranquility Massage Bath & Body Oil
This was a particular favourite of mine from the box. The oil itself isn't too runny and feels great when used as a massage oil, warming quickly in your hands and being absorbed relatively quickly as well, leaving a nice warm glow to the skin.
In the bath it also works very well and your skin feels soft and very nice after drying off. The smell wasn't over powering and was really nice especially when used in the bath. You can also use it to lock in moisture after showering so it is a very useful product and the large bottle means I will be continuing to enjoy it for a long time to come.
ID Glide Lube Sachet
I had a sachet of ID Glide Lube in with the Dewci Box and this is a lube that I use regularly, it lasts quite a longtime and can be re-activated with some water as it starts to dry out. I use quite a bit of it with my machines, it isn't the best lube that I have tried but it is still one I will reach for when having a play. You can read my review of it here - ID Glide Lube
Give Lube Premium Aqua Gel Lube Shot
Another lube addition to the Dewci Box is a lubeshot which is a sachet of lube that is for a single use. I love Give Lube products and have actually reviewed this lube for Cara Sutra as part of the pleasure panel, you can read my full review of it here if you want to find out more about Premium Aqua Gel Lube. This lube is definitely better quality than the ID Glide and it was a pleasure to use especially with the Luwi Female Condoms.
Chocolate Love Heart
There was a nice chocolate heart wrapped in red foil in the Dewci Box and as there was only one that could have caused a problem if Stunt Cock saw it before I polished it off LOL. The chocolate was very nice but having two would have been nicer. Rather than just scoffing it as I did you could include it in with your play as warm chocolate is a lot of fun to lick from anywhere on your body.
Can of Pimms and Lemonade
The can of Pimms and Lemonade was a nice touch and I adore Pimms so there was never any real chance of sharing that as well I guess. Needless to say I enjoyed drinking it whilst still being in a nice post orgasmic glow. The drink did surprise me though as I wouldn't have predicted finding a can of Pimms in a sex toy subscription box but it was nice to find.
Key Features
Key features:
Quality products
Nice variety of products
Great for an intimate evening or dirty weekend
Regular deliveries of great adult pleasure products (with a subscription)
Great value for money
Final Thoughts
Putting together a box that will appeal to all is pretty much an impossible task but Dewci Box have done pretty well with this selection of goodies. There was only one product that I felt was out of place and that was the Zuyosa Suppliment For Men, for me that could have been better being substituted with maybe a blindfold or set of restraints (yes I'm kinky) but for others it may be a perfect addition. As it was the most expensive single product you would have probably had two other items for the price of that one. That said though, it is still a great box of goodies. The real test is for me to ask myself if I'd consider getting one in again in the future and the answer would be - Hell Yes.
I will definitely get one in for the next dirty weekend away that I plan with Stunt Cock as they are a lot of fun and the whole experience of receiving and enjoying a Dewci Box has been a very pleasant one indeed.
I was sent my Dewci Subscription Box by dewcibox.co.uk in exchange for a fair and honest review and I hope that you have enjoyed reading this review and that is has hopefully left you curious to try one out for yourself.
Where Can I Get One From?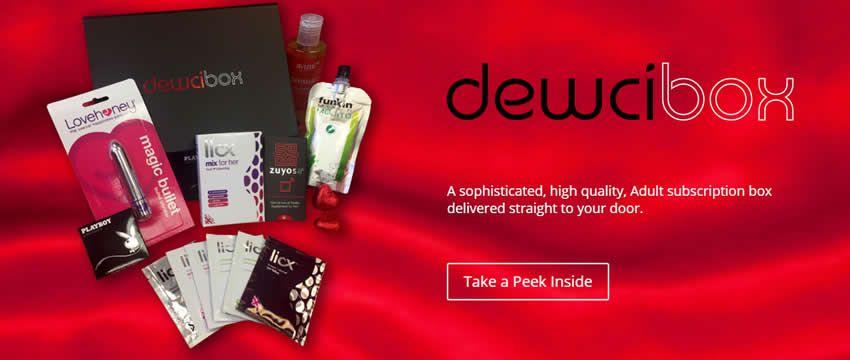 Grab a one off box of goodies or subscribe to save money and receive regular boxes of goodies through the post to enjoy a Dewci Box for yourself.