I started following his exploits and designs ever since, and I am always delighted when he produces something new. His mind works in a deliciously kinky way, and his creations are so much fun while also being devilish devices.
His pussy clamp electrode kicked me into action, and I used his concept for my Tri-Pole Bumble Bee Electrode. I enjoyed creating this design as it was the first time that I had tried any 3D design software. So it was very a steep learning curve for me.
I couldn't believe it when I watched one of his videos where he talks abut his design of nipple clamps.
To say I was over the moon when he mentioned my design and site in his video of his bi-polar nipple clamps would be an understatement. I couldn't stop grinning; I was blown away that he would mention me and my little corner of the internet.
His bipolar e-stim nipple clamp design then spurned me into action. I loved the idea and had to make some for myself. I fired up Fusion 360 and began creating a model of my own Bi-polar Nipple Clamps inspired by his creation.
I am pretty happy with the final results; I added collars to prevent over-tightening and knurled nuts for quick and easy fitting and removal. I have also purchased nylon bolts to use to avoid any skin contact with the bolt providing a shortcut for the current.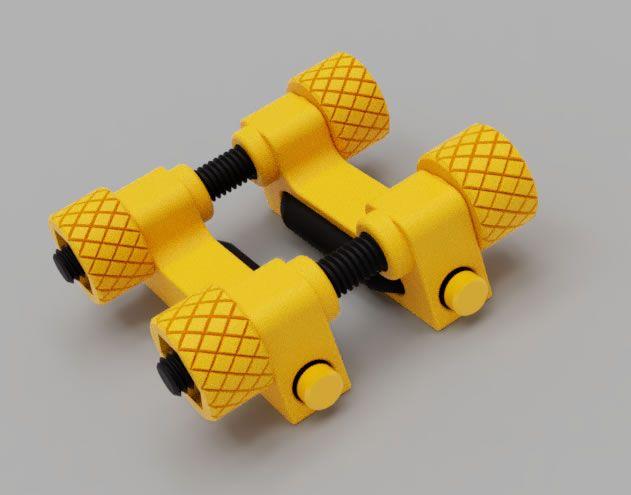 If you like kink, naughty little projects and seeing a very naughty girl getting punished in very interesting and imaginative ways then check out his website and twitter feed.
You can check out the Deviant Designs Website to stay up to date with all the new features, projects, tutorials and advice videos that he produces.
I am sure that like me you will enjoy seeing what he gets up to especially with his stunning submissive who is a delight.
I may have to get myself a dog shock collar and an Amazon Alexa to recreate some of his kinky projects as they are just so much fun.
Devious Designs most definitely lives up to his name, and I look forward to following his exploits for a long time to come.
Check out his site - http://deviant-designs.co.uk/blog/
If you want to support his efforts to create all these kinky proojects you can help by supporting him through patreon - https://www.patreon.com/deviantdesigns.
Don't forget to tell him that Joanne says "Hi".