About Sex Wooden Toys
Sex Wooden Toys are based in Italy, and have been making wooden products for over 20 years. In 2012 they turned their attention to adult products and have produced an amazing range of Dildos and Plugs. They are the only Italian company making wooden sex toys and one of only a couple in Europe doing so.
Each of their dildos is hand made on a wood lathe ensuring amazing quality and something that will be unique. Wood is selected for its features and grain structure so that the finished product is both safe to use whilst also being stunning to look at. The finish brings out the grain structure, highlighting the beauty within the toy and bringing it to life.
Delivery
The dildo arrived in very plain packaging which exactly what you would hope so that if the package is signed for my a nosey neighbour you can rest assured that they will have no idea what is inside. The packaging protected the dildo in its gift box so upon opening it up I was greeted with a perfect product that I could literally either use myself or wrap up for a kinky and fun gift for someone.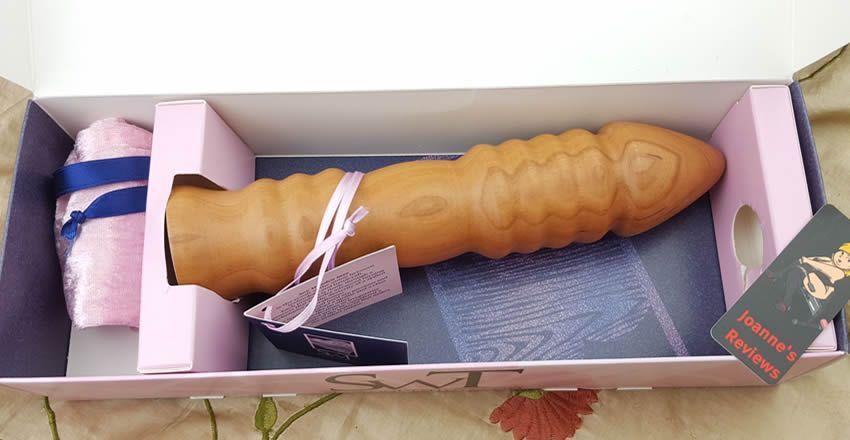 Features
The Demetra arrives in a very nice presentation box complete with a storage bag, product information and a tag stating how the dildo was made.
Sex Wooden Toys have different options when it comes to how you want your dildo to look with several different choices of wood. You can choose from:
Cherry Wood
Durmast
Mahogany
Olive Wood
Padouk
Wenge
They produce an amazing range of nine Dildos, nine Vibrators (yes wooden vibrators) and six butt plugs. Each one can be in whichever coloured wood you desire and you can also have an image or message engraved into your toy by a laser engraver for an extra €10 which is really amazing and a great idea for someone wanting to buy a unique gift for themselves or a loved one.
I was attracted to the Demetra purely because I am a self confessed texture queen and love lots of texture on my dildos. The Demetra has a series of seven ridges and grooves around it and a nicely tapered tip. The rings are arranged in two bands which feel great when thrusting.
It comes in two sizes (I opted for the large *blush*):
| | | |
| --- | --- | --- |
| | LENGTH | DIAMETER |
| Medium | 20cm - 7.8 Inches | 4cm - 1.5 Inches |
| Large | 23cm - 9 Inches | 5cm - 2 Inches |
I decided to get the Demetra in Cherry Wood as it is a lovely colour with lots of detail and I can't be happier it looks and feel amazing. Wood is such a nice organic material and it surprises me that there aren't more manufacturers offering it.
The details on the dildo are very pronounced yet completely smooth and extremely easy to clean. You can expect your sex toys dimensions to vary slightly from those specified as each is unique and hand made.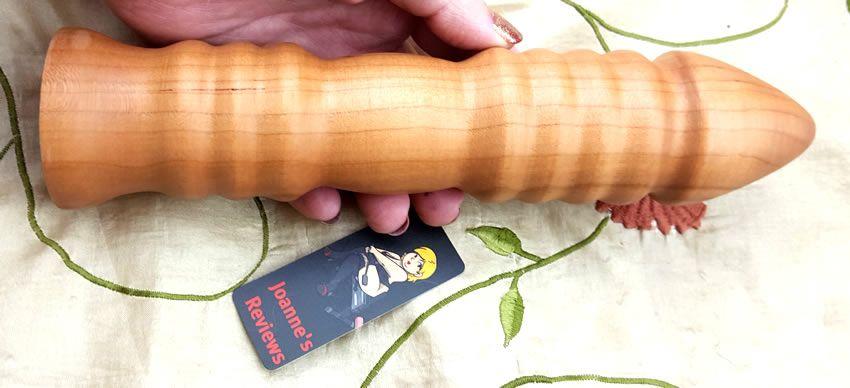 As with any wooden dildo check it before use for cracks in the finish or for any impact damage. SWT sex toys are treated with a three-layer toxic-free and hypoallergenic varnish to ensure that they are smooth and sealed.
You can use lube with wooden sex toys but I recommend only using a good quality water based lube with the Demetra.
The only negative point that I have about the Demetra is the finish on its base. You can see where the dildo has been parted off from the stock wood and this has left cutting marks burnt into the base. I would have liked to see the base sanded so you can't see the burns before the dildo was varnished giving it a uniform appearance. It doesn't affect performance in any way but it just spoils the looks somewhat especially for those all important selfie shots ;-)
One amazing service offered by SWT is you can actually design your own sex toy. Simply sketch the texture that you are looking for and then send it to them for a quote. Once you agree the design your new dildo can be on its way to you in a couple of days. It is a great way to get just the toy you have always wanted and I hope that takes off.
Use
I have used this dildo over the period of a month now and feel that I know it well enough to comment on its use. The tip is great for insertion, its nicely tapered shape slowly opens you up to its full diameter and then you get to enjoy each and every one of its ridges as you thrust the toy in and out.
One thing with wooden dildos though is that even though they feel amazing they are very unforgiving as they are just so hard so be careful as you learn how to effectively use it. Ensure that you have the right angle for insertion and start thrusting slowly before building up speed.
The three lower ridges make it really easy to hold onto but if you get lube on this end it can be a bit slippery so one tip is to wrap an elastic band around the base as this will give you extra grip (in slippery conditions LOL).
This is a really nice toy for thrusting as the textures feel amazing especially as you speed up, but I wouldn't recommend it for anal use though due to its lack of a flared base.
Performance
I can easily get myself off with the Demetra due to its lovely textures, it is a great dildo for thrusting or just to fill you up as you play with a bullet vibe on your clit. Its smooth curves and looks make it a piece of art as well as a very functional sex toy.
The smooth finish ensures that it really slides in and out easily allowing you to focus on the ridges. It creates really nice sensations as each ridge dilates you and then you wait for the next to do the same. Used slowly it is quite easy to edge yourself for long drawn out masturbatory sessions.
I really like the Demetra, its looks are great and it has a performance to match.
Cleaning
To clean simply use a soft wet cloth and a sex toy cleaner, don't immerse the dildo when cleaning, although it is waterproof as with other wood products immersion in water can cause staining. Make sure that the dildo is dried completely before placing into its storage bag.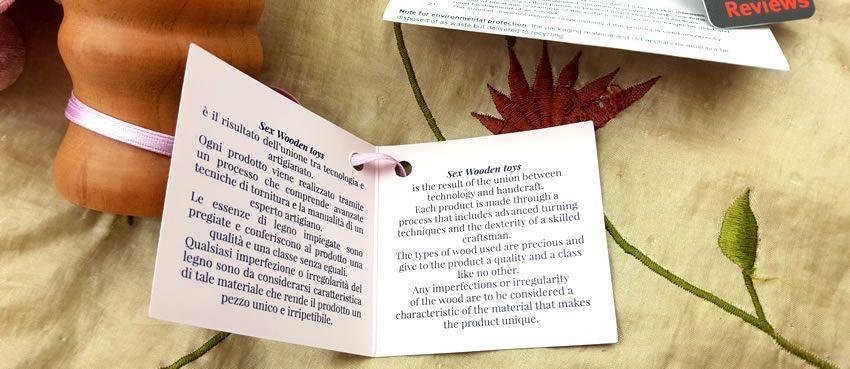 Key Features
Key features:
Natural eco friendly material
Very smooth sealed surface
Highly textured
Hand made
Storage Bag Included
Final Thoughts
Wooden Dildos are a lot of fun and if you haven't yet got one in your collection then what are you waiting for. Get yourself over to the SWT website and check out their great range of wooden sex toys, there is something there for anyone and some of their butt plugs look eye wateringly good. I love my Demetra, it is a very nice dildo with lots of texture and it will be one that I continue to use and so that shows you really what I think of it. I think SWT should look at their manufacturing process to see if they can clean up the bases prior to varnishing as of course in this the selfie age, it can really spoil a good pic (no I won't be posting as pic to prove it LOL).
Recommendations
I would recommend this sex toy to:
Anyone looking for a unique sex toy that is a work of art.
Anyone looking for lots of texture in their sex toys.
Anyone looking for an eco friendly dildo.
I wouldn't recommend it to anyone who:
Doesn't like lots of texture (check out their other designs for one that could suit you).
Joanne's rating
Where Can I Get One From?
You can get the Demetra Wooden Dildo from sexwoodentoys.com for € 87 which is approximately £73 (prices will vary due to exchange rate fluctuations). It would make an ideal sexy gift for a loved one or as a treat for yourself. Wooden sex toys are so much fun and it is such a nice warm material to hold and use.
I was sent this toy in order to review it and this review doesn't contain any affiliate links.
I would love to hear what you thought of this review. What can I do better, what did you like? Let me know in the comments form below. Thank you for taking the time to read it. Joanne xx