About Lovoqa
LUVOQA is committed to selling only body safe and non-toxic sex toys and lubricants.
LUVOQA is an online boutique that sells body safe sex toys for everybody (and everybody). Their product team curates the best items from top brands so you can shop assured that you are choosing from well-reviewed, award-winning, and only body safe products. This is how they became involved with Désirables.
They recognised the craftsmanship and body safe materials used in Désirables sex toys and started stocking them.

About Désirables
Désirables believe that to achieve a healthy and balanced life, you need a healthy and balanced sex life too. Désirables was created by Isabelle Deslauriers and is a design company based in Montréal, Canada. It started life in 2013 and has gone from strength to strength since then.
They specialise in creating stunning products that are warm, functional, sustainable and aesthetic. All of their products are made by local artisans using the finest materials available.
Delivery and packaging
The Dalia arrived very discreetly packaged, and I was delighted when I opened up the box to find Dalia's packaging nestled within.


The simple packaging belies what lies within. I love the packaging of the Dalia
The box that the Dalia arrives in is beautiful in its simplicity. A stunning white box with a red cardboard sleeve holds the Dalia securely on its way to you. First impressions count, and I loved what I was seeing in front of me as I slipped off the red sleeve and opened the box.
The Dalia is nestled inside its box, and it looks absolutely stunning. It really is a thing of beauty, its white matt porcelain surface looks incredible.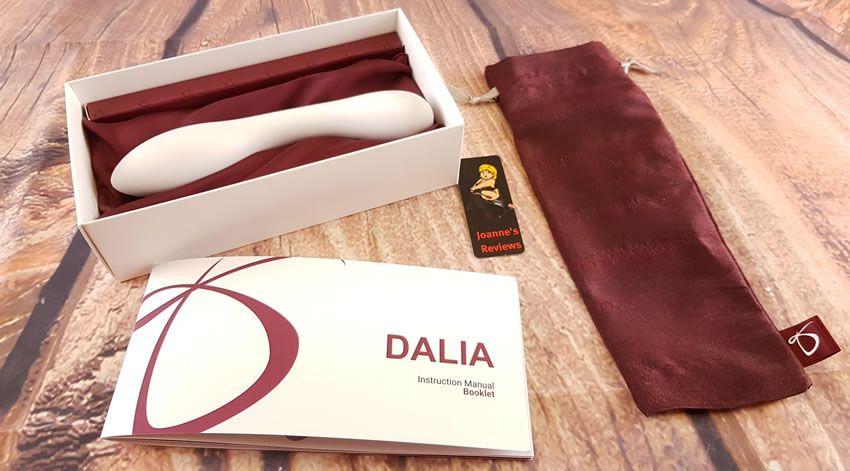 The Dalia looks very temptimg nestled in its box
Inside the box, you get the Dalia, a storage bag, an authenticity certificate and a full set of instructions. These instructions are particularly impressive having clear text and lots of information including a picture of the clitoris in all its glory.
The current trend with sex toy manufacturers is to produce tiny sets of instructions with limited information, so it was so lovely to see Désirables bucking this trend.


The Dalia comes with a clear and educational manual and Désirables should be commended for that
The Dalia
The Dalia is not just another dildo, it is also a work of art. From its subtle packaging to its long flowing curves, everything about it screams quality and also a calm confidence. This is a dildo that makes a subtle statement everytime you look at it, and it just beckons you to sample its delightful shape and performance.
Made out of porcelain it is a dildo that is quite heavy, holding it in my hand I can appreciate its presence, and I couldn't wait to use it.
First, though I just found myself stroking it and relishing the feeling of its surface finish. The texture of the Dalia is delicious, it has a matt appearance that feels lovely.

The Dalia looks stunning and it has a lovely surface finish
Featuring natural curves and two distinctly different ends so that you can have two options when you play. One end is wider than the other, and it also has a more pronounced tip. This end is fantastic for g-spot exploration and stimulation.
I found the difference in circumference between the middle of the shaft and this end of the toy to be delightful as I thrust with it. I also found it easy to stimulate my g-spot which leads to some very memorable orgasms.
The curve in the shaft makes it very easy to hold and use, it naturally follows the shape of your body. It's the curve in the handle that makes it so easy to find and stimulate my g-spot with the Dalia and it is perfect for my body shape.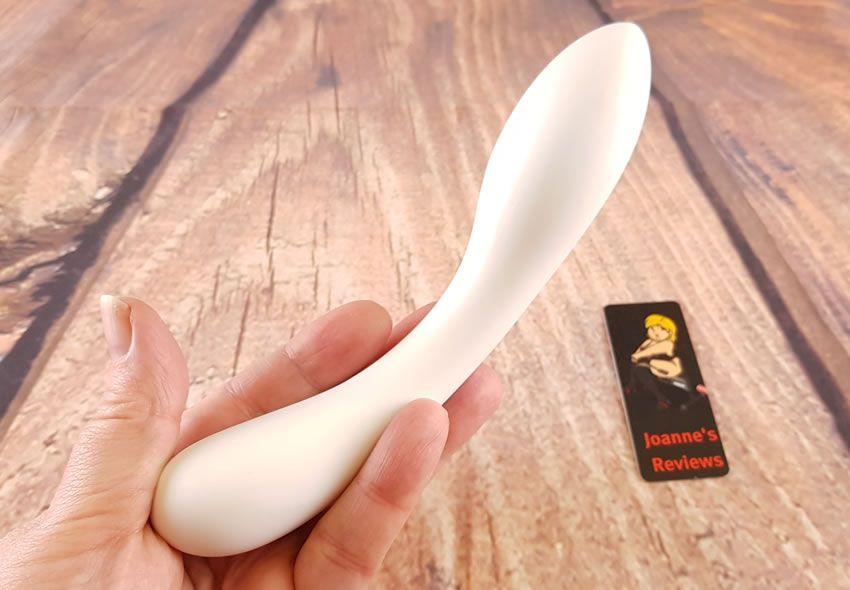 The curve in the shaft of the Dalia that makes it very easy to hold
One of the biggest concerns I had about having a porcelain dildo was its strength. All sorts of thoughts flew through my mind from what happens if it broke inside me to what would happen if I dropped it.
Well as it turns out after some investigation properly fired porcelain is extremely strong, so there is no chance that it could break inside you.
But, dropping the Dalia on a tiled floor would probably break it but let's face it with a dildo this beautiful you are probably going to take good care if it.
Désirables actually have an 'Oops policy' where if your Dalia breaks they will replace it subject to some terms and conditions and this warranty is valid for five years which is exceptional.
One word of caution about porcelain dildos though and that is that they don't like thermal shock. So placing one in the freezer and then dipping it in warm water is not going to go down well and of course, that wouldn't be covered by the 'Oops policy'.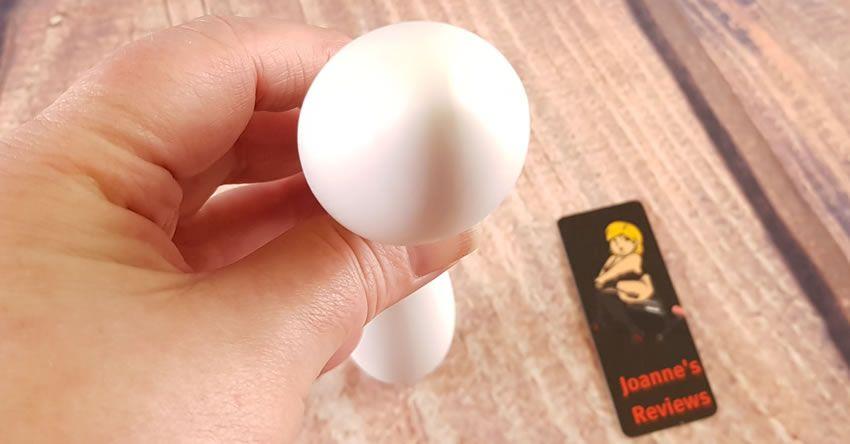 The tapered tip of the G-spot end of the Dalia makes it easy to insert
On the subject of temperatures, a porcelain dildo is ideal for temperature play as long as you don't do anything silly. You can't place it in the microwave as that is dangerous but try putting it in the refrigerator for half an hour before use or place it in a bowl of warm water for some sensual temperature play.
The Dalia is a very versatile dildo, as well as being perfect for thrusting and g-spot stimulation the other end has been designed for efficient kegel training.
Kegel training
The bulbous tip and tapered shaft make kegel exercises fun and enjoyable. I suggest doing your workouts on your knees on the bed or if standing or sitting place your hand under the Dalia so that if you expel it, then it won't drop on the floor.
On my knees I find kegel training to be both enjoyable, and the weight of this pocelain dildo makes holding it in place a challenge as you clench your muscles. With practice, it is possible to move it up and down in this position but be prepared to have to pick it up and replace it a lot at first.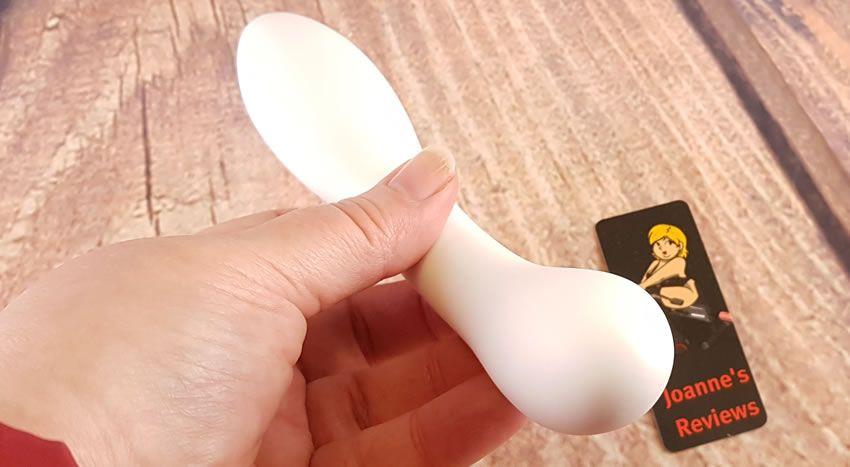 The bulbous end of the Dalia is great for kegel training as well as masturbation
I have used a lot of kegel training devices, some having apps with lots of bells and whistles. One of the beautiful things about using the Dalia for kegel training is its pure simplicity. You are left to focus not on an app or your phone's screen, you can just close your eyes and enjoy the sensations as you do your routine.
I relish not just masturbating with the Dalia but using it to improve my pelvic floor muscles and therefore my performance.
The surface of the Dalia is matt in appearance, and at first glance, you may wonder if it is porous or not. During the firing process, the microscopic gaps in the dildo all fuse shut with glass creating a sealed surface, so porosity isn't a problem. This process is called vitrification, and it ensures the porcelain is hard and sealed.
You can use any lube that you like with the Dalia, I opt for a good water-based one though such as Sliquid H20 or Secret Play Natural.
Cleaning after use is simple, just use warm soapy water or an anti-bacterial sex toy cleaner. It is not recommended that you clean the Dalia in a dishwasher though. Once thoroughly dry, you can store the Dalia in its storage bag or even its box until the next time you fancy enjoying it.

The gentle curves and flowing lines of the Dalia means that it looks as good as it feels
Performance
As a kegel trainer, I found the Dalia to be excellent, its weight and shape are perfect for this type of use. You can find some exercise routines online that are fun to follow, and you can always have a number to spice things up, so it doesn't get repetitive.
As a dildo the Dalia is fantastic, add a small amount of lube and enjoy the sensations as you slide it into you. I like to warm mine up in a bowl of warm water, and that feels incredible. It holds the heat for a surprisingly long time. Cold temperature play can also be fun too.
For my style of masturbation, the Dalia is perfect as I enjoy thrusting dildos deeply. I can almost let gravity do the work when I am on my back, and the feeling of the Dalia sliding into me under its own steam is fantastic.
It comes into its own though if I push forward on it so that I get much more pressure on my g-spot and short quick thrusting like this always gets me over the edge very quickly.
The Dalia not only looks good but it has the performance to match. Its simplistic design with no textures is actually the opposite to my prefered style of dildo that has lots of texture. Yet I am compelled to keep enjoying it. The combination of temperature play and its perfect shape really does it for me, and I feel that the Dalia is going to be a classic.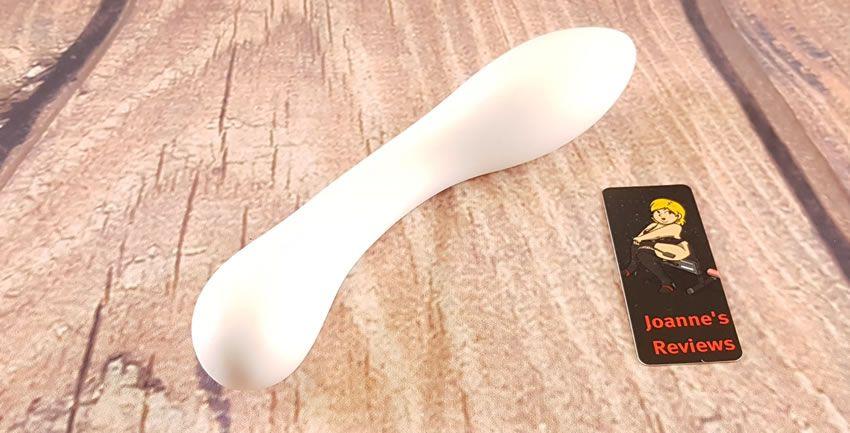 The Dalia is a fantastic dildo that I have no hesitation in recommending to anyone
The porcelain Dalia dildo from @DesirablesED is not only a thing of beauty it delivers some amazing orgasms too.
Click to Tweet
Key Features
Key features:
It is 100% body safe, hypoallergenic, non-porous
It can retain heat and cold, so it is great for temperature play
Incredibly easy to wash and sterilize
Extremely durable and very resistant in use
Several different finishes available
Handmade in Canada by local artisans
Final Thoughts
Désirables is a company to watch, their first dildo the Dalia is fantastic, and it is now also available in several finishes which will make it even more appealing.
They also produce a range of massage stones and oils that look very nice too. I look forward to seeing what they come up with next as the Dalia will be a hard act to follow.
If you are looking for something different, something with multiple uses and that looks incredible, then the Dalia is indeed something to give some serious consideration.
I never thought that I would be recommending a porcelain dildo over silicone creations, but it is a material that is hypo-allergenic, body-safe, non-porous and also beautiful to behold. The way that it retains heat when enjoying temperature play is exceptional, and the Dalia has turned my thoughts about dildos on their head.
When I hear the word porcelain now, instead of thinking of my Nans tea set or something you'd find in an antique shop, I just smile and think of the Dalia and how much fun I have had with it.
I was sent the Dalia by Désirables and I would like to thank them for giving me the opportunity to review it for them.
Joanne's rating
Where Can I Get One From?

Grab one of these fantastic porcelain dildos from Désirables with prices starting at $140.00 CAD (£82.62). Experience the luxury and elegance of a porcelain dildo and kegel trainer.
For readers in the US, get the Désirables Dalia at LUVOQA for just $110.00.
Check them out and don't forget to tell them that Joanne says "Hi".
Disclaimer - I was sent the Désirables Dalia to review free of charge and this has in no way affected the outcome of this review. This post contains affiliate links and if you purchase something when you follow one of these links I may receive a small commission at no cost to you. For more information check out my disclosure page.