Delivery & Packaging
I received three individual plain brown boxes. Each box contained a different design, giving me three different dildo designs to review.
The boxes are plain cardboard, with nothing at all to let anyone know the contents. Which is a must if you have a nosey post person or neighbours.
This review is of Daddy's Cock.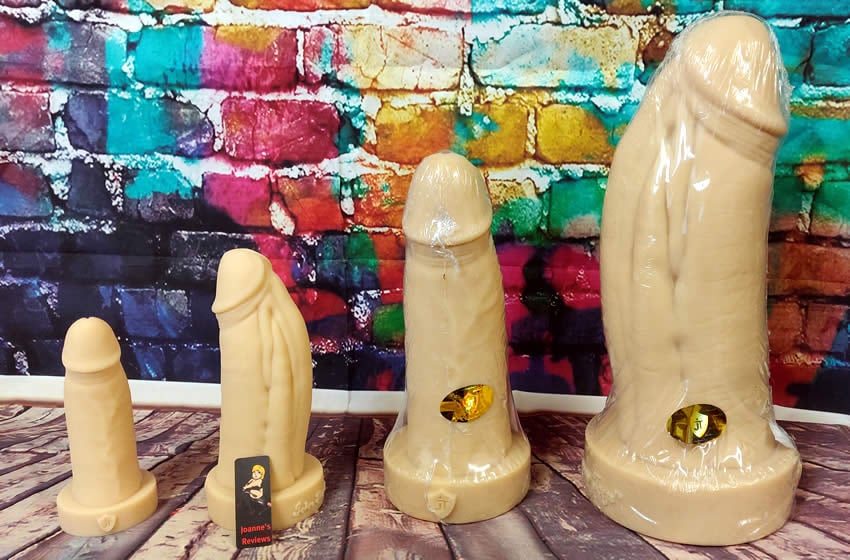 From the front Daddy's Cock looks like a regular didlo but it has some serious girth to it.
Inside the box, the contents are secured between layers of brown packing paper. Each dildo is wrapped in a clear heat sealed film wrap and has a John Thomas Toys logo sticker, plus another sticker to let you know the firmness rating.
With each dildo purchased you will also receive a vac-u-lock compatible suction cup holder. These have been designed and manufactured by John Thomas Toys. As their larger sized dildos are quite heavy, they have two sizes. You will be sent the best size for the dildo you have purchased.
You will also receive a faux velvet branded storage bag with every dildo purchased. The storage bag arrives in a small plastic branded carrier bag. Both bags are black with white John Thomas Toys branding. I really do like the storage bags as they not only look great, but they also work great with enough room to easily store your dildo safely. The drawstring helps hold the toy inside and keeps any hair and dust off the stored dildo. The fabric is thick enough that it should last for a long time.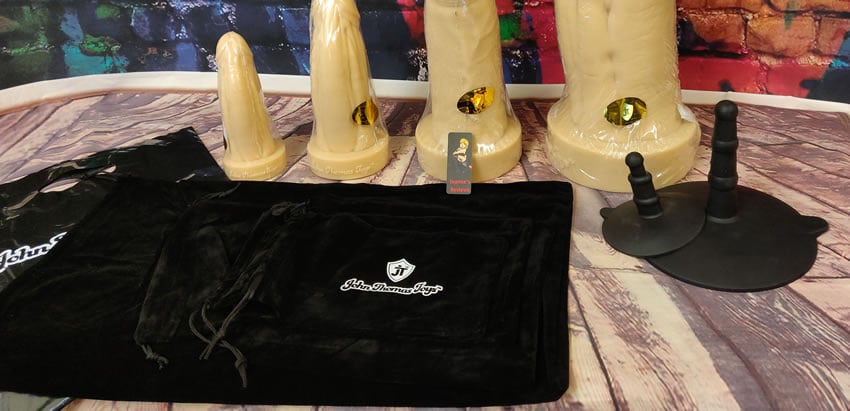 You get a vac-u-lock compatible suction cup adaptor and excellent quality storage bag withj Daddy's Cock..
---
Check Out My Unboxing Video On Youtube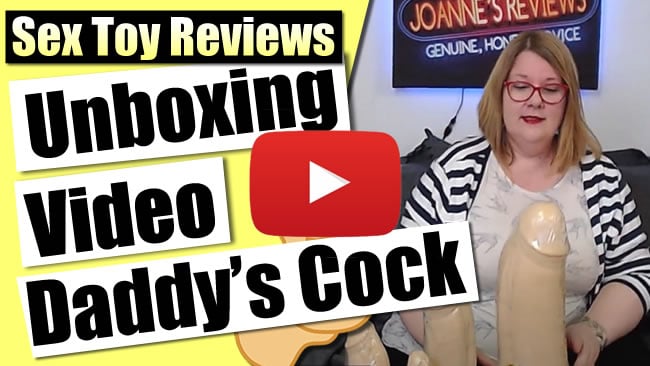 ---
Materials and design
John Thomas Toys use high-quality medical-grade silicone to manufacture their dildos, including Daddy's Cock. They also pride themselves in the fact that their dildos are made with copper moulds. These moulds are more expensive than other methods available. However, the copper mould ensures very high quality pours. That ensures that every dildo that comes out of that mould will have the same features as the first one produced.
After all, if you see the dildo features that really get your juices flowing, how disappointed would you be if when it arrives, some of the features are not quite the same as the image? This is something you don't need to worry about when buying from John Thomas Toys.
Silicone is my preferred choice for insertable toys because it is body-safe, non-porous, phthalate, latex and rubber free. Silicone is also more robust than other materials, you can even boil it to clean it. The fact that you can put Daddy's Cock in the dishwasher, boil it (if you have a pot large enough) or just wash it in warm soapy water is a bonus. Just make sure no one else is about when you empty the dishwasher ;-). Trying to explain to your helpful mother-in-law or kids why there is a huge dildo in there can be interesting.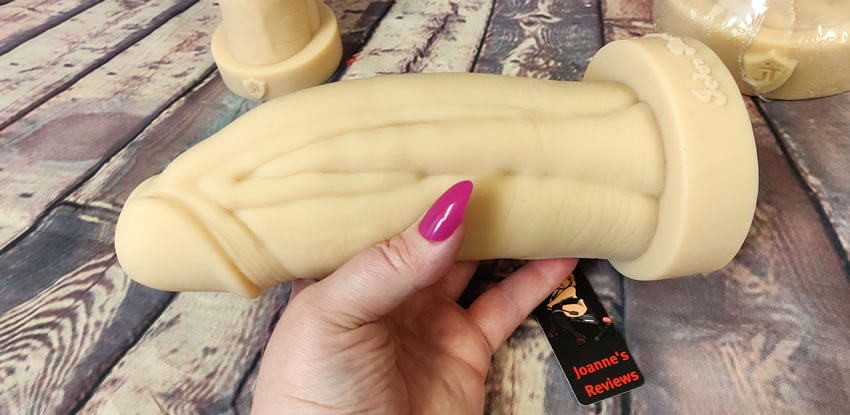 Daddy's Cock features some delightful textures and lots of girth.
The silicone blend that John Thomas Toys use gives a slight drag to it, I like this as it provides additional stimulation. It also helps lube stay put exactly where you need it.
The design of Daddy's Cock is as unique as their other creations. Looking from one angle, it may look like a standard regular realistic dildo. However, change the angle, and you see that Daddy appears to have side extensions. The sides bulge out, expanding the size at the side and the back of this dildo. With four sizes to choose from and two hardness ratings you have lots of choice. Check out the sizes carefully though as you don';'t want to overstretch yourself (see what I did there LOL).
| * | SMALL | MEDIUM | LARGE | X LARGE |
| --- | --- | --- | --- | --- |
| Length: | 7"/17.78cm | 9"/22.9m | 12"/30.5cm | 16"/40.64cm |
| Circumference (top of penis head): | 5"/12.7cm | 6"/15.24cm | 8"/20.32cm | 11.2"/22.9cm |
| Circumference (middle of shaft): | 6.5"/16.51cm | 8.4"/21.33cm | 11.2"/28.44cm | 15.2"/38.6cm |
| Circumference (bottom of shaft): | 7"/17.78cm | 9"/22.86cm | 11.6"/29.46cm | 16"/40.64cm |
| Circumference (base): | 9.5"/24.13cm | 12.3"/31.24cm | 16.5"/41.91cm | 22"/55.88cm |
| Max Insertable Length: | 6.2"/15.74cm | 8"/20.32cm | 10.6"/26.92cm | 14"/35.56cm |
| Weight: | 0.4kg (*variable) | 0.86kg (*variable) | 2.06kg(*variable) | 4.86kg (*variable) |
| Price: | £84.99 | £114.99 | £194.99 | £254.99 |
It almost looks like Daddy's Cock has gills. These form a nice set of protrusions each side giving lovely ridges. At the back (underside), you can see how the shaft drastically increases in width. This expansion will provide a beautiful stretch for you to enjoy. This cut design also provides a pleasant deep glans ridge, this creates some excellent stimulation when thrusting with it.
Around the bottom ridge of the dildo, you will see the standard John Thomas Toys branding. The base also has a vac-u-lock compatible hole for use with the suction cup provided or any other attachment/device that will fit.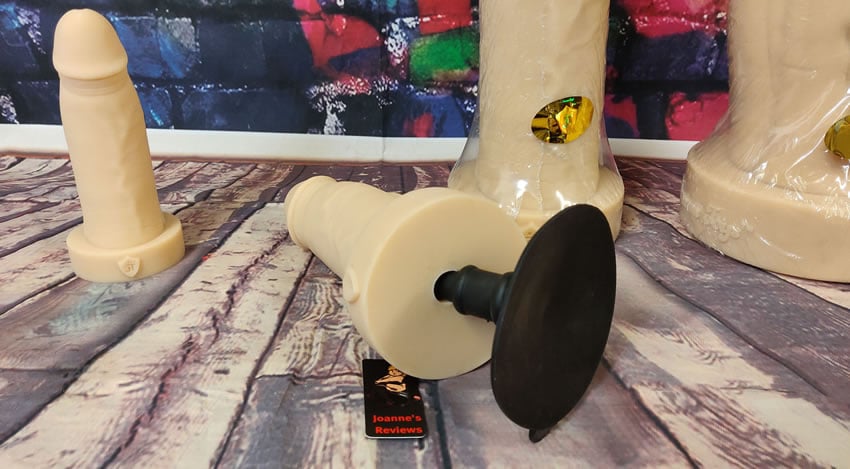 The suction cup adaptor is very good and is free with the Daddy's Cock dildo.
Performance
Daddy's Cock is the first dildo I have reviewed from John Thomas Toys that has been powdered. This means that the corn starch powder makes it smooth to glide your hand down. Once the powder has been washed off, the silicone still offers the usual drag that I enjoy.
The shape of the glans aids easy insertion, but you then get the widening shaft to work inside. Do remember to have some good quality water-based lube on hand. My personal favourite water-based lubes, are Sliquid H2O or Secret Play Natural. If you are playing with a partner who is likely to lick you, I recommend a water-based flavoured lube like Jo H2O Candy Shop.
Once the glans has popped inside, I just love that sensation, I start to feel the stretch of the shaft. The stretch is virtually immediate and extremely enjoyable. The glans is angled slightly forward to make it easy to insert, and when you look down from the glans, you see how the back arch sticks up to create a delicious ridge.

The glans on Daddy's Cock is well defined and the coronal ridge feels amazing on my g-spot.
This ridge rubs wonderfully against my walls as I insert more of the shaft. If I angle the dildo just right, I can get it to hit my g-spot. I really enjoy the ridges along the sides of this dildo, as I stretch tight around the shaft.
The horizontal ridge of the glans and the vertical ridges at the sides rub against my walls. I absolutely adore how the ridge formed at the back of the dildo rubs against me. With all these ridges there's a lot to enjoy with this dildo.
I will admit to being very pleasantly surprised by how much I enjoyed playing with Daddy's Cock from John Thomas Toys.
I do love the versatility that the vac-u-lock compatible hole in the base provides. It's fun to try out the dildo with a machine, and of course, you can also use it with a strap-on or the suction cup holder supplied.
Washing silicone is so easy, you can wash it in warm water, boil it or just place it in the dishwasher. Ensure the ridges are clear of any vag-goo before letting it dry and putting it back in the storage bag until next time. I like to leave mine to air dry thoroughly before I place it in the storage bag.
The problem with leaving it out to air dry though is that it is so more-ish and eyeing it as it dries usually has me deciding to take it for one more ride. This is sort of like a vicious dildo riding circle.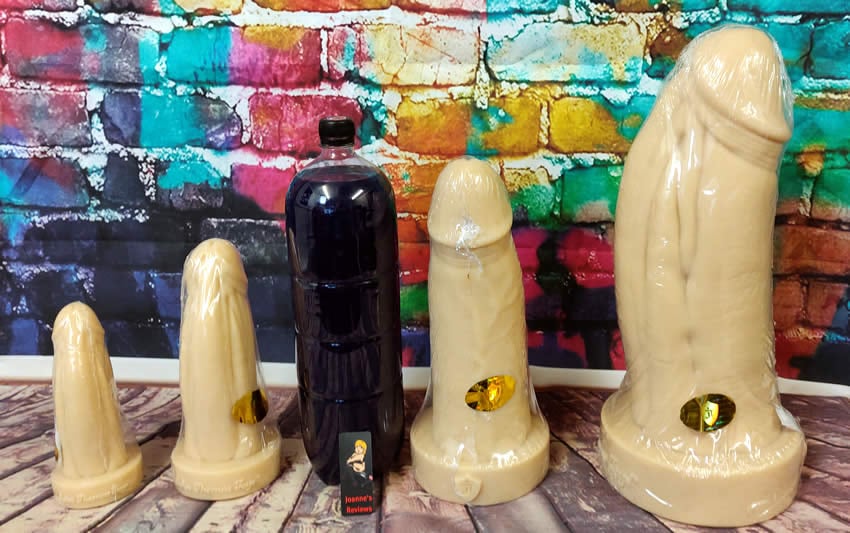 The Daddy's Cock comes in four amazing sizes.
---
Check Out My Video Review On Youtube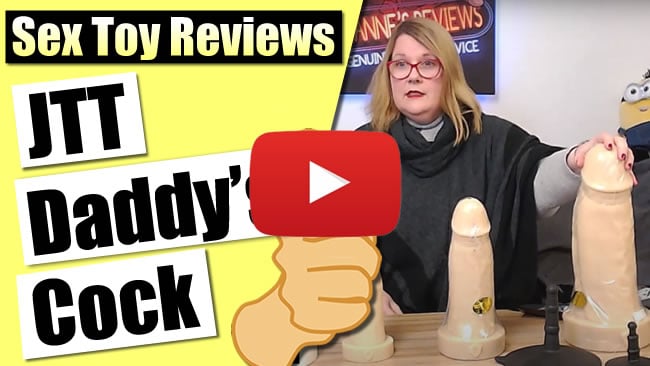 ---
Conclusion
At first glance, this dildo may appear unassuming, especially when you look at it from the front. But from the side, you realise there is more to this dildo than you may have thought.
The designer has thrown a fantastic curveball with the shape of Daddy's Cock.
If you do not enjoy lots of ridges and nodules but want something that still has a few ridges take a look at Daddy's Cock.
I enjoyed thoroughly testing out this dildo from John Thomas Toys for my review.
Daddy's Cock may be a quirky name for a dildo but this one from @JohnThomasToys certainly fills and thrills.
Click to Tweet
Key Features
Key features:
Made from 100% medical grade silicone.
Four sizes available.
Two hardness ratings.
Ridge running down the length of the shaft.
Wide shaft.
I would recommend it to:
Anyone who wants a 100% medical grade silicone dildo.
Anyone who wants a realistic dildo with a little twist.
Anyone who wants to feel full.
Anyone looking for a vac-u-lock compatible dildo.
I wouldn't recommend it to:
Anyone not into larger dildos.
Final Thoughts
I really enjoyed thoroughly playing with Daddy's Cock for this review. A lovely design with great features to enjoy. The ridges along the shaft add great stimulation, and I enjoyed how the shape expands down the shaft.
Ensure that you check out the measurements before you buy this dildo. John Thomas Toys list the full measurements to help you not buy the wrong size as Daddy is very well endowed.
Once again John Thomas Toys have designed another cracker, their creativity and quality control is second to none and I can highly recommend them to anyone looking for quality toys that are made to last, they even give a lifetime guarantee.
I was sent these amazing dildos by John Thomas Toys and I would like to thank them for giving me the opportunity to review it for them.
Joanne's rating
Where Can I Get One From?

Grab one of these fantastic dildo and enjoy the girth of Daddy's Cock, with the current sale it is a bargain, check it out at John Thomas Toys.
Check them out and don't forget to tell them that Joanne says "Hi".
---


If you enjoyed reading this review then check out my other reviews of John Thomas Toys products:
Silicone Dildos
---
Disclosure
This review does not contain affiliate links, for more information about affiliate links check out my disclosure page.