Changes to our day to day routines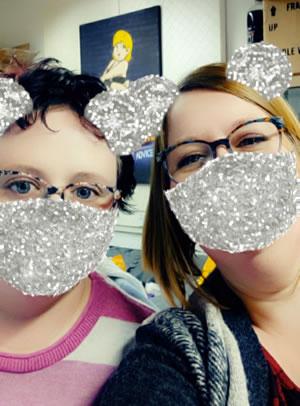 We are self-isolating, minimising contact with others. Stunt Cock is doing the shopping for us, and we are taking extra hygiene advice. Regularly washing our hands and wiping down hard surfaces.
Neither of us is going to places where there are groups of people, and we are only spending time at home or in my office, which is a private space.
Manufacturing
We are still making our e-stim electrodes, albeit at a reduced rate as sales are down (no surprise there). When we make our electrodes, we wear a mask and gloves and wipe down all surfaces between each electrode which is then sealed in its own little bag.
I frank outgoing orders for postage, and then Stunt Cock drops off a mailbag at our local postal depot. Deliveries are slowing down though as the postal system comes under stress.
Reviews
We are still reviewing and accepting new products to review. When new items arrive, they are placed to one side, and then these packages are wiped down with us wearing gloves and a mask before removing and disposing of the packaging. If you are an adult business looking for reviews then please do get in touch with me.
New products will then be put to one side until we are ready to start reviewing them. As the virus doesn't last long outside of the human body, that is the sensible thing to do.
Videos
We are due to start making video reviews again this weekend in the office, and that should be a lot of fun. We have worked long and hard getting the office set-up and hope everyone likes what we have done.
I will do a guided tour video at the weekend too. This pandemic is hitting me hard financially. With the added outlay of the office to factor into my monthly bills, I am getting stretched very thin at the moment. Hence, donations and help in the form of using one of my affiliates when you shop for sex toys online are very much appreciated.
The future
I hope everyone stays safe and gets through these worrying times with minimum disruption and worry.
Stay strong, adhere to the advice about social distancing and extra hand hygiene and let's all do our bit to stop the virus from spreading.
As a species, we will get through this, and as individuals, we all need to think about what we are doing and to adjust the way we live our lives. Doing so will give us the maximum chance of avoiding the virus and staying safe.
I want to end by thanking everyone who reads my blog and to wish you all the best for the future. Stay safe, stay kinky and let's all get through this together.
Update: 23rd March
COVID-19 UPDATE - All of my e-stim products are in stock, but as of 8:30pm 23rd March the UK is in a lockdown situation and so I am only able to ship orders via Parcel Force as I cannot get packages to the postal depot myself because of the lockdown. That has unfortunately raised the cost of shipping and it is a UK only service, hopefully I will be able to ship internationally again soon. I hope everyone stays safe.