Delivery and packaging
This item arrived quickly and under plain wrapper, as you would expect. Nothing untoward to report about either the delivery or the packaging, both were professional and discreet.
Just so that there is no confusion, a thigh sling is a piece of sex equipment that as its name suggests is fitted to your thighs. It also loops around the back of your neck over your shoulders so that when correctly fitted and tightened, your thighs are held up allowing easy penetration.
It's basically a piece of equipment designed to allow you to hold your thighs up and legs open without having to expend any effort. I guess you could think of it as a piece of equipment designed to give you the option of an nice lazy fuck.

I love the packaging and the camo storage bag is a great idea
It is, however, incredibly useful and so much fun to use, so let me tell you why that is and how we enjoyed using it.
First though, let me tell you a little bit about Colt and their range of BDSM products. This thigh sling is part of a large collection of Camo products designed to compliment each other.
You can also get a collar and leash set together with a hogtie kit which looks like a lot of fun. All of them come in a nice camo pouch for easy storage, and this is a nice touch.
It's very straightforward to fold up the sling for placement back in its storage pouch. The pouch is an excellent idea as, without it, I could see the sling getting all tangled with everything else in your play bag. The camo pattern on the bag makes it easy to find it as it really stands out amongst my other toys.

The webbing is wide and very strong with neat stiching
The Camo Thigh Sling is made out of robust Polyurethane webbing with nylon fittings. The quality of the stitching and materials is very good with a high level of finish. I like the military look that it has from the camo patterns. It looks and feels sturdy enough to be kinky military equipment.
The two thigh slings are capable of catering for thighs of up to 34"/86.3cm in circumference, with the neck support loop extending up to 50.5"/128.3cm. This gives huge latitude as to who can use and enjoy it.
I like the sturdy quick adjust buckles fitted to the webbing straps, these make tightening and release again a straightforward task.
Each thigh loop also has a padded protector on it for comfort, and these too have a camo pattern.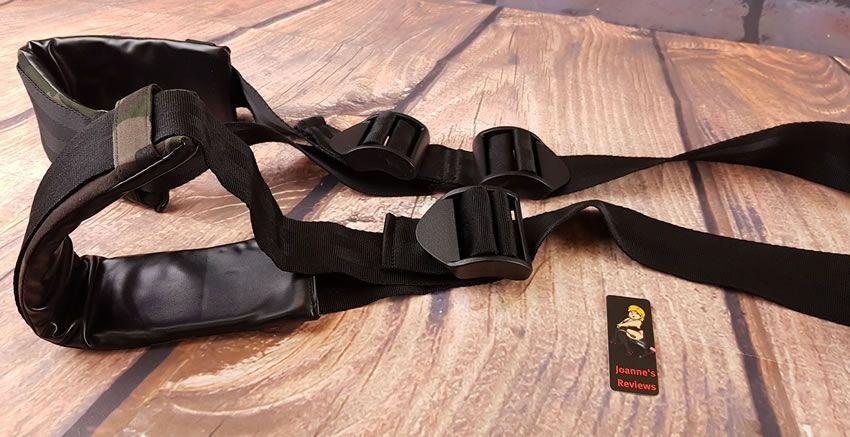 The padding adds to the comfort of using these thigh slings and the buckles are easy to operate
The strap that goes over your shoulders and around the back of your neck has a padded neck protector for comfort. This can slide on the webbing strap so that even as you tighten it, you can have it in just the right place on the back of your neck.
Performance
In use, it is really comfortable for a couple of reasons. Firstly with your thighs restrained you can tighten up the strap to hold them up with no effort on your part. This is great for long sessions of deep penetration play where otherwise your legs may get tired.
The neck padding makes the strap comfortable on the back of your neck. This is important as your shoulders and neck are what supports your thighs, holding them back as you relax.

Once fitted, the straps are tightened to lift the thighs and hold them in place
The ability to be able to relax your thighs in this position is great, and it makes holding this exposed position comfortable for great lengths of time. You can relax and enjoy the moment without having to keep yourself in position as your muscles tire.
The Colt Camo Thigh Sling is ideal for long slow fucking session or hard fast shags where you just want to get pounded. I can see it being a massive bonus for anyone into group sex and gangbangs. The fact that you are locked into position also gives it a BDSM feel. The restriction of movement and restraints are something that I very much enjoy.
With a little imagination and some rope or wrist restraints, you can become wholly immobilised for some kinky fuckery. Just attach the wrist restraints to the thigh loops to feel exposed and helpless, vulnerable to your partner's touch.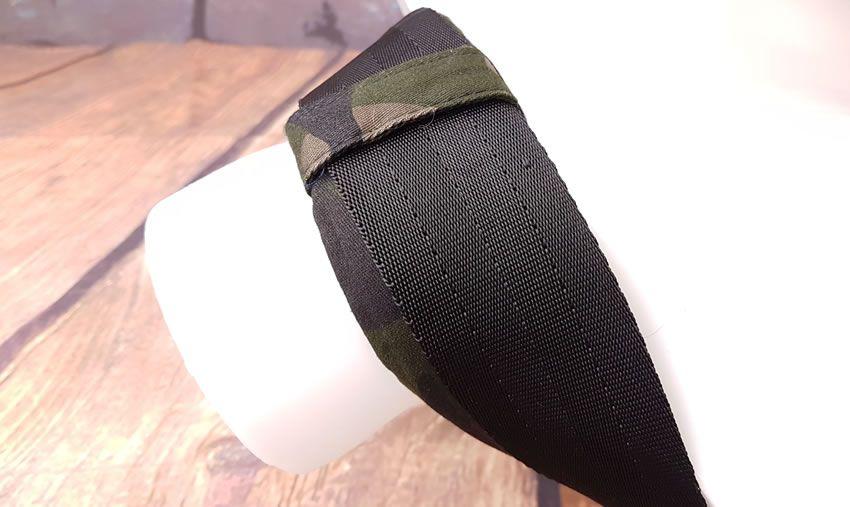 The neck strap spreads the load on your neck and makes things comfortable
I immensely enjoyed using the tight slings as I found them to be very comfortable and also highly arousing. As a restraint, they are great for holding you in a position where you feel very exposed. It really appeals to my submissive side.
When I made my submissive, sub'r' use it, I really enjoy fastening her into it and tightening it up so that her legs were held up and back exposing her sex to my gaze.
She found it very arousing and also relaxing to use it. She loved being in this vulnerable state. I made good use of a Doxy on her while she was restrained.

The padding on the thigh loops makes it comfortable to use for long periods
The foam padding around the back of the neck is essential as it spreads the load and reduces the strain on your shoulders and neck. When using the thigh sling, it's very comfortable and surprisingly quick to fit into place.
As my partner is ex-forces, he loves the camo colour scheme. He has commented that he would love to see more things like it on the market.
Check out the Camo Thigh Cuff Sex Sling from @ColtstudioGROUP, they are great for deep penetration and extended periods of play, grab a set from @Bondara.
Click to Tweet

This is one of those simple products that makes life so much fun when you use it
Key Features
Key features:
Supports your thighs helping you have fun stress free
Padded loops and neck brace for comfort
Wide straps that are easy to adjust and release
Comes with a camo storage bag
I would recommend it to:
Anyone who has problems holding their legs up in the missionary position
Anyone who wants to enjoy extended sex sessions
Anyone who wants to spice things up with these restraints
Anyone who loves camo gear
I wouldn't recommend it to:
Anyone with knee or neck issues as this may aggrevate them
Final Thoughts
In summary, the Colt Camo Thigh Sling is a fantastic piece of BDSM equipment that really does allow you to relax and expose yourself for pleasure. It takes the strain off your thighs and spreads the load across your shoulders and neck.
Laying back with your knees up is comfortable with it, even for extended periods. This means you can play longer and still be able to walk afterwards, making things much more enjoyable.
The restraint aspect of it appeals to all of us, and we have had a lot of fun reviewing it. If you are looking for something to add to your play bag that can enhance your playtime, then you can't go wrong with the Colt Camo Thigh Sling as it is so much fun to use and very useful.
I was sent the Colt Camo Thigh Sling by Bondara and I would like to thank them for giving me the opportunity to review it for them.
Joanne's rating
Where Can I Get One From?
Unfortunately this particular item has been discontinued but you can check out the rest of the Bondara Range Of Bondage Equipment. Check out the rest of the BDSM products that Bondara carries as they have a very extensive range and I have always been delighted with everything that I have reviewed for them in the past.
Check them out and don't forget to tell them that Joanne says "Hi".
Disclosure
Disclaimer - I was sent the Colt Camo Thigh Cuff Sex Sling to review free of charge and this has in no way affected the outcome of this review. This post contains affiliate links and if you purchase something when you follow one of these links I may receive a small commission at no cost to you. For more information check out my disclosure page.