Delivery & Packaging
John Thomas Toys have never let me down with the packaging; the boxes are always discreet and well sealed. This time was no different, and I was once again happy to see the postie had no idea of the contents. I often wonder what they would think if they knew just how much cock they delivered to me.
The dildos are sealed in a strong heat-sealed clear bag and adorned with several stickers. These are the JTT holographic branded sticker, one reminding you to wash before use and last but not least one to show the firmness rating. Colon Snake also comes with a tape measure taped to it as a way to track your progress. You see, this is no ordinary insertable, and I will cover that later in the review.


I love the minimalistic packaging that John Thomas Toys use.
The Colon Snake is packed in with brown paper packaging, which is much better for the environment than plastic bubble wrap.
When you order a JTT toy, you will also receive a black faux velvet storage bag. This features the John Thomas Toys brand printed in white on the one side. I do love the way the colours contrast so strikingly. These bags come in four sizes, and you will receive the right size for the dildo you buy.
The Colon Snake is not vac-u-lock compatible, unlike most of the rest of the range of toys on offer on the JTT website. It just has a broad plug base, so you do not have to worry about it disappearing all the way in (that is if you can take it all).
---
Check Out My Unboxing Video On Youtube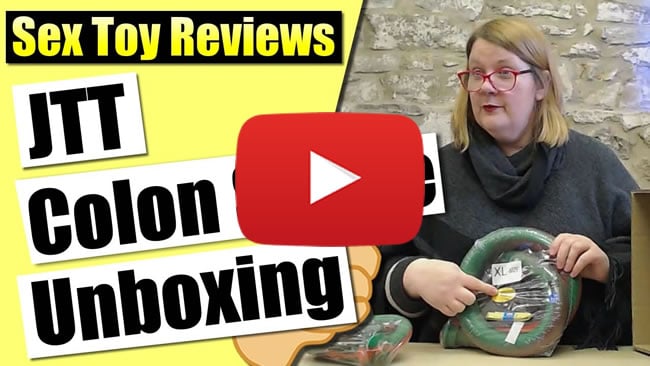 ---
Materials and design
I'm going to start by telling you about the storage bags that you will get. As previously stated, you will get one of adequate size for the dildo purchased. The bags are made from black faux velvet with a soft plush external cover and the John Thomas Toys brand printed in white on the front. These bags have been made from a robust material with good seams. Not only are they strong enough to safely store your dildo, but they should also last as long as your dildo too.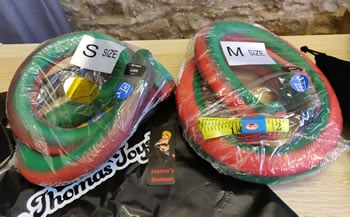 Colon Snake comes complete with a small tape measure stuck to the outside of the bag. This is a great way to measure your progress in your training.
Now to the critical part, Colon Snake himself. Sorry I have no idea if it is a he or a she, but I will be going with him for this review.
Colon Snake may look similar to a rubber toy snake, but he is much better than those for several reasons. It is cast in high-quality medical-grade platinum silicone and manufactured in a copper mould.
John Thomas Toys prefer to use the more expensive manufacturing process of using copper moulds. This way, they can rest assured that not only will every dildo out of that mould look precisely as it was designed, but everyone will have the same features as the one before.
Silicone is my preferred insertable material for several reasons, the most important of which are; Silicone is body-safe, non-porous, rubber and phthalate-free. It is also more robust than cheaper materials, so it will also last longer.
An essential fact with silicone is that whilst you can wash it in warm soapy water, you can also wash it in the dishwasher or boil it to sterilise it. This is an excellent assurance to know that it is definitely not harbouring any germs before you store it for your next session.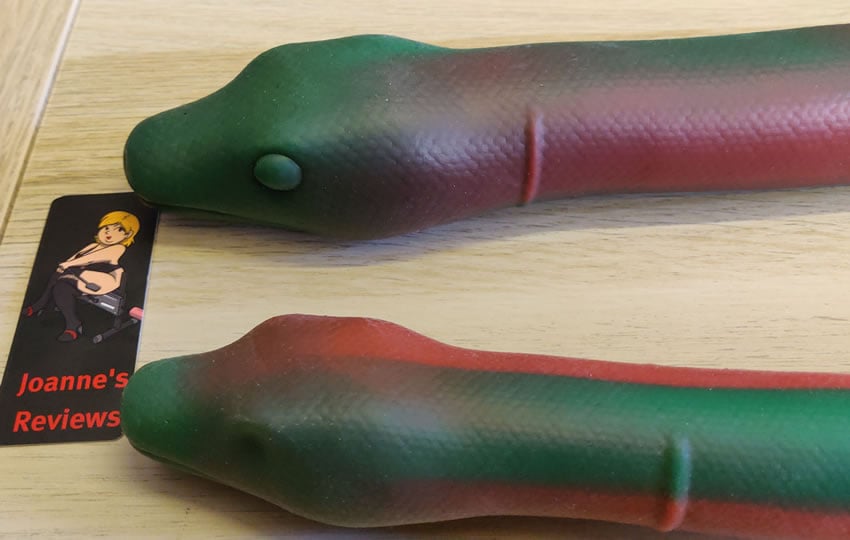 The shape of the head makes insertion lots of fun and the texture and ribs feels really nice in use.
Colon Snake has been designed with a typical snake-shaped head and body. The head shape will allow easy insertion just before you get that delicious stretch as the head gets wider. Once the head pops in, the body stays a constant width as this is a depth toy, not a butt plug.
Along the length of the snake, not only will you see the scales, but you will also note the ridges set at constant intervals. These ridges are designed to help you keep complete track of your progress. Colon Snake is very flexible to make it easier to feed safely, and just in case you can take the entire length, there is a safety plug at the end. After all, you do not want to have one stuck up there.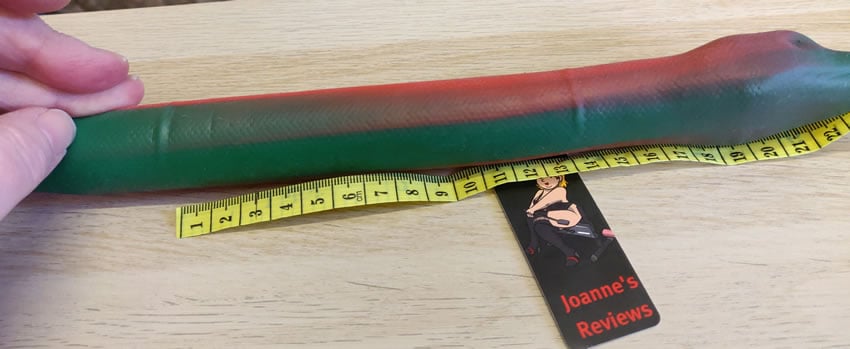 The ridges are 13cm apart on the small but this distance differs with the various sizes of Colon Snake.
You should use a good quality water-based lube with Colon Snake and lots of it. I recommend using a lube shooter to get lots of it inside you. That will help with feeding into your hungry hole.
| * | SMALL | MEDIUM | LARGE | X LARGE |
| --- | --- | --- | --- | --- |
| Length: | 30.3"/77cm | 35"/89cm | 39.3"/100cm | 44.5"/113.03cm |
| Circumference (body): | 3.5"/9cm | 4"/10.5cm | 4.7"/12cm | 5"/13.5cm |
| Circumference (base): | 6.7"/17.00cm | 6.9"/17.5cm | 7"/18cm | 7.8"/20cm |
| Max Insertable Length: | 30"/76.2cm | 34"/86.36cm | 38"/96.32cm | 42"/106.68cm |
| Weight: | 0.56kg (*variable) | 0.88kg (*variable) | 1.33kg(*variable) | 1.82kg (*variable) |
| Price: | £69.99 | £99.99 | £169.99 | £229.99 |
Performance
For this deep insertion sex toy, I can't test it on my submissive, the lovely sub'r'. As she has actually had some colon removed, so I opted to use it on myself (it's a good excuse, and I am sticking to it).
I opted to use the small as I don't often play anally, and I wanted to focus on the sensation of deep insertion, which is totally new to me.
Top Tip: For this style of play, fasting and using an enema can help to clear the way, so to speak. Doing so beforehand means that you can get the most out of Colon Snake.
After using a lube shooter to get some much needed Sliquid H2O lube inside me, I actually lay on my front and giggled to myself. I do get into some fun positions and predicaments in my line of work.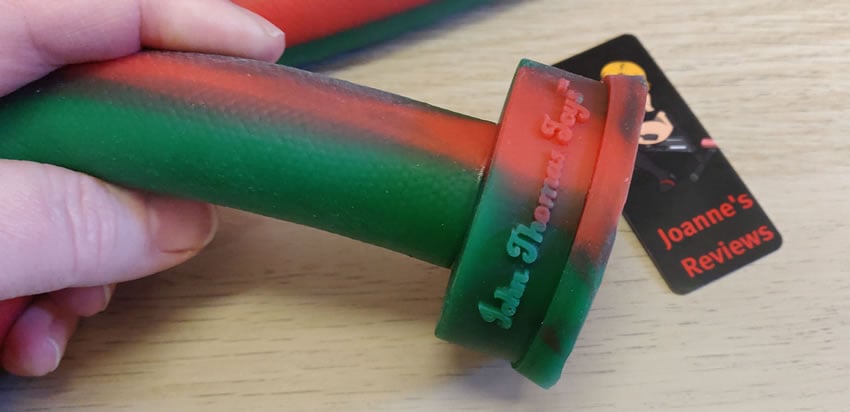 The wide base with its clear branding makes it safe to use anally as it isn't going to accidentaly go all the way in.
As I expected, insertion of the head was a relatively simple task. Just use lots of lube and relax. The blunt nose means you build up some pressure before you feel yourself start to dilate to accept the head of the Colon Snake. As the broadest point of the head slid into me, it sort of pulled itself further inside, and that felt really nice.
I kept slowly sliding more and more in until I felt the first ridge, and that felt really good going in. I gave myself a little cheer before concentrating on getting even more inside me.
I found myself squirming around a bit as I carried on inserting. I have no idea if that actually helped with the insertion, but it did feel terrific. Soon I felt the second ridge slide in, and I couldn't stop grinning.
I can honestly say I have never taken anything that deep anally before in my life. I was surprised to find out that it was exhilarating and a massive turn on to be so full.
I carried on until I just got the third ridge inside, and I stopped at that point as it was getting harder to push more inside, and I didn't want to do any damage to myself.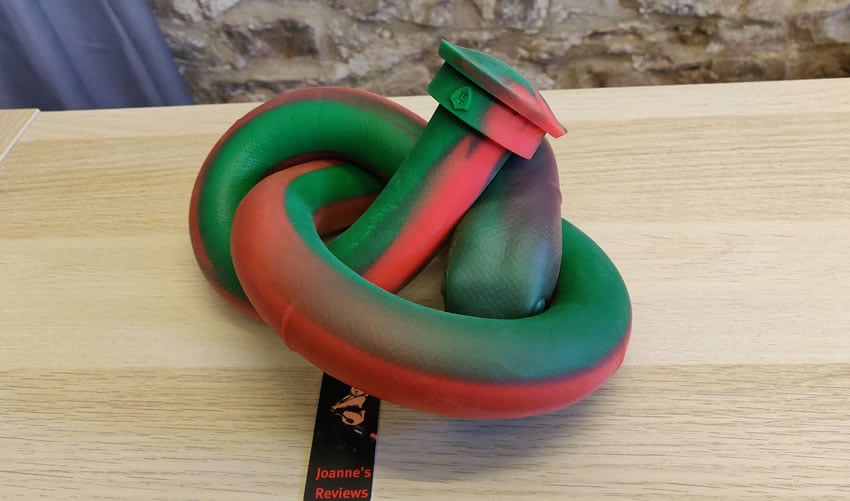 This image showing the flexibility of the Colon Snake speaks for itself.
I then proceeded to masturbate to orgasm while slowly moving it back and forth. It didn't take me long to experience a fantastic orgasm with it deep inside me.
After I regained my composure, I started to slowly slide it out and was amazed at the sensation of it coming out. The gentle and soft scales coupled with the ridges teasing me on the way out got me highly aroused again, and I orgasmed as the head stretched me wider before falling out.
I have used it several times now, this is one of those sex toys that feels amazing to insert, and the feeling of fulness is hard to describe but highly arousing.
It's also one of those sex toys that actually feels amazing as you withdraw it after play. I highly recommend edging yourself to a second orgasm and pulling it out when you are ready to get yourself over the edge.
The tape measure is a fun way to see how you are doing as it is obvious how much you took by the lube tide mark after withdrawal.
For my first few attempts at depth play, I think I did reasonably well. I was surprised that there was no mess (an enema definitely helps on that front). Cleaning the Colon Snake is an easy task, and it doesn't have any real goo traps but take care around the eyes if you have a larger one.
I recommend laying on one of those cheap absorbent puppy pads when you play, though, as lube can get everywhere when playing with long insertables.


As you can see there is a big difference in length between the small and large.
Looking to take your anal play to the next level? Check out @JoannesReviews thoughts on using the Colon Snake from @JohnThomasToys for depth training and play.
Click to Tweet
---
Check Out My Video Review On Youtube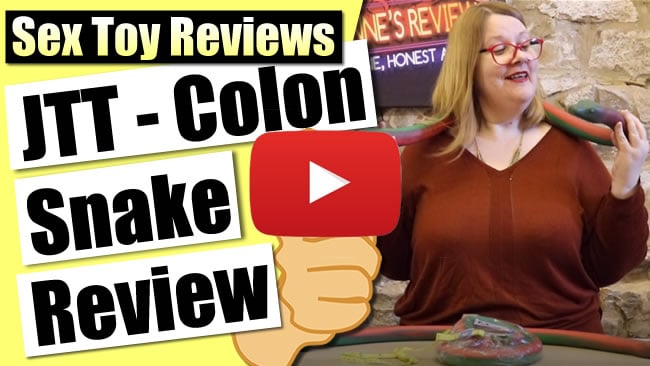 ---
Key Features
Key features:
100% Medical grade silicone.
Lots of subtle textures on the snake skin.
A head that is fun to insert and guide deeper and deeper.
Four sizes to choose from.
Two firmness options.
Lifetime warranty.
I would recommend it to:
Anyone looking to spice up thier anal play.
Anyone who likes the thought of deep anal play.
Anyone looking for a really long dildo in body-safe materials.
Anyone who likes a challenge.
I wouldn't recommend it to:
Anyone with bowel problems like Crohns.
Anyone not looking for a deep anal toy.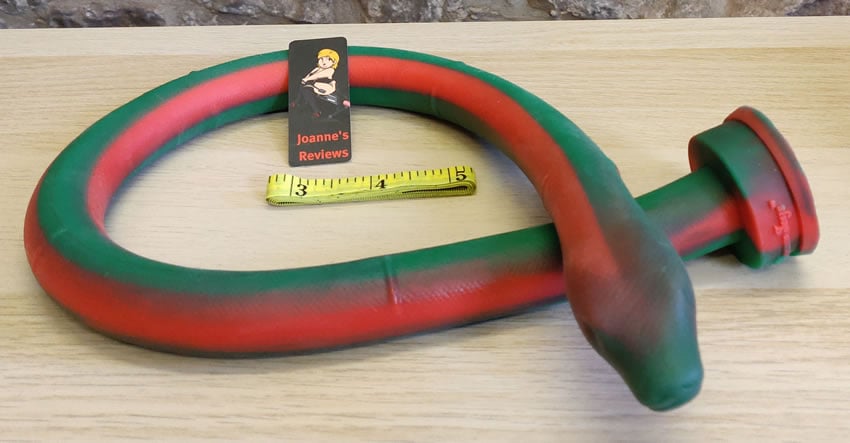 The Colon Snake is a lot of fun and quite the challenge.
Final Thoughts
The Colon Snake is ideal if you want to experiment with deep insertion play. The diameters of them are very manageable. After all, with this style of toy, it's not girth you are looking for; it is depth, and that is something that they definitely offer.
Inserting the head is so much fun, and the feeling of more and more of it entering you is hard to fully describe. But needless to say, it feels incredible, and I can see why this style of play can be so addictive.
If you are looking for your next challenge, why not consider seeing how much you can take.
I was sent these Colon Snakes by John Thomas Toys and I would like to thank them for giving me the opportunity to review it for them.
Joanne's rating
Where Can I Get One From?
Grab one of these amazing depth trainers from John Thomas Toys with prices starting at just £69.99 and start your anal adventure.
Check them out and don't forget to tell them that Joanne says "Hi".
---

If you enjoyed reading this review then check out my other reviews of John Thomas Toys products:
Silicone Dildos
---
Disclosure
This review does not contain affiliate links, for more information about affiliate links check out my disclosure page.