Delivery
Like everything that comes from Meo these flavoured lubes arrived quickly and very discreetly packaged. Meo takes pride in their plain packaging and speed of service, an excellent example of German efficiency in action.
In this pack, you get all of the five Cock Candy flavours, but each is also available for purchase separately for 9,90 € (about £8.79).

In the value pack you get five different flavours of Cock Candy
What is it?
Cock Candy is a flavoured lube designed to complement oral sex. It can be used as a standard lube for vibrators and other toys but its best saved for lip-smacking fun and games.
I have used flavoured lubes in the past, and these have all failed due to one reason. They were designed as lubes and then flavour was added as an afterthought, and this often leads to flavours that don't taste right or that leave a horrid metallic or chemical aftertaste.
I am delighted to affirm that you get no aftertaste with Cock Candy and that is because it was designed from the ground up as a flavoured lube intended for oral sex and taste was their first priority, and it shows. The flavours in all five cock candies are mouth-wateringly good.
Each bottle contains 30ml/1.02 fl oz of flavoured lube, and the flip-up lid seals tight when closed, so you don't have to worry about a mess if they fall on their side in your bedside drawer. The bottle design makes it easy to dispense small amounts of lube as that is all you need. A small drop goes a long way, and the taste lasts as you enjoy pleasuring your partner with your mouth.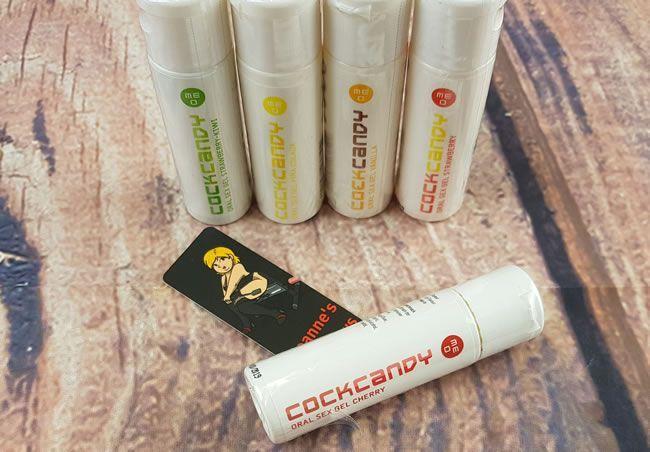 I like the handy sized flip top bottles, they make dispensing the right amount easy
Ingedients: Glycerin, Aqua , Hydroxypropyl Guar, Propylene Glycol, Panthenol, Sodium Sacharin, Citric Acid, Aroma (Flavor) CI14720 Benzyl alcohol, Citral, Eugenol, Geraniol, Isoeugenol, Citroellol, Limonen/D-Limonene, Linalool
As Cock Candy contains Glycerin, if you are prone to yeast infections I would recommend not using it for cunnilingus.
Taking the taste test
Just apply a drop to your fingertip and spread it over your tongue and it tastes incredible, almost like it is having sex with your taste buds. I was blown away by the flavours, even the vanilla tastes fantastic, and I don't do vanilla, especially where sex is concerned.
I really enjoyed the taste, each lube varies in colouration and the scent of each is fantastic, matching the flavour very well.

I found it really easy to dispense the Cock Candy onto a fingertip or waiting cock
Why use flavoured lubes anyway?
You might ask that question, but I just answer with why not?
Sometimes things can affect the taste of a penis or pussy, smokers, for example, have a bitter taste down there, and for anyone shy of cock sucking or pussy eating taste can be the one thing that gives you some confidence.
It also spices things up a bit and makes things exciting so why not use it. Consider rimming, the act of pleasuring a partners anus with your tongue. Now after a good shower and scrub up it can be done cleanly, and it is very pleasurable, but for the giver sometimes the thought of doing it is off-putting. Now imagine if your partner's anus tasted of strawberries or a Pina Colada, flavoured lubes can make things much more interesting for the giver in any oral sex scenario.
With this kit of five flavours, you can even mix and match as you demonstrate your oral skills, changing flavours to liven things up a bit as you go along.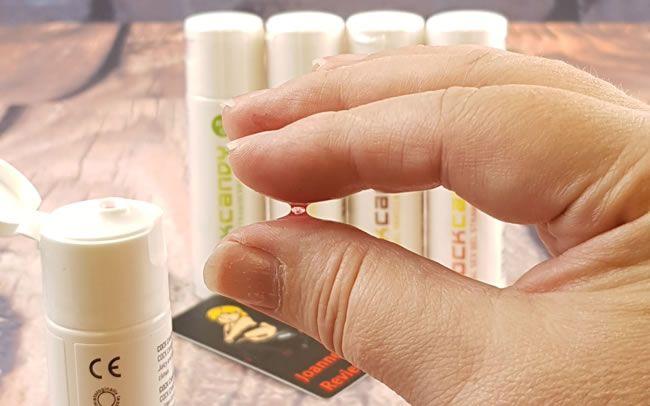 I love the fact that cock candy is nice and thick
These Cock Candy flavoured lubes allow you to spice up your cock sucking, pussy licking or even rimming to make it not only very pleasurable but also tasty as well. The viscosity of the Cock Candy makes application easy.
There are five distinct flavours to choose from, these are Erotic Vanilla, Juicy Strawberry, Wild Cherry, Sensual Strawberry & Kiwi and lastly Yummy Pińa Colada.
Putting them to the test
Obviously, we needed to test all five flavours, and between sub'r' and myself we have spent a lot of time with a hard cock in our mouths putting them to the test. As you can imagine Stunt Cock was more than happy to assist us both in this quest to evaluate all five flavours and of course it was an excellent excuse to suck some cock.
Sub'r' even tried them all out from behind a gloryhole in a local sex club (The Attic Club in Derby). Both of us agree that there is no wrong choice where the flavours are concerned each tastes fantastic, and it's nice to be able to give a hard cock a tasty twist in the flavour department.
For anyone averse to taking cum in their mouth or even swallowing it does change the taste of that too so it may be a good option for anyone who is cum averse and a spitter rather than a swallower - just a thought.
Between the work of sub'r' and my own oral administrations, we have thoroughly tested all five flavours, and Stunt Cock is one satisfied reviewer. It's a hard life for him, but he always 'rises' to any new challenge that I throw at him.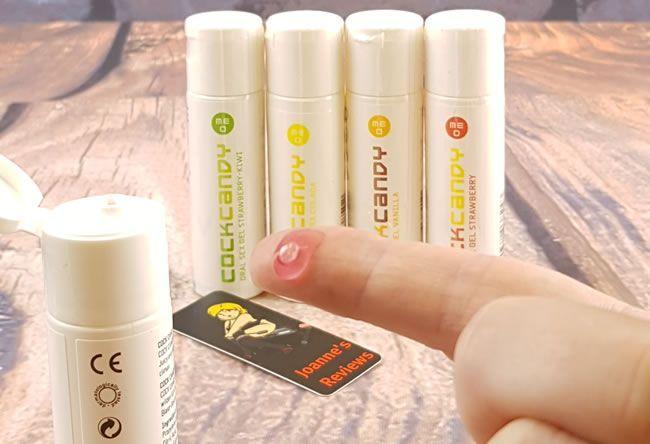 Cock Candy is thick, tasty and easy to apply. Why wouldn't you want to use it?
He also got involved from the other side of the oral equation, using the Cock Candy on both of us and he has confirmed that it adds a whole new twist to licking pussy and rimming fun.
Cock Candy is also condom friendly, so there is no need to worry about that if you use this type of contraceptive method. There is no worse taste than the spermicide coating on a condom so why not disguise it with Cock Candy. So, there is no need to buy expensive flavoured condoms with Cock Candy in your bedside drawer.
Each bottle lasts for a long time, 30ml doesn't sound like much, but it goes a very long way, so you only need to use a small amount each time. This pack of five will last you for a long time.
My favourite is the Sensual Strawberry & Kiwi and sub'r' just adores sucking cock with the Juicy Strawberry flavour. Stunt Cock, on the other hand, found that his favourite flavour was the Yummy Pińa Colada. The wide range of flavours available is brilliant as you are bound to find one that you like.
Once your favourite is running low, you can buy the individual bottles to keep your collection together.
Cock Candy is water-based, and so it is water soluble, so removal is easy if you need to wash it off. As it is water soluble, it is safe with all sex toys.
These flavoured Cock Candies from @MEO_TEAM can make oral sex even more fun than it already is.
Click to Tweet
Key Features
Key features:
Five amazing flavours
Water-based and condom friendly
Suitable for oral, vaginal and anal pleasure
Good for fellatio and cunnilingus
Final Thoughts
I really like Cock Candy, it brings a refreshing way to brighten up oral sex. Don't get me wrong I just love oral but these flavoured lubes add a fun element, throw in a blindfold and play a game of guess the flavour for some extra fun.
I love the fact that you get no aftertaste with Cock Candy just some great tasting lube that you can slather all over a hard cock or waiting pair of pussy lips before going in for a tongue fest.
With five flavours to choose from it never gets boring. If you love oral sex then you will love Cock Candy I have absolutely no problem in giving CoCk Candy a strong recommendation.
I was sent this Cock Candy Value Pack by Wolf at Meo.de and I would like to thank them for giving me the opportunity to review it for them.
Joanne's rating
Where Can I Get One From?

Grab one of these cracking value packs to enjoy all five flavours of Cock Candy for just 49,50 € (approximately £43.96), it is a great way to explore all of the flavours and the handy travel bag will come in useful too if you travel.
Check them out and don't forget to tell them that Joanne says "Hi".
---
---
Disclaimer - I was sent the Cock Candy Value Pack to review free of charge and this has in no way affected the outcome of this review. This post contains affiliate links and if you purchase something when you follow one of these links I may receive a small commission at no cost to you. For more information check out my disclosure page.