About Clone-A-Pussy
Empire labs were formed in 1996, where they produced high-quality moulding components and materials. Their reputation has been built on word of mouth recommendations.
In 1997 they produced a kit to create realistic penis models for a film, and they decided to go commercial with the package, and the Clone-a-willy kit was born.
Their mission is to create unique, affordable, and high-quality products that will not only last over the years but provide our customers with a fun and memorable experience.
They produce a range of clone-a-pussy and clone-a-willy products that are affordable and above all, so much fun.
Delivery and packaging
This pussy cloning kit arrived under plain wrapper from Clone-A-Pussy in the USA. There was no indication as to what was inside on the outside of the box which is good to be able to tell you all.
The Clone-a-pussy Plus+ Kit contains everything you need to make a working Fleshlight style masturbator for a partner, loved one or basically anyone.
It comes in a delightfully branded box that contains everything you need to create a mould of a vulva and then to go on to create a silicone copy of it. Eventually, you end up with a personalised masturbator that allows you to give the gift of your own parts to a lover or partner.
I loved it when I opened the box, and I was greeted with the messages "Clone It Bone It" and "Fully Fuckable", they made me chuckle, and that set the tone. This is a fun kit to use, and the packaging certainly knows it.
Materials and design
The Plus+ Kit builds on the success of the original clone a pussy kit. It comes with a ready-made sleeve inside the white ABS stroker container. On top of this container is a black mixing and moulding bowl.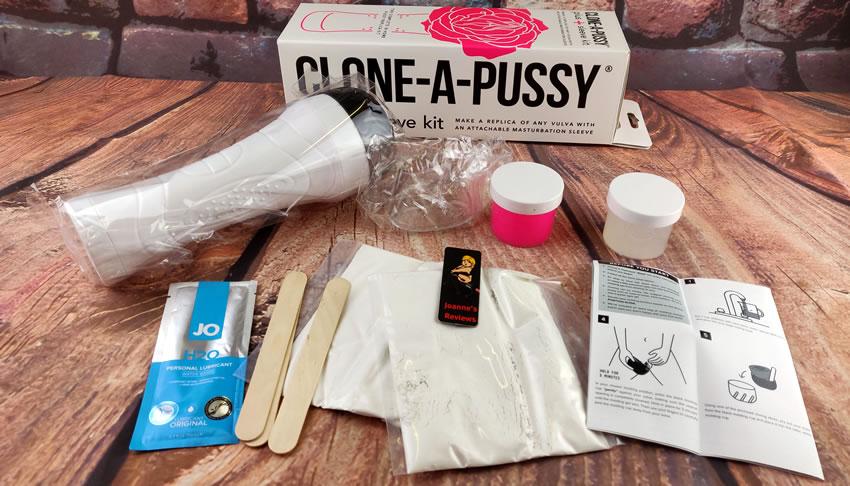 This kit contains everything you need to clone your pussy and to turn it into a masturbator
You get two pots that contain the silicone and its activator, as well as three wooden mixing sticks. Then there are two pouches of the alginate powder, a clear silicone sleeve, a set of easy to follow instructions and you even get a sachet of JO H2O lube.
There is one cardinal rule with this kit, and that is "READ THE INSTRUCTIONS THOROUGHLY". I thought I did and I messed up a step having to buy another kit to complete this review.
You will also need a couple of other pieces of household equipment to make the process much easier. Firstly get a measuring jug, this makes getting the right amount of warm water easier. It is also easier to mix the alginate in the measuring jug before transferring it into the moulding cup. You will also need a pair of scissors and a stopwatch or clock to time the mould making part of the process.
Making the mould
The first thing you need to do is get everything ready for the mould making process, you will need everything to hand and read the instructions carefully.
When you start mixing the alginate, you have to have completed the mixing process, including transferring the mix to the black mould cup in under a minute. You really need to get your skates on as this is the only time critical task. Take too long and the alginate starts going off, go too quick and you won't mix it all. You get two packs of alginate in case you mess up with the first mould and that is fantastic.
Check out the example position guides in the instructions for comfortable positions to be able to cup the mould against your pussy and choose one.
You will need to get 200ml of water that is around 32 degrees celsius. Temperature is important as if it is too hot it will set too quickly and too cold and it will take forever. The instructions tell you to pour it into the mould cup and mix there, but you will get powder everywhere if you do that. Just mix in the measuring jug and pour the mix into the black bowl.
Get your stopwatch ready and then cut the corner off one of the alginate pouches and start the clock then pour the powder into the warm water. Mixing it thoroughly with a mixing stick.
Once mixed, pour it into the black mould cup and place it against your vulva. Try to get it central. It will help if you part your lips slightly with your fingers. You will find excess alginate running over the rim of the cup and so do this over a towel or another easy to clean surface. Top Tip: Let the alginate set before trying to clear up any spills as it is easy to remove once hard.
Hold the mould against yourself for a minimum of three minutes and then carefully peel it away. The mould that you have made may look a little weird, but that is because it is a negative of your shape.
Transfer the mould from the black cup to the white lid and then leave if for a few hours to dry out a bit.
Making the silicone pussy
The next step involves pulling the silicone sleeve from the masturbator body and taking the ball with its flat plastic end and pushing it into the mould. This is going to form the slit in your casting for your partners penis to slide though.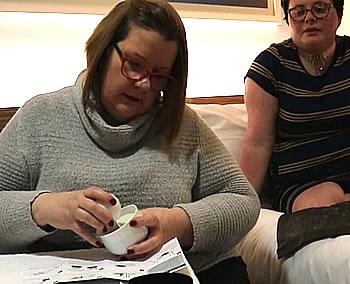 Line the plastic up with the line of your labia and push it into the mould until it stands up. Please don't push it in so far that the ball touches the mould.
I made this mistake, and it stops the silicone from forming a complete cast, and that is why I needed to get a second kit.
After getting the plastic piece in place, set the body of the masturbator over the lid and click it into place. Then after placing the masturbator on a flat surface, you are ready to mix the silicone.
When mixing the silicone, do it slowly to try to stop bubbles being formed and trapped. Also, get into the corners of whatever you mix in to ensure everything is adequately mixed.
Once thoroughly mixed, slowly pour it into the masturbator. The silicone will hit the ball and roll down under it, the ball will help pop any bubbles. Try to get as much silicone in as you can and then leave it overnight to set.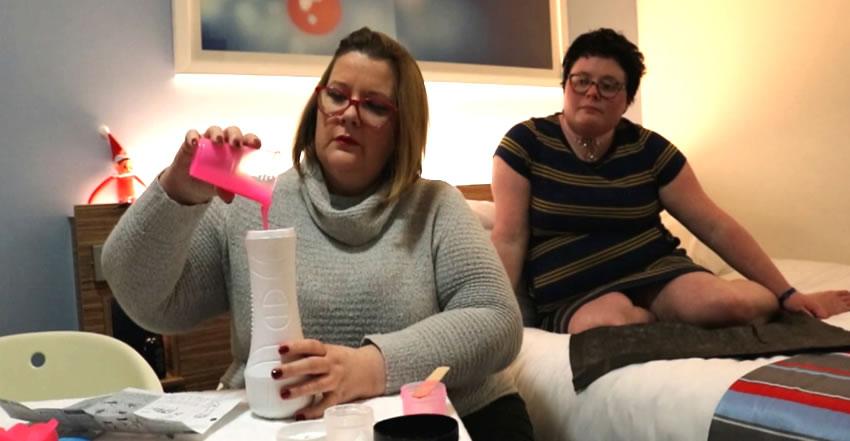 Pour the silicone slowly into the mould to reduce trapped air bubbles
Assembly
Next, remove the lid of the masturbator but be careful as it will contain some water, drain that off and then remove your silicone cast. Throw away the alginate mould and then pull the silicone cast away from the body of the masturbator.
You may find it easier to push the plastic piece into the masturbator to enable you to unseat the silicone casting. Once removed, you can get rid of the plastic part and then admire your creation.
Place the insert you removed earlier back into the masturbator body and then trim any thin bits from the side of your casting with scissors. Then place the cast into the top of the masturbator body ensuring that it locks in place and then you are done.
The slit formed by the plastic piece allows a penis to push through your casting into the sleeve behind it. If your partner is very girthy, you may need to widen the slit carefully using scissors or a sharp knife.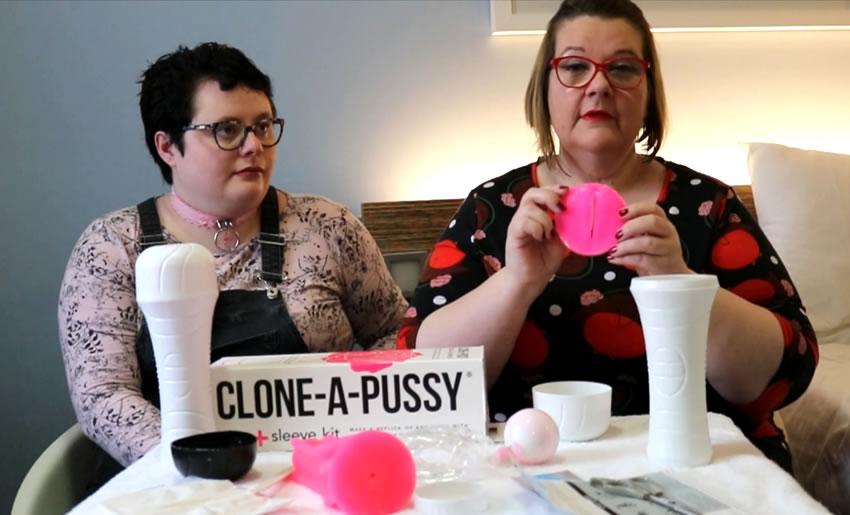 Once you have your cast you can assemble the masturbator
Performance
Obviously, after cloning my submissives pussy, I had to get someone to test out the masturbator. So Stunt Cock was roped in to help with the review. He didn't need much persuading, and I made sub'r' use it on him. Using a cast of her own pussy turned her on as well.
So over to Stunt Cock to let you know how it felt:
I have a few Fleshlights, and they are a lot of fun to use. The sleeve in this masturbator is nice but nothing to shout about too much as it lacks lots of internal textures. There is one internal feature that I call the switch and it is a raised textured section that feels very nice. It's lots of fun to use, but the best bit about it is the fact you are sliding your cock through a pussy you know.

This is where this Clone-a-pussy Plus+ Kit is so good, having a fleshlight is one thing but having something as personal as this is much, much better. I loved having it used on me, and I have used it a couple of times on my own now, and it does the job. Obviously having sub'r' utilising a cast of her own pussy on my cock was the highlight. Still, I have enjoyed it on my own. Loving the look of her pussy as my cock parts the lips, and I slide inside.

I honestly think that this is one of the best personalised gifts you can give a penis owner. It is the gift that keeps on giving.

Stunt Cock
We had so much fun making this masturbator, and I do recommend it to anyone looking for something fun and personal. It would make a fantastic gift to a loved one, and as it is so personal, it would be hard not to love it.
Here is a picture of the inside of the masturbator sleeve showing the internal details and textures.


Thank you Clone-A-Pussy and "Carla" for sending me this picture of the internal textures
The instructions are well written (READ THEM), and the process is logical and fun to follow. You end up with a clone of your pussy that is not just good to look at but also a useful and fun sex toy.
Check out this video of us using it
Please like and subscribe on Youtube if you want to see more videos like this one.
---
Check Out My Video Review On Youtube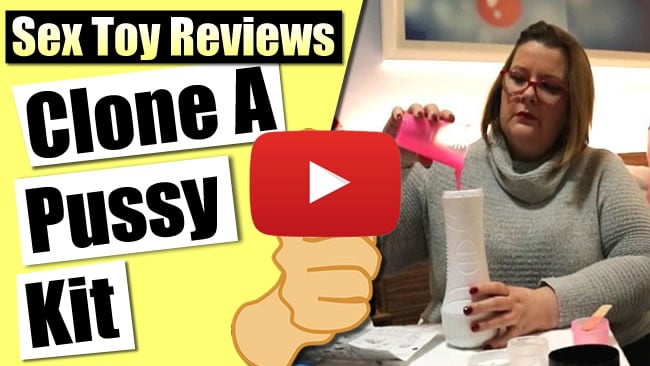 ---
If as a vulva owner you are looking for the perfect gift for a penis owning partner, check out the Clone-A-Pussy Plus+ Kit from @cloneawilly and give the gift of intimate pleasure.
Click to Tweet
---
UPDATE: 28/01/20
I am delighted to be able to post this message I received about this kit here
Hello again lovely lady,
My product order finally came in and I made it today. In your video you mentioned that you had to make the cloned part more than once. I was concerned about this so I looked into some other videos on mold making and silicone replicas and there were a couple things I think are worthy of note that I did differently. You did the pour correctly, but because there are pockets in the replica molds (cause body parts) one of the interesting recommendations I saw (that works because the silicone isn't a fast set) is to take a small amount of the mixture on a soft brush and gently work it around like a light coat. It said that it would help the pour go into the small areas easier.
Also, when doing the pour it's best to start close and pull up away to create the thin stream that negates the bubbles, so when I filled mine I started a close pour with the sleeve OFF until the deeper areas were filled and then put it on to complete the pour through the sleeve. Also they said that while tapping it gently on a hard surface helps with bubbles, a light vibration is just as if good if not more effective. So I put mine on top of my dryer for like 10 minutes before setting it aside to cure.
Also, in the instructions I noted that it says in small print to leave the mold sit for four hours before pouring so you can clean the extra water off before pouring. I did this and a LOT of water came off. You mentioned water in your video but it was in a different place so I'm not sure if they changed the instructions or not and wanted to let you know. With mine I gently wiped with a dry soft brush to get the excess in areas out. It worked pretty well.
It's a lot more work I think but I hadn't heard of these methods so I gave them a shot. As soon as it's cured and ready I will let you know if it was a success or if I'm just neurotic enough to be ridiculous!
I'm communicating with you simply because I noticed a lot of the reviews in various places complained about the bubbles issue and you're a reliable source to help other people avoid it in the future I think!
Thanks! — Carla
---
Carla brings up some very valid points that should help lots of people looking to use one of these kits, thank you for taking the time to add to this review Carla.
Key Features
Key features:
Clone your own pussy to make a silicone masturbation sleeve
Body-safe silicone sex toy
Kit contains almost everything you need
Easy to follow instructions
Two bags of alginate in case you make a mistake
Phthlate and Latex free
I would recommend it to:
Anyone wanting to give an intimate gift to a partner
Anyone who wants to create a kinky sex toy from their own vulva
Anyone who enjoys creating things
Anyone who just wants a copy of their pussy
I wouldn't recommend it to:
Anyone who is alergic to alginate
Anyone without the patience to complete the process
Final Thoughts
Just like when I used and enjoyed the Clone A Pussy kit a few years ago, I really enjoyed using this kit. While it wasn't my own pussy, I cloned that doesn't matter. It's a kit that allows you to create something personal, something intimate that your partner will love.
I had an absolute blast with sub'r', cloning her pussy and assembling the masturbator.
The step by step instructions are clear, and the process is simple, and once you get through making the alginate mould, it is easy. The production of the silicone cast is straightforward, and the results speak for themselves.
You get an intimate casting of your vulva that not only looks good but it can be physically enjoyed by a partner.
Give the gift of your pussy to someone you love and have a blast creating it. I have no hesitation in giving this kit a solid recommendation as it's just so much fun.
I was sent the Clone-A-Pussy Plus+ Kit by cloneawilly.com and I would like to thank them for giving me the opportunity to review it for them.
Joanne's rating
Where Can I Get One From?
Grab one of these fantastic kits direct from Clone-a-pussy for just $ 89.95 which is great value. In the UK you can grab one from Uberkinky for just £59.99.
Check them out and don't forget to tell them that Joanne says "Hi".
Disclosure
This review does not contain affiliate links, for more information about affiliate links check out my disclosure page.