Disclaimer - I was sent the Clone-A-Pussy Hot Pink Kit to review free of charge and this has in no way affected the outcome of this review. This post contains affiliate links and if you purchase something when you follow one of these links I may receive a small commission at no cost to you. For more information check out my disclosure page.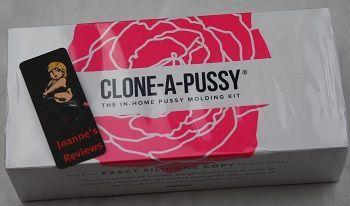 This kit supplied by Bondara and it is an American kit and so you'll need to convert the water measurement into one that we can use in the UK and Europe but more of that later in the review. Products ordered from Bondara arrive securely packaged under plain cover so your neighbours and the postie won't know just how kinky you really are, which is a good thing I'm sure that you'll agree.
The kit is contained in a plain white cardboard box held securely inside a cardboard sleeve. This sleeve carries the products branding and it's in the same Hot Pink as the silicone within this kit.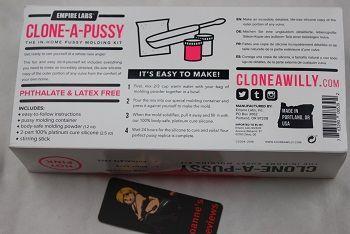 You slide the box out of its sleeve and then open up the sleeve as it carries instructions for cloning your pussy in English, German, Frech and Spanish. The instructions are very detailed and do contain some good tips. I strongly suggest that you read them thoroughly and comprehend them as the first stage of the cloning process is time sensitive.
So, what does the kit contain? It comes with a black plastic mould container, two tubs containing the silicone and its catalyst, a bag of alginate powder and a mixing stick. You will need to assemble some other pieces of equipment before you begin though as you will need a thermometer, a disposable mixing bowl and a pair of scissors for opening the alginate bag.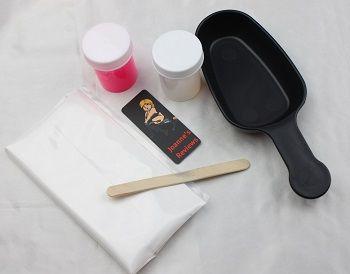 Cloning your pussy is done in two stages, the first is the creation of an intimate mould of your vulva and the second is the mixing and pouring of the silicone into this mould.
The first stage has to be done quickly as you only have 45 seconds to mix the alginate as once the powder touches water a chemical reaction then takes place and the mould sets in under four minutes so you need to mix the alginate, pour it into the mould, level it and then apply it to your vulva before it has set. This is why it's so important to read and understand the instructions before you start as you simply won't have the time to do so once you start the moulding process. I laid everything out on a worktop and then walked through the process before beginning the mix so that I knew what I was doing.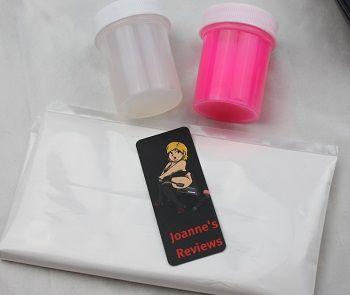 I opted to sit on the edge of the bath when I applied the alginate to my Foof as you should do so over a smooth hard surface as it is quite messy. Lots of alginate will spill out from the mould all over your fingers and the floor. It's very easy to clean up so just let it set where it lands and it comes off in one piece very easily. I also decided that I would have to bend over slightly when applying the mould to try to keep it as level as possible to minimise any of the alginate falling out. So once I had rehearsed the process it was on with the mix.
The instructions state that you should use 3/4 cup of warm water and the water needs to be at 32 degrees Centigrade or 90 degrees Fahrenheit. This is a US size and so I first had to convert it into metric so that I knew how much water to use and it turns out that there are infact two different US cup sizes. I opted for 160ml of water which is the happy middle ground and as it turned out that is perfect.
Pour the warm water into a mixing bowl and cut a corner off the bag containing the alginate powder, I made a big cut as I wanted to mix quickly.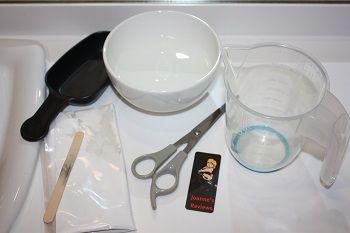 I used my phones timer and set it up, once ready I hit start and poured all of the alginate powder into the water. I mixed thoroughly for 45 seconds and then poured the mix into the black mould. You will still have some lumps but try to get it as smooth as possible. Make sure that the mould is full and level, I had a little mix left and just left it in the mixing bowl as it is easy to clean later and time was of the essence.
With one eye on the timer I sat on the edge of the bath and opened my legs wide, I have fairly large outer labia and wanted to have my pussy open so I could see my clitoris and inner labia in the mould.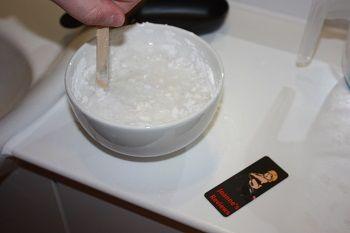 Once comfortable I pressed the mould against my vulva and it felt really strange, the alginate squeezes out of the side of the mould and goes over your fingers and drips onto the floor. Ignore the mess and just keep an eye on the timer, you need to press the mould hard onto yourself and as I have weak wrists I struggled with that but I did manage it.
Once the timer reached 4 minutes and 45 seconds I checked that the alginate had set in the mixing bowl and it had so I then slowly peeled the mould off my vulva and it came off easily. My vulva is shaven as so hairs weren't a problem but the instructions do state that trimmed or short hairs are also not a problem and the mould will release from them. You can actually feel when the alginate has gone off against you and that feels strange.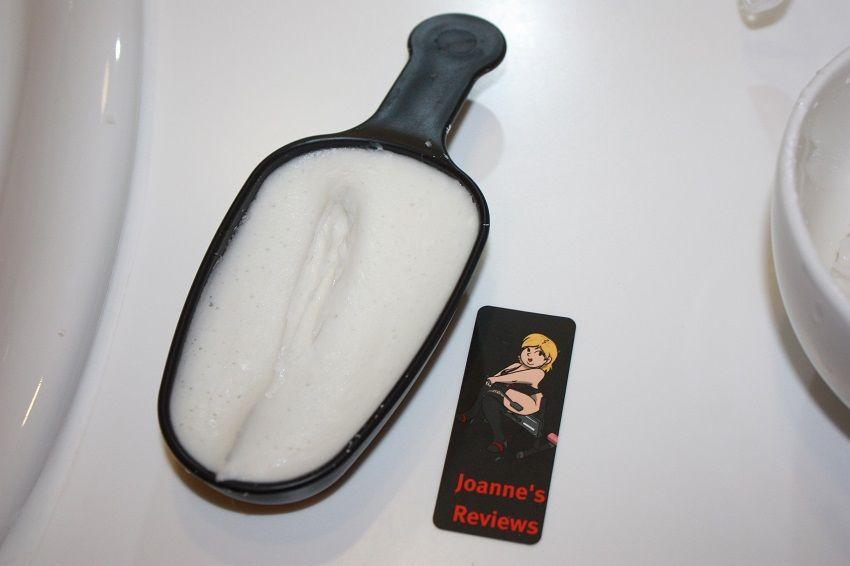 I was left with alginate on my thighs and my fingers but that cleaned off really easily and the spillage on the floor came right up in one piece as did the alginate left in the bowl.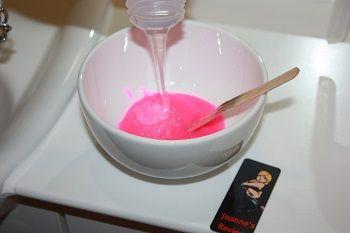 I could then admire the mould and it does look a bit weird as it's a negative of your pussy, I did have some bubbles in it which were going to end up as small lumps of silicone when I did the mould but I can live with that.
That's the hard bit out of the way the rest of the process is really easy. Simply take both tubs of silicone, one contains the silicone and the hot pink pigment and the other contains the catalyst and when they are mixed together they will set in about 24 hours.
Using a disposable mixing bowl pour in the silicone and pigment then use the mixing stick to scoops out all of the silicone from the container then repeat the process with the catalyst ensuring that you get as much out of the tubs as you can.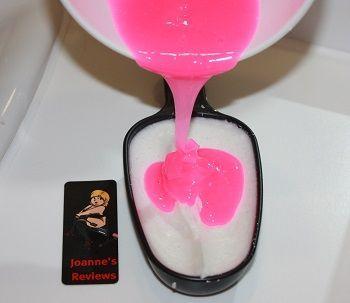 Next you slowly mix the two together taking your time and tying not to mix in any air bubbles. Stir continuously for at least two minutes and then pour the mix slowly into the mould filling it totally. If you don't have enough silicone you can wrap the mould in duct tape and place something heavy in the middle which will cause the silicone to be pushed up the sides. I didn't have to do that as it filled the mould perfectly.
Then sit the mould and the silicone to one side for 24 hours on a level surface and clean everything up as you will need to wait until the next day to unveil your cloned pussy.
Once the time is up I loosened the silicone from the mould sides as you would do to a cake in a baking tin and then I slowly peeled my Silicone cloned pussy from the mould.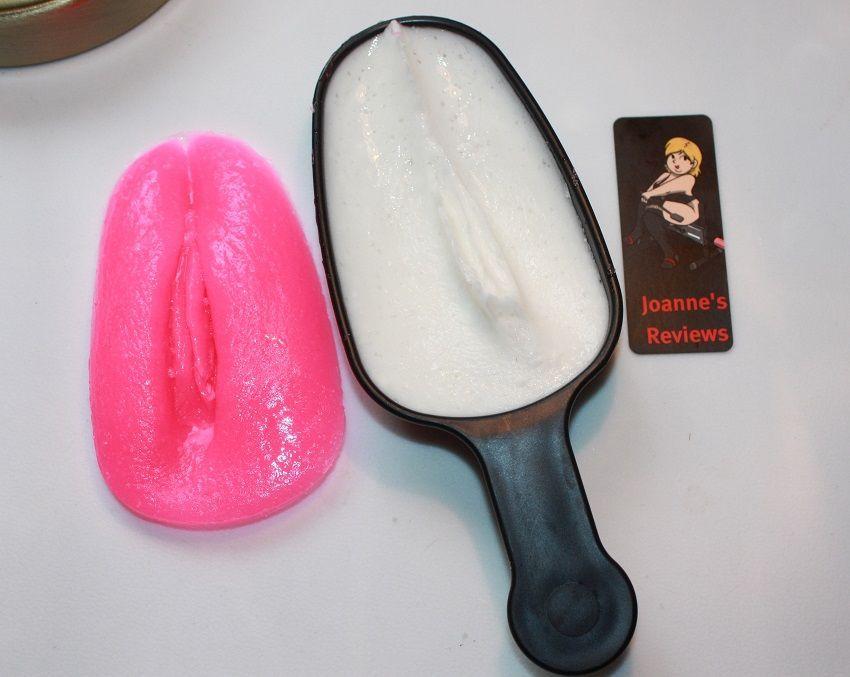 It came away easily and I was left holding an incredibly detailed copy of my pussy and I was grinning like a Cheshire cat. It was amazing to be able to look at my own vulva closely so I could appreciate my partners view of it and it was fun running my finger tips over it. I now have the sexiest paperweight in the world and it now sits on my desk in all its glory.
Check out this fun pussy cloning kit to make a detailed copy of your vulva in body safe Silicone.
Click to Tweet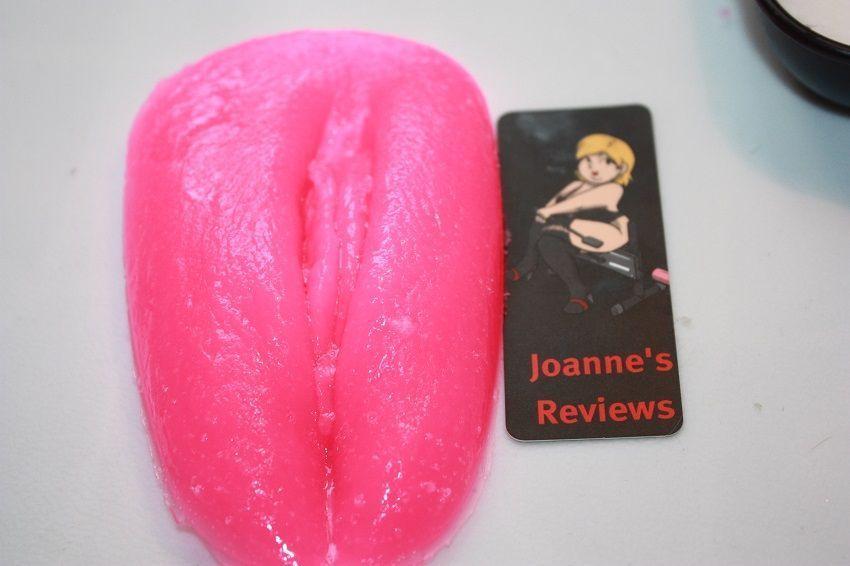 Key Features
Key features:
100% Body safe silicone
Medical grade alginate
Complete kit
Well written instructions
Available in Hot Pink Silicone, Neutral Flesh Silicone or Milk Chocolate
Final Thoughts
I thoroughly enjoyed the whole process of cloning my pussy and I think it would make a great valentines gift for a partner or just as a way of looking at yourself in a completely new and intimate way. The process itself is very interesting and a lot of fun to do. The kits are available in Hot Pink, natural flesh and you can even get a kit with chocolate instead of Silicone so you can make an edible pussy for yourself or a partner. You can even get kits to clone your own or a partners penis and can even make a vibrating version of it. I am more than happy to recommend this kit as I had so much fun cloning my own pussy.
I was sent the Clone-A-Pussy Hot Pink Kit by Cara Sutra and I would like to thank her for giving me the opportunity to review it.
Joanne's rating
Where Can I Get One From?

Grab one of these Clone-A-Pussy Kits from Bondara and have some fun for yourself for just £24.99.
It really is a very rewarding process and to be able to hold your own vulva in your hands and give it a close inspection is amazing. Bondara carry a huge range of sex toys and other adult products and they are very reliable and a great company so check them out and don't forget to tell them that Joanne says "Hi".