Chrome Deco Dual Ixu Violet Wand
Violet Wand play can be shockingly good fun
Since I bought and reviewed an Electro Erotic Neon Wand kit from Lovehoney we have all been smitten by it. For something that can evoke really raw emotions, it is an incredible way to get off.
Yes, the thought of playing with 40,000V - 50,000V is terrifying but when you actually look into it, violet wand play is one of the safest forms of electro play.
My Stunt Cock has really got into using it and he has developed a real knack of using one to send either myself or sub'r' into orgasmic bliss. He just teases us with the amazing sensations that a Violet Wand can deliver building up to some incredible orgasms.
Recently at a club, I tried a mechanical Violet Wand for the first time and that felt even better. You see there are two types of Violet Wand, mechanical and solid state. The vast majority of modern Violet Wands are solid state ones. These use electronics to produce the very high voltages and miniscule current that Violet Wands use but they can be harsh.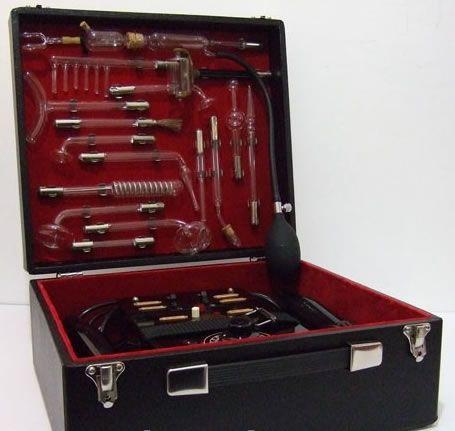 Older Violet Wands are predominantly mechanical ones using an Oudin resonator, which is similar to a Tesla Coil and capacitors to create the voltages a Violet Wand uses. These machines are more flexible and produce a wider range of sensations.
After much thought, I sold my Violet Wand on to a new home and have bought Stunt Cock a fully restored vintage Violet Wand for Christmas and a beauty it is too. Produced in France in the late 1940's it is a thing of beauty as well as being very functional too.
It has had a full electrical overall incorporating improvements to performance and safety, and now of a higher build quality, as modern replacement components are used throughout, incorporating an internal fast-blow fuse (for additional user safety).
It is seventy years old and comes in a wooden carrying case complete with sixteen different electrodes for various parts of the body. Better still is the fact that it has not one but two violet wands attached to its control box so it can be used to teach others how to use Violet Wands safely. This is something that Stunt Cock already does in swingers clubs as he loves introducing people to new things.
So with his new box of tricks, he can teach people or provide the incredible sensations of two Violet Wands being used simultaneously.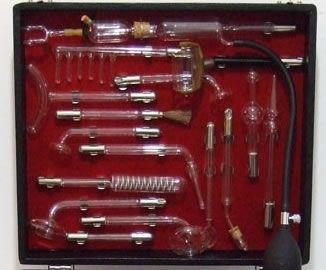 He now has sixteen electrodes to choose from instead of the four he has been using, he now has:
Neon indicator electrode (glows orange)
Knobbly surface mushroom electrode(this feels intense)
Neon surface mushroom electrode (glows orange)
Saturation electrode (hand-held for secondary contact)
Aural electrode (insulated - glows blue)
Single eye / nipple electrode
Arterial nerve brush electrode (very intense)
Neon curved electrode (glows orange- can be used on throat / neck or any curved body part) *rare*
Small mushroom electrode
Massage roller electrode
Comb electrode (6 tines of pleasure)
Ozone inhaler atomiser (4 parts) *rare*
Anal dilator
Visage electrode
Fulguration dilator (metal-tipped for cauterizing also used in fireplay)
Tongue electrode (insulated)
If you want to find out about Violet Wands you can read my review of the Kinklab NeonWand Electrosex Violet Wand Kit which is available from LoveHoney.
I bought this restored Violet Wand Kit from https://violet-wand-by-bound2tease.com
Images copyright - violet-wand-by-bound2tease.com
---
Found Something Useful, Or Do You Just Like What I Do?
---
You May Find These Articles Interesting