Fucking Machines
If you really want to give someone a right seeing to or you want to be pleasured continually, then you have to try a fucking machine. Most fucking machines consist of a frame to which a motor and gearbox are attached. These drive a flywheel, and a link arm translates the rotational movement of this wheel into linear motion that makes the dildo to move back and forth.
An excellent example of this style of machine is the XR Brands Maestro Deluxe Sex Machine, this machine has some great features. Firstly the controller for the speed is, in fact, a vibrator that you can use on your clit while the machine bangs away inside you. It comes with a dildo and also an anal probe for double the fun.
It has easily adjustable frame, allowing it to be basically be used in any position, even standing. With up to 300RPM and an adjustable stroke length of 3"-10" it can be tailored to your style of play.
If you are looking for something more discreet, then the XR Brands Lovebotz Toolbox Lover Machine could be a good option.
Looking like a standard toolbox, it contains a fucking machine that is quick and easy to set up and use. Again this one comes with a controller that is also a vibrator for extra fun.
It's definitely one of the only fucking machines that someone could see and have no idea what it actually is other than a mundane toolbox, its real use can be your little secret.
Vibrating Sex Machines
You've probably heard of the Sybian, right? It is a sex machine that you straddle, and it is the Rolls Royce of ride on vibrating sex machines, but other options are also more affordable than this powerhouse.
Take the The Saddle Deluxe Sex Machine for instance. It's also a ride on vibrator that delivers insense sensations that literally rip an orgasm out of the rider. With extra attachments available like the Double Penetration Attachment For Saddle Sex Machines for example, why settle for stimulating one orifice when you can play with two?
This type of sex machine is perfect for parties or couples play, but they are also ideal for use alone for some very intense "me time". It always amazes me just how powerful and effective this style of sex machine is.
My mind was blown the first time I rode one, and it made me quirt for the first time in my life. I almost died of embarrassment at the time, but it also turned me on so much I had to ride it again straight away.
Male Milking Machines
Fancy a mechanical blowjob? Imagine being able to have your happy chap sucked when you want and for however long you want.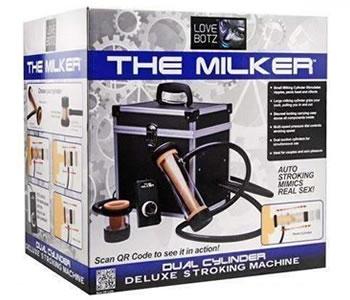 The Milker Dual Cylinder Deluxe Stroking Machine, comes with two cylinders, a 9" long one for penis play and a shorter one that can be used on nipples or even a clitoris to enable couples to play too.
This type of sex machine uses a motor to operate a pump that draws air in and out of the cylinder, which has a soft liner. This causes the cylinder to stroke and sucks on an erect penis inducing some incredible sensations. It literally does suck you off, and they are so much fun.
There is even a Textured cylinder available for even more intense stimulation.
One thing I love about this style of sex machine is the visual aspect of them. The way they move up and down a hard cock really flicks my switch. They are so much fun to watch in action but even more, fun to use, these machines give me a little bit of penis envy.
And Some Recommended Attachments
Fucking machines are amazing, and I have been using them for over five years now. In that time I have learnt that as well as the fucking machine itself. It pays to invest in some useful accessories to enhance its performance and also its capabilities.
Top of my list is a flexible coupling like the Sex Machine Flexible Extension.
This makes aligning your sex machine with any orifice easy and allows you to squirm around a bit. Let's face it when you are getting hammered at up to four thrusts a second you will probably be squirming around too. These also make the ride a bit smoother and more comfortable too, so make sure you get one of these.
Next on my list of recommendations is the Doc Johnson Kink Power Banger Extender Set. These two adaptors increase the length of your fucking machines thrust rod, which is very useful indeed.
It just makes setting up and using your machine more comfortable. It even means your partner can penetrate you at the same time as the machine for some really kinky fun.
My final suggestion for "pimping your ride" is to get a wand attachment for a Hitachi Magic Wand like the one in this F*cking Machine Accessory Upgrade Kit. This kit also has a double dildo adaptor so you can use your machine on both holes for double the pleasure. A wand adaptor is fantastic for allowing some targetted vibrations where you need them while also enjoying the unrelenting fuck machine driving you wild with desire.
Conclusion
There are so many fucking and sex machines on the market. It is really nice to see such a good selection in one place together with useful attachments to enhance your experience.
So, be sure to check out the machines over at Cartel De Amore, and don't forget to tell them that Joanne says "Hi".
Looking for somewhere with a wide range of sex and fucking machines? Check out Cartel Del Amore.
Click to Tweet
Disclosure
This post does not contain affiliate links, but it is a sponsord post, for more information about affiliate links check out my disclosure page.