As with all of the things that have arrived from sexmachines.co.uk, this one was discreetly packaged, and it came very quickly (no pun intended).
Once out of its outer box you are greeted by a charming example of how retail packaging should be done. It's naughty, it's suggestive, and the packaging is very informative.

The Caesar v3.0 comes in an attractive retail box carrying a lot of information
However getting the machine out of the box takes some fiddling around. The machine and all of the components are held securely between two halves of polystyrene packaging, and you need to press them together as you slide them out of the cardboard box as otherwise, everything will just drop out. It is a relatively straightforward process but if you buy one remember to hold them together when you remove the box.
When you remove the top layer of packaging, you are greeted with the machine in its component form laid out neatly in front of you. The first piece of advice that I will give you is read the manual. Assembly is simple and takes about ten minutes the first time, you can do it faster once you are familiar with the process. The manual is very easy to read and understand and this machine comes with everything you need to assemble it.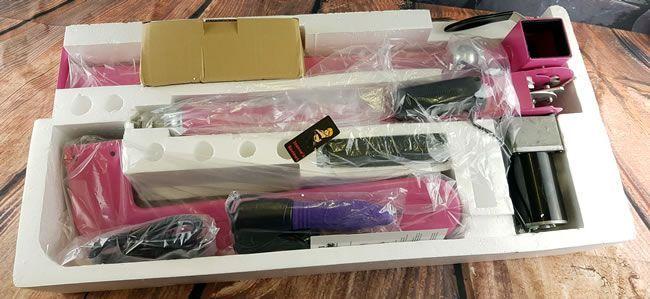 Everything arrives neatly packaged in polystyrene packaging foam
The legs are a little bit of a pain to fit as they are secured with an Allen headed bolt. The hole for the bolts could have done with being a few extra millimetres further from the central column as in their current position you have to keep removing the tool as you can't spin it through 360 degrees when you are tightening it.
A minor point but one that I hope is picked up on for the next iteration of this classic machine.
The legs have a textured rubber insert in their base that helps in preventing the machine from sliding on smooth surfaces. This is an excellent feature and gives a vast amount of surface area in contact with whatever surface the machine is placed upon.
Sliding is a big problem on most fucking machines, but the Caesar copes with this problem very well. Even on a smooth surface, it doesn't slide.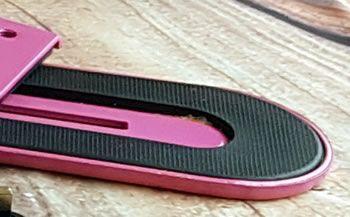 Once the feet are attached to the tower, the main body of the fucking machine is then lowered onto it. The square opening has anti-friction pads inside it, and a large silver locking plunger is used to hold the thrusting mechanism at different heights.
You can't actually see the holes to line them up with the plunger, but by just releasing the plunger and then jiggling the thrust mechanism the plunger will just drop into the hole when lined up. This makes it incredibly easy to alter the height of the thrust mechanism quickly.
There is a handle which is attached to a locking nut on the side of the thrust body, and this is used to clamp and unclamp the thrust mechanism so that you can set the angle of the thrust. You just use this handle to unlock the thrust body and then lower or raise the dildo end until you get the desired angle of thrust. Then clamp it back up again.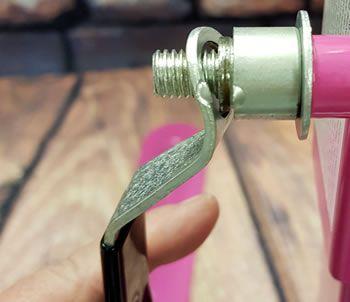 It was at this point after using the machine six times that I had a big problem.
The handle is secured to the locking nut by two welds and one failed on my machine causing the handle to twist away from the nut. It was a quick repair in a local garage with a welding machine. I have been in touch with sexmachines.co.uk about the problem, and they are looking into it. Hopefully, mine was a one-off problem.
The combination of the locking arm and the height locking plunger means that you can pretty much set this fucking machine up at any angle and height that you desire. Positions such as doggy, missionary or seated are all easily achieved, and it's a fantastically versatile machine.
The thrust mechanism has a black box on its underside, and that is where you plug in the power lead from the universal adaptor and the control lead.
Controls
This fucking machine is controlled from a vibrator style hand-held control. It has a simple speed control as well as a button that when pressed causes the controller to vibrate. The controller is phallic in shape and can be used for clitoral or nipple stimulation as the machine does its business on your waiting orifice.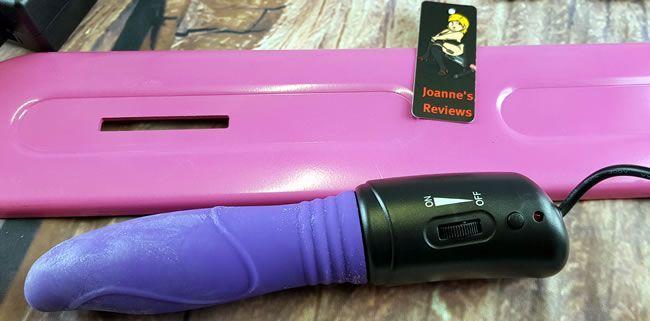 The speed controller also doubles up as a vibrator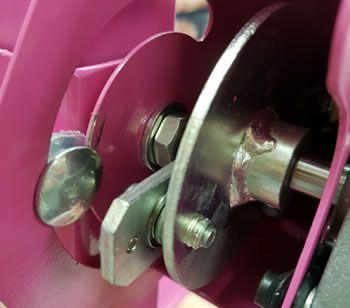 Virtually the whole rotating mechanism is concealed within the thrust mechanism, but you can look inside from the back to see how everything works. This makes this machine inherently safe, you are not going to get anything caught in rotating moving parts.
But this has one drawback, and that is that this machine only has a fixed thrust length of 2.5"/6.5cm. Now while that doesn't sound like much everything with fucking machines is give and take. Having a short stroke length actually works well as it means that this machine is capable of fucking at a rate of up to 300 strokes a minute and that is five a second. Just let that sink in for a while, five thrusts a second feels incredible.
I was a little surprised by the finish on the thrust rod though as it is very rough, with pitting and scratches all around it. But that doesn't affect the performance so it is just an observation.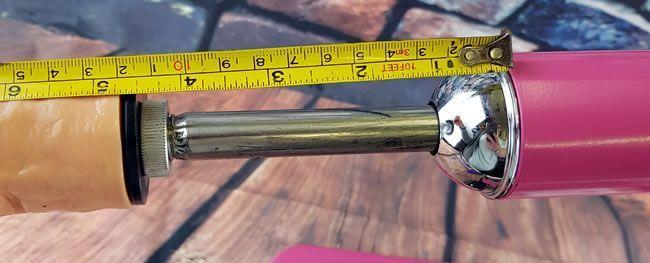 The threaded thrust rod allows you to connect the supplied dildos or Vac-u-lock ones using the supplied adaptor
Horsepower: 1/2 Hp, 45 In-Lbs.
Thruster height adjusts from 6"/15.2cm to 22"/55.9cm with a simple pull of a spring pin.
Thruster angle adjusts 180 degrees with a simple handle lock.The end of the thrust rod features a knurled ring and a thread, this is how dildos are attached to this machine. You get an anal probe and a dildo with this machine. These are made out of TPR which is porous but non-toxic. As it is porous I would recommend always using a condom with them, the bonus of that is that you can share this machine with others if that is part of your lifestyle with everyone using condoms.
You also get a vac-u-lock style adaptor, and this is used to fit the anal probe, the one inside the dildo is glued in place. The loose adaptor means that you can install any dildo that is vac-u-lock compatible and that gives you tremendous opportunities to get silicone dildos and even fantasy dildos to fit this machine.


The knurled portion on the end of the thrust rod makes unscrewing the adaptor easy
Performance
This fucking machine surprised me again when I switched it on. It's exceptionally quiet, especially on lower speeds. It is almost a stealth fucking machine, and it is the quietest machine I have ever used, and that includes the whisper quiet Shockspot.
This machine would be ideal for anyone in apartments with thin walls or with flatmates or family in the house. You can have an amazing fucking machine session while knowing that no-one can overhear you.
At slower speeds on a bed this machine is impressive, but at higher speeds, it rocks and jumps around. But, and this is why I think this design is so neat, the Caesar comes with flat legs that are designed to go under your mattress.
Noise and speed demonstration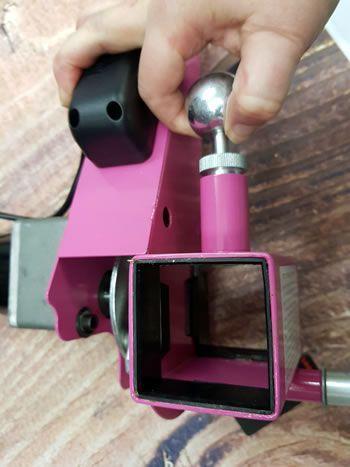 Think about the logic of that for a second, the legs are then clamped between your bed frame and the mattress giving excellent stability even at high speeds. The rubber soles on the legs grip the bed frame preventing slipping and sliding, and this means that this machine will cater for bigger dildos that would cause other machines to slide back and forwards because of the added resistance generated with trying to force an enormous dildo into a small hole.
The first time I used the Caesar it was while restrained in the doggy position, and Stunt Cock was at the controls, he gave me a couple of fantastic orgasms using the Caesar. The short stroke length wasn't a problem at all, in fact, it was a bit of a bonus as I didn't have to worry about him using my cervix as a punching bag.
Once the dildo was inside me, I could just relax and enjoy the rhythmic fucking that I received, and on its highest setting, it ripped an orgasm out of me in quick order.
Top Tip: Use lots of good quality lube with a fucking machine like this, while you might think you produce enough self-lube, trust me when a dildo is moving at five thrusts a second you need extra help.
Having the controller in the form of a vibrator is a lot of fun too as when on my back I can use it to give myself some excellent clitoral stimulation while on the receiving end of a mechanical rodgering. The vibrations are basic, with only one speed but they worked for me, and it was a nice change from having to grab another vibe when playing.
On another occasion the controls flexibility shone when I was using the machine on sub'r', and I could then use the vibe on myself as I watched her struggle against her restraints as the machine went to work on her.
Apart from the problem with the locking handle which I hope is a one off, this is a machine that has impressed me right from the start. While it is large, and it may look clumsy it ticks all of the boxes, it has plenty of power, it is stable when used under the mattress, it can take vac-u-lock dildos, and it has a tremendous maximum speed.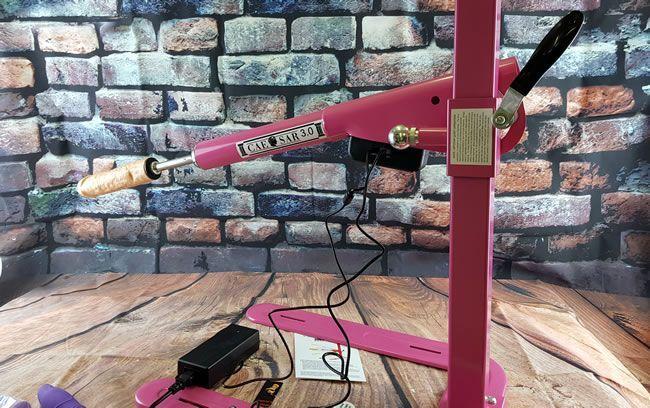 The Caesar 3.0 fucking machine is a quiet capable machine that is a lot of fun to use
This is one fucking machine that gets a lot of things spot on, and its price is fantastic, costing under half the price of other machines with similar features. Yes, it could be a little more polished, but the money you save by buying a Caesar could be well spent on a range of silicone dildos to fuck yourself into happy land.
The Caesar fucking machine has some fantastic features, see why Joanne enjoyed it so much.
Click to Tweet
Key Features
Key features:
Unique leg style gives great stability under a mattress
Dildo and anal probe supplied together with a vac-u-lock compatible adaptor
Upto 300 strokes per minute
Controller doubles up as a vibrator
Dual voltage power supply 110V/230V
Horsepower: 1/2 Hp, 45 In-Lbs
Thruster height adjusts from 6"/15.2xm to 22"/55.9cm with a simple pull of a spring pin
Thruster angle adjusts 180 degrees with a simple handle lock
Optional 3 year extended warranty
Final Thoughts
The Caesar Love Machine is a capable fucking machine but it lacks a bit of finesse in its finish. The unfortunate breakage of the locking handle is hopefully a one off but it was easily fixed.
The machine in use is fantastic, with a top speed of five thrusts a second it will give most fucking machine riders a thorough seeing too. I have no problem orgasming on the end of it and I love the leg design. When placed between the mattress and bed frame it is solid and it allows me to enjoy bigger dildos than I would use on other machines.
Having a vibrating controller also gives you play options not found on other machines. One great draw to this machine though is its price, retailing at just £497.80 it is good value for money and competes well against more expensive machines.
If you want a straightforward machine, that is simple and easy to use, and you have somewhere you can store when it is assembled then try this one.
I was sent the Caesar V3.0 Love machine by sexmachines.co.uk and I would like to thank them for giving me the opportunity to review it for them.
Joanne's rating
Where Can I Get One From?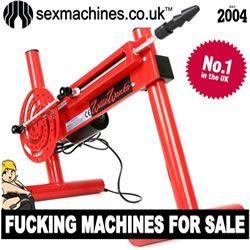 Grab one of these fun fucking machines from sexmachines.co.uk for £497.80 which is a bargain price for a machine that is as stable and as much fun to use as this one is.
Check them out and don't forget to tell them that Joanne says "Hi".
Disclosure
This review does not contain affiliate links, for more information about affiliate links check out my disclosure page.