I decided to build myself a laser engraver rather than buying an off the shelf one as I'm a tight arse. I also can't afford an expensive one anyway.
I did a lot of research online, looking at various self build designs and eventually settled on the "Layzor". This is a design that takes a relatively cheap Chinese K40 laser and pimps its brains out.
I looked at other designs, but when you added up the parts' total costs, it was getting costly. The option I have gone for works out a lot cheaper as I bought a cheap Chinese K40 laser and will be pulling it apart for its internal components.
Are you mad? I hear you cry. Probably a little bit eccentric, I admit. But this route allows me to use the basic components of the K40 while giving me a much bigger cutting area and an adjustable bed so I can cut or engrave different sized objects easily.

I must be mad, I have bought a brand new laser engraver only to rip it apart for its motors, optics, power supply and laser tube.
Once I have built the machine, one thing I hope to be able to do is cut front panels for peoples DIY stereostim box builds and even make custom enclosures for builds too.
So why the Layzor?
The design I have settled on will see me taking a K40 laser engraver and pimping it out to have the following:
Cutting/Engraving area of 600mm x 400mm.
Adjustable cutting bed with 100mm of travel.
Large water reservoir for coolant.
Cooling system for the coolant.
Coolant pressure, temperature and flow sensors.
Safety switch on the cover to prevent the laser from firing with the door open.
Safety cut out switch.
Adjustable power settings.
Ammeter to show current going through the laser tube.
The Layzor design gives me the flexibility and space to incorporate all of the above into my build. The features I will be adding will increase the performance of the laser while also increasing my safety while using it.
Using a donor laser engraver makes it a much cheaper build too, as I am not paying for postage and customs fees on components from lots of individual suppliers. I know from past experience building my Voron 3D printers, these fees can soon add up.

Here are most of the components, this is going be be a built that tests my to the max.
Above is a picture of most of the additional components that I had to buy to build this machine. Most of it is the 2020 aluminium extrusions and fasteners used to build the frame. The most expensive individual components (apart from the donor machine) were the linear rails; I need three for the build. I will also replace the stock motherboard with one with more features. That will allow me to control the laser output by PWM to get more out of it.
Here is a picture of where I was at as of last week. I had the frame assembled, but I ran out of 6mm T-nuts to attached the top frame to the lower frame. So I had to wait for some to arrive.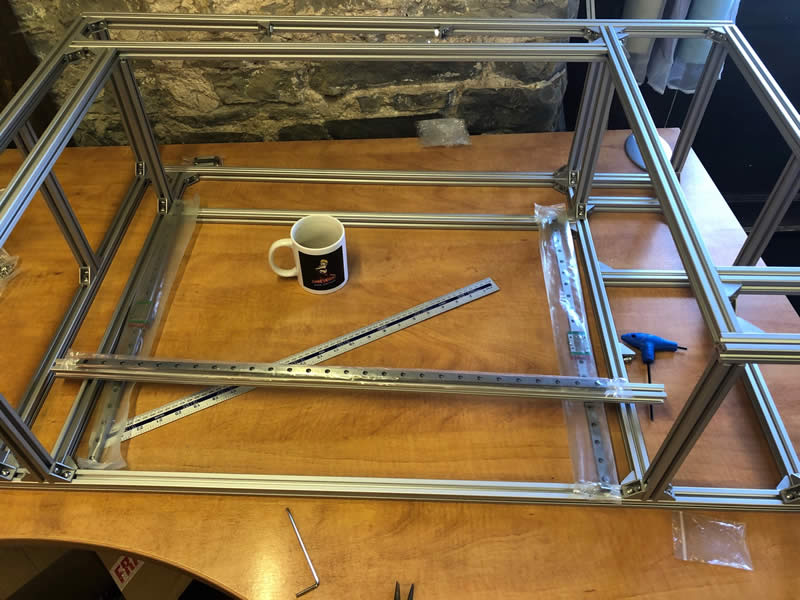 Putting the frame together was the easy bit although the t-nuts were very fiddly.
For anyone interested in what the finished machine will look like or if you fancy learning more about it to make one yourself, then check out the Layzor website - https://manmademayhem.com/layzor/
So, who would like to see other updates on the build? If you are interested, then please leave a comment down below./
Joanne is building a laser engraver, Check it out.
Click to Tweet