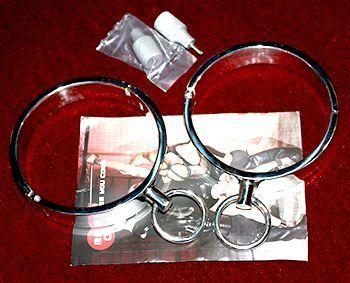 These metal restraints arrive wrapped in bubble wrap inside a carrying pouch. Each comes with a tool which is used to open them and then to lock them shut again.
Without this tool, you will be locked into your restraints and having to explain yourself to the fire brigade could be quite embarrassing. As without this simple device, you will need to be cut out of them, so take good care of it.
This set of two metal shackles is surprisingly heavy, and they constantly remind you of their presence when you wear them.
Each shackle features a large metal ring that can be used to restain you even further with chain or ropes. These rings are free to rotate, and they make a beautiful noise as you walk with the metal shackles chinking and announcing your approach before anyone even sees you.
These shackles have been buffed to a very high shine, and the stainless steel looks fantastic.
They feature a hidden hinge at the back and a locking screw at the front. You use the special tool to unscrew and remove the locking screw, and this is a surprisingly simple processbut it does take time.
The tool has a knurled handle and an Allen key head that you insert into the small locking screw. Once unscrewed and removed, it then allows the shackles to swing open on their hinge so that they can be wrapped around a submissives ankles.
From a submissives perspective, it's very arousing to be locked into a set of these restraints. I love having to present my ankles one at a time to my Master and enjoy watching as he secures me in my restraints one ankle at a time. Just this simple action has my pulse racing, and I feel my levels of arousal rise.
I find that the time it takes to fit them is almost ritualistic and I love that. Once installed they feel cold and heavy against my skin. They are a perfect reminder of my position, and wearing them reinforces my submission.
I honestly wish I had a matching set of wrist shackles as a full set with a metal collar would be a dream come true for me. This submissive loves the harsher forms of restraint, and these shackles are delicious in that respect.
The metal bands used in these restraints is 0.8"/2cm high and the inner diameter is 3.5"/9cm with the outer diameter being 4.1"/10.5cm. This makes them large enough to be unisex, and on me, they are a nice and loose fit.I was delighted with the quality of these cuffs; they are very sturdy and well made. I have no doubt at all that they will give years of service to anyone lucky enough to use them. I like the large rings on them and the fact that they rotate. They allow you to use larger carabiners or ropes for added restraint and they finish the cuffs off nicely, providing a focal point for your gaze.
Meo.de also make a matching set of wrist shackles, and you should check them out too. Any submissive would be lucky to wear the full set.
I am fascinated by just how smooth and shiny they are; it's very evident that a lot of effort has gone into their finish. The locking screw is almost unnoticeable when fitted, and without the tool, you have no way of getting them off. This feature gives play with them an enjoyable edge, and I love being locked into them.
Check out these quality metal ankle cuffs. Great for putting any submissive in their place.
Click to Tweet
Key Features
Key features:
Quality stainless steel cuffs
Locking tools supplied
Hidden hinge and locking screw
Easy to securely lock your submissive into
Final Thoughts
Once again I have been impressed with another great product from Meo.de, there seems to be no end to their magnificent kink products, and I'm looking forward to reviewing the other things that they have sent me.
These shackles are very well made and impossible to get out of without the tools supplied. The metal by its very nature is cold and unforgiving, and it puts you in your place. I like them and have had lots of kinky fun in them already. I have no hesitation in recommending them to anyone looking for a set of beautiful and practical metal restraints for their submissive.
I was sent the BONDO - Stainless Steel Heavy Duty Ankle Shackles by Wolf at Meo.de and I would like to thank him for giving me the opportunity to review it for them.
Joanne's rating
Where Can I Get One From?
Grab one of these amazing pair of metal ankle shackles from Meo.de for just 79,00 € (£69.65 at todays exchange rate). Whilst you're there be sure to check out their wrist shackles too as they look amazing.
Check them out and don't forget to tell them that Joanne says "Hi".
---
---
Disclaimer - I was sent the BONDO - Stainless Steel Heavy Duty Ankle Shackles to review free of charge and this has in no way affected the outcome of this review. This post contains affiliate links and if you purchase something when you follow one of these links I may receive a small commission at no cost to you. For more information check out my disclosure page.