As with everything that I have ever had delivered by Meo these cuffs arrived very discreetly and very well packaged, they take customer privacy very seriously which is good to know.
Before I get on with the review, first let me tell you why I think restraints are integral to kinky play and especially BDSM scenes. Being restrained is a huge turn on for me and also for sub'r', we both enjoy the thought of being unable to move, having to struggle and squirm while being unable to alter our fate.

I love the minimalistic packaging used by Meo, you get two cuffs, a tool and a storage bag
Restraints allow you to immerse yourself in your submission and it can be so much fun to hand over control to someone else. You can also just wear restraints as a fashion statement, enjoying the feel of them against your skin. Metal restraints are unforgiving, you definitely know when you have them on. They are cold when you first put them on and then at the end of a session when they are removed you will find that they are warm.
In a funny way it is like your personality has warmed them up as you have enjoyed yourself and when your dominant removes them, then a little piece of you goes with them in the form of your heat. It might sound odd, but once you have experienced metal cuffs, then you will know what I am talking about.
A few months ago I reviewed the BONDO Metal Ankle Shackles from Meo, and I loved them, I have also reviewed several metal collars for them, and these also feel amazing, there is just something about the unforgiving nature of metal restraints that really turns me on.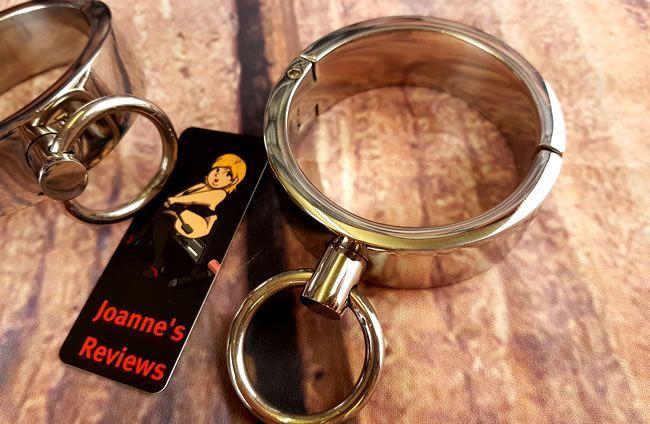 I love the finish of these cuffs you can see your own reflection in them
These metal cuffs are available in two sizes, the ones in the pics are the size 1 cuffs, and these have an inner diameter of 2.2"/5.5cm, an outer diameter of 2.8"/7.0cm and a height of 0.75"/2.0cm. Size 2 which are also available have an inner diameter of 2.6"/6.7cm, an outer diameter of 3.1"/8.0cm, and a height of 0.75"/2.0cm.
Having two sizes available is excellent so that you can get a snug fitting set of cuffs without having them be too large or too small. These are a very snug fit on me but a much looser on sub'r'.
These metal cuffs arrive in the usual Meo style of minimalistic packaging which I applaud, it keeps costs down and is much better for the environment. Inside the sealed plastic pouch you get a set of wrist cuffs individually wrapped together with an Allen key which is used to lock and unlock them.
You also get a rather lovely drawstring Meo branded storage bag with these cuffs, and they are perfect for storing the cuffs and the Allen key between uses.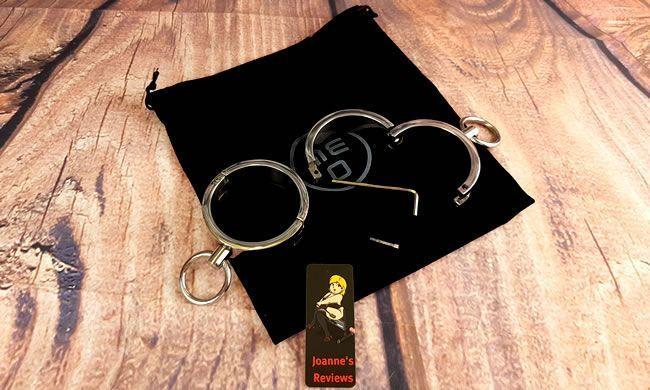 The storage bag is very good quality and ideal for storing these cuffs between uses
These cuffs are substantial, in a reassuring way, when you wear them the weight re-enforces the feeling of submission you feel when wearing restraints.
They feature swivelling 'O'-rings that can be used to attach them together with a carabiner or other connector, you can also fit them to spreader bars or even use rope. The beauty of BDSM restraints is that your imagination is the only limit to how you handle things.
Fitting and removal are easy - as long as you have the Allen Key that is supplied. One side of the cuffs has a hidden hinged, and the other side is secured with a hidden screw that secures both halves together tightly. To fit the cuffs, you use the special tool to remove the screw completely, and then you can open the cuffs and place them around a submissives wrist. You then refit the screw and tighten, when fully fitted you can't see the screw and you are left with a beautiful set of wrist cuffs securely fitted to your wrists.
As I alluded to earlier one of the beautiful thing about metal restraints is the temperature play element with having cold hard steel against your skin, it soon warms up, but it is one of the things that really excites me with this type of restraint.

It is easy to remove the locking screw with the Allen Key
Performance
Metal cuffs are not as forgiving as leather cuffs, they can bite and pinch you and when in seriously strenuous positions such as when being hog-tied they can be quite uncomfortable so if that fits in with your play style you are going to love these.
In less stressful positions they feel hard but not too uncomfortable but wearing them you are always reminded of your submissive state and the fact that you have no escape without the special tool.
I love the look of these around my wrists and also when fitted to sub'r' she looks absolutely stunning. She has an even bigger affinity to metal restraints, and so I think this set will go to her to compliment her metal ankle cuffs giving her a full set.
When fitting them to sub'r,' you can see and hear her reaction and how excited she gets as she is locked into them. She always gets very wet when wearing metal restraints and adores long periods of restraint when wearing them, relishing the marks that they leave on her skin.
Needless to say that Stunt Cock delights in teasing and pleasing her in this state, driving her wild and playing to her submissive side by dominating her.

These cuffs are a nice and snug fit on my wrists
Restraints are designed to be used for removing freedom of movement from a submissive, but they passively re-enforce submission by their very presence. When looking to buy restraints, quality should be your number one concern as you need something that not only looks good but will be doing its job admirably years later and these cuffs fit that bill.
The level of finish is excellent, the materials are superb, and they do their job admirably well, having to use a tool to fit and remove them adds to the feeling of submission for a submissive and just the acts of fitting and removal almost becomes a ritual that will excite and thrill both parties.
If all you have tried is leather restraints then give metal ones a go, they feel entirely different, and if you are into kajira play then they are even better. These restraints really put sub'r' into the mindset of a kajira when she wears them, and I enjoy seeing her present herself to me or Stunt Cock when shackled in cold hard steel.

These are quality cuffs that are easy to fit yet very secure once fitted
Lock your submissive is stainless steel to put them in their place. Check out these cuffs from @MEO_TEAM.
Click to Tweet
Key Features
Key features:
Stainless Steel construction
Swiveling 'O'-ring on each cuff
Concealed hinge and screw used to secure and release these cuffs
Tool supplied
Luxurious branded drawstring storage bag included
Final Thoughts
These stainless steel wrist cuffs are fantastic quality and are just as good as the Bondo stainless steel ankle cuffs that I reviewed earlier in the year. Metal restraints feel so different from the more comfortable leather ones and they really help you get into a submissive mindset, so if you enjoy things like Kajira play they are perfect for the job.
I have no hesitation in giving these a strong recommendation, make sure that you heed the measurements and go with the widest width across your wrists when considering which size to get.
I love them as so does sub'r' and she does look very submissive in them and ready for some hardcore BDSM fun and games. Once again Meo have come up with a fantastic product that will give you years of use.
I was sent these Stainless Steel Handcuffs by Meo.de and I would like to thank them for giving me the opportunity to review it for them.
Joanne's rating
Where Can I Get One From?

Grab one of these amazing pair of Stainless Steel Handcuffs from Meo.de for just 69,00 € (£61.45 at todays exchange rate). Whilst you're there be sure to check out their ankle shackles too as they look amazing.
Check them out and don't forget to tell them that Joanne says "Hi".
---
---
Disclaimer - I was sent the BONDO - Stainless Steel Handcuffs to review free of charge and this has in no way affected the outcome of this review. This post contains affiliate links and if you purchase something when you follow one of these links I may receive a small commission at no cost to you. For more information check out my disclosure page.