Disclaimer - I was sent the Bondara Super Soft 21 Inch Faux Leather Medium Whip to review free of charge and this has in no way affected the outcome of this review. This post contains affiliate links and if you purchase something when you follow one of these links I may receive a small commission at no cost to you. For more information check out my disclosure page.
I have been on the giving and receiving end of this flogger and we have used it now for a couple of weeks so I feel qualified to be able to give my opinion on it. In the future I will get my Stunt Cock to review impact BDSM products as I spend much more time on the receiving end than the giving end if you know what I mean. Anyway on with the review.
This black faux leather flogger from Bondara is definitely what I would class as a light flogger, I have much heavier ones and they feel amazing and so I was very keen to try this one out. It is both very light and easy to hold and swing for extended periods of time. The fronds are also light and thin and this means that the sensations that they deliver are measured and gentle.
This flogger arrives from Bondara packaged in a non de-script manner as you would expect from one of the UK's biggest sex toy retailers. Once you open your package the flogger is inside a no nonsense plastic bag (well what do you expect from an £11.99 flogger). It features a leather loop at the end of its handle with a Bondara label attached to it. This loop can be used to attach it to a utility belt in use or used to hang the flogger so that the fronds hang straight and don't get a set angle to them which can happen when you fold faux leather.
The handle is coated in the same faux leather, tightly wrapped around it and it features two bands. These are at either end and these are secured with metal rivets giving the flogger a nice look.
The flogger is 21.5 inches (54.6cm) in length and the fronds are 15.5 inches (39cm) in length, there are around 40 fronds in total and they have a smooth leather side and a rough side too. This gives them an unpredictability when you swing it, sometimes they will spread out and land on a wide area and other times they will bunch up. This varies the sensations and is really quite pleasant.
It's surprisingly light which makes it easy to use for long periods of punishment so it's great for long sessions where the different sensations that it can develop can really be appreciated. As it's light though it limits the effect on the receiver as it won't carry much kinetic energy and momentum. It's still a fine flogger though and one that is great to warm up with prior to going on to more serious play.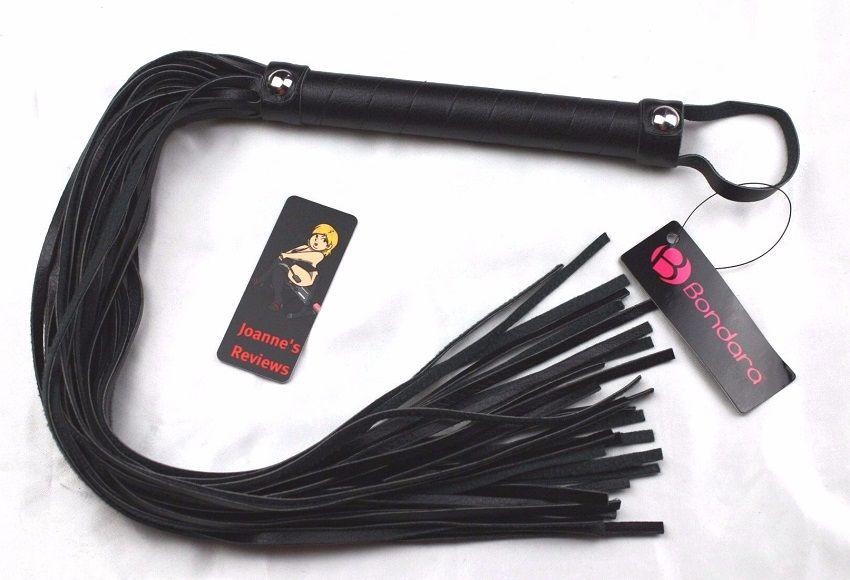 When used it generates gentle caresses on the skin and feels amazing when drawn across my back or butt cheeks in a sensuous manner. The narrow fronds coupled with the two different textures means that no two blows feel the same as you get different numbers of soft and hard fronds hitting you.
The narrow fronds deliver clean and precise sensation and if swung hard it can really generate some sharp stings especially if just the tips are allowed to come into contact with your skin. It also generates a loud whack when used this way that is pleasing on the ear but not so pleasing on the receivers bum cheeks. As impact play is not about justs swinging a toy as hard as you can, you can appreciate the different sensations that this flogger can generate and it is a lot of fun to use.
This is an ideal flogger for anyone new to the scene or for someone just looking to spice up their sex-life in the bedroom with some tie tease fun and games. I particularly like having it used on my breasts and swung upwards between my legs at my vulva gently as the feelings generated in this manner are amazing.
Check out this light flogger from Bondara if you like a little kinky fun.
Click to Tweet
Key Features
Key features:
Light Flogger
Faux Leather
21.5 inches (54.6cm) long
Hanging loop
Thin fronds
Final Thoughts
This flogger would be ideal for someone looking for a gentle easy to use flogger that is ideal for warming you up or for light BDSM play. It's also good for anyone looking for a cheap entry level flogger to experiment with. If you're looking for a flogger to deliver heavy blows then this is definitely not the one for you, it's perfect for use in a tease or pleasure scene as it delivers reliable gentle blows that are a delight to experience.
I was sent the Bondara Super Soft 21 Inch Faux Leather Medium Whip by Carasutra and Bondara and I would like to thank them both for giving me the opportunity to review it for them.
Joanne's rating
Where Can I Get One From?
Grab one of the Bondara Super Soft 21 Inch Faux Leather Medium Whip for just £11.99 from Bondara and that is serious value for money. It's a Flogger that I will be using again and it now resides in my BDSM kit bag ready for future play sessions.
Check them out and don't forget to tell them that Joanne says "Hi".