Bondara has teamed up with the LGBT Foundation to bring you this fantastic-looking rabbit vibe. For every sale that they make they will be donating 10% of the pre-VAT price to the LGBT Foundation so you can fuck yourself while supporting a great charity.
This sextoy arrived quickly and under very plain packaging as you would expect from a leading brand like Bondara. The vibe itself sits in a very plain black box that carries the Bondara logo, specification and instructions on the rear.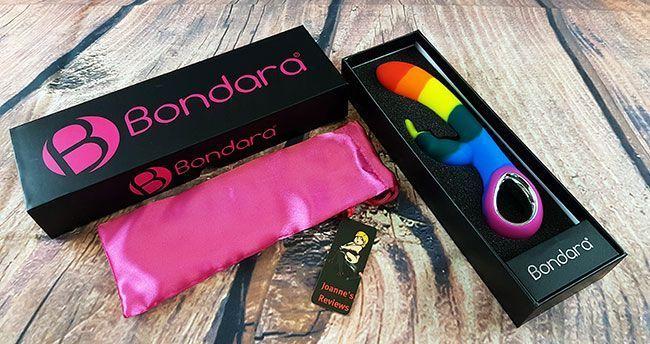 Once you open the box you are greeted by this amazing looking rabbit vibe
Inside the box, you will find a pink satin drawstring storage bag, a USB charging cable and the rabbit vibe nestled inside a foam cutout. It is when you first lay eyes on this vibe that your face will light up and you will feel the magic. It looks amazing.
The rabbit vibe is manufactured out of ABS and silicone, both materials are non-porous and body safe so no need to worry about phthalates or latex. It is easy to clean, just use warm soapy water to wash off any body fluids before using an anti-bacterial sex toy cleaner.
Be careful when you wash it though as it is not waterproof just splashproof which is a pity. I do enjoy lazy wanks in the bath and would love to be able to use this to induce some aquatic bliss during my 'me' bathtime.

The controls are easy to locate and use whilst playing with this rabbit vibe
The handle end is silver ABS and features a cool loop-hole through it that makes it very easy to slip your finger through it in use to make thrusting with it very easy and comfortable. This also lines up your thumb with the controls so that you can quickly switch settings as you play.
The most striking feature though is definitely the hand poured body safe medical grade silicone. This vibe looks fantastic and features the six colours of the pride flag, each blending into the next. The manufacturing process will mean that every rabbit vibe will be unique, each one's patterns and blends will be different. This makes it a bespoke vibe, and yours will be a one-off, unique to you.
The silicone blend used feels fantastic, it is very silky smooth and not at all draggy like some manufacturers blends this means you will need less lube to use it comfortably. I recommend a good quality water-based lube such as Silquid H20 or Secret Play Natural Lube.
I can't stress enough just how good this vibe looks, my pictures don't do it justice.

This stunning vibe looks like a unicorn designed it, it's beautiful
Now one of the most significant problems with rabbit vibrators is the fact that every vulva is different, we all have different distances between our vaginas and our clitoris, and this makes some rabbits hit and miss.
Everything has to line up if a rabbit is to deliver its magic and some rabbits are pretty rigid, and that makes alignment with your clitoris difficult. This one works like a dream for me.
The rabbit clitoral stimulator element is very flexible, and so that gives you lots of leeway with your own genitals shapes. For me, the rabbit's nose lined up with the bottom of my clitoris and the ears wrapped around my clit which is perfect for enjoying a little rabbit ear action.
The pride rabbit is also designed for good g-spot stimulation, and it features a bulbous nose that feels great against your g-spot especially when thrusting with it.


The bulbous head and its motor give some very pleasant g-spot play
Featuring two motors, one targeting your g-spot and the other inside the rabbit you get lots of powerful targeted vibes to enjoy. I hate large rabbits, if I need filling, I will use one of my large dildos, for me rabbit play is all about clitoral stimulation coupled with the feeling of having something penetrate me. Some fantastic g-spot vibrations give this toy the icing on the cake, and I have had so much fun with it.
The controls are simplicity in itself, it features three buttons, the plus and minus buttons turn it on and off and raise or lower the power levels while the centre button cycles through the ten vibration patterns. Each vibration pattern has six intensity settings so you can find the one that works best for you. It also has a travel lock that is easy to activate or deactivate, just press and hold the plus and minus button for three seconds to enable this feature.
As I alluded to earlier this isn't a huge rabbit, it's a very modest one concerning its size. It measures in at 7.5"/19cm long of which 4"/10cm is insertable, and it has a diameter of 1.35"/3.4cm at the g-spot tip. This makes it a very comfortable rabbit to insert and use.
To charge just insert the plug on the end of the supplied USB charging cable into the small hole on the base. Give this vibe a good charge before first using it, I charged mine overnight.


Charging is easy, just insert the plug into the small socket on the base of the vibe
Performance
Well, that's enough about how it looks and how it works. You will no doubt be more interested in how it performs.
This is a fantastic rabbit vibe, from the moment I first switched it on and saw the rabbit's ears dancing around visibly demonstrating the vibration patterns I knew this was going to be fun.
The gently curved shaft feels excellent as you insert it, the bulbous tip applies great pressure to my g-spot, and I found out that I enjoy fucking myself with it a lot while playing with it. That is unusual for me and I usually just enjoy the clitoral stimulation when using a rabbit. The g-spot pleasure delivered is great, but the clitoral stimulation also blows you away.
Everything lines up well with my physique, and the feeling of the rabbit's nose on the bottom of my clit and the ears wrapping around it is incredible. The ears massage and rub my clit, and the patterns are a lot of fun.

This is a rabbit vibe that fels as good as it looks and that is fantastic
I can cum very quickly using this vibe but by fucking myself when the clitoral stimulator is about to send me over the edge allows me to delay my orgasms so that I can edge myself to build up to even stronger ones.
This little vibe never lets me down, if I just have to have a quickie, I can ramp up the power and have the rabbit ears massage my swollen clitoris to a fantastic orgasm.
I have the most fun with it alternating between fucking myself with it and just laying back and having my clit massaged.
This is a rabbit vibe that pleasures your eyes as well as your genitals, it performs as well as it looks and it's fantastic to be able to support a great charity. Show your colours with pride.
Show your colours with 'Pride' with the amazing looking rainbow rabbit vibe from @Bondara.
Click to Tweet
Key Features
Key features:
100% body safe ABS and silicone contrustion
Phthalate and latex free
Ten vibration patterns and six power levels
USB rechargeable
Splashproof
10% of pre-VAT price donated to the LGBT Foundation for every rabbit sold
Final Thoughts
Bondara has a classic on their hands with this fantastic rabbit, its performance matches it looks and with ten operating modes and six power settings there will be something for everyone's masturbatory style.
First impressions matter, and when you open the box and feast your eyes on this beauty, you will find you can't wait to play with it. The two motors have good power and deliver some very pleasing sensations. I love the combination of g-spot and clitoral stimulation, and it can quickly get me off.
The shape and form of this vibe are pleasingly perfect for my body, everything just lines up, but this vibe is so flexible it will also work for most body shapes as it is easy to line with your clitoris.


This is a great rabbit vibe and it supports a great charity
I fell in love with it when I first saw it, and after really getting to know I now know it is a keeper, and it's one for the bedside drawer and not the toybox under my bed. I am going to enjoy myself with this one for a long time to come.
I was sent the Bondara Pride Luxury Rainbow Rabbit Vibrator by Bondara and I would like to thank them for giving me the opportunity to review it for them.
Joanne's rating
Where Can I Get One From?
Grab one of these fantastic Pride Rabbit Vibes from Bondara for just £24.99 (usually £49.99) and support a good cause whilst you wank.
Bondara has a huge range of sex toy, lingerie and accessories and it is definitely worth checking out their site.
Check them out and don't forget to tell them that Joanne says "Hi".
Disclaimer - I was sent the Bondara Pride Luxury Rainbow Rabbit Vibrator to review free of charge and this has in no way affected the outcome of this review. This post contains affiliate links and if you purchase something when you follow one of these links I may receive a small commission at no cost to you. For more information check out my disclosure page.