As usual, when I ordered these Bondage Mitts from Bondara, they arrived the next day very discreetly packaged. I know discretion is always to be expected, but I always have a twinge of worry when waiting for products. Irrational, yes, but none the less it is still a relief to have a very plain cardboard box handed over by the postie. No doubt he knows that I am a kinky minx, but it is probably just an inkling on his part as so far I have had no packages that are obviously containing sex toys.
Upon opening the box, I was met with the mittens inside the very plain plastic packaging, but it was nice to be able to see them straight out of the box. I wasted no time in removing them from their bag and put one straight on.

This is a very nice pair of bondage mittens from Bondara.co.uk
I was delighted by the feel of the soft liner. In essence, once you slide your hand in and clench your fist, your partner tightens the restraining wrist strap to lock them in place. This strap is securely attached to the mitts, and it features a 'D' ring on the top of the mitts that can be used to restrain a submissive - nice touch.
The cut of the faux leather makes them sit on your wrist almost like a dogs paw, and they are very comfortable to wear. Indeed, extended periods of wear are frustrating but they are also comfortable and lots of fun.
So why wear leather mittens? Well, a dominant can use mittens to prevent a submissive from using his or her fingers and thumbs. They render your hands useless for all but basic tasks. Imagine having your hands clenched as fists and trying to use a sex toy for instance.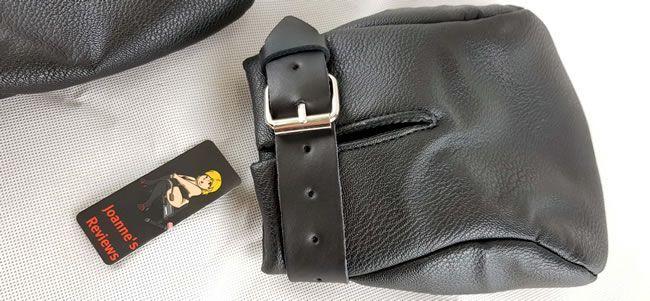 The leather strap and buckle fixes them firmly in place
They are also great for getting into role if you are indulging in a bit of puppy or kitten play. Put on a pair of leather mittens and a set of kitten or puppy ears together with a collar, and you can get to enjoy moving around on all fours without any of your usual worries. Just get into the mindset of a pup or kitty and just enjoy playing.
These mittens are a firm favourite of sub'r' when she is enjoying some kitten or puppy play. I must admit that she does look good on all fours wearing a tail butt plug and her collar.
Right on to the facts and figures, these mittens will fit most people. Stunt Cock has huge hands (I guess that's why spankings from him are just so enjoyable), and he can wriggle and squeeze them into the mits while sub'r' and myself can easily put them on. They measure in at 8.5"/21.6cm long and 6"/15.2cm wide. They will accommodate wrists 7.5"/19cm to 11"/28cm.
They are made out of very soft Faux Leather, and they have an equally soft lining. The stitching is both neat and strong; when the wrist straps are done up, there is no way on earth that you would be able to wriggle out of them. This makes them ideal restraints if you have a wriggler of a submissive or one that likes to squirm and try to escape.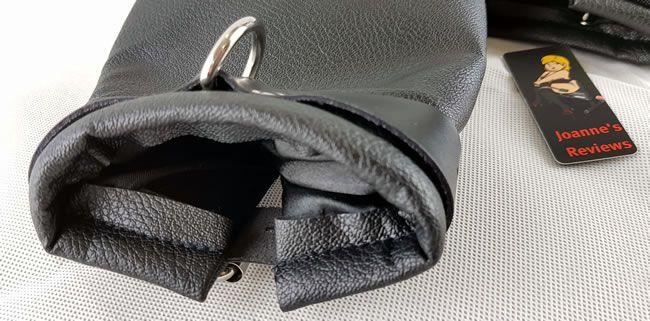 The insides are finished well and very comfortable for long periods of wear
The 'D' Ring makes it easy to hogtie or otherwise restrain your submissive. It can also be used to clip a cat toy so that your kitty can simulate play with his or her claws into a toy.
There is something so exciting about these restraints, and it is probably that when wearing them you become more helpless than usual. It affects everything you can think of doing. They can be utterly brutal and can be used for fun or to punish as well.
Imagine securing your submissive by a padlock and then dropping the key at their feet while they are wearing these mittens. Not only will merely picking up the key be a huge challenge but the chance of effectively using the key to unlock their restraints would be virtually impossible. If by some miracle you did manage to open the padlock you would still be left wearing the mittens and unable to let yourself free. That is if you weren't gagged, as without a gag it's possible to use your teeth to let yourself out of these mittens but don't tell your dominant I said so. It will be our little secret.
These faux leather mittens are lots of fun, not only for pet play but for general BDSM use as well and they would make a kinky addition to anyone's BDSM toolkit.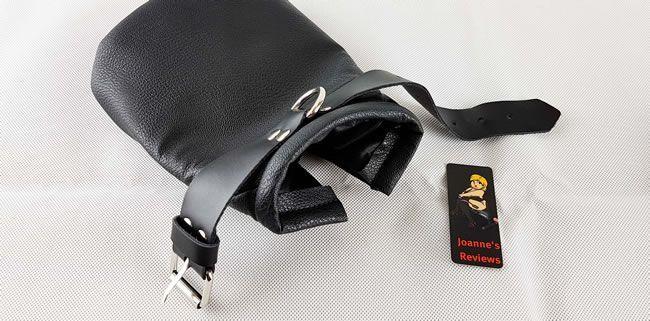 These mitts are fun and very comfortable but it's very frustrating wearing them
These Faux Leather Mittens from @Bondara are great for pet-play as well as general BDSM fun and games.
Click to Tweet
Key Features
Key features:
Faux leather and meta
Adjustable buckle wirst strap for fastening them in place
Metal D-Ring riveted securely in place
Generous sizing means one size fits most
Final Thoughts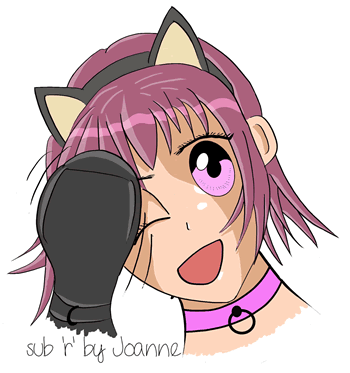 I was surprised at just how much fun these mitts can be, yes there are other ways to restrain a submissive but with these mittens you don't just immobilise someone. You remove their ability to use their fingers and thumbs, and this can be a very powerful mind game to play on someone.
While wearing them, you can't grab items, or do anything productive with your hands. Masturbation in them is possible, but you can't target anything like your clitoris, and internal penetration by them is impossible. They really are a fiendish set of restraints.
Pet-play while wearing them is fun and rewarding, and they help you get into the mindset of a pony, pup or kitten. We love them and sub'r' especially enjoys spending time wearing them.
I bought this pair of Bondara Black Faux Leather Bondage Mitts from Bondara in order for me to be able to expand my play experience and to review it for them.
Joanne's rating
Where Can I Get One From?
Grab one of these great pairs of Fuax Leather Bondage Mittens from Bondara.co.uk for just £19.99 which is a great price considering their quality construction and varied applications. I am sure that we will be enjoying them in the future and I hope that your play time is as much fun as ours.
Be sure to check out their other great BDSM products too.
Check them out and don't forget to tell them that Joanne says "Hi".
Disclaimer - I bought this set of Bondara Black Faux Leather Bondage Mitts to review and this has in no way affected the outcome of this review. This post contains affiliate links and if you purchase something when you follow one of these links I may receive a small commission at no cost to you. For more information check out my disclosure page.