Bondara always dispatches toys quickly and discreetly, and it wasn't long before the paddle arrived (it was the next day actually). My postie had no idea what was in the box as it was entirely plain apart from my name and address.
Upon opening this box though I found a branded Bondara box sitting snugly inside and this contained loads of pink packing material that was a lovely thought. A leather paddle isn't pretty or delicate, but they had taken the time to pack it well anyway.
I must admit to being a bit childish when I first took it out of the box, holding it over my head pointing skywards and proclaiming "I have the power". Yes, I never could make a good He-man impression. With Stunt Cock rolling his eyes at me, I thought it best not to do that again.
What is it?
This is a slapper paddle>, and for anyone who doesn't know what one is well, it is a paddle with two elements to it. These elements are joined at the handle and are free to move apart in use. When swung slapper paddles deliver crisp, sharp sensations and this is because of the double impact of the two faces.

I love how the two paddles interact with each other as you swing it
It sounds like one impact but actually, the first face comes into contact with your skin, and that is then slapped again as the second face comes into contact with the first. Hence the name - slapper.
In use, these styles of paddles are so much fun, and they generate sensations that are much sharper than a standard fixed paddle. This means that they can be smaller than paddles that will deliver similar sensations.
This one is shaped like a sword with a thick and very comfortable handle made out of four layers of leather stitched together very neatly.
The handle has a handy loop of leather cord hanging from a hole at the end, and this is a convenient wrist strap to stop the slapper from accidentally flying across the room if you lose your grip when swinging it in the throes of passion.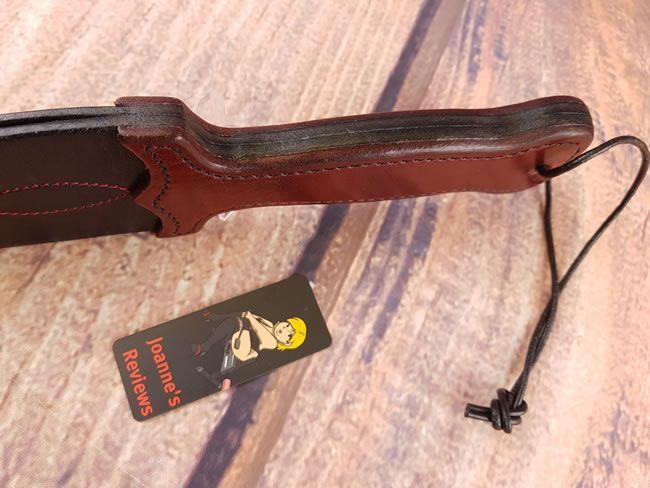 The handy leather loop through the handle is a good idea
The stitch work on this slapper paddle is exquisitely neat, and I love the little decorative swirl on the blade of the sword, that is a nice design touch.
The high-quality saddle leather is excellent quality, and the smell is to die for. I don't know why but I always end up sniffing leather implements, and the smell always gets my juices flowing. There is something so sexy about the smell of leather in my opinion.
The handle is a nice shade of brown with the blade of the sword being black, this gives a lovely colour combination that works well together.
Measuring in at 14"/35.6cm long and 2.5"/6.4cm wide, the handle is 5.5"/14cm long and the slapper blade is 8.5"/21.6cm long making it a good length to swing wiithout being unweildly.

This paddle is a nice size that makes it easy to weild
How it is used
The type of paddle is designed to be brought to bear on naked skin, preferably the buttocks or thighs. It can be used on other fleshy areas of the body but never over bony areas or your kidneys.
When swung, it requires minimal effort to make a loud slapping noise as it strikes home and it leaves good blade shaped marks on the skin when it is withdrawn.
The combination of the fantastic sound it makes and the marks it leaves behind makes it a very effective BDSM implement in anyone's hands. No real experience is necessary to use this impact toy as it is so easy to swing and use. Just remember to start gently and then gradually build up to larger swings.

This is a nice paddle that delivers sharp sensations that really feel fantastic
Performance
My first encounter of the Lair Leather Sword Slapper Paddle was with my panties around my knees, and I was bent over the dining room table. My skirt was flipped up over my bum, and then Stunt Cock went to work on me.
He warmed me up with the Buch Dick (my all-time favourite paddle) before using the Lair Sword Paddle. The first time he swung it, and it hit my buttocks I took a sharp intake of breath and closed my eyes enjoying the pain and the noise it made.
It stings when used, but that is a delicious feeling when you are aroused and expecting it. I enjoy having it used on me until I could take no more and my backside was left with some lovely marks. Stunt Cock reached in between my legs and just ran a fingertip down my pussy lips, and that was enough to cause me to orgasm there and then. Spanking like this really turns me on.
I have enjoyed many more sessions like that, and this is an excellent paddle that is a heck of a lot of fun to use. After using it one me, Stunt Cock used it on sub'r' too. This time though it was in a swingers club dungeon (The Attic in Derby), sub'r' was restrained on a spanking bench with tight leather straps, she was also blindfolded and gagged.

The stitchwork is really neat giving this paddle a luxurious look and feel
Stunt Cock did the same thing to her, warming her up with the Buch Dick and then going to work with the Lair Leather Sword Slapper Paddle. No matter how much sub'r' squirmed she couldn't get away, and Stunt Cock worked her up until she actually came from the spanking, leaving a puddle of squirt on the floor under her. She needed about ten minutes to come back down to earth after that, and she too loves the Leather Sword Paddle for its sheer power and performance.
This is what sub'r' had to say about it:
"I love the noise that this paddle makes and the distinctive marks it leaves behind. Your backside literally glows after a good paddling, and that always gets me wet. Stunt Cock has a knack of spanking me to an orgasm with no other stimulation except for a paddle. I'm not complaining though as the orgasms are incredible when delivered in this way. I love to be restrained and allowed to squirm as the blows reign down on my exposed backside. This is now my favourite paddle by far."

sub'r'
Well, that is two of us that love this paddle to bits, I think that it is the combination of the sharp impacts and the distinctive double slap noise that it makes that makes it feel so good.
This paddle looks and feels fantastic. @Bondara have done it again.
Click to Tweet


The split tips deliver delightful sensations
Key Features
Key features:
High-quality saddle leather
Double layered design creates delightful sensations
Satisfying slap sound as it strikes home
Gives you the ability to do outstanding He-man impressions
Final Thoughts
If you are looking for a paddle that has excellent performance and that can deliver some good crisp blows, then this is definitely one to consider. I love the sensations that are provided and the fact that it is so easy to swing and use.
The combination of excellent materials, superb performance and that delightful sound that it makes means that this is now elevated to one of the best paddles that I own and it will be getting used again in the very near future.
There is only one thing left to say (Joanne raises the sword paddle over her head) - "I have the power". OK, sorry, I'll go and get my coat.
Seriously though this is a damn fine paddle and lots of fun to use. Bondara has done it again, their procurement staff deserve a bonus after finding this paddle.
I was sent the 14 Inch Lair Leather Sword Slapper Paddle by Bondara and I would like to thank them for giving me the opportunity to review it for them.
Joanne's rating
Where Can I Get One From?
Unfortunately this particular item has been discontinued but you can check out the rest of the Bondara Range Of Floggers, Whips & Ticklers. Check out the rest of the BDSM products that Bondara carries as they have a very extensive range and I have always been delighted with everything that I have reviewed for them in the past.
Check them out and don't forget to tell them that Joanne says "Hi".
Disclaimer - I was sent the Bondara 14 Inch Lair Leather Sword Slapper Paddle to review free of charge and this has in no way affected the outcome of this review. This post contains affiliate links and if you purchase something when you follow one of these links I may receive a small commission at no cost to you. For more information check out my disclosure page.