I am always impressed by deliveries from Latex, Leather & Lace. Everything is always very well packaged inside very a plain box or padded envelope. My postie is always left guessing as to what is inside as there is nothing to indicate the kinky contents of packages from Latex, Leather & Lace.
You get a safety card enclosed with the candles and these cover the basics of wax play.

I was delighted when these three candles arrived for review
These lovely wax play candles are special for a number of reasons, firstly they are handmade and poured in the UK. As they are handmade, you can expect to see variations in colours and also finish with small marks on the candles, but these don't affect performance in any way.
Secondly, they are made of a special mix of environmentally friendly soybean wax and botanical oils. This makes them environmentally friendly and safe to use on skin. They are quite soft so they will mark if dropped or banged.
Now a quick word of caution, don't use T-lights or white household candles for wax play unless you are into advanced play and/or pain. The wax used in those types of candles melts at a much higher temperature than Bondage Man Wax Play Candles.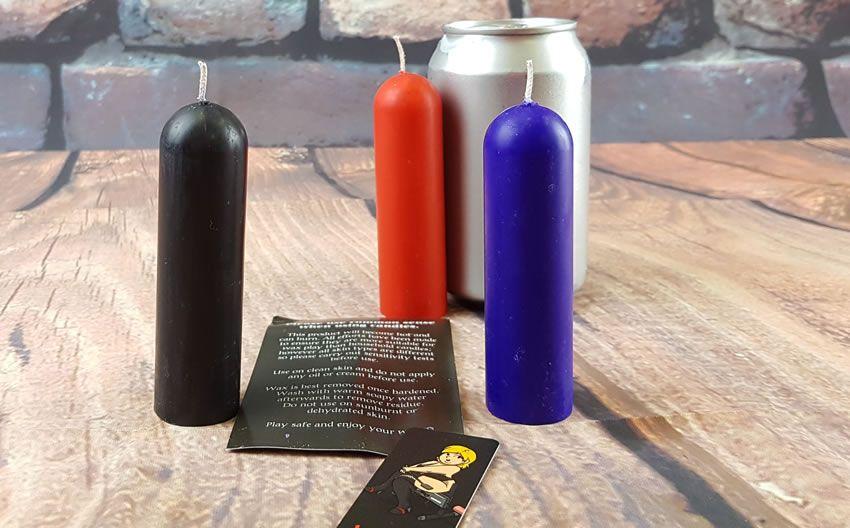 The candles will last for a few long play sessions as the are generously proportioned
The wax used in these candles melts at 54 degrees. This is important as higher than that, and you risk marks and burns when it lands on the skin. These candles are inherently designed for safe wax play.
Another cautionary note is to make sure that there is nothing flammable in the vicinity of your wax play session. You are playing with fire so use caution and think about what you are doing.
You should always do an allergy test when using wax play candles on someone for the first time to ensure they are not allergic to any of the ingredients of the wax candles.
To do an allergy test simply drop a single bead of wax onto someone's wrist and then wait ten minutes to see if there is any reaction. You are looking for reddening of the skin around the wax or swelling. Once you are happy, then you can start your wax play safe in the knowledge that there will be no surprises.
I did this to myself and sub'r', and we took the time while waiting to get the medical room in the Attic ready for some wax play.

You get three candles in random colours in each kit
We put a towel on the examination table ready for sub'r' to lay on her front. We also got some hand towels ready, so that we could clean up any mess quickly.
I then made sub'r' strip off her underwear, and she was stood in just her corset and her collar. After checking our wrists for any reactions, I got her to lay on the bench on her front so that I could start on her back and shoulders.
You get three colours in each set, and the colours vary. Ours were red, blue and black and I lit them one at a time when I was using each. Blowing the candles out between uses to prevent excess wax loss.
I began with the black candle and rolled it in my hand so that the flame melted the wax uniformly. Holding the candle about 50cm above her shoulders I let the first drops of wax fall onto her shoulders.
The sigh that sub'r' let out immediately told me that she was enjoying the sensations of the wax landing and cooling on her skin. I continued to let the wax drip at random all over her shoulders and back.

It is really easy to get the wax to drip, the lower you do it the hotter it feels
I kept talking to sub'r' throughout her session as it was her first experience of wax play. She explained how delightful the droplets felt hitting her back, the initial sting followed by a warm glow. Each droplet felt amazing, and she was soon squirming as her arousal and excitement built.
I tried each candle in turn and sub'r' was loving it. I then moved the candles lower down her body so that the wax landed on her buttocks. Some even hit her pussy lips between her slightly parted thighs and her excitement continued to build.
After spending about ten minutes dripping wax onto her, I was satisfied with the coating covering her back and bum cheeks. She commented on how sensual it felt as the wax cooled and shrank slightly. It gently pulls the skin as it cools and this feels very nice.
It was time to remove the wax, and this is best done with a flat edged object such as a bank card or butter knife. I had brought a butter knife with me just for this job.

I started applying wax to the shoulders and back of sub'r'
The feeling of the knifes edge even though it was blunt really turned sub'r' on and she actually orgasmed while I was gently scraping the wax off her back, buttocks and pussy lips. The sight of her shuddering and gasping as she came got me very wet as well.
Once cleaned up I made sub'r' roll over onto her back, and I used the candles again on her breasts and eventually her pussy. As you can well imagine the sensations are much more intense in these areas, so I suggest warming up with some back wax play first.
I took my time coating her breasts in wax droplets and then moved onto her pussy. As you can imagine the sensation of the hot wax landing on her vulva really turned her on, and she came hard as it was applied. She also came a second time as the wax was scraped off.
After she came back down to earth, I was extremely aroused and more than ready for my turn. I got onto the table, and we repeated the process, but this time I got to feel the wonderful sensations for myself.
By this time in the club, we had quite an audience, and that added to the horniness of it all for me. I loved it and being watched was an added turn on. I also came while feeling sub'r' cleaning the wax from my pussy and breasts.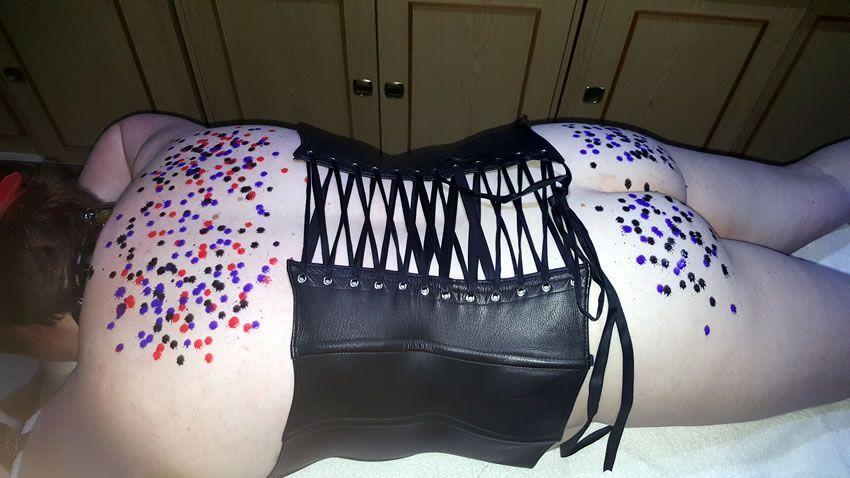 The final result of ten minutes of wax play on sub'r'
The sensation that you get when you feel the wax cooling is hard to describe but it is like someone is gently squeezing your skin and that coupled with the warm sensation you get with the sharp pain of the wax landing on you is heady stuff. Both of us are hooked and will be doing it again.
Judging by the comments that we got from the onlookers it was also very horny to watch, and we gave several people a heads up on where to get their own wax candles.
Cleaning up is a messy process as the wax tends to split and fracture as you scrape it off and these pieces go everywhere. When you clean the wax off, you can re-melt the wax for use again if you are using the candles on just one person. But for hygiene reasons, you shouldn't re-use the wax on others.
After scraping the wax off your skin will feel slightly oily, and a shower is recommended to clean off all the small bits of wax as well as getting rid of the oily residue.
The Bondage Man wax play candles from @latexleather just feel so good when the wax lands and cools on your skin.
Click to Tweet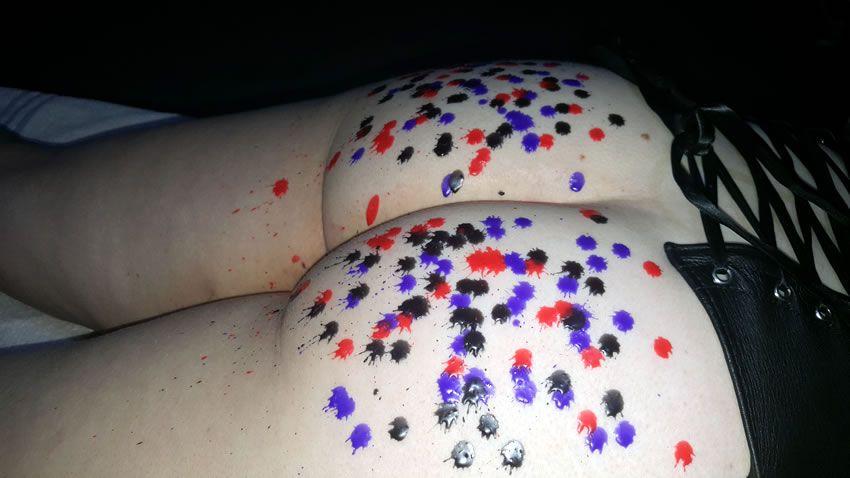 sub'r' really enjoyed the sensation of the wax cooling on her skin
Key Features
Key features:
Hand Made in the UK
Low Melting Point 54 degrees centigrade
Made from Environmentally Friendly Soybean Wax and Botanical Oils
Comes in 3 Random Colours
Final Thoughts
This was the first time that both of us have used wax play candles and both of us loved it. We got permission from the clubs owners to take some naughty pics, most of which are too XXX and not suitable for posting on my blog but the ones used in this review show just how the wax looks when dipped onto skin.
Both of us heartily recommend these candles from the Bondage Man for anyone to try some wax play fun. They are cheap, safe and so much fun to use on each other.
I was sent these Bondage Man Wax Play Candles by Latex, Leather & Lace and I would like to thank them for giving me the opportunity to review it for them.
Joanne's rating
Where Can I Get One From?
Latex, Leather and Lace are a premier online retailer of kink and they carry a huge range of products made from the best manufacturers from around the globe. You can shop online or even in their walk-in shop in Barwell, Leicestershire. Why not drop by if you are local and check them out. They are very friendly indeed and are a wealth of knowledge and advice. Don't forget to say that Joanne says Hi.
Grab one of these fantastic wax play kits from Latex, Leather & Lace for just £12.99.
Check them out and don't forget to tell them that Joanne says "Hi".
Disclaimer - I was sent the Bondage Man Wax Play Candles to review free of charge and this has in no way affected the outcome of this review. This post contains affiliate links and if you purchase something when you follow one of these links I may receive a small commission at no cost to you. For more information check out my disclosure page.