About E-Stim.co.uk
From their humble beginnings in a garage back in 2004 E-Stim Systems has grown and grown with an army of loyal customers. Their range of e-stim equipment is second to none and they manufacture their own goods in house. This gives them total control of their range of equipment and they even offer a lifetime guarantee (how's that for confidence).
Their customer service is second to none and they are really nice and approachable, always willing to give good advice where needed. Check out their site for lots of information about electrosex and their products.
I can highly recommend their Intro2Electro packs and you can read my review of the For Her Pack here.
Features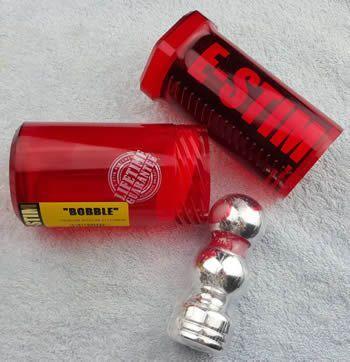 The Bobble comes in a sturdy translucent red plastic storage tube, I really like the colour choice for the case it looks great. I love the industrial feel to it, you grab the hexagonal base and unscrew it to open the storage case. I was impressed with the case but when I got my first look at the Bobble I was simply blown away by it.
It arrives sealed in shrink wrap so that you know that no-one has tampered with it and once you remove this you get to really appreciate just how good this electrode looks, if I had to choose one word to describe it then it would be "Magnificent". The mirror finish on it looks amazing and I was fascinated with the reflections in the rounded features of the Bobble.
The Bobble features two prominent balls separated by a red insulator and these form the two poles of this insert. It is made out of aircraft grade aluminium which is turned and then polished to a very high shine and the pictures just don't do it justice, it really is awesome to behold (I can't believe I just typed that, it sounds like something out of a 1960's B movie). Suffice to say it is very shiny and very, very desirable.
It also has a nice wide base so it is safe to use for anal play but you would have to be a lot braver than me to use it that way. Vaginally it feels incredible - more on that in a moment.
The base contains two holes for you to insert your connecting cables in to and they take 4mm plugs. I highly recommend the right angle variety as they allow for a much lower profile so you can use this electrode in lots of different positions.
You can use an allen key in the center hole to completely dismantle the electrode for deep cleaning and it strips down and goes back together easily. Just follow the included instructions to do this.
It comes with a lifetime guarantee from e-stim systems as they are that confident of their quality control and products. You simply can't get better than that.
Use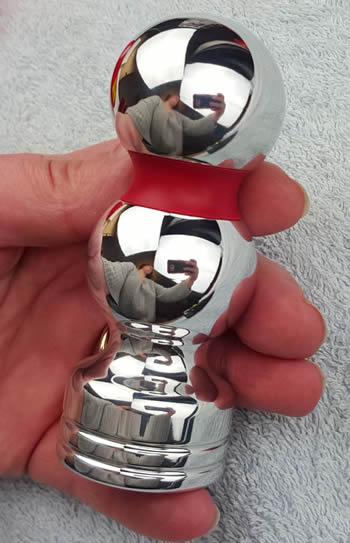 So here is the interesting bit for most people. I have to admit to having my first orgasm with the Bobble without even using it as an electrode, I simply fucked myself with it to orgasm. I love the way that the smooth surfaces stretch you open and then each ball sort of pops inside you and then you get to do it again with the next one. It is a very nice feeling and it didn't take me long to get myself off this way. As it is so smooth it can get a little slippery when used this way - just saying.
I attached the cables from my Series 1 Power Box to the Bobble and applied some of e-stims Electrogel (full review coming shortly) to both myself and the Bobble. It slid in very easily when using the electrogel as it really is a nice lubricant and being water based it is perfect for e-stim fun and games.
Once fully inserted I clamped my legs together to hold it securely inside me against the contractions that I was about to enjoy. I then set the dials on the powerbox to their lowest settings and then switched the power box on. I love to slowly raise the power on my control box, at first feeling a very light tingling sensation, almost like butterfly wings caressing my pussy before turning it up higher and letting out a sigh as I feel my pussy muscles contracting around the Bobble.
Only use good quality water based lubricants with this electrode, never use silicone or hybrid lubricants. I found the e-stim systems electrogel perfect and as I have already mentioned I will be doing a full review on it shortly.
A quick note on cleaning after use, never use anything abrasive or caustic on the electrodes components. Just use hot soapy water and ensure that it's completely dry before placing back into its storage tube.
Performance
I found it to be a very effective electrode with no hot spots or dead spots for that matter either and the sensations on pulse mode were amazing and it felt like the Bobble was actually fucking me, gently at first and then much harder as I ramped up the power as I got closer to orgasm. I came really hard and actually pushed it out as my contractions were so strong and I experienced an amazing orgasm. I have used it many times since then and find it really easy to edge myself with it before finally pushing myself over the edge into some amazing orgasms.
It has a very large surface area and so it really does conduct very well indeed.
I loved the Flange™ Electrode, I was in awe of the The Deviant™ Electrode and I am smitten with the Bobble Electrode, it really is an amazing and aesthetically beautiful piece of kit. It looks almost too good to just push into my pussy - LOL who am I kidding, it looks amazing and is just perfect for doing that.
Key Features
Key features:
Aircraft grade aluminium
Polished finish
Bi-polar electrode
4mm connections
Two well defined balls
Lifetime guarantee
Final Thoughts
I love this electrode, the bobble has the looks and the performance to match it. Make sure that you check out the other two new electrodes in the Red Collection, these are the Small Flo and the Large Flo, both of which I am really interested in trying out. This electrode would make a great addition to anyone's range of e-stim equipment but it would also be ideal as a present for someone. I know that I keep going on about it, but it does look absolutely amazing.
E-Stim Systems have just brought out a new range of Bi-polar electrdoes based on the Bobble called the Black Collection.
Read My Review Of The Black Collection
Recommendations
I would recommend this sex toy to:
Anyone looking for a Bi-polar electrode that looks as good as it performs.
Anyone looking for big differences in diameter in their electrodes.
I wouldn't recommend it to anyone who:
Joanne's rating
Where Can I Get One From?
You can get the Bobble from e-stim.co.uk for £75.00, I am delighted to be able to recommend it to anyone looking for a stylish and functional bipolar electrosex electrode.
Website links: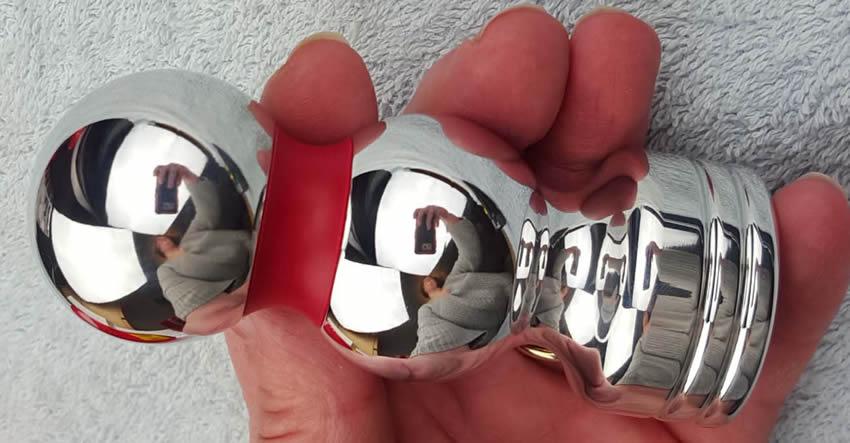 ---
If you enjoyed reading this review then check out my other reviews of E-Stim Systems products:
CONTROL BOXES
PUSSY & ASS ELECTRODES
PENIS/BALL PLAY
OTHER
Website links:
---
This toy was sent to me in order to review it and this review contains affiliate links. If you clear your cookies, then click through one of my affiliate links before making a purchase, I'll make a small commission at no extra cost to you. This money will be used to run this blog and of course buy me new sex toys to review. Many Thanks!
I would love to hear what you thought of this review. What can I do better, what did you like? Let me know in the comments form below. Thank you for taking the time to read it. Joanne xx