Delivery and packaging
Once again this product arrived from Blush very discreetly packaged, and that is important. Discretion is often the number one priority online customers have when ordering sex toys online and Blush take that seriously.
The Temptasia Twist dildo comes in a rather lovely retail display box with lots of information about the product on the outside including cleaning instructions.
The best bit though is the fact that you can actually see the Twist dildo inside the box through a transparent window on the back. I love packaging like this as it allows you to see the colours, size and texture on the actual toy and not a photoshopped image.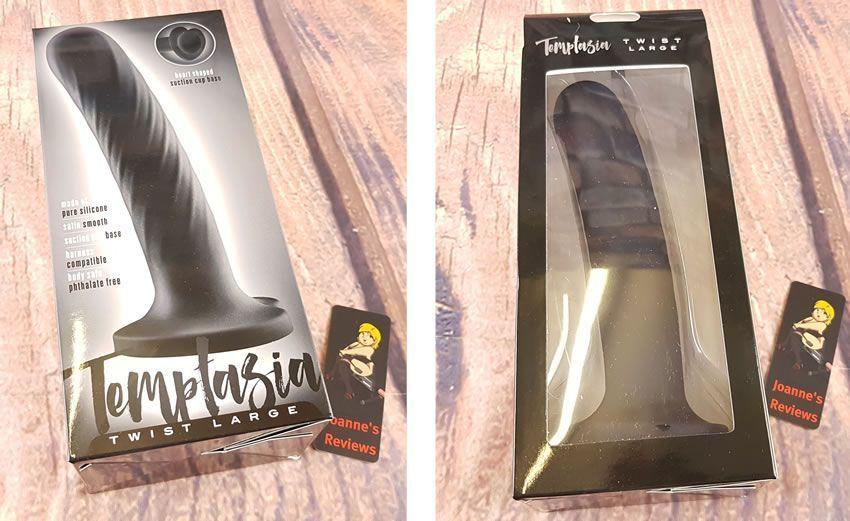 I love packaging that allows me to actually see the sex toy inside
Design and materials
The Temptasia Twist Dildo comes in three sizes, small, medium and large, this one is the large model.
It is made out of 100% body-safe hypo-allergenic silicone, and that means it is latex and phthalate free and well as being non-porous. This last bit is significant as it means that unlike jelly toys bacteria cannot live inside the surface of the dildo.
You also don't get any horrid chemical smells or tastes with silicone sex toys, and it is nice to open a box and smell nothing at all.
The blend of silicone used is smooth and soft with gentle features. It has an excellent level of squish when you squeeze it in your hand, and this feels great as you clamp down upon it mid-orgasm.
Like most silicone sex toys it is a bit of a dust magnet after you have cleaned it and so what I do is to wait until it is thoroughly dried before storing it in a sealable sandwich bag.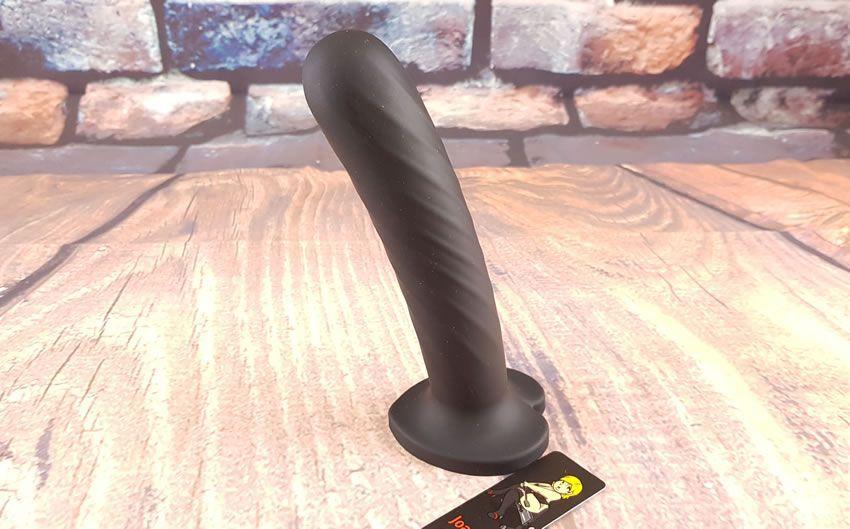 The gentle curve makes targeting your g-spot or p-spot easy
The Temptasia Dildo features a gentle upward curve that is designed for great g-spot and also prostate stimulation.
It also has a gently twisting texture that feels very nice when thrusting. I really enjoyed the feelings that the surface generates when thrusting with this dildo.
The base of the dildo has a beautiful heart-shaped suction cup. This is a first for me as I have never seen a heart-shaped suction cup that worked correctly and this one does.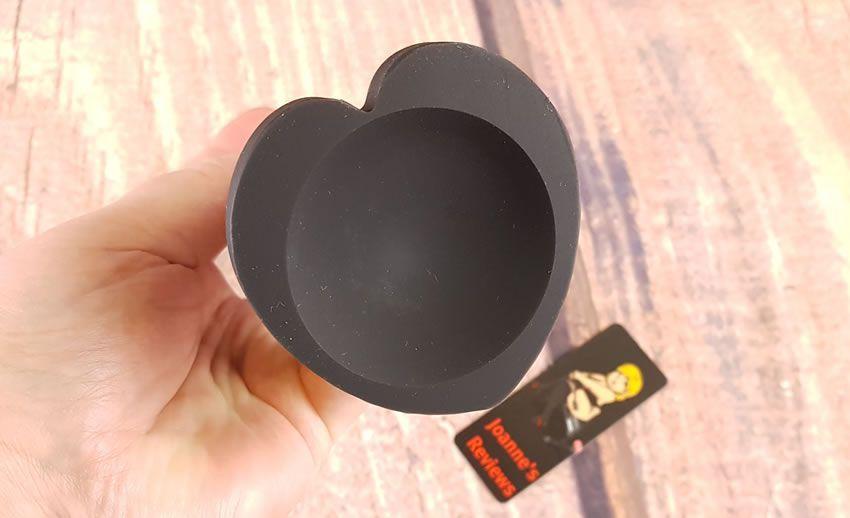 The heart shaped suction cup looks great and has real holding power
It generates a fantastic level of suction that keeps the dildo firmly affixed to whatever smooth surface it has been stuck to. Say hello to some fun sessions in the bath or shower.
You really need to get a fingernail between the suction cup and the surface it is stuck on to break the seal so well done blush for coming up with a design that works very well indeed.
This dildo is strap-on harness compatible, simply fit the 'o'-ring over the dildo to hold it firmly in place. I used it with my Aslan Strap-on harness, and it fits a treat. You also don't get the side to side movement when thrusting with it which was nice.
Cleaning easy, just wash it in warm soapy water to get rid of vag-goo or other body fluids before giving it a clean with an anti-bacterial sex toys cleaner.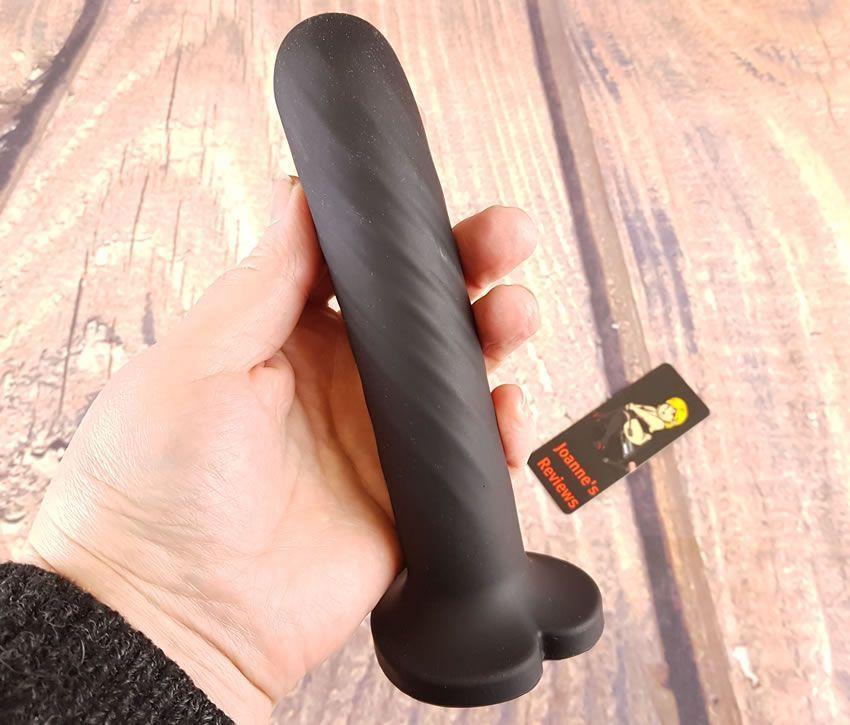 The silicone blend is fantastic but it can be a dust and lint magnet, luckily cleaning is easy
Performance
I have been really enjoying the Temptasia Twist, it gives me great g-spot stimulation, and the gentle twists on the shaft feel fantastic when thrusting.
They also feel great when you draw this dildo over your clitoris enjoying the ridges as they brush over your pleasure centre.
I loved using it in the shower where that fantastic suction cup base came into play to give me some beautiful orgasms.
One of the best things about the Temptasia Twist dildo is that it is excellent in any hole. Anal play also feels great and use a good quality water-based lube like Sliquid H20 or
to keep things smooth and enjoyable.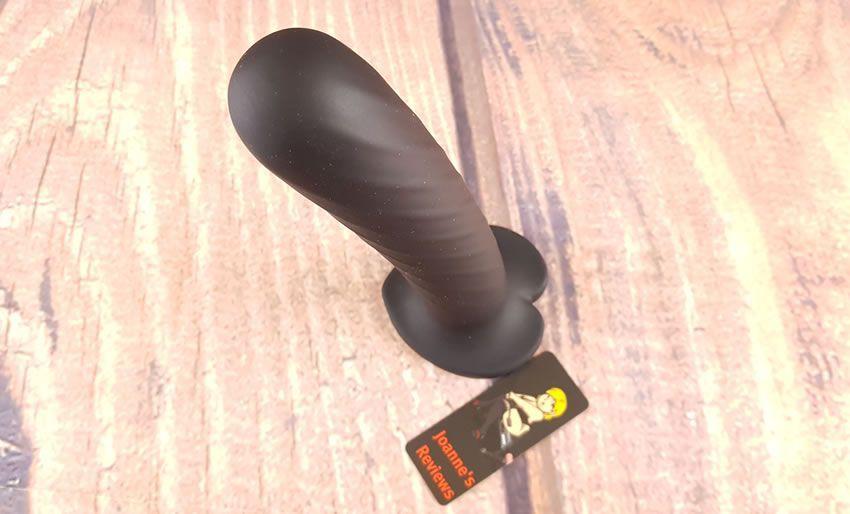 The uniform diameter makes anal play easy and highly enjoyable
The twisting texture on the shaft feels excellent anally, in fact probably even more so than when used vaginally due to the sensitive nature of my bum hole. I was able to easily orgasm from anal play in around 20 minutes which is pretty fast for me.
It is excellent for anal experimentation as unlike lots of other dildos the circumference is constant along the shaft so once inserted you can go to town thrusting with it easily.
When using it vaginally, I tend to come in around 10 minutes, and that is through just thrusting with no added stimulation from fingers or a vibe.
This really is a nice dildo to thrust with, the subtle yet effective texture feels great.
I even fitted it to my Aslan Leather Strap-on Harness where it performed very well indeed. I am not going to tell you who was on the receiving end, but you can probably guess.


The nicely rounded tip makes insertion in any hole a simple matter
The twists add just a little texture to an otherwise smooth dildo. The curve places pressure on g-spot or p-spot for great stimulation.
The @BlushNovelties Temptasia Twist Dildo is ideal for thrusting fun in any orifice. Check out its subtle but enjoyable twisting texture. Grab a set of three from @LatexLeather or the large from @peepshowtoyscom.
Click to Tweet
Key Features
Key features:
100% body-safe silicone
Available in three sizes
Gentle twisting texture on the shaft
Heart shaped suction cup
Gently rounded tip for easy insertion
Great for anal or vaginal play
Strap-on harness compatible
I would recommend it to:
Anyone looking for a body-safe dildo
Anyone looking for a dildo with a great suction cup
Anyone looking for a strap-on harness compatible dildo in a range of sizes
Anyone who likes soft and gentle textures
I wouldn't recommend it to:
Anyone looking for a rigid sex toy
Anyone who likes exagerated textures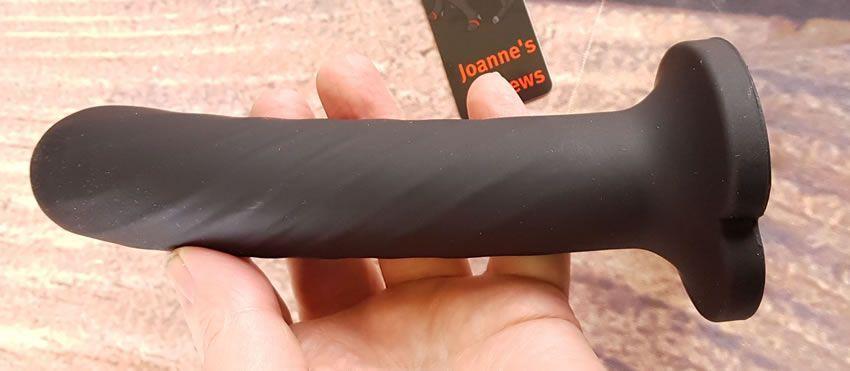 The Blush Temptasia Twist Dildo is a lovely dildo for thrusting in any hole and it is one I can definitely recommend
Final Thoughts
The Temptasia Twist Dildo is a very versatile dildo, it is excellent for hand play on your own, with a partner using it on you or for strapon play.
It is also perfect for any hole fun and games, you can even get it in a pack of three dildos with one of each size, and I can highly recommend that set for anyone wanting to experiment with anal play or especially pegging.
The soft rounded tip makes insertion easy even for anal play where comfort is king, and once inside you can enjoy the soft textures.
For anal play, the twist textures are perfect just adding the right amount of stimulation to help bring you over the edge.
I have no hesitation in giving the Blush Temptasia Twist Dildo a very strong recommendation.
I was sent the Temptasia Twist Silicone Sildo by Blush Novelties and I would like to thank them for giving me the opportunity to review it for them.
Joanne's rating
Where Can I Get One From?
You can grab the pack of three Twist dildos from one of my all time favourite retailers Latex, Leather & Lace for just £39.99 and you too can enjoy its subtle textures and shape.
If you just want the large then you can buy one from PeepShowToys.com in the USA for just $21 USD which is an absolute bargain.
Check them out and don't forget to tell them that Joanne says "Hi".
Disclosure
Disclaimer - I was sent the Temptasia Twist Dildo to review free of charge and this has in no way affected the outcome of this review. This post contains affiliate links and if you purchase something when you follow one of these links I may receive a small commission at no cost to you. For more information check out my disclosure page.