Delivery and packaging
Once again, PeepShowToys.com showed that they care about customer privacy and discretion. This product arrived by courier in very plain outer packaging, showing absolutely no indication as to the kinky ocntents inside.
The safety scissors come in a blister pack that carries the Blush branding and also lots of product information which was fun to read.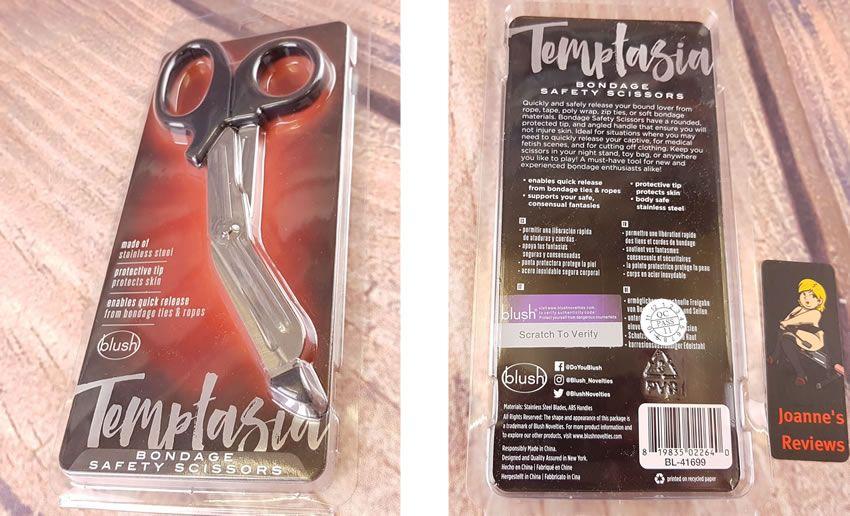 I love the Temptasia branding and the packaging is simple but effective
Design and materials
These safety scissors as you would imagine are made out of stainless steel blanks which are pressed to give them a ridge down their sides.
This strengthens them while keeping their weight down. This is an important consideration for a tool that will probably have a permanent home in your BDSM play bag.
The stainless steel blades are ground on one side to a sharp edge. The lower one features teeth that help it grip and cut rope and leather while the upper blade is smooth.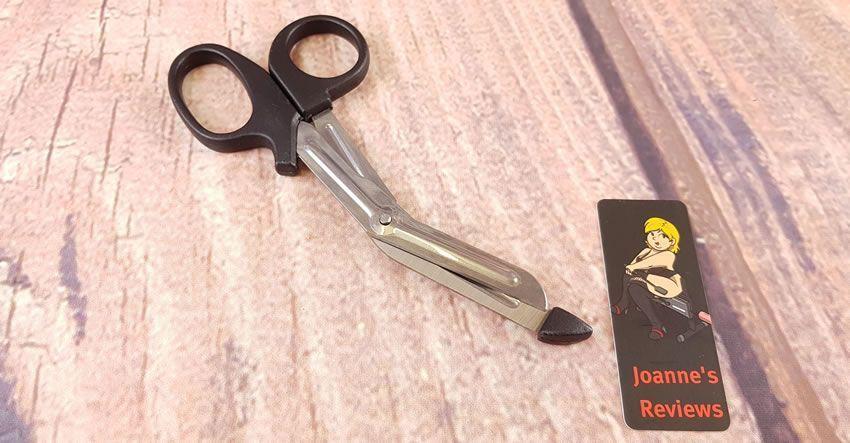 The Blush Temptasia Safety Scissors even look like BDSM tools
The handles are coated in black plastic to form a comfortable profile for your fingers and thumb.
Dimensions: 6.5"/16.5cm long; 2.5"/6.4cm wideWith safety in mind, the end of the lower blade sticks out past the upper one and has a plastic cover. This prevents any scratching or the risk of puncture injuries in use, and it is a nice feature.
The handle is angled to make it easy to operate with the lower blade close to the skin. This allows long deep cuts to be made easily.
The rivet used to join both halves together is tight and gives an excellent smooth axis point for the two halves of the scissors to rotate around.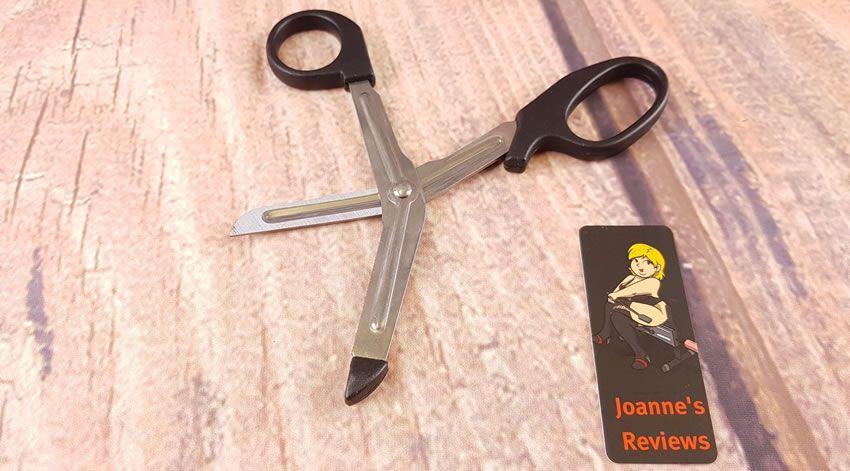 The Blush Temptasia Safety Scissors are smooth to operate and the blades are very sharp
Performance
I love the fact that these scissors are so light. I have them as a permanent fixture in the side pocket of my MEO - Monostrap Backpack.
These black handled scissors are easy to use but could they cut through restraints and rope easily, that was the question?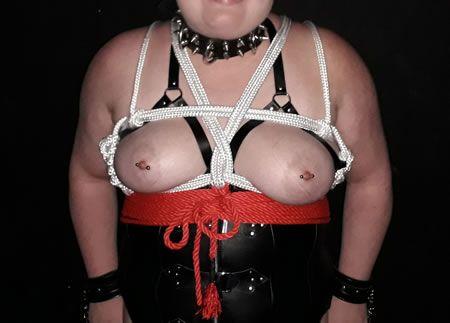 Luckily I have some old restraints that I no longer use and also a length of rope that has seen better days. These items became sacrificial offerings to the BDSM gods as I put these safety scissors to the test.
Needless to say, cutting through rope and leather isn't that exciting, so you know me, I like to spice things up a bit. Cue sub'r' who was voluntold to be my guinea pig for this review.
Half an hour of rope harness work later and after the fitting of leather cuffs, it was time to try the scissors out.
After a good spanking of course, after all, this was a scientific experiment, and so conditions needed to match a real-life scenario. So one red bottom later, and it was time to put them to the test.
Rope
It was pretty easy to cut through the rope with these scissors, I wasn't able to cut through with one cut, but I have weak wrists due to arthritis.
I was able to make multiple smaller cuts to slice through the rope with no real problems.
The key to quickly removing a rope harness from a submissive is to cut clever. By that I mean look for areas to cut that will release or loosen large areas of ropework.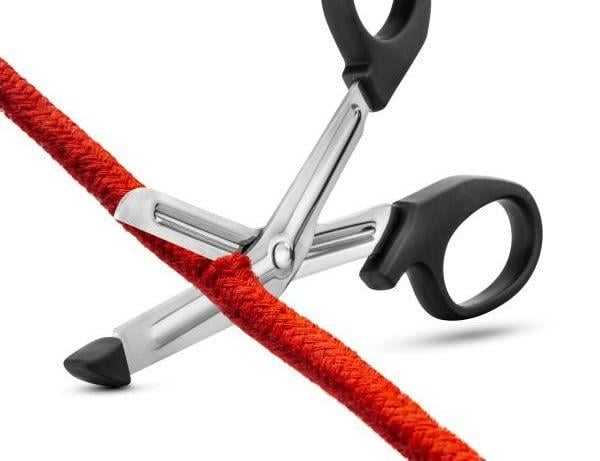 The Blush Temptasia Safety Scissors cuts through rope easily
If you have four lines of rope, for instance, you don't need to cut through all four. Just do the first and third, and you will find the harness will probably just drop away.
Leather restraints
Again I found the scissors more than capable of cutting through leather restraints but still I had to use lots of small cuts. As you would expect, it takes longer to cut through a leather restraint than a length of rope as it is wider.
The blades on the scissors made short work of the restraint. While they left sub'r' sulking as she loves restraints and hates the thought of ruining any I was smiling as these scissors do indeed work and they worked well.
When cutting restraints or rope for that matter, the safety tip on the scissors prevents you from scratching or puncturing the skin of the person that you are releasing.


The safety tip on the Blush Temptasia Safety Scissors allows you to concentrate on the job at hand
This is important as in real life, you may be under duress to get the restrained person released as quickly as possible for a multitude of reasons.
So, the fact that you can be quite forceful with the scissors without worrying about scratching or stabbing means you can just get on with the task at hand.
Bondage Tape
I was pleasantly surprised at how easily the blades cope with rope and leather restraints. If you are using them on bondage tape, it is like a knife through butter, and this material is straightforward to cut even when it is bunched up.
Bondage tape can be a pain to remove if it clumps up and you lose the end, but with these scissors, it is a straightforward task.
These scissors won't cut thick wire though, so if you are using things like self-timer padlocks, or chains you may want to have a pair of pliers on hand.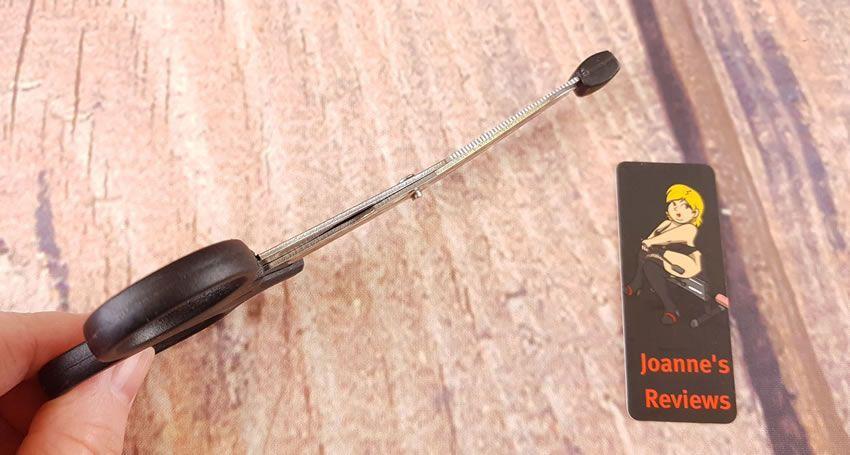 The Blush Temptasia Safety Scissors are thin and allow you to cut with ease
I guess this is a pretty long review for something as simple as a pair of scissors, but it was essential to put them to the test.
Safety scissors are essential pieces of safety equipment if you are dabbling in restraints and rope play. It's too late to regret not having them if your submissive is under duress and needing a quick release, leaving you fumbling with the rope.
Having them in your play bag makes sense, it shows you care about your submissive's well being, and they have so many uses in regular play as well as for safety purposes.
As they are stainless steel you can just clean them in warm soapy water if they get messy, so cleaning is very easy.
The @BlushNovelties Temptasia Safety Scissors which are available from @peepshowtoyscom is a fantastic piece of safety equipment if you are planning on rope or restraint play.
Click to Tweet
Key Features
Key features:
Stainless steel construction
Comfortable handle
Safety tip coated in plastic
Sharp blades
Easy to clean
I would recommend it to:
Anyone who enjoys restraint play whether it be leather or rope
Anyone who cares about the persn that they are restraining
Anyone looking for good quality safety scissors
Final Thoughts
These safety scissors exceeded my expectations, and they are essential pieces of safety equipment if you enjoy restraint play.
It's too late to regret not having them if your submissive needs his or her restraints removing quickly. They live in my play bag now, so should the need arise I can use them quickly and easily.
I can highly recommend them to anyone who cares about the person they are tying up. Never compromise on safety, it is one of the central pillars of safe, sane and consensual (SSC) play.
I have no hesitation in giving them a strong recommendation to anyone who enjoys rope play or restraint play. Peace of mind is a beautiful thing, and at only $9 for them, there is no real excuse for not having one in your play bag.
I was sent these Blush Temptasia Safety Scissors by PeepShowToys.com and I would like to thank them for giving me the opportunity to review it for them.
Joanne's rating
Where Can I Get One From?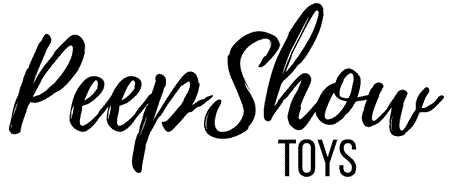 Grab one of these fantastic Blush Temptasia Safety Scissors for only $9 at PeepShowToys.com, you can't generally put a price on safety but at this price it's a no brainer.
Check them out and don't forget to tell them that Joanne says "Hi".
Disclosure
Disclaimer - I was sent the Blush Temptasia Safety Scissors to review free of charge and this has in no way affected the outcome of this review. This post contains affiliate links and if you purchase something when you follow one of these links I may receive a small commission at no cost to you. For more information check out my disclosure page.