Delivery
This dildo (and a butt plug that my submissive is currently wearing) arrived in very plain packaging. I can always rely on Latex, Leather & Lace to pack sex toys discreetly and they take that very seriously.
I have visited them in their shop, and they are very professional, I can always trust them to keep my kinky secrets from my postman.
I am on first name terms with my postie, and he has no idea what I do for a living, and I would like to keep it that way. You can definitely trust latex, Leather & Lace with your sex toy orders.
Packaging
Upon opening the plain box that this was delivered in, I was greeted with a blister pack retail display box. Now, usually, I hate this style of packaging, but something about this one appeals to me. It carries lots of useful product information and just looks great.
I always like to be able to see a sex toy in its packaging, and you can see the Sumo in all of its beefy glory in this box.

I quite like the packaging of this dildo, I love being able to see what is inside
I am delighted to be able to say that this is a silicone sex toy - woohoo!
Materials
Silicone is without a doubt my favourite sex toy material for a number of reasons. It is hypo-allergenic, non-porous as well as being latex and phthalate free. It's the perfect sex toy material, and it is also so easy to clean.
Just wash your dildo in warm soapy water before cleaning with an anti-bacterial sex toy cleaner and then leaving it to dry before packing it away again.
I love the dual density design of the Sumo, for anyone that doesn't understand that term it is an elegant solution to needing a stiff dildo that is also soft on the outside.
A stiff core runs through the centre of the Sumo, and it is surrounded by a very soft thick outer layer of silicone. A rigid core is needed for dildo designed for suction cup base or strap on fun as you need to rigidity to stop it bending in use.
When bouncing up and down on the Sumo the shaft can be under a lot of strain to bend, but the stiff core keeps it upright and going where you want it while still allowing the dildo to be almost folded in half.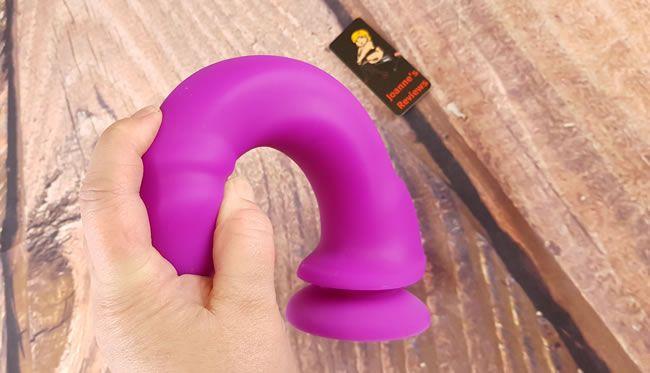 Even with its dual density you still get a lot of flexibility
This outer layer of silicone is a really nice blend, and it has plenty of squish that feels great in use. The whole head of the dildo is made out the outer layer and just squeezing it in your hand is very relaxing. It also feels so good when inserting it and thrusting the dildo.
This is a phallic dildo, but it has been stylised to remove any intimate details, so you don't have any veins on the shaft. Just under the glans is a stylised pulled back foreskin that I had high hopes of getting some great stimulation from it when thrusting. Due to the curve of the shaft though I got a lot less G-spot pressure from it than I had hoped, but you can still enjoy it.
One nice feature is the ridge just above the stylised balls, and this provides some excellent clitoral stimulation if you rub it along your clit as you thrust. You would need to take the dildo deeply though, but I love that feeling as it rubs my clit with every stroke as I thrust with it.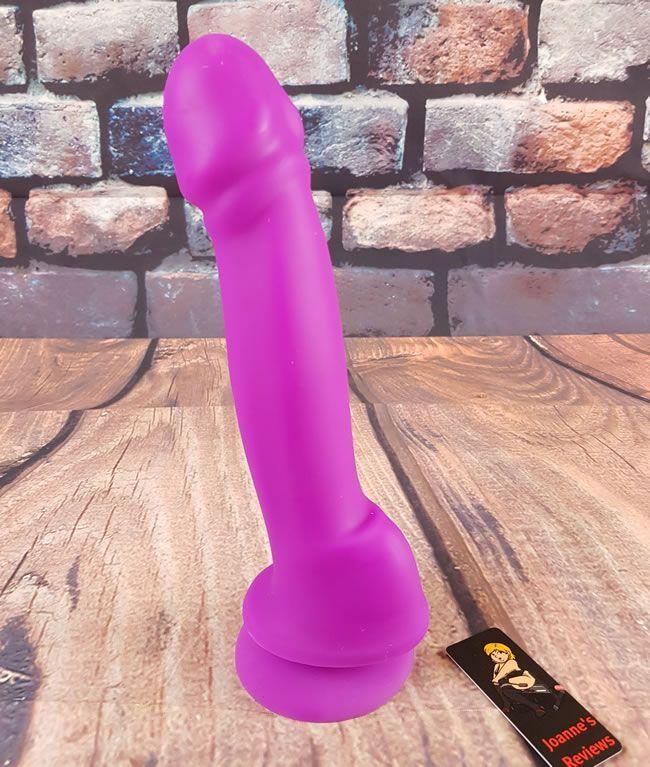 The suction cup is very strong and holds the dildo to whatever smooth surface it is stuck to
There is a very robust suction cup on the base of this dildo, and it is also harness compatible. This gives you lots of extra play opportunities, just fix it to your headboard or a shower tile or even fit it into a strap-on harness for some pegging fun and games.
I left the dildo stuck to a tile in my shower for over 12 hours which caused a good laugh when my partner stepped into the shower. When I eventually removed it, there was as full suction, and it was still firmly fixed to the wall.
In use, the suction cup base holds tight very well indeed, and this is another bonus with this dildo.
The smooth shaft changes in diameter gently over its length and the profile is more square than round. I like the shape as it applies lots of pressure on my inner labia when thrusting but some may find this distracting. For me, though the changes in diameter feel amazing as I slowly thrust with it and I savour the feeling of being constantly opened up more and then allowed to contract again.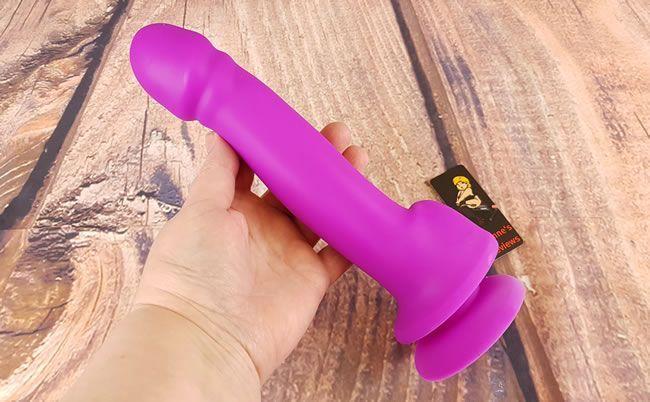 The shaft has gentle curves on it but I would have loved more of an upward curve to it
The Blush Novelties Real Nude Sumo is available in two colour choices, these are Violet and Indigo, and both are pleasing on the eye. I do prefer the Violet one that I am reviewing though but that is just my personal preference.
The Sumo measures in at 9.5"/24.1cm in length and it has an insertable length of 6.75"/17.1cm. The head and shaft have a diameter of 2"/5cm and a circumference of 6"/15.2cm.
This makes for a dildo on the girthy side, and lots of people will enjoy the filling sensations that it can deliver. I love the sensation of inserting the head as it opens me up.
You get an anti-bacterial storage bag included, and that is a nice touch. I love dildos that come with storage solutions, especially for silicone ones as this material can be a dust and lint magnet, so a storage bag helps to keep it free of these when you store it.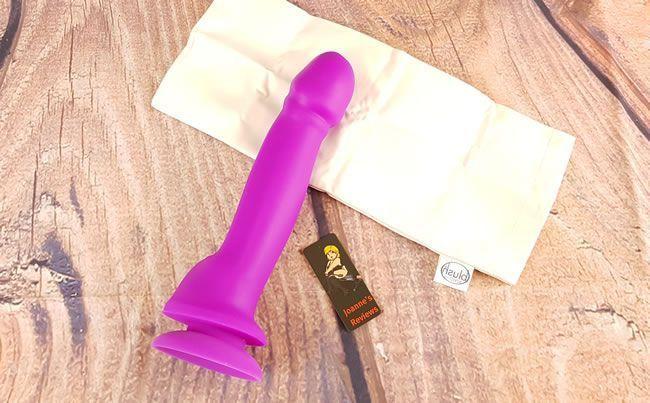 The anti-bacterial storage bag is a nice touch and is great for keeping this dildo away from dust and lint
I did chuckle when I saw the Blush tag on the bag as someone has sewn it in inside out, the first thought that went through my head was "that's ironic as this dildo will be going from the outside in".
Performance
As with any silicone dildo, I highly recommend using a good quality water-based lube with this dildo such as Sliquid H2O or Secret Play Natural Lube. If you do plan on using a hybrid lube then first test a small amount on the base to check for any surface reaction. I have used a hybrid lube with this dildo and had no problems at all, but it is always best to be safe than sorry.
I love using this dildo by hand but strapping it to one of my fucking machines brings it to life. The high speeds coupled with the hands-free nature of fucking machine fun has me clawing the sheets in no time at all.

The wide head is super soft and squishy and it feels great when you insert it
One of the things I really like about the Sumo is its soft and squishy head, it feels fantastic when you insert it. When you spread your labia and place it against your vagina building up pressure you can feel it deform slightly before it slips in opening you up and that feels amazing. I don't know why but the soft head on the Sumo really does it for me.
Thrusting feels amazing, but the shaft shape means I get less g-spot pleasure from it than I had hoped for. That is more than made up for by the ridge when I let it glide over my clitoris adding to the stimulation as I thrust with it.
I really enjoy long slow strokes with this dildo, enjoying its girth and that cheeky ridge.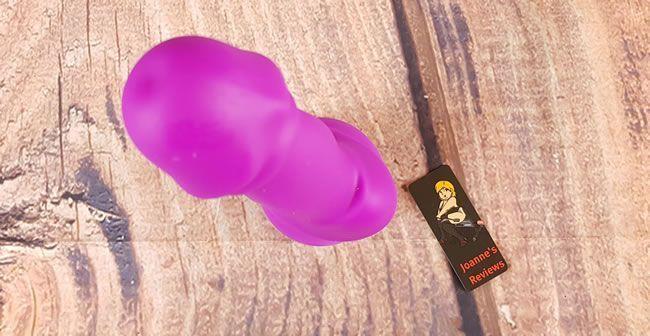 The Sumo is a fun dildo to stick to a smooth surface and just ride
I have also found that I love having just half of it in me while I stimulate myself with a vibrator or my Doxy for some incredible orgasms. The soft head is perfect for clamping down upon, and it really feels fantastic when you orgasm with the soft head just inside you. Your contractions allow you to squeeze it and that feels great as does it opening up again as you relax before repeating the process.
If you enjoy girthier sex toys that are both soft and supple yet stiff enough to mount and ride or attach to a fucking machine, then you will love the Sumo.
The only thing I would change on it if I could would be to give the shaft more of an upward curve to concentrate the glans and foreskin on my g-spot.
That said though it has given me some delightful orgasms and it is really a thing of beauty, appealing to anyone who prefers their toys to not look like severed appendages.
I would recommend it to:
Anyone who enjoys body-safe dildos
Anyone looking for a good suction cup dildo
Anyone looking for some good girth in a non-anatomically correct dildo
Anyone who enjoys squishy dildos
I wouldn't recommend it to:
Anyone who doesn't like girthier sex toys
Anyone looking for a realistic penis shaped dildo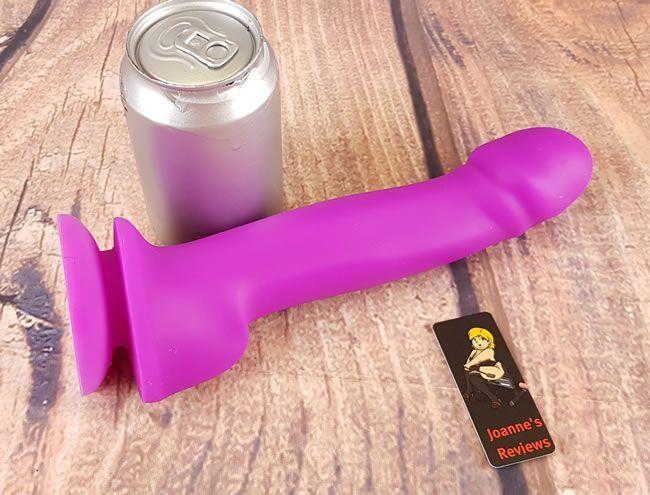 The Sumo is a fantastic dildo and this soft drinks can gives it some scale. I love playing with mine
The @BlushNovelties Real Nude Sumo Dildo from @LatexLeather will appeal to anyone wanting a girthier body-safe dildo with some very nice features.
Click to Tweet
Key Features
Key features:
Body-safe silicone
Dual density gives it stiffness and squishiness
Storage bag provided
Powerful suction cup on the base
Harness compatible
Final Thoughts
The Blush Novelties Real Nude Sumo has definitely whetted my appetite for more Blush Novelties sex toys. I love their blend of silicone, and the design of the Sumo really works for me well. I am delighted to recommend it to anyone looking for a girthier body-safe dildo to cram into any tight orifice for some orgasmic pleasure.
The body safe materials coupled with some nicely designed textures make it a lot of fun to thrust with or just to lay back and clamp down upon.
I have no hesitation in giving the Sumo a solid recommendation.
I was sent the Blush Novelties Real Nude Sumo Dildo by Latex, Leather & Lace and I would like to thank them for giving me the opportunity to review it for them.
Joanne's rating
Where Can I Get One From?
Latex, Leather and Lace are a premier online retailer of kink and they carry a huge range of products made from the best manufacturers from around the globe. You can shop online or even in their walk-in shop in Barwell, Leicestershire. Why not drop by if you are local and check them out. They are very friendly indeed and are a wealth of knowledge and advice. Don't forget to say that Joanne says Hi.
Grab one of these fantastic dildos from Latex, Leather & Lace for just £42.99.
Check them out and don't forget to tell them that Joanne says "Hi".
Disclaimer - I was sent the Real Nude Sumo Dildo to review free of charge and this has in no way affected the outcome of this review. This post contains affiliate links and if you purchase something when you follow one of these links I may receive a small commission at no cost to you. For more information check out my disclosure page.