As always, I was delighted with the delivery service from AdultShopIt, this vibrator with some other toys arrived very discreetly and well packaged with everything reaching me in first class condition. The box that they were delivered in was very plain, and once again my nosey neighbours and postie have no idea what a kinky life I lead.
My first impressions of the packaging were excellent, the Grape Bullet Vibe arrives in a clear blister pack that was easy to open - I just hate the ones that are welded shut. This one just opens up revealing a second blister element that holds the vibrator and its three LR44 batteries. There is a card insert providing some basic product information and instructions, but this sex toy is so simple you won't need to read the instructions.

The packaging is crisp and clear allowing you to see the vibrator inside
I hate this type of battery though, but in a toy of this size there really is no other option, the Fruity Vibe Grape measures in at just 2"/5cm long which means nothing else will fit in it.
Inserting the batteries is easy though, just unscrew the cap, and inside the body of the vibe, you will see a coiled piece of paper showing the battery polarity. There is no need to remove this piece of paper as the batteries will fit into the toy with it installed. Insert all three batteries and then screw the cap back on tightly. There is a thin rubber washer on the body of the vibe that when clamped between the body of the vibe and the cap makes it waterproof. Make sure that this remains flat when tightening the lid and make sure that it isn't pushed out by compressing it too much.

The supplied 3 x LR44 batteries are easy to fit inside the vibe
Yes, this vibe is waterproof so you can take it into the shower or bath for some kinky vibrating "me time". I enjoyed using it in the bath during a long slow wanking session. You know the type, bath bomb, scented candles and multiple orgasms while listening to my favourite music.
The body and cap of this vibe are made out of body-safe ABS plastic which makes this sex toy phthalate and latex free. It is a hard material and very smooth, one good thing about ABS sex toys is that they are non-porous so the surface can't contain any bacteria. Cleaning is easy, just wash with warm soapy water to get rid of any vag-goo and clean with an anti-bacterial sex toy cleaner.
This is a very discreet bullet vibe due to its small size, and it is pretty quiet in use even on the highest setting, you would not hear it from the next room which makes it ideal in busier households.

The three batteries give it quite a bit of power
Its small size can make it tricky to hold though especially if it gets wet or coated in vag-goo as it gets pretty slippery very quickly. One tip is to wrap an elastic band around the cap to help hold it with slippery fingers, and this works well for all vibrators.
The screw on cap has a button on the end, and you use this to turn it on and off again and to cycle through the three power settings. That's about it for describing it but no doubt you are more interested in how well it performs.
Performance
I was surprised at just how powerful the motor is on the Fruit Vibe Grape when you switch it on it starts on its lowest power setting, and I love this one. Circling my clitoris with it feels fantastic, and I love teasing my urethra with it too.
The vibrations are shallow but enjoyable especially around my clitoris the problems come when I move it up a notch. The higher the power setting, the buzzier it gets and on its highest setting it is quite uncomfortable for me to hold it near my clitoris as it just makes it numb. That is probably just me though as I usually prefer deep rumbly vibrations and the vibrations from this tiny bullet are just too buzzy for me on the higher settings.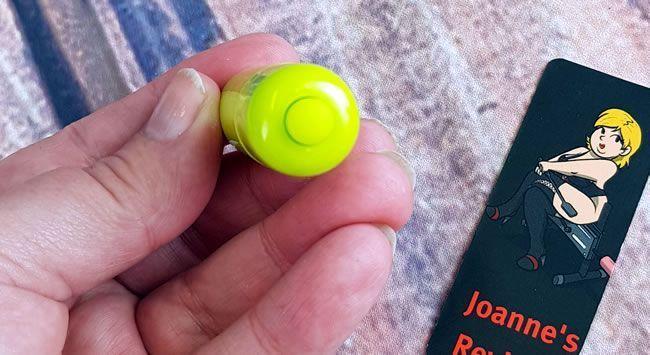 The Fruity Grape Vibe is tiny but you can't miss its power button
I can orgasm when using it on its lowest setting and prefer to use it as a compliment to some dildo penetrative fun and games rather than the main event. If you like buzzier vibrations though then this will be right up your street. On the middle power band, I enjoy it, but I can't move it too close to my clitoris, teasing my labia with it though feels very lovely, as does teasing my nipples.
The top power setting is a no go for me though as I just go numb which is not what I am trying to achieve when playing with myself. Everyone is different though, and it seems that my clitoris has become accustomed to deep rumbly vibrations with buzzy vibrations not doing much for me.
However this isn't just a sex toy for vagina owners, I tried it on Stunt Cock and used it on his frenulum (banjo string) with good results, notably when he was restrained and unable to move. Using the Fruity Vibe Grape on him was fun, and the resulting fountain of cum was a sight to behold when it sent him over the edge.
So this is a good option for couples looking for a way to spice things up a little as you can use it on each other. It is usually priced at £13.99, but at the time of writing this review it is on sale at £9.99, and that makes it fantastic value for money. So, if you are looking for a budget bullet vibe and you like buzzier vibrations, then the Fruity Vibe Grape is definitely one for you to consider.

The Fruity Grape Vibe is tiny but it really packs quite a punch
Check out what Joanne thinks of the Blush Novelties Fruity Grape Vibe from @AdultShopitUK.
Click to Tweet
Key Features
Key features:
ABS material is body-safe and non-porous, latex & phthalate free
Batteries included (3 x LR44)
Three power settings
Quiet operation
Waterproof for bathtime fun
Final Thoughts
This is a tiny bullet vibe that really packs a punch, it delivers strong but buzzy vibrations that some will love. Unfortunately, the higher power settings were not to my liking but I know several people who would love this style of buzzy vibe.
It is also great value for money, made out of body-safe materials and is small and discreet. Whilst it doesn't smell of grapes it is a very pleasing colour and other colour options are available in this product range.
At the moment it is on sale and that makes it a very attractive toy to add to your toy bag and it is ideal for bathtime pleasure or for using on a partner, its small size means that it is easy to travel with.
I was sent this Blush Novelties Fruity Grape Bullet Vibe by AdultShopIt.co.uk and I would like to thank them for giving me the opportunity to review it for them.
Joanne's rating
Where Can I Get One From?
Grab one of these tiny little bullet vibes from AdultShopIt for just £9.99 as they are on sale at the moment, they usually retail from £13.99 so that is a huge saving. Go on treat yourself or check out the rest of their vibrators to find something to tickle your fancy.
Check them out and don't forget to tell them that Joanne says "Hi".
Disclosure
This review does not contain affiliate links, for more information about affiliate links check out my disclosure page.