Delivery
Obviously, I can't comment on the delivery from Latex, Leather and Lace as I didn't accept the package but what I can say is they always take discretion very seriously.
My postie still has no idea what a dildo loving little minx I am, and that is the way I would like to keep things.
Packaging
The retail display box that the Avant D3 Summer Fling Silicone Dildo arrives in is absolutely sublime. Boxes with a transparent window in them so that you can see the sex toy inside are really my thing and this one ticks that box.
Seeing a dildo in the box lets you admire the colours, and in particular, you can clearly see its size as you never really know just looking at a picture on the front of a box. This is very important when shopping things to push inside yourself.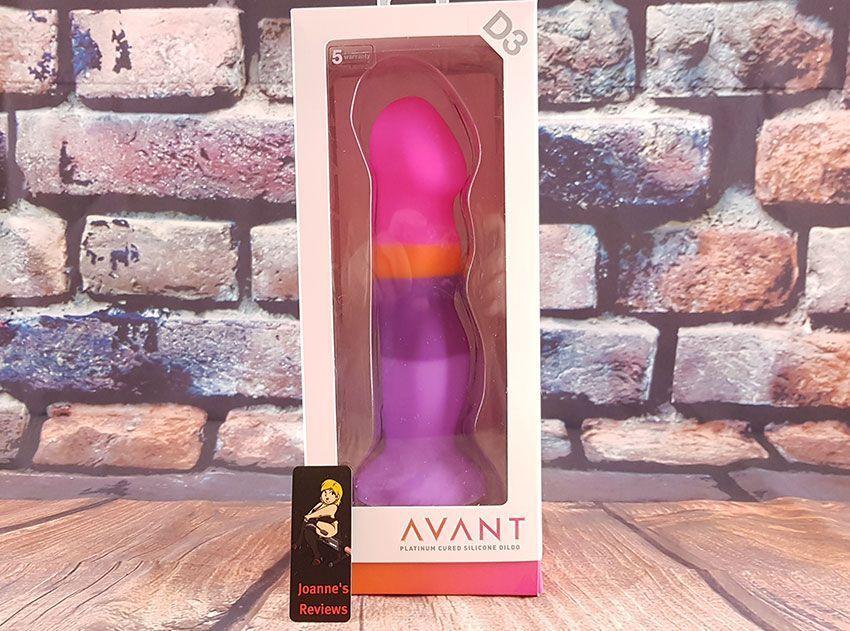 I love the fact that you can see the Avant D3 inside its box
I have often been surprised by a sex toy when taking it out of its packaging and finding it either smaller or larger than I was expecting.
This box is beautiful in its simplicity, your eyes are drawn to the transparent window where you can feast your eyes on what lays within. This beautiful dildo is too pretty to be hidden in a closed box.
As you would expect you can find lots of product information on the sides and rear of the box. I love the pictographic format of some of this information as it is straightforward to take on board.
The Avant D3 is securely held in an inner box that slides out to reveal it in all of its glory. One thing I really like about opening silicone sex toy boxes is the lack of any chemical smells.
Design and Materials
I would describe the Avant D3 as a medium to large dildo so it might not be suitable for anyone who is really tight down there. However, if you enjoy a larger than the norm dildo, then this is the one to try. It isn't huge, but it is definitely filling in the most delightful way.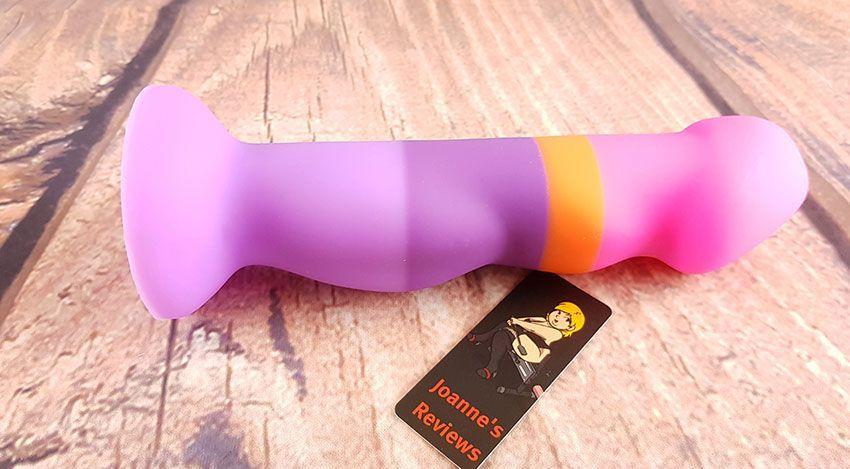 The Avant D3 looks absolutely amazing
It measures in at 8"/20cm long of which 7.5"/19cm is insertable. Having a diameter at its widest point of 1.75"/4.5cm and a girth of 5.5"/14cm this is a very pleasing dildo and one that I have to admit to absolutely loving.
The Avant D3 is very striking to look at, and it has been hand sculpted and poured giving it a very polished look. Its smooth flowing lines and curves give it an exquisite look that immediately got my attention. You even get a five-year warranty with the D3, and that is fantastic.
The Avant D3 also has a sturdy suction cup base as well as being strap-on harness compatible. This makes it one hell of a versatile dildo that gives you lots of kinky play options.
I was surprised by just how strong the suction cup is. It means that with a kinky imagination and some smooth surfaces you can get up to all sorts of naughty fun with it. It takes bath or shower time to a whole new level of enjoyment. The suction cup also makes a handy place to hold the dildo while thrusting with it and it is very comfortable to do so.
The blend of body-safe platinum silicone used in the Avant D3 is fantastic. As anyone who reads my reviews knows, silicone is my go-to material for insertable sex toys due to its non-porous surface. The fact that it is also phthalate and latex free makes it hypo-allergenic which is fantastic.
I love the colours, and it amazes me how they can pour silicone into dildos like this one with smooth, crisp layers between the colours. Blush Novelties are true dildo artisans. The bright, warm colours are very inviting and give the Avant D3 a welcoming look.
I love the head of this dildo, it is nice and rounded but not really tapered, and this makes insertion so much fun. I relish the feeling of the pressure building up as I push it into myself before this pressure overcomes the tightness of my vagina and it slides inside. I never get tired of the sensation of a nicely proportioned dildo opening me up.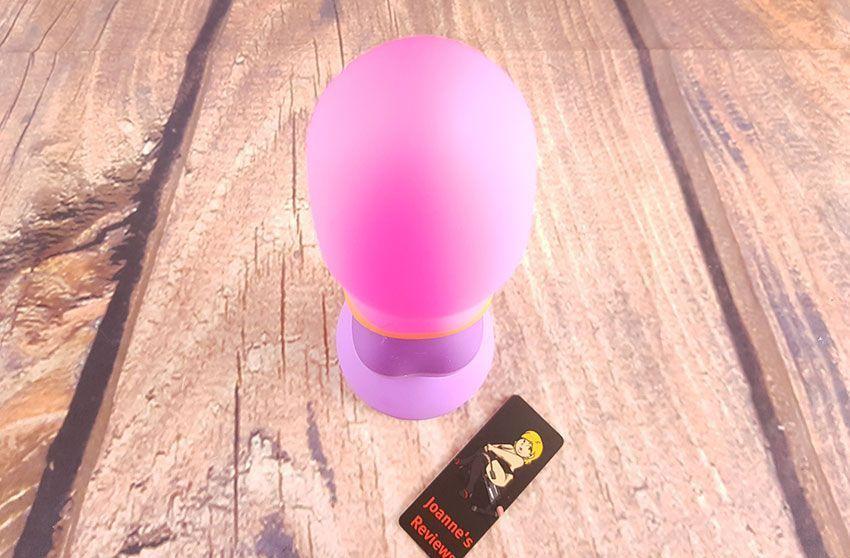 The Avant D3 has a nicely rounded glans
The main event of the Avant D3 are those two delicious textured bulges in the shaft. For the most part, the texture is very subdued on the Avant D3 with no prominent veins, and it is very smooth. The two bulges though really tease the entrance to your vagina as you thrust with it. They are designed to stimulate as you thrust and they do it so well.
The Avant D3 is a has the perfect level of 'squish' when squeezed. It feels nice and soft, but it is still rigid enough so that it doesn't droop much when held by the suction cup. It has enough flex to make it comfortable to thrust, and if you have a flat plate adaptor, it is incredible on the end of a fucking machine.
Cleaning after use is effortless, just wash in warm soapy water and then use an anti-bacterial sex toy cleaner. You can even boil it or place it in a dishwasher on a sterilise cycle. Make sure that it is thoroughly dry before storing it in your bedside drawer or back in its box. Like most silicone sex toys it is a bit of a dust and lint magnet, but a quick rinse before use takes care of that.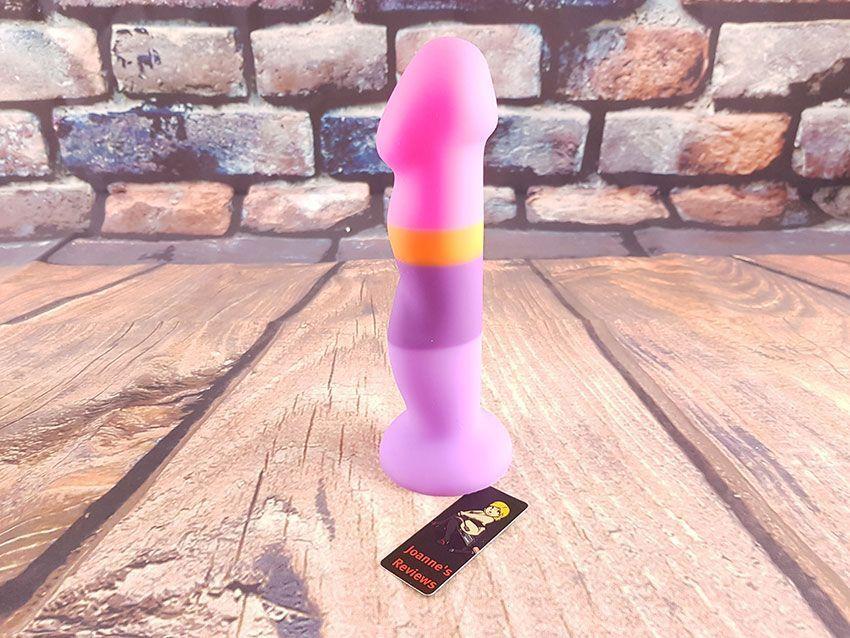 The Avant D3 has a nicely rounded glans
Performance
To say that I have had so much fun reviewing the Avant D3 would be a huge understatement. From the moment I feel it part my labia and the pressure building up at the entrance to my vagina I just want to thrust with it.
This is a dildo made for some serious thrusting. I love my dildos to have lots of texture, relishing the sensations that this style of dildo provides. I worried that the Avant D3 would be one of those dildos that looks great but failed to deliver for me. I was entirely wrong to have worried. The bulges in the shaft really did it for me, I love them.
I like to use a good water-based lube such as Sliquid H20 or Secret Play Natural Water Based Lube with the Avant D3 and find that both last a long time.
The silicone just glides when you are well lubed up and thrusting feels incredible as the different diameters stretch your vagina as you thrust with the Avant D3.
You can easily vary the sensations by just altering the orientation of the dildo. It provides intense g-spot stimulation if you use the broadest part of the glans uppermost.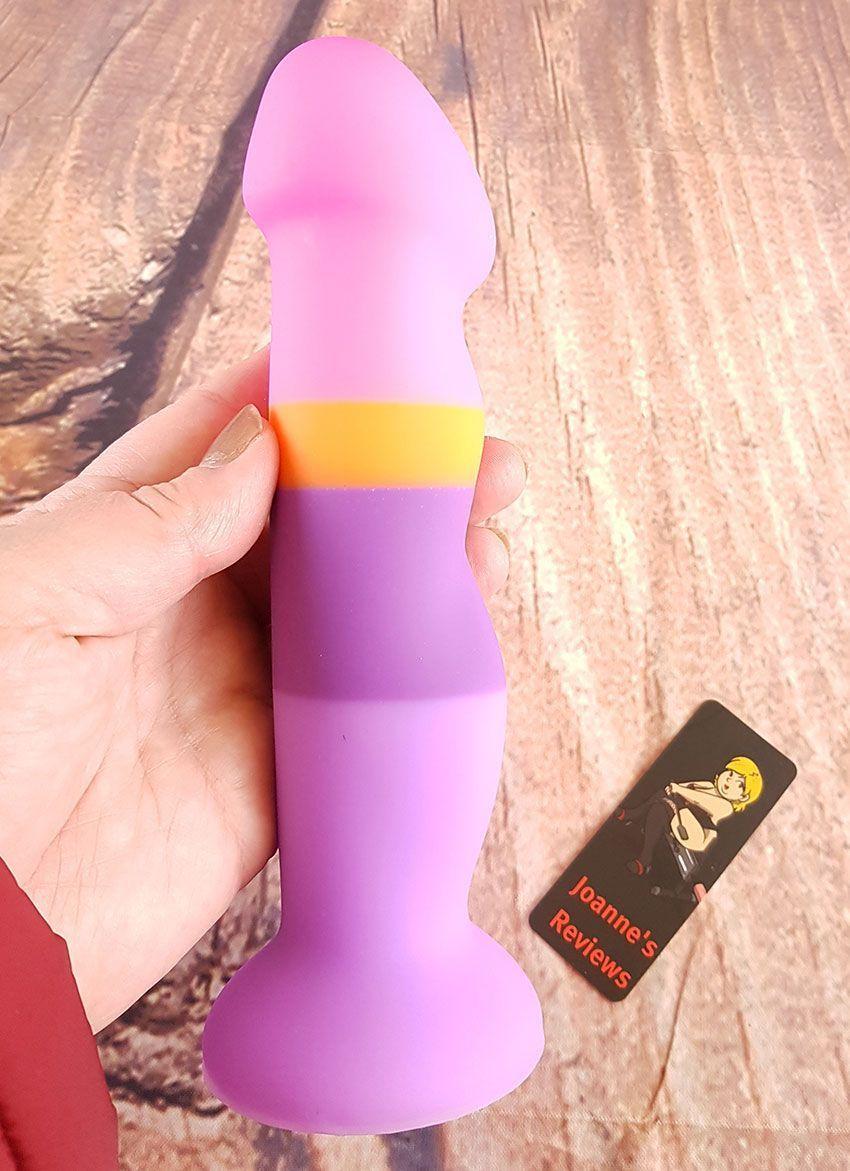 The bulges on the shaft of the Avant D3 is what really gets me off
The suction cup base makes an ideal handle when thrusting it no matter how quickly to do so or for how long. I found that it was effortless to control the angel and to thrust with it using the base this way.
Depending on if you are thrusting shallowly or deeply this dildo feels different, and I love that. It keeps me wanting more and more. I often try to edge and delay my orgasms when using it, but I just feel compelled to thrust hard with it as if feels so good.
Using a wand or clitoral vibrator with it is sublime and results in some very nice blended orgasms.
When using it in the shower, I tend to use a hybrid lube as water-based lubes just get washed away. I was delighted by the performance of the suction cup, and I almost fell over the first time I came using it in the shower. Note to self: Use it on the floor and not the walls next time.
I also like to use a mirror to watch myself when playing with the Avant d3 as it really is a beautiful piece of eye-candy. Its bright and vivid colours look amazing as I thrust with it. There is something kinky about watching each coloured rind disappear from view before re-emerging coated in juices.
This is one hell of a good dildo, and it will appeal to a lot of people. Yes, I say people and not just vagina owners as this dildo is equally capable of providing some incredible bum fun too. Dildos are gender-free sex toys, and while it is too big for me back there, I know that if someone could take it, then it will feel incredible. Those bulges will blow your mind.

Changing the orientation of the Avant D3 really alters how it feels
The @blushNovelties Avant D3 is a dildo that has some amazing features, best of all is that it is made of hand-poured body-safe silicone, grab one from @LatexLeather and give yourself a real treat.
Click to Tweet
Key Features
Key features:
100% platinum cure body-safe silicone
Hand sculpted and poured
Strong suction cup base
Stunning colours
Two prominant bulges in the shaft to delver delightful sensations
Final Thoughts
The Avant D3 is a dildo that surprised me. I thought it was going to be good, but its smooth nature put me off getting myself one as I thought it wouldn't be for me. How wrong was I?
The gentle flowing lines of the bulges on the shaft coupled with the amazingly oversized glans really feels fantastic.
The Avant range of dildos from Blush novelties look and feel incredible. They are going to be a surefire hit and are ideal for anyone who likes their sex toys to look as good as they feel.
The Avant D3 is a dildo that I have no trouble in giving a very strong recommendation.
I was sent this dildo by Latex, Leather & Lace and I would like to thank them for giving me the opportunity to review it for them.
Joanne's rating
Where Can I Get One From?
Grab an Avant D3 Summer Fling 8 Inch Silicone Dildo for just £39.99 which is an absolute bargain from Latex Leather & Lace.
Check them out and don't forget to tell them that Joanne says "Hi".
Disclosure
Disclaimer - I was sent the Blush Avant D3 Summer Fling Silicone Dildo to review free of charge and this has in no way affected the outcome of this review. This post contains affiliate links and if you purchase something when you follow one of these links I may receive a small commission at no cost to you. For more information check out my disclosure page.