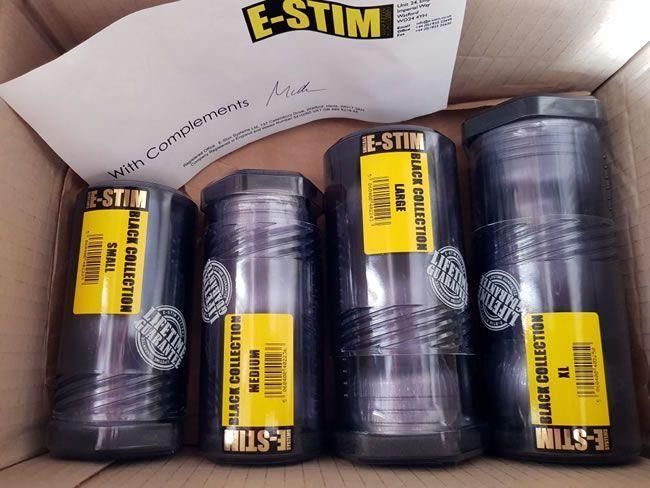 I was delighted when I opened the package to find all four electrodes from the Black Collection
E-Stim Systems always dispatch products to you well packaged and also very discreetly as they always take customer discretion very seriously. You won't find any overt branding on the outside of their delivery boxes which is excellent as my neighbours still have no idea of how much of an electro-harlot I can be.
For those of you not in the know, E-Stim Systems are the largest manufacturer of E-Stim equipment in the UK. All of their products are manufactured in their factory in Watford, and they have total control over their quality control which is why most of their products come with a lifetime guarantee. Yes, you heard that right, they give a lifetime guarantee on their major products.
Their customer support is second to none, and they are a wealth of knowledge on all things electrosex. One day I hope to pay them a visit in person to see how they actually make their electrodes as that would be really interesting.
Their range of E-stim Control Boxes and Electrodes is second to none, and I have reviewed most of them now, you can see quick summaries of them all together with links to the full reviews on my E-Stim Resources Page.
Their flagship control box is the incredible 2B Control Box, and that is what I will be using while reviewing these electrodes.
When you buy an insertable bipolar electrode from E-Stim Systems, it will arrive in a handy plastic storage tube that you unscrew to gain access to the electrode inside. These are usually black, but in the Black Collection, they are a unique smokey clear case so you can see the electrode inside and this gets your imagination going.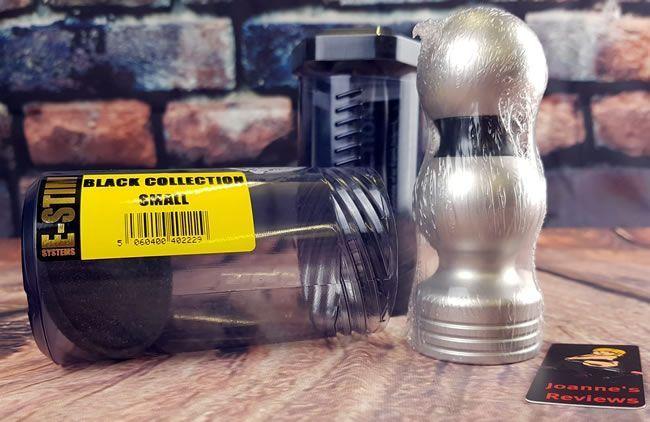 I just love the smokey clear storage tubes that you get with the Black Collection
On the outside of the storage tube is a yellow and black label stating the name of the electrode together with a barcode. These labels are invaluable as if you have an extensive collection as I do, it makes it easy to quickly locate the electrode that you want, especially with the ones in the black tubes.
I love these storage tubes and think that they are perfect for the job intended, the clear smoked ones look even better than the standard black ones, and they are only used on this range of electrodes.
The electrode is vacuum sealed inside its storage tubes so that when it arrives, you know that no-one has tampered with it in any way before its arrival at your doorstep.
Electrode Design
The first thing that is obvious when you look at the Black Collection is that their electrode configuration is end to end rather than side to side like a lot of other electrodes on the market. This causes the current to flow along its length rather than from side to side.
I prefer this layout as for me when using one vaginally or even anally the sensations it generates feel very much like a hard fucking, and the electrode moves as my muscles contract which compliments that feeling.
Like all of the E-Stim Systems insertables, these electrodes are manufactured to an incredibly high level of finish out of aircraft grade materials. This gives them a lovely feel, and you just know that they will last for many years to come. I treasure my electrodes from E-Stim Systems, and they are usually the ones I will reach for when I have to get myself off through e-stim.
The Black Collection is based on a firm favourite of mine, the Bobble which I really enjoyed reviewing as it performs incredibly well but also because it just looks so sensuous, so be sure to check out my Bobble Review.
Unlike the Bobble with its mirror-like finish, the Black Collection features a luxurious satin finish that really compliments its look. The Bobble has a red insulator between the two poles. This insulator is black on the Black Collection making it look darker and more menacing.
I call them my BDSM electrodes now, and they are ideal for that purpose. I can see every Mistress in the country eventually having a set in her dungeon lair waiting for a passing submissives orifice. They just look stunning with their dark black look.
The sizeable domed head makes insertion a lot of fun, and the beauty of this design is that you can insert just the first ball and you will then feel all of the sensations at the opening of whatever orifice it has been inserted into which feels very intense.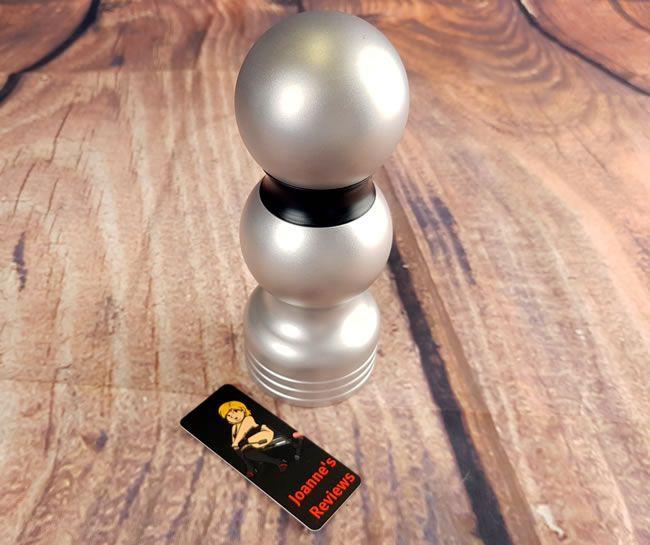 I like the end to end electrode design of this range and the domed head
Between the two spheres, you will see a black insulator, and this separates both of the poles, and the finish on this is also fantastic with the lines from one of the spheres flowing through it to the other sphere.
Slide the second one in as well, and the sensations will move and settle deeper inside you over your G-spot or P-spot providing some incredible sensations in use.
The beauty of this electrode is the fact that it is gender free so you can stick it in any hole and the Black Collection is just at home buried deeply inside a vagina or an anus. Heck, grab two if you are a vagina owner to plug both holes for some really naughty fun.
The base features four machined grooves and this helps when gripping the base, especially with lubed up fingers. The broad base and deep last channel make this electrode safe for anal use.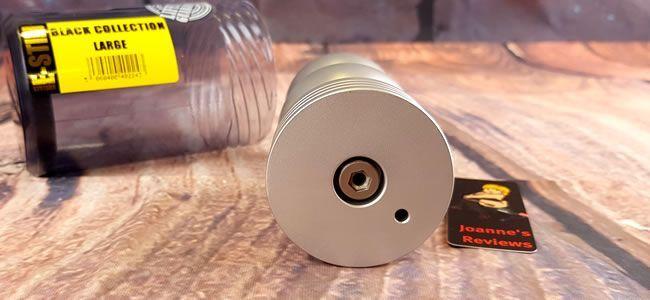 You will need 4mm plugs on your cable and I recommend the low profile ones
The underside of the base features two holes for your cables, for these you will need 4mm connectors and I recommend getting a set of the low profile ones from E-Stim Systems simply because it makes it easier to sit with one of these electrodes inserted. You also then don't have the risk of bending and breaking a standard plug.
Available in four sizes there is one for everyone. The different sizes are summarised in the table below comparing them to the Bobble which was the inspiration for the Black Collection:
| * | BOBBLE | SMALL | MEDIUM | LARGE | X LARGE |
| --- | --- | --- | --- | --- | --- |
| Length: | 99mm (3.9") | 112mm (4.4") | 132mm (5.2") | 146mm (5.74") | 163mm (6.41") |
| Diameter: | 37.5mm (1.5") | 44mm (1.73") | 50mm (2") | 56mm (2.2") | 62mm (2.44") |
| Circumference/Girth: | 118mm (4.6") | 138mm (5.44") | 157mm (6.2") | 175mm (6.9") | 195mm (7.7") |
| Max Insertable Length: | 70mm (2.76") | 83mm (3.427") | 95mm (3.74") | 105mm (4.13") | 115mm (4.53") |
| Weight: | 222g | 331g | 522g | 720g | 974g |
| Price: | £75 | £99 | £109 | £129 | £159 |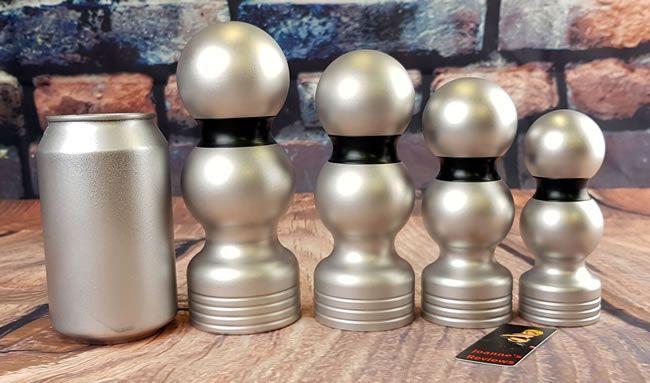 These four different sizes offer lots of choice for everyone
Cleaning
Cleaning is effortless, you can just use warm soapy water to clean the surface of the electrode and then use an antibacterial sex toy cleaner to sanitise it. Make sure that it is thoroughly dry before placing into its storage tube.
The beauty of these electrodes though is you can use an Allen Key to strip them down for a deep clean in seconds. They come apart easily so that you can really get into the joints to clean them.
Never use anything abrasive or caustic when cleaning them and ensure that they are completely dry before re-assembly. When putting them back together makes sure that the insulating washer and top hat are inserted the right way round and then just nip up the bolt. There is no need to swing off the edge with a torque wrench just ensure it is tight.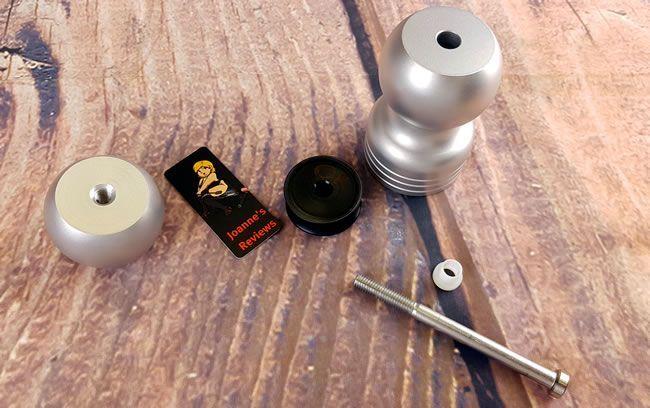 Stripping down one of these electrodes (the large in this image) for a deep clean is really easy
I love the fact that you can strip down E-Stim Systems electrodes, it also means that you can effectively sterilise them in a 10% bleach/water solution so that they can be shared between users. Again this makes these electrodes ideal for dungeon settings.
Performance
Well, that is enough about how they look and their features, you are probably most interested in how they perform. First though if you are new to E-Stim, you may well find that my Beginner Guide To E-stim is useful together with my Electrode Position Guide to give you some ideas about how to use these electrodes so check it out.
You are going to need a good electrolube or electrogel with these electrodes as they aid insertion but more importantly they help to provide good contact with your skin, and I always recommend E-Stim Electrogel from E-Stim Systems as it is fantastic.
Size wise the small takes over where the Bobble left off being both slightly longer and broader than the Bobble, things get progressively larger and larger from the Small, all the way through Medium to Large and then on to the eyewatering XLarge.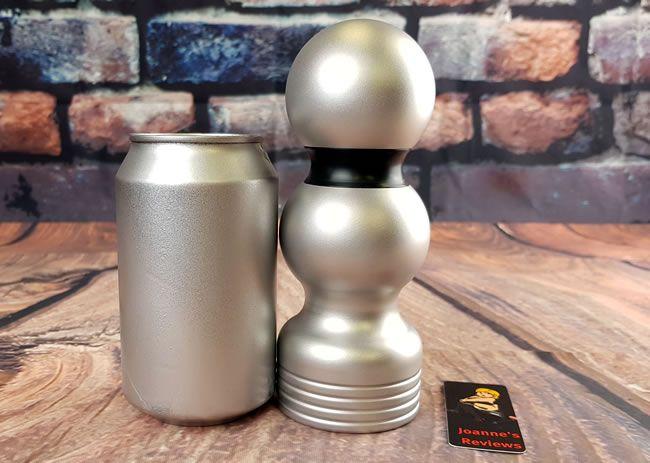 The XLarge is a real challenge but once it is in, it feels incredible
I have to put my hand up and admit that I almost gave up with the XL and it took lots of warming up before I could insert it vaginally, there is no way on Earth that I could take it anally though, but I do have friends who would jump at the chance.
One thing that I really love with this range of electrodes is, in fact, their size and weight, it just feels so good to be stretched wide open, and the domed head means that when inserting it you feel the delicious build up in pressure as you push it home and then you dilate, and it is in relatively quickly.
This always gets my juices flowing, and it feels great. Don't get me wrong tapered tips are fun to insert but they are relatively predictable. With the Black Collection you just build up the pressure and when you feel yourself start to dilate it sort of pops in.
When first trying out these electrodes I started with the small (yes I can be sensible at times) enjoying a few orgasms and then each day I moved to the next larger one. I made notes and enjoyed lots of orgasms, and through these notes, I could compare subtle differences between the four.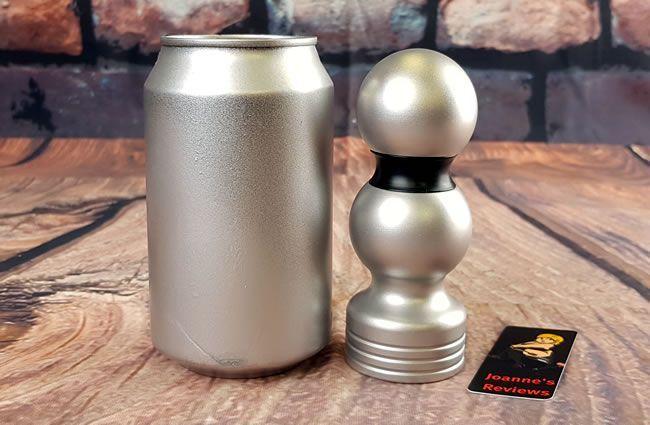 Even the Small may be a challenge for some
Each performed admirably, reliably giving me hard orgasms that really felt amazing as I was stretched so wide with them all. I could only manage to take them all vaginally but sub'r' got the pleasure of enjoying the small and medium in her very tight anus and she was a picture trying to insert them.
Both of us love them and have had plenty of orgasms using them so let me put down some of my notes that I wrote on each one.
Small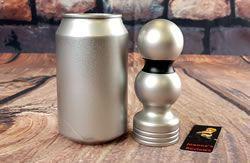 This one was an easy insert for me vaginally and sub'r' also found it easy to insert even managing to try it anally. When you just have the first ball in the sensations around the entrance to your vagina or anus are crisp and powerful and once fully inserted they move deeply becoming a little more subtle.
Being ghost fucked (the term I use when I feel my muscles making the electrode move slightly) feels incredible and orgasms were amazing.
Medium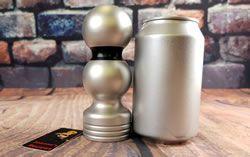 No problems inserting this one too and you start to feel the stretch with it. I was delighted that sub'r' managed to take it anally with some assistance from Stunt Cock.
Again it almost feels like two different electrodes when partially inserted or seated fully inside you. Orgasms were still incredible, and the feelings were a delight.
Large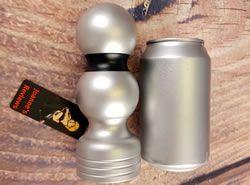 I was the only one who could take it vaginally, and even sub'r couldn't take it up her backside as it is just too big. I needed to warm up before getting it inside me, but once inserted the feeling of just being full of so much metal felt terrific.
You can really enjoy the weight of it as on your back it wants to push deeper and deeper inside you. Orgasms felt fantastic with the combination of being stretched wide open.
X Large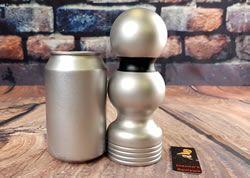 This is a behemoth, and I almost threw in the towel but with a few warm-up orgasms and moving from electrode to electrode I finally got it in, and it took my breath away. Its weight and girth feel amazing, and there is no doubt that you are very, very full with this one. I salute anyone who can take it anally.
I actually smiled (or was it a grimace) when I finally got it in, and I had to wait a minute or two to relax some more before attaching my 2B and stimming myself to a fantastic orgasm. One that felt like I was going to split in half as it was so powerful and I was so full or metal.
I have a tendency to almost fire anything out of my vagina when enjoying a hard orgasm. I often have to hold electrodes in place to prevent any shocks, but there was no way that my Foof was going to lift and eject the XL as it is so heavy and that felt incredible as I could just lay back and let the orgasm wash over me.
The Black Collection from @estimsystems is a dream come true for E-Stim loving size queens. Check out Joanne's review of them.
Click to Tweet
Key Features
Key features:
Four large sizes to choose from
End to end poles provide great stimulation
Can be stripped for deep cleaning
Domed electrodes make it easy to use for shallow or deep fun
Safe to use anally due to the base design
4mm plugs designs, low profiles ones are recommended
Lifetime guarantee from E-Stim Systems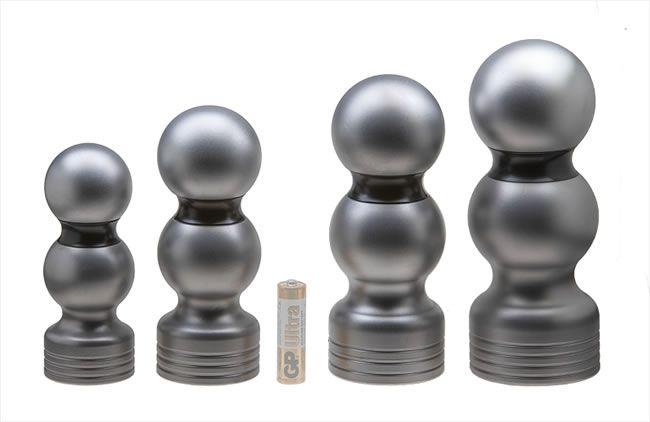 The Black Collection look amazing and they have the performance to match their looks
Final Thoughts
The Black Collection has definitely been worth the wait. E-Stim Systems have taken a classic (The Bobble) and used it as the basis for bigger and better electrodes that will be a massive hit with size queens everywhere.
They look incredible, and they have performance that matches their looks. They are electrodes that will give you many years of service, and you always have that lifetime guarantee to fall back on if something does go wrong.
I always speak very highly of E-Stim Systems products as they are the best and the Black Collection is an excellent addition to their range of thoroughbred electrodes for connoisseurs everywhere.
Check out their complete range of electrodes and controls boxes to see what a fantastic range it is.
I was sent the Black Collection by E-Stim Systems and I would like to thank them for giving me the opportunity to review it for them.
Joanne's rating
Where Can I Get One From?
The Black Collection is available from E-Stim Systems.
Website links:
From their humble beginnings in a garage back in 2004 E-Stim Systems has grown and grown with an army of loyal customers. They manufacture their own goods and that gives them total control of their range of equipment, they even offer a lifetime guarantee (how's that for confidence).
Check out their great range of Intro2Electro™ Packs, E-Stim Systems and the Red Collection electrodes.
Check them out and don't forget to tell them that Joanne says "Hi".
---
If you enjoyed reading this review then check out my other reviews of E-Stim Systems products:
CONTROL BOXES
PUSSY & ASS ELECTRODES
PENIS/BALL PLAY
OTHER
Website links:
---
Disclaimer - I was sent the Black Colelction to review free of charge and this has in no way affected the outcome of this review. This post contains affiliate links and if you purchase something when you follow one of these links I may receive a small commission at no cost to you. For more information check out my disclosure page.