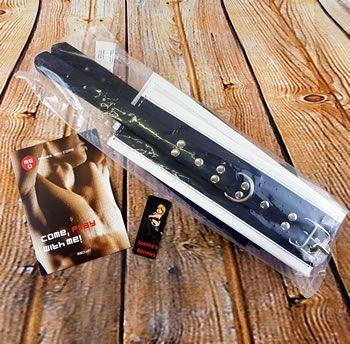 Wrist cuffs are the mainstay of most BDSM scenarios and sessions as they are just so functional. They can be used to restrain a submissive in lots of different positions, and with your hands behind your back, there is nothing that you can realistically do. You are at the mercy of your Dominant.
Meo.de have a range of colour-coded restraints that fall entirely in line with the world-famous hanky code of days gone by.
As well as these black and white cuffs you can get black with red, blue and yellow. These colours are also mirrored in their range of collars, cock rings and ankle cuffs. I would love to review a set of those (for the full set as it were). This pair of cuffs is from their DISTINCT series of high-quality BDSM products.
Just a quick comment on the delivery, every package that I have ever received from Meo.de has arrived quickly, and very discreetly, you can count on their German efficiency to take care of both your order and its discreet delivery to you.
One of the things I like about Meo.de is their packaging; they have a no-frills approach to it. This set of cuffs arrives in a simple sealed plastic pouch that contains the cuffs and a storage bag which is a lovely touch. The simple storage bag is a drawstring design featuring the Meo logo and the text "Play With Me" which is quite fitting I think.
These are broad cuffs, measuring in at 3.15"/8cm wide by 10"/25.4cm long. They feature a very soft calf leather white inner layer that sits against your skin, and it is very comfortable.You also get a double snap hook so you can secure the wrists together simply and efficiently.
The white inner calfskin leather is wrapped around the cuff and stitched to the black leather. This leather restraint has its furniture riveted to it making for a very secure set of cuffs.
You get a metal buckle, and a large D ring that is used with restraint options such as carabiners, rope, chains or the included double snap hooks.
They are very well made with durable white stitching that is both neat, and gives the cuffs classy look. I like the way the white liner wraps around the cuffs. This contrast ties in with a lot of my BDSM clothing and you can't go wrong with black and white in my books.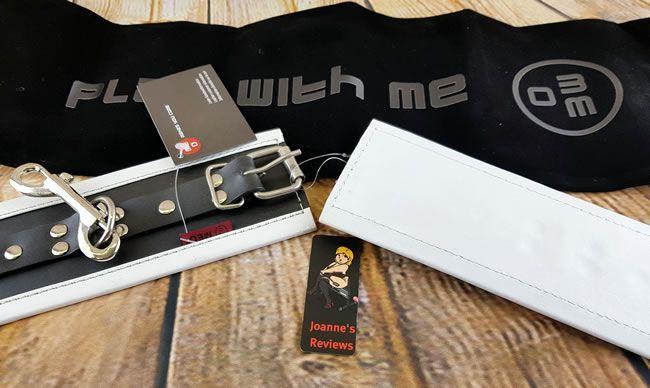 These stylish cuffs come with a double snap hook so you can play with them as soon as you open the packaging.
I have worn these cuffs now on several occasions, and one thing that strikes me about them is just how comfortable they are for extended periods of time.
The soft calfskin liners does contour to your body well and lock you in place. There is no way you can wriggle out of these when they are fastened tightly.
The Saddlers that manufactured these restraints know what they are doing. These are not the cheap type of restraints that you often find in BDSM starter kits where the leather will crack after a few play sessions.
These are restraints that have been lovingly crafted to give you years of use, and they are just quality items.
Oh, and the smell of them - Mmmmm. I just love the smell of leather; there is something so basic about it that gets my mind going into overdrive and my panties dampening in double quick time.
These cuffs smell fantastic, and I hope they retain their leather smell for a long time to come.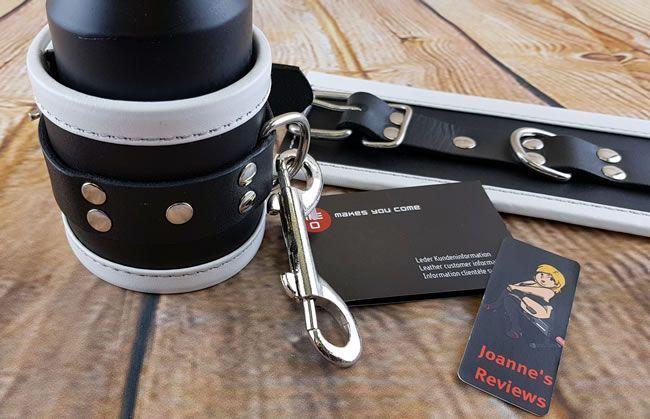 These cuffs can adjust to any size of wrist making them gender-neutral
In the past, I have found that one of the things that wear a set of cuffs out quicker than anything else is being hogtied.
Now while I can't enjoy that anymore because of my knees, Stunt Cock's submissive can and she loves being locked into bondage in the hogtied position.
She loved wearing these, and she squirmed and struggled but couldn't get out of them, she was locked firmly in her place.
The stresses involved with a struggling submissive particularly in that position tends to make the D rings on cheap cuffs walk and twist around. We found that the large D rings on these cuffs stayed put exactly where they should be.
Well done for trying to escape so energetically though submissive 'R' and thank you for your help.

They are very comfortable to wear for extended periods of time
The success of the cuffs in the hogtie position lead to other restraint positions being tried such as hands behind the back in the Nadu position and their use on a cross for a good spanking and flogging session.
The leather used in these restraints is vegetable dyed leather, and the colours pop. One great feature of these cuffs is their wide range of adjustment, they are not just suitable for strong wrists but also slimmer wrists too.
This makes them a great gender-free product. Anyone can enjoy wearing a set of cuffs and having ones that fit snugly and comfortably are a bonus.
The included double snap hook is easy to operate one-handed and allows quick restraint or release of your submissive.
A good set of cuffs is like a sports car, it may cost you more initially, but it gives you so much more pleasure in the long run.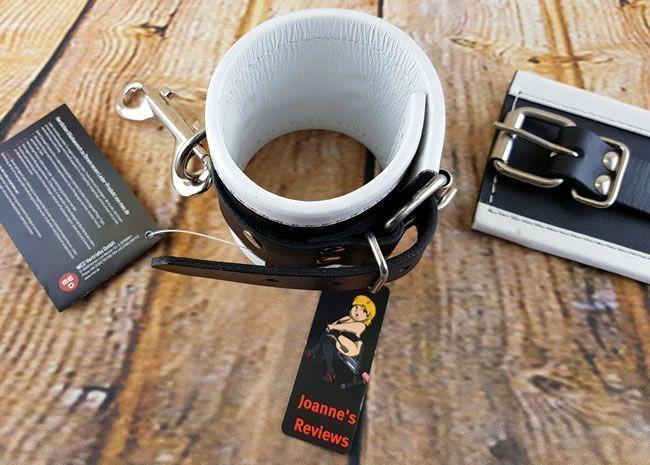 This is a set of cuffs that will give you many years of fun
I was surprised by just how comfortable it feels wearing these cuffs. In the past, my cuffs have been pretty basic, and it shows how basic they are when placed against these beauties.
Out of all of the colours available, I think the black and white ones with their amazing contrast are by far the best. You may disagree with me, but I encourage you to check out all of the colours on the Meo.de website to make your mind up.
Check out these high contrast cuffs from @MEO_TEAM that are great for extended periods of wear and great quality.
Click to Tweet
Key Features
Key features:
Two tone adjustable cuffs with buckle and metal 'D' ring
Excellent quality
Made from vegetable dyed leather
Suitable for slim wrists
Includes two cuffs and a double snap hook
Final Thoughts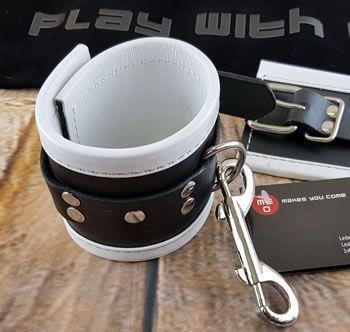 Wrist cuffs are the bread and butter of a BDSM session, they allow for so much creativity and create the feeling of helplessness that is so intoxicating.
The quality of the leather is fabulous and they are very comfortable to wear. The striking contrasting colours are pleasing on the eye and your submissive won't be getting out of these in a hurry.
These will give you years of enjoyment, and I am very grateful to Meo for letting me review them for them. This set is especially good and comfortable to wear. I have no hesitation in giving them a strong recommendation.
I was sent this set of Black And White Leather Bondage Wrist Cuffs by Wolf at Meo.de and I would like to thank him for giving me the opportunity to review it for them.
Joanne's rating
Where Can I Get One From?
img src="/images/banners/meo.gif" border="0" alt="Meo.de where you can get your kink on" /
Grab one of these sets of Black And White Leather Bondage Wrist Cuffs at Meo.de for just £24.83 (39,00 €). As they are currently on sale you can grab yourself a bargain.
Check them out and don't forget to tell them that Joanne says "Hi".
---
---
Disclaimer - I was sent the Black And White Leather Bondage Wrist Cuffs to review free of charge and this has in no way affected the outcome of this review. This post contains affiliate links and if you purchase something when you follow one of these links I may receive a small commission at no cost to you. For more information check out my disclosure page.