As usual, these cuffs arrived quickly in very plain packaging. Meo.de are always discreet with their deliveries as you would expect. It always amazes me how quickly things arrive here from Germany. Here is a quick insight into my past, I lived in Germany for about eight years, and my favourite German dish is 'Rost Bratwurst mit Pommes und mayo'.
Like the wrist cuffs, this collar arrives with minimal packaging; I love the way that Meo keep costs down by using little packaging. This approach is both good for the environment and good for your pocket too.

I like the minimalistic packaging used by Meo.de
The collar arrives in a sealed plastic pouch that contains the collar itself, a handy storage bag and a flyer.
The two-tone colour scheme of this collar follows the 'hanky code' which was developed in San Francisco and the modern version first appeared in New York in the 70's as a way of covertly advertising your sexual preferences.
This collar is also available in back and yellow, blue, red. I prefer the white for its striking looks though.
This collar not only looks good, but it's also really very functional. I love the fact that it features not one but three 'D' stainless steel rings for attaching things to the collar.
Usually in my play sessions often encompasses a leash and often my wrist cuffs on the two outer rings. This is a great way to immobilise my hands in a very submissive posture.
The rings are sturdy and excellent quality, their large size just adds to the imposing look of this collar.
It is wide, designed for guys at 3.15"/8cm wide it looks and acts like a posture collar on me and that feels really nice. I have not had the pleasure of trying a real posture collar, but this one gave me a kinky taster of what it would be like to wear one.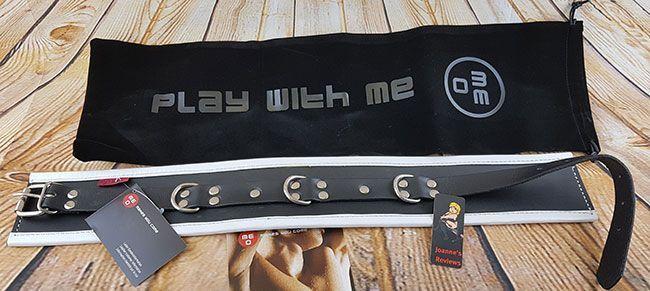 The stroage bag is a nice touch but it is the three 'D' rings that are a feature on this collar
As well as being wide it is also long at 21"/53cm so that it will fit anyone nicely.
The first thing I noticed when I took it out of its bag is the smell of the leather, it is very pronounced and that always gets me excited. Quality leather not only looks good but it also smells fantastic.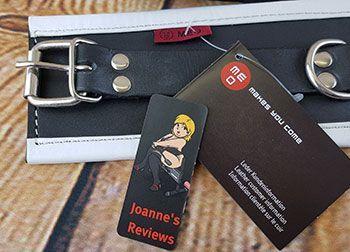 The black leather used is flawless and very, very stiff. This gives it a nice feel when worn against your skin, and you know that you have it on.
The white lining leather is neatly stitched and folded over the edges of the collar to form a bright contrast with the black leather. This softer leather is so luxurious and very comfortable to wear against your skin for extended periods of time. I am not sure what leather it is, but it feels like deerskin leather.
With this collar, you get a Meo branded handy drawstring storage bag, and it is the same one you get with the wrist cuffs. While it is big enough for the cuffs, it is just a tad small for the collar, and you can't fit it all in. But as it covers most of it that isn't a huge show stopper, after all, most of my other collars don't even have a storage bag. The storage bag is a nice touch though, and it is also good quality just like the collar.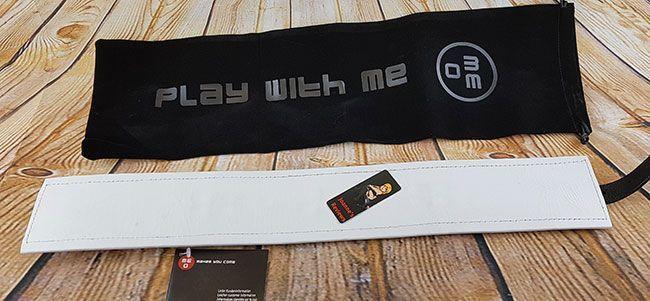 The white lining leather is really soft and comfortable
Meo always impresses me with their Meo branded products; they take the time to source the best materials and artisans, I can say with my hand on my heart all of the products that I have reviewed for them have been first class. I just love reviewing for them, they are so kinky, and their product range has to be seen to be believed.
Performance
So how does it feel? Well, as soon as it is fastened into place by your Dominant, you know that you will be entirely under his or her control. The soft inner leather coupled with the stiff black leather create a deliciously firm yet comfortable combination.
This collar acts as a posture collar on me, preventing me from looking down at all. This was a unique sensation. I was surprised at the fact that every little task needed much more thought while wearing it. It was great for focussing my attention. It's surprising how just not being able to look down affects everything from movement to lovemaking.
The collar is a very snug fit, and the three rings were put to very efficient use by Stunt Cock. He loves attaching my wrist cuffs to my collar as well as his leash. He especially enjoyed having me unable to move my hands while teasing my pussy or stimming me with e-stim equipment. It was torture and pleasure all rolled into one, and it made an enjoyable break from the usual restraint positions that we use.
While wearing it I was aware of its presence around my neck constantly, and as a submissive, that gave me strength and a sort of inner peace. Collars are powerful things, not only being an overt symbol of ownership or belonging, but they are also powerful symbols for the wearer too.
I love wearing a collar for BDSM play, and this one is fantastic.
I decided to make it a little more subtle and wore it in the shower three times to soften it up a bit. Now it conforms to my neck perfectly, and while it still acts as a posture collar on me, it is even more comfortable to wear.
One point to note is having washed it thoroughly, and air dried it there is no deterioration in colour or even colour bleeding between the two kinds of leather, so it is obviously good quality.
Check out this high contrast leather collar from @MEO_TEAM with three stainless steel D rings for kinky fun.
Click to Tweet
Key Features
Key features:
Two tone leather collar with buckle and three metal 'D' rings
Excellent quality
Made from vegetable dyed leather
Suitable for most necks
High contrast look
Storage bag included
Final Thoughts
I like this collar, the way that it fits me personally gives it an almost posture collar feel and that was a fantastic feeling. Being unable to look down whilst wearing it just reinforced my submissive tendencies.
The three 'D' Rings give you lots of play options and it was so much fun to have my wrists immobilised to my collar. It is a fantastic firm collar and its high contrast colours give it a really striking look that I love. Whilst it is a very firm collar it is comfortable to wear even for extended periods of time. Once again Meo have produced another fantastic collar.
I was sent this set of Black And White Leather Bondage Collar by Wolf at Meo.de and I would like to thank him for giving me the opportunity to review it for them.
Joanne's rating
Where Can I Get One From?
img src="/images/banners/meo.gif" border="0" alt="Meo.de where you can get your kink on" /
Grab one of these Black And White Leather Bondage Collars at Meo.de for just £24.83 (39,00 €). Grab yourself a bargain.
Check them out and don't forget to tell them that Joanne says "Hi".
---
---
Disclaimer - I was sent the Black And White Leather Bondage Wrist Cuffs to review free of charge and this has in no way affected the outcome of this review. This post contains affiliate links and if you purchase something when you follow one of these links I may receive a small commission at no cost to you. For more information check out my disclosure page.