Delivery and packaging
As always, this sex toy arrived very quickly and of course discreetly from Gvibe. I can always rest assured that anything I receive from them will be discreetly shipped in plain packaging.
Upon opening the shipping box, it arrived in I was delighted to see that their packaging design team have done yet another excellent job of the box for the Gcandy.
The designers produced a beautiful print on one side of the cylinder looking a lot like a floral version of the vibrator, with a full-colour image of the Gcandy on the other side. I love this style of packaging, and the Union Flag on the lid is always well received in this household.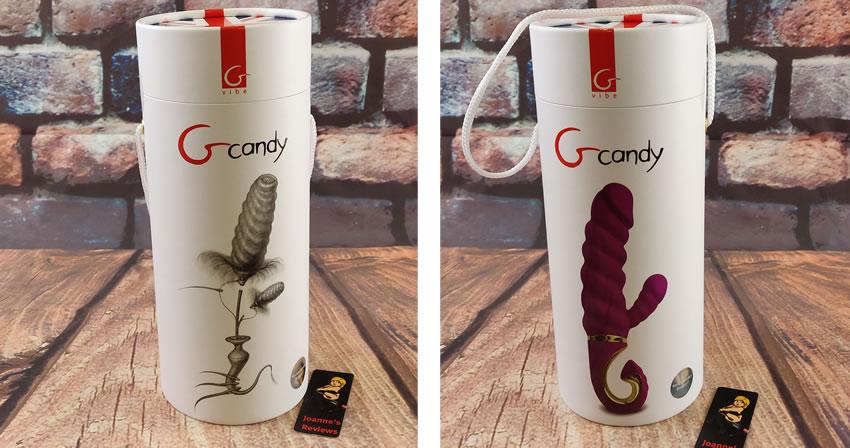 The packaging of the Gcandy is stunning
So what do you get inside?
Inside the cylinder, you have the beautiful Gcandy vibrator, an information booklet, a USB charging cable and a silky storage bag. The vibrator is held securely in the centre of the packing tube with foam, to ensure no damage is done in transit or on the shelf.
The information booklet shows pencil drawings of various positions that you can use the vibrator in. It also shows an image of where the 2 different motors are located within the vibrator, as well as the button locations. I love these little sketches that Gvibe include in their instructions, they are both informative and highly erotic too.

These images show you some examples of how you can play with the Gcandy
Design and materials
The Gcandy is a stylish, beautifully designed rabbit style vibrator, the Sweet Raspberry colour and gold strip create a very stunning look.
Size: 7 x 1.3 inches (18 x 3.5 cm).
Up to 4 hours of operation on a battery charge.
100% waterproof.
3-year warranty. It's made from bio-skin (a high quality hypoallergenic medical silicone) which is silky soft to the touch. Silicone is always my go-to sex toy material as it is non-porous and both latex and phthalate-free.
I wasn't sure if it would live up to the statement of being close to the feel of real human skin though. But having now enjoyed it on numerous occasions, I do believe that it does actually feel much closer to real human skin than standard silicone. This is really apparent when warmed in warm water for some temperature play. I also love the colour as it makes it easy to spot in my bedside toybox. Yes, I can't fit my favourites in my bedside drawer now, so I have a toolbox next to my bed #SexToyReviewerProblems.

You get the Gcandy, instructions, a charging cable and a storage bag
The rounded tip is soft and squeezable, with deep ridges down the main shaft which are also reasonably supple. This means you can enjoy the sensations without the discomfort that can come with a firmer toy. As the shaft is slightly angled upwards, it makes it easy to hit and tease your G-spot too - perfect.
The clit stim is covered it a harder silicone with less pronounced ridges, and it's wider at the tip than the base. It sits comfortably on my clit in use, and the vibrations are easily felt along its whole length.
With two powerful motors, one in the main shaft the other in the clit stim you get to enjoy the intense sensations throughout the toy.
I love the handle design on the vibrator. It makes it so easy to use, the buttons are situated perfectly for easy use when using the Gcandy. I sometimes struggle holding rabbit vibes in use but found this one easy to use.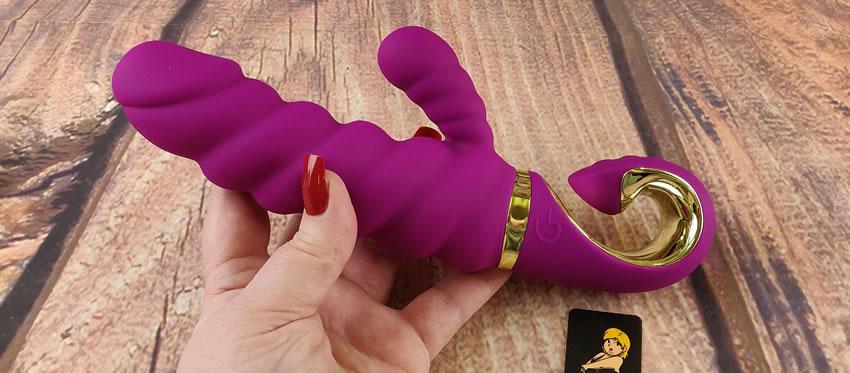 I just love the textures on the Gcandy rabbit vibe
With magnetic charging, it is so easy to connect when charging. The buttons flash while charging, so you know when it's fully charged with just one look. The magnetic USB charging cable that comes with the Gcandy is a nice length and easy to use.
It has a travel lock feature, you hold in the '+' button for two seconds to activate it and repeat to de-activate it. This is perfect if you are travelling with it.
As it is waterproof, it's straightforward to clean, although a little extra care around the gold trim may be required. Just wash it with warm soapy water, ensuring it is dry before placing it into its storage bag for later use.
Performance
The two motors produce some incredible vibrations, with a choice of 10 speeds and 6 patterns you can thoroughly enjoy this vibrator. I loved how the higher speeds make the vibrator seem to want to take off on its own. If placed on a hard surface, it will walk as the vibrations travel through the silicone.
I like to play around with the various choices before finding my favourite ones, each time I would start on the slower speeds but would always end on the highest (take-off mode). The motors do not operate separately. But, this does not detract from the enjoyment of using this vibrator, in my opinion.
The handle makes thrusting a real joy in more ways than one as it is so easy to hold, and the angle adds to the ease of use.
Use the + or – button to switch on and off but also to control the speed. In between these buttons is the pattern button. The buttons make it very easy to move between settings in play as they are nicely spaced out and protrude just enough to make them easy to find by feel alone.

The controls on the Gcandy rabbit vibe are easy to use even it is inside you
The angle and soft tip of the main shaft make penetration easy, and you can hit your G-spot easily, without it feeling too hard and uncomfortable. The feel of the deep ridges is incredible whether you are going slowly or pounding away so quickly you feel like you are flying :-)
As a texture queen, I really enjoyed the deep ridges. They create genuinely great sensations when thrusting it in and out. While the soft texture allows you to squeeze the shaft without the discomfort, you might have with a solid toy. The silky feel of the silicone means that it slides in easily with only a small amount of water-based lube needed until your natural lubricants take over.
While inserted, the motors are relatively quiet but sound slightly louder when outside the body as you would expect. On saying that they are not so noisy that you would have to worry about people outside the room hearing what you are up to. Of course, your moaning and gasping may give the game away.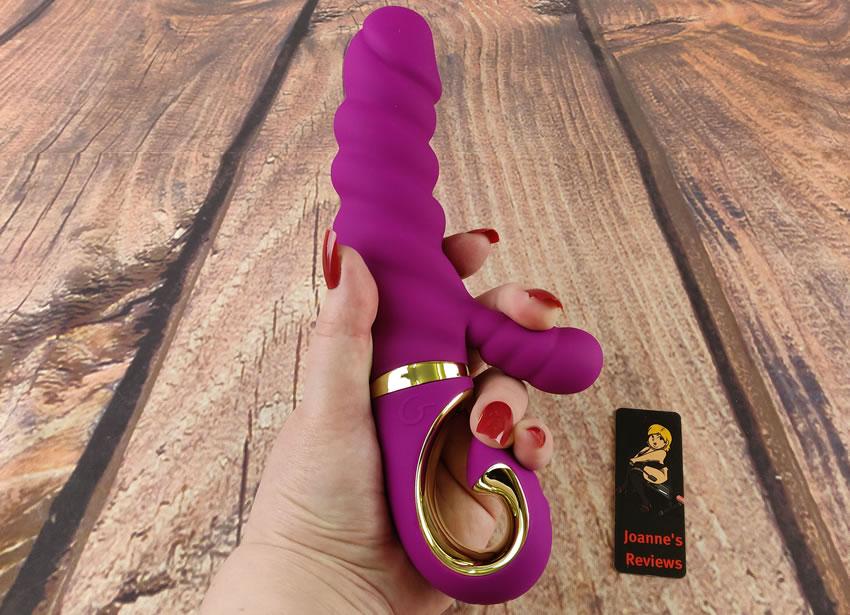 The Gcandy is a nicely proportioned rabbit vibe with lots of texture
The vibrations in the main shaft seem to be focused at the centre but can be felt slightly less intensely the higher up the shaft you go. However, the motor in the clit stim covers the entire surface exceptionally well. It does add more vibrations through the main shaft where connected. The clit stim actually bounces with the higher vibrations. It can always be held out or turned slightly away if this is too intense for you.
I was surprised by how profoundly I could feel the vibrations even on the lowest settings. This is a vibe where you can enjoy all of the settings, working up the list on your way to an orgasm. The highest vibration setting is quite powerful, and it is one that I use this to bring me to my final climax.
I love to feel intense clitoral stimulation, and put that together with the lovely deep grooves meant that I thoroughly enjoyed every aspect of this gorgeous vibrator.
I so need to get a bigger toy box ;-)
Check out what Joanne thought of the Gcandy rabbit vibrator from @gvibecom, a rabbit vibe with lots of textures.
Click to Tweet

The textures on the Gcandy feel so nice inside my pussy
Key Features
Key features:
Made from body-safe silicone and ABS
Rechargeable
Magnetic charging
Waterproof
Two powerful discreet motors
I would recommend it to:
Anyone looking for a body-safe rabbit vibe
Anyone looking for a rabbit with lots of texture
Anyone who enjoys clitoral and vaginal stimulation
I wouldn't recommend it to:
Anyone who doesn't like textures on their sex toys
Final Thoughts
Once again, Gvibe has produced a vibrator that I am more than happy to recommend to others. I love their creations, they spend so much time testing, tweaking and designing the very best sex toys. I know when they release a sex toy, I am in for a treat if I get to review one.
The Gcandy is a cracking little rabbit vibe it is fun to thrust with due to all those lovely textures, but it is also fun to insert and just let the vibrations wash over you.
Building up to some fantastic orgasms is easy, I love to cycle through the modes and then always end up on the highest level as I feel my orgasm building.
I am more than happy to give the Gcandy a strong recommendation.
I was sent this Gcandy vibe by Gvibe and I would like to thank them for giving me the opportunity to review it for them.
Joanne's rating
Where Can I Get One From?
Grab one of these fantastic rabbit vibes direct from Gvibe where you can get a Gcandy for £90.90, so what are you waiting for, check them out and don't forget to tell them that Joanne says "Hi".
Disclosure
This review does not contain affiliate links, for more information about affiliate links check out my disclosure page.