So what are they and what are they for? I admit that this isn't the sort of product that I usually review but these days adding a bit of Vagazzle to your sex life is becoming more common. These stick-on pasties allow you to bling up your sexy bits, and they are a lot of fun.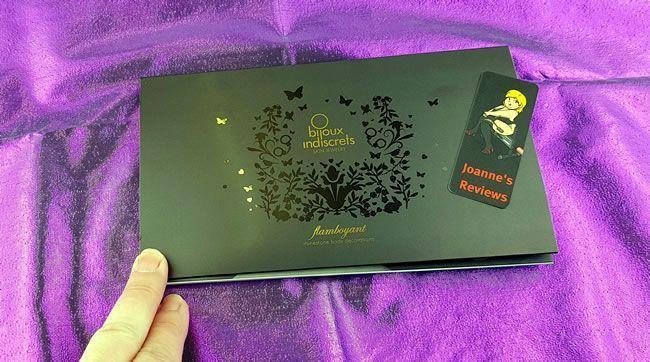 I love the packaging of Bijoux Indescrets products
They are also great for roleplay, imagine yourself as a sexy courtesan, belly dancer or maybe a kajira in a harem. They are a quick and easy way to make a statement.
This kit is luxuriously presented in a folding card with a pocket in it. The dark looks give it a very sexy look, and it compliments the product well. Bijoux Indescrets have put a lot of effort into their packaging, and I am always impressed when I am lucky enough to review any of their wares. I also loved the packaging of the Maze Halter Bra Harness that I reviewed from Bijoux Indescrets.
The pasties are stuck to a mylar sheet within the pouch in the card, and this allows you to see them in all of their glory through the transparent window. You get three pasties, two for your nipples and one for your vulva.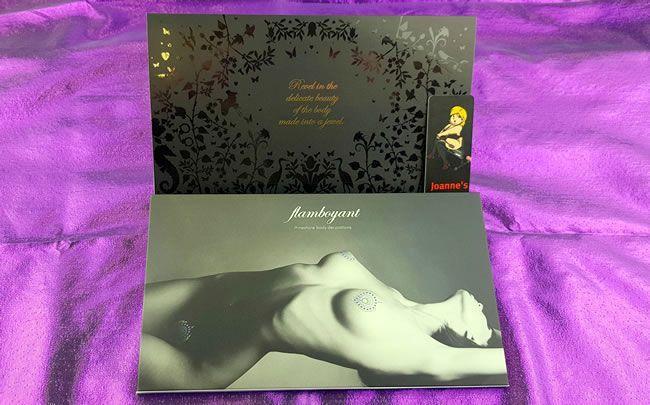 The packaging whets your appetite for what is to come
This set contains gems that are clear, purple and pink but there are other sets available in a myriad of different colours so you can get something to fit your mood and personality. I think it is excellent that Bijoux Indescrets produce them in such a wide range of colours.
Each pastie is made out of body-safe silicone coated with a robust body-safe adhesive. One side has the glittering jewels and crystals, and the other side is incredibly sticky and once fitted it stays in place well.
These pasties are designed to be a single-use product, but with care, you can remove them and stick them down on the mylar sheet again to get a few uses out of them. Once they lose their stickiness, you can use eyelash adhesive to make them sticky again but make sure none of it gets in your sensitive bits down below.
The effect obtained with the crystals stuck firmly to the silicone lattice is genuinely beautiful. It is this latticework frame that the jewels are attached to that makes this product so versatile.

The pasties look simply stunning but they look even better when worn
You can cut it with scissors or a craft knife to break the pasties down into its separate rings. This is useful if you have larger nipples or nipple piercings. The rings that you remove could be used elsewhere like around your belly button or at the base of your spine as a "tramp stamp".
We had a lot of fun playing with these and sub'r' agreed to let me take some photos of her wearing them. As you can see, we should really have trimmed the inner rings. Her nipple piercings mean that her nipples don't quite fit through the centre hole, and so we should have made it larger, but I wanted to show the pastie in its entirety.
As you can see it looks stunning and is a real head turner, being a sweet treat for anyone who gets to see them fitted in place. The other pastie looks fantastic on her vulva with the arms running down her outer labia, but those pictures are a bit too hot for my site. Needless to say, Stunt Cock approves of both the pasties and the pics. His face was a picture when he walked in on me while I was wearing just this set. His jaw nearly hit the floor, needless to say, that started a very hot and horny session where he showed me just how much he approved of them.

The pasties create a delicate sexy look to whatever they are attached to
Wearing them makes you feel so very sexy, and I love the look of them. I also like the fact that with care you can get multiple uses out of them. They stick to your skin very well, and you can wear them under lingerie, just be careful when you remove your lingeries so as not to catch the jewels on anything.
While this may not be a product for everyday use, it is definitely something to consider for a special occasion or when you want to pamper yourself. It is probably the only form of Vagazzle that I approve of (don't get me started on vaginal glitter bombs) and it's a quick and easy way to spice things up a little.
While this set is marketed at vagina owners, there is nothing to stop penis owners from using it too. You can even get a set with just the nipple pasties. So in the interest of equality, I challenge any guys reading this to get themselves a set to bling up their nipples.
The only pain free and safe method of vagazzling your bits, check out the body jewelry from @bijouxindescret.
Click to Tweet

Sub'r' loved the look of them once her blindfold was removed
Key Features
Key features:
Body safe silicone lattice supporting gems
Both nipple and vulva pasties
Can be used by all sexes
Reuseable with care
Can be worn under lingerie
Final Thoughts
I bought this set of body jewelry in for review as I just had to try them out and I actually love them. They are so versatile and really add a bit of bling to whichever body part your adorn with them. I can see the gender-free uses of this set and the fact that you can trim it to fit your look and body makes it incredibly versatile.
If you are looking to give yourself or your partner a treat then this will definitely capture their attention and lead to some hot and sexy times. With care you can re-use them and fitting and removing them again is an easy process but once in place, they are very secure. I give them a strong thumbs up.
Joanne's rating
Where Can I Get One From?

Grab one of these kinky sets of body jewelry from Love Direct for £21.99 and surprise someone who is worthy of seeign them adorning your body.
Check them out and don't forget to tell them that Joanne says "Hi".
Disclaimer - I bought this set of nipple pasties in to review and this has in no way affected the outcome of this review. This post contains affiliate links and if you purchase something when you follow one of these links I may receive a small commission at no cost to you. For more information check out my disclosure page.