Delivery and packaging
I did not waste any time on opening up the G Spot Rabbit as I have been so excited to get to know what it has to offer. As always I took the product pics before using it as it is just easier that way.
The G Spot Rabbit arrived in a very plain cardboard box, but the label carried the brand name Bestvibe on it which wasn't too discreet.
The G Spot Rabbit's packaging is just a plain black box with no pictures or product information on it except for an EU distributors details. I am presuming this is because this is a mail-order toy so there is no need for fancy packaging that would stand out on a shop's shelves.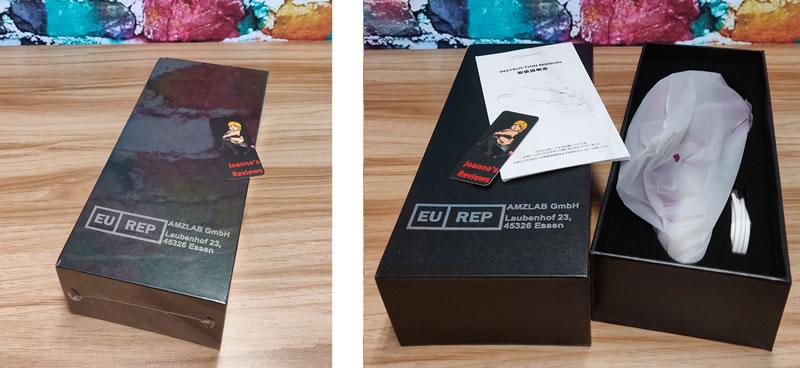 The packaging of the G Spot Rabbit is very plain indeed, no-one will know what is inside if they see it
The G Spot Rabbit is securely packaged inside together with a basic instruction manual which is multi-lingual. It also comes with a pin style USB charging cable, but there is NO toy bag included. At the price of this toy, I can see why, but I always love toys that come with storage bags.
One thing I love about all silicone sex toys is that when you open the box, you don't get that overwhelming chemical smell you get with PVC products and jelly sex toys.
My G Spot Rabbit was on my doorstep about 10 days after I had ordered it from the Bestvibe website. As it came directly from China, I was more than happy with that. Once you use it with orgasmic results, the wait will have definitely been worth it.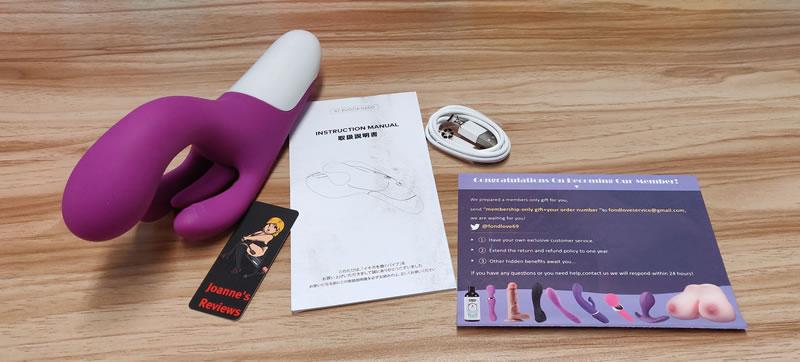 You get the G Spot Rabbit, its charging cable, a set of instructions and a warranty sign up card
Materials and Design
The main materials of the G Spot Rabbit are 100 per cent grade medical grade silicone, and ABS, which is fantastic. These two materials are both phthalate and latex-free as well as being non-porous too. So, when you clean them, it will stay clean, so that is one less thing for you to worry about.
On to the only thing I didn't really like about this toy, and that is the handle shape and orientation. I did find the short round handle very hard to keep a good grip on in use which also makes it very hard to control the G Spot Rabbit.
Product Information
Material: Silicone, ABS
Power: USB Charging
Modes: 10 Frequency
IP Rating: Waterproof
Charge Time: 2h
Use Time: 1.5h
Motors: 3
Noise: ≤45db
Weight: 200g(7.1oz)
Size: 192*82*56mm(7.6*3.2*2.2in)
Colour: PurpleThis was due to the way it dips down away from you, and so in use, you can't actually see the controls. The handle is also smooth ABS, and so once your fingers get some lube or vag-goo on them, it can be tricky to hold securely.
Not being able to see the controls means you need to fumble around for them to change settings and that coupled with a slippery handle can be distracting, to say the least.
I ended up wrapping an elastic band around the handle to make it easier to grip. Some texture on the ABS would have definitely been a benefit, and maybe it's something Bestvibe should consider for this toy if it gets a second edition.
The G Spot Rabbit has three amazing, powerful motors. One in the main bulbous textured tip of the rabbit for g-spot stimulation. You also get one powerful motor in each of the side fingers, so you really do get all that stimulation focussed where you want it the most.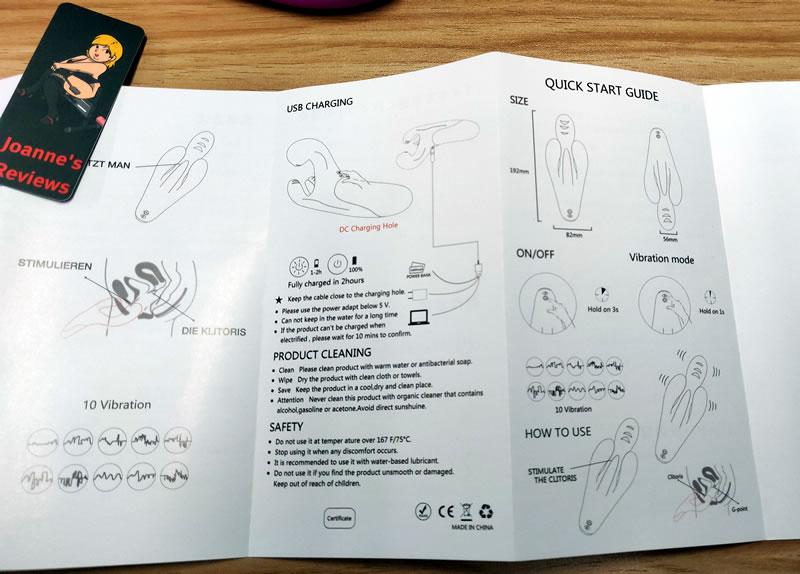 The multi-lingual instructions are very brief and to the point
The G spot rabbit features 10 different vibration settings as well as 4 different power settings. I didn't find any that disagreed with me, in fact, there is really something for everyone in this toy.
One of the things I love the most about the G Spot Rabbit is that it's so quiet even on the higher settings and that was really surprising. Again for a sex toy in its price bracket, it really is top of its class. This means I didn't have to worry about other people hearing the G Spot Rabbit when I play. So I could relax and get on and play, which also made me want to use my rabbit more often.
The charging cable goes into a tiny hole on the underside, I had to refer to the manual to work out where it was. When I did find the charging point, I had to keep checking every 10 minutes that the pin of the charging cable was in all the way and charging. So bear that in mind when charging yours.

The USB charging cable goes through a tiny hole in the silicone, check that it is securely fitted when charging
I love that the G Spot Rabbit as a low battery light, so you know when it's time to get the charger out. But even more importantly you won't have the G Spot Rabbit cutting out on you when you are halfway to orgasm. So no worrying about having to finish yourself off with other means, I know we have all been there.
I found the shape of the G Spot Rabbit very unusual as I found it a little tricky finding what part goes were lol. The shape and design of the G Spot Rabbit are so unique it took some getting used to, but as I have used it more, it was much easier to use. The flexibility in the two arms means you can move them around a little to find the perfect place for them to sit.
When you first receive your G Spot Rabbit you should give it a full charge which takes about 2 hours then you are ready to go or should that be "come". You get about 1.5 hours of fun out of your fully charged toy, but this depends on which settings you are using.
The whole look of the G Spot Rabbit is luxury though with its ultra-smooth silicone and the charming white trim, which I must say looks amazing. I must say that the blend of silicone used on this toy is much better than some toys double or even triple its price, it really is a lovely blend that feels sublime in use.

The G Spot Rabbit from Bestvibe is an unusual design that works really well due to the silicone blend used
I love the blend of silicone; it's nice and soft, and the surface is a little draggy, which is how I like my silicone toys. Just by adding some high-quality water-based lube such as Sliquid H2O or Secret Play Natural and I must say it feels fantastic.
The two fingers provide intense and rumbly vibrations, and with the fingers being very soft but flexible, it means they can wrap around your clitoris perfectly. This means the orgasms get more and more intense as they go along.
The main shaft fills my vagina very nicely, and with the girth being a little chunky, it gives me that nice full feeling I love to get from a toy. The main shaft of the G Spot Rabbit has a fantastic textured end which feels excellent when it's rubbing against my G spot. I love the orgasms that it delivers this way.
The G Spot Rabbit is waterproof, so I decided to pop in the shower for some soapy fun and let's just say that I thoroughly enjoyed myself.

The three external finger provide lovely sensations, only the outer two have motors though but these make the clitoral one bounce around nicely
Performance
The G Spot Rabbit has been designed with the G spot in mind, and oh it does an excellent job of stimulating it. I love to put the main shaft deep inside my vagina and have it on my G spot with the other fingers rubbing on my clitoris as well with drives me wild.
The three ridges on the bulbous tip of the G Spot Rabbit provide some very intense sensations, due to its girth some may find them uncomfortable if you start thrusting with it. I found my preference was to gently rock it in use, so those ridges just rubbed against my G spot gently with the vibrations and feeling of fulness doing most of the work.
I really had no problem reaching some incredible orgasms with this sex toy. So, I would very highly recommend the G Spot Rabbit to anyone who loves powerful rumbly vibes through their clit and G spot.
The G Spot Rabbit is a nicely weighted toy the main shaft has a fantastic girth coupled with the unusual finger design it is fun to learn to use. Once mastered, it will reliably provide intense stimulation that will take your breath away.

The flexibility of the silicone means it will flex to fit most body forms
I also love how soft the silicone feels on both my skin and my vagina which helps get me in the mood for more play and fun.
The G Spot Rabbit comes with two controls buttons which are very easy to use and identify. To switch on the G Spot Rabbit, you simply push down on the power button for a couple of seconds. The power button also acts as the frequency button for the G-spot vibe. There is also a second button that allows you to cycle through the patterns and settings the fingers has to offer.
I also love that the G Spot Rabbit comes with a travel lock feature which is turned on by pressing the power button for a couple of seconds. So there won't be any embarrassing moments at the airport lol.
I love that the speed and patterns are controlled separately, which gives me more freedom to find the best settings for me.
The power settings start from a slow continuous speed to a slightly deeper rumbly vibration on the higher settings. So, whatever mood I was in there was something new from me to try.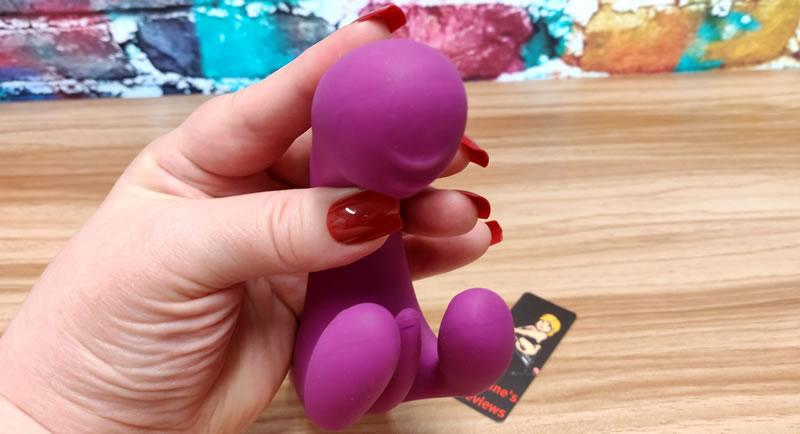 The ridges on the g spot bulb produce intense sensations which may be too intense for some but I loved it
I often like it the best when I would start off with a slow continuous speed, and I would slowly work my way up, but I never make it to the highest settings before I would reach orgasm lol.
Each of the clitoral stimulating fingers has its own motor, and the arms are very flexible. This means you can move them closer to or further from your clitoris to tailor the sensations to your play style or mood.
"This rabbit vibe really made me cum hard and I have enjoyed some delighful squirting orgasms with it. I did find it tricky to hold but the sensations it delivers more than makes up for that. This is the best rabbit vibe I have ever used and I love how you can position the outer fingers to give you stimulation just where you need it and they cause the central clit stimulator to really go wild against my clit. I love it."

My submissive, the lovely sub'r'
One of the things that really works well with this unusual design is the fact that its flexibility means it will be compatible with lots of different body shapes. This is often a problem with regular rabbit vibes.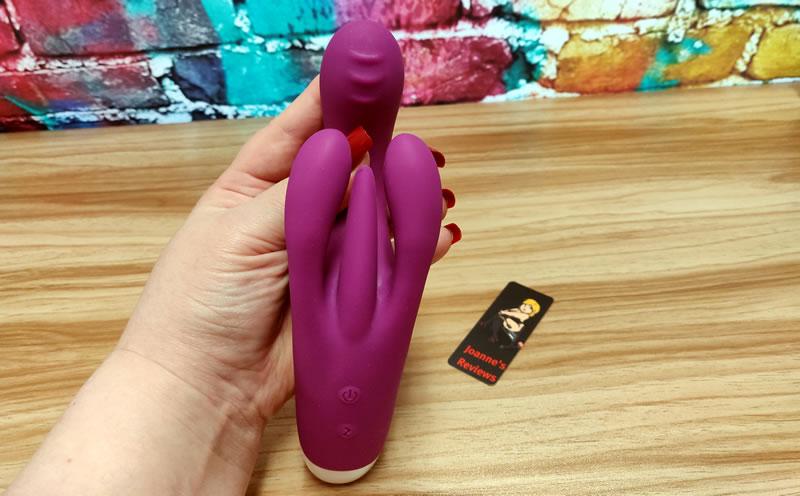 The Bestvibe G Spot Rabbit is an unusual design that really worked well for both my submissive and I
Keeping my G Spot Rabbit clean was very easy. As always I recommend using hot soapy water or an antibacterial sex toy cleaner. You can use antibacterial wipes to clean it too.
I have really enjoyed the sensations that the G Spot Rabbit provides. The stimulating fingers are a fantastic feature, and it really works well with my anatomy. As you can tell, I had no problems enjoying some incredible orgasms with the G Spot Rabbit.
The G Spot Rabbit from @Bestvibe1 with its three powerful motors is a unique rabbit vibe design that really packs a punch.
Click to Tweet
Key Features
Key features:
3 powerful motors
Made of pure silicone and ABS
USB charging cable
G Spot and clit stimulation
Waterproof
10 vibration modes
Easy to use and keep clean
Travel lock
I would recommend it to:
Anyone who likes powerful toys
Anyone who wants a quiet toy
Anyone who wants both G spot and clitoral stimulation
Anyone who wants to try something new
Anyone who enjoys rumbly vibrations
Anyone who enjoys rabbit-style of vibes
I wouldn't recommend it to:
Anyone who does not like rumbly vibrations
Anyone who does not like clitoral and vaginal stimulation
Anyone who does not like penetrative fun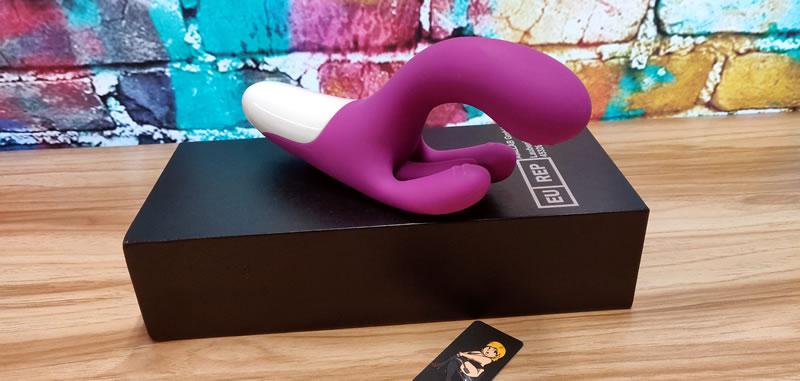 The Bestvibe G Spot Rabbit is certainly worth a flutter at the low price of £33.96
Final Thoughts
The G Spot Rabbit from Bestvibe is a fantastic sex toy with only a few niggles. On the one hand, it gives me amazing orgasms with its outstanding performance. But on the other hand, I struggled to keep hold of it with lubed up fingers, but that is just a niggle I had with it.
That said though, I will still continue using the G Spot Vibe again is it gives me some amazing orgasms. I just feel like it could be a little better if it was easier to hold and use. That is a personal preference, and you may find it easier to use than I did.
I would like to thank Bestvibe for sending me the G Spot Rabbit to review for you all. It is a unique design that has provided me with some incredible orgasms. Even with its niggles I still love it and recommend you give it a try. It really is a remarkably good sex toy and at a fantastic price too.
You get a lot of "bang for your buck" with the G Spot Rabbit from Bestvibe.
I was sent this rabbit vibe by Bestvibe and I would like to thank them for giving me the opportunity to review it for them.
Joanne's rating
Where Can I Get One From?
Grab one of these fantastic vibrators direct from Bestvibe for only £33.96 which is an amazing price for a toy with these features. P&P is very reasonable and if you also buy something else then it will ship for free.
Check them out and don't forget to tell them that Joanne says "Hi".
Disclosure
This review does not contain affiliate links, for more information about affiliate links check out my disclosure page.