So, what is a cock milking machine?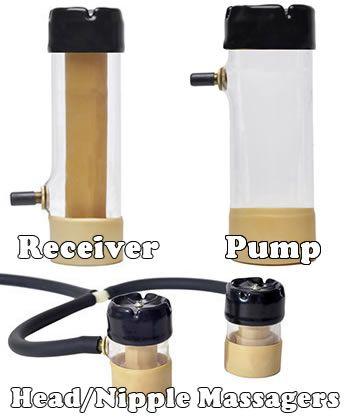 As its name suggests, a male milking machine is a machine designed to masturbate a penis to orgasm, milking it dry and draining the balls in the process. It really is as simple as that.
Most of them use a similar principle, and it's surprisingly similar to the technology used on modern farms to milk cows. They use air displacement to do the job, and it is actually as fascinating as it is effective at jacking off a hard cock until the inevitable ejaculation that follows.
Most systems consist of three components, the vacuum or air movement pump, the controls and the receiver (the tube into which a penis is inserted, let's call it the working end of the system).
The receiver consists of an acrylic or plastic tube which has a lining material running through the centre of it. One end of the tube has a cap with one-way air valves in it, and the other end is open. The side of the receiver has a connector to which a tube is fitted to the milking machine. Some fancy receivers also have conductive sections allowing the penis to be stimulated using e-stim, a subject very close to my heart.
So, let me tell you about three of the best cock milking machines on the market; the Venus 2000, The Tremblr and the SeriousKit Milking Machine.
The Legendary Venus 2000
The Venus For Men is probably one of the most widely know male milking machine. It was invented in 1993 by Rick Gellert, with the assistance of Valentin Tsitrin, a Russian engineer. ABCO, owners of the Sybian bought the patent in 1998 and now market and manufacture this machine.
Its performance is legendary, and its receivers are made to measure making them an excellent fit.
It uses a motor and gearbox to move a diaphragm pump that moves air in and out of the receiver. Inside the box, there are five different adjustments to cater for different receiver sizes. Once you buy one, there is no need to adjust this as it will be set up by the factory for your receiver.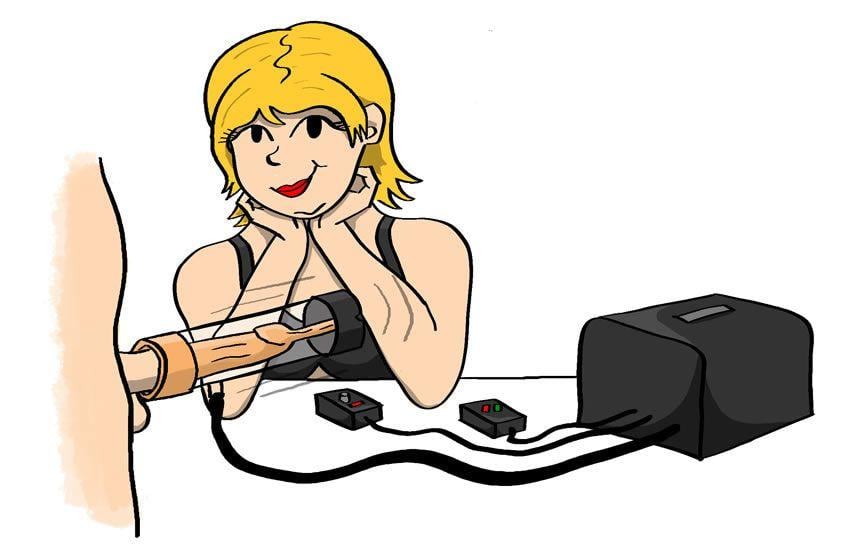 A little doodle I drew when reviewing the Venus, I loved watching it in action
I have reviewed the Venus, and it is a fantastic machine, you can purchase them in the UK from fmachinefun.co.uk, or if you are in the USA, you can get one from venusformen.com.
The Tremblr
A new addition to the market is the Tremblr which emerged recently as an excellent alternative to the Venus. It comes with a hard case that contains the machine, receiver, cleaning kit and maintenance tools all in one handy discreet package.
Rather than using a diaphragm pump, it uses a motor and piston to move air. It has a handy adjustment mechanism that makes adjustments to airflow for different receivers really easy. This machine is a good choice if you have a partner who uses it as well using a differently sized receiver.
Using a small remote control unit it has fewer tubes and wires than the Venus, it is also cheaper which is a good selling point.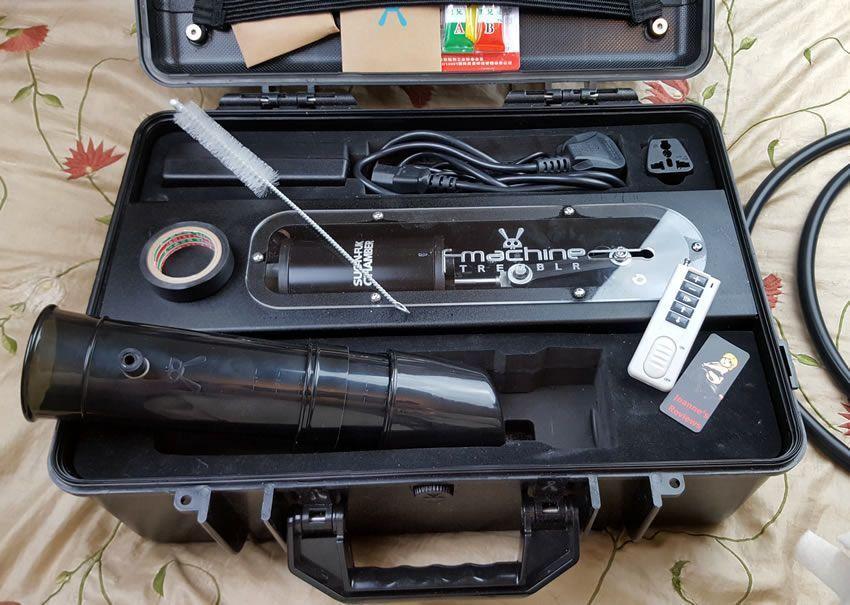 The Tremblr is a much cheaper option that the Venus and it has some very good features
The receivers aren't as good as Venus ones, it comes with three different sized ones rather than a custom fit one. The good news is you can use Venus receivers with the Tremblr so you could always buy one of the Venus receivers for a better experience.
The Tremblr is great for anyone on a budget looking for male milking fun.
I have reviewed a pre-production Tremblr, and it is a great machine, you can purchase them in the UK from uberkinky.co.uk.
The SeriousKit Milking Machine
The SeriousKit system is based around an iconic American Milking Machine that has been modified to work with their stainless steel & perspex suction/pulsation tubes (SPT).
This machine is real eye candy and has incredible performance and flexibility. I haven't been lucky enough to have had the opportunity to review one, but I would love to. Everything I have ever heard about these machines has been amazing.
They are the industrial end of the Male Milking Machine spectrum, featuring lots of clever features to allow the SPT to be suspended over the penis to stroke it hands-free.
These milking machines are often found in professional Dominatrix Dungeons as they are simply the best and perfect for kink play.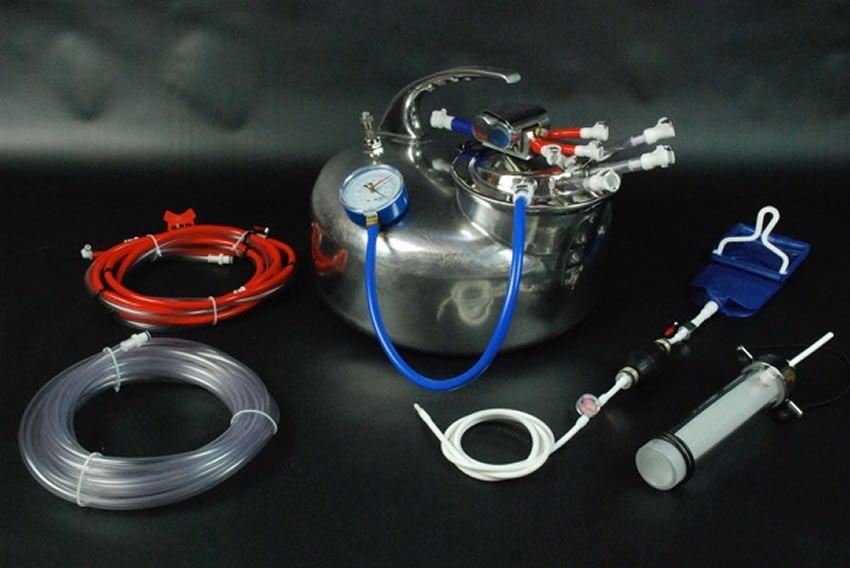 The Serious Kit System looks amazing
They offer a range of liners that can be used in Venus and Tremblr receivers, these liners go transparent when coated in lube and can be a lot of fun. They even have a conductive liner for e-stim fun and games.
SeriousKit offers the broadest range of accessories and attachments, focusing on penis and nipple stimulation. The kit is the most expensive though but if you want the best it does come at a price. I am intrigued by their system and especially the e-stim nipple suction electrodes.
You can get a SeriousKit Male Milking Machine from seriouskit.com.
Conclusion
These three Male Milking Machines offer some incredible masturbatory pleasure for differing budgets. Each is more than capable of delivering reliable hands-free orgasms, and they are so much fun to play with on your own or even with a partner.
One day I hope to review a SeriousKit milking machine, and if I do, I will update this article with my thoughts on it.
Check out these Male Milking Machines, they make an ideal present to someone you love or your own "Happy Little Chap".
Click to Tweet
---
Disclosure
This article does not contain affiliate links, for more information about affiliate links check out my disclosure page.