Delivery and packaging
I did not have to wait long from dispatch to delivery which is always a plus in my book. The whip arrived in a plain box, with nothing to give the postie a shock or a laugh. The whip itself was wrapped in some lovely tissue paper, giving a good quality feel. I also received some wax play candles and jute rope too.


I liked the way the whip was packaged together with the rest of the products that arrived from PCS.
I appreciate the extra touch of the tissue paper as it shows the care taken with their products. Opening the package almost felt like unwrapping a present.
Materials and design
This whip has been beautifully hand made with the finest genuine leather. There is nothing quite like the smell and feel of genuine leather. The technique used has produced a genuinely stunning whip, and the intricate nature of the woven leather gives a luxurious look and feel to the whip. Passion Craft Store has a fantastic array of BDSM Whips.
The tightly weaved leather pieces fit together beautifully and are tight enough to stay in place well. Providing the right amount of stiffness near the handle and the flexibility increases the closer you get to the tail. The leather has been cut expertly to be the correct dimensions as it is worked into place from grip to tip.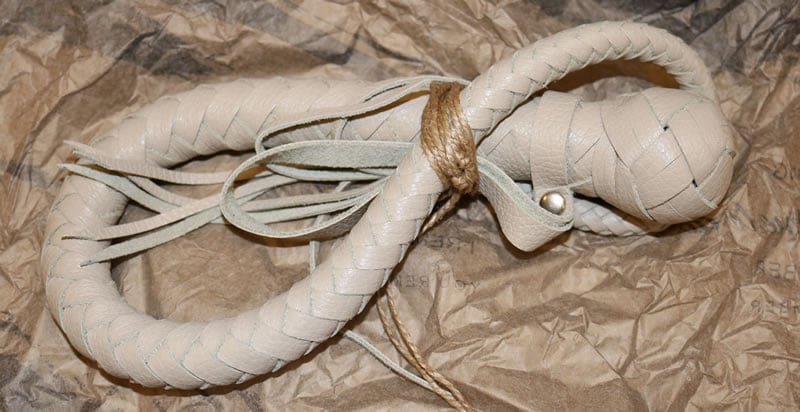 I was blown away as soon as I laid my eyes upon this whip when I unboxed it.
While some may think this is a fairly basic design, I beg to disagree. There is nothing basic about this gorgeous whip. From its gently tapering length to the easy to hold and stunning handle, you can tell that it has been lovingly created by artisans.
The pommel is a good size, shaped to fit well in your palm (well, it does mine perfectly anyway). The fact that a wrist strap is attached in the same leather is a nice touch. When worn around the wrist, it adds the security of knowing it will not slip out of your hand no matter how forceful your swings with it are.


I love the design of this whip, the woven leather feels great in your hand.
The tail end of the whip has excellent flexibility, which allows you to swing it with ease. The end tassels of leather create a range of sensations depending on how you want to use the whip.
It is available in four lengths, 60cm/23.6", 80cm/31.5", 1m/39.3" and 1.2m/47.2", this one is the 80cm/31.5" version and it is a very nice length.
Because these are hand-made to order, it does cause a slight delay; however, it also gives you a lot more choice— thirteen colour options, to be precise.
The Passion Craft Store provide a good selection of colours and lengths. You can even ask for a particular colour mix to personalise it just for you if you so choose.

It is these tassels that allow you to inflict pain or pleasure.
Performance
The design of this whip makes it very comfortable to hold and use. The option of delivering a harsh sting or a light tickle is totally your choice. I found it very easy to use and also a lot of fun too.
If you have not used this type of BDSM Whip before, I highly recommend practising before using it on your sub. As with any new piece of equipment, get to know it before using it on a sub.
Sub 'r' enjoys both the sting and the tickle that can be delivered with this whip from PCR. I found it easy to place accurate blows using it, and the tassels on the end give it an almost cat-o-nine tails feeling for whoever is on the receiving end.
Having used it on sub'r' in several sessions now to get a good feel for it, I found it easy to wield and versatile. You can deliver some extremely painful blows with it if you so choose, but at the same time, it is capable of very light touches that almost caress the skin.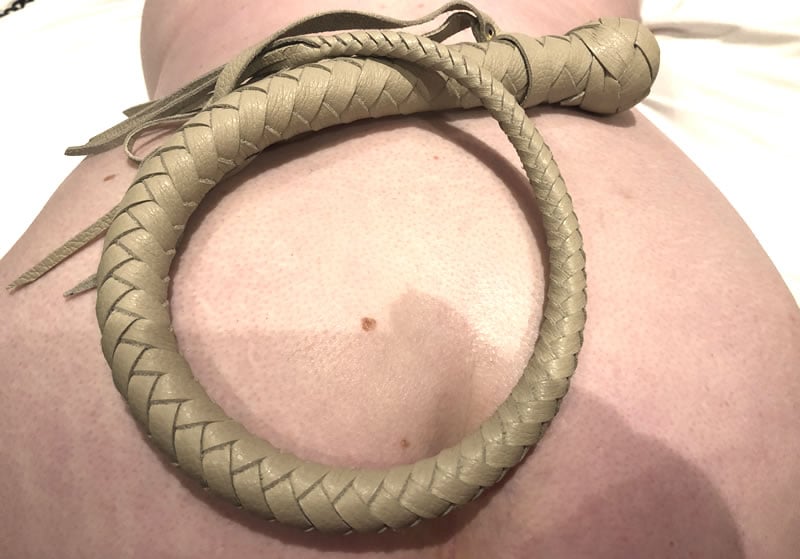 Both sub'r' and I have really enjoyed getting to know this whip - for differing reasons though LOL.
I appreciate the fact that The Passion Craft Store even include some excellent safety advice on their listing:
Safety tips:

Impact play should be done on areas of the human body well protected by fat or muscle.
Avoid kidneys, neck, tailbone, hipbones, collar bones, the head.
Avoid all joints or areas where there is bone especially close to the skin.
Target permitted but high-risk areas only after proper training and experience.

Passion Craft Store
I like it and just love the textures of the woven leather strips, it feels good in your hand, and it certainly looks the part.
I like to start using it to lightly draw the tassels over the skin teasing before applying light strokes to get sub'r' warmed up. It doesn't take her long to get very aroused by this sensation, and it always puts a smile on my face when she pushes her backside towards me, wanting more and more.
You can very easily target just the areas you want, and the range of sensations that this whip can deliver can be exploited to good effect on any submissive.
I found it easy to tease using it or to inflict pain or punishments too. It is this flexibility that makes it stand out against other impact play toys like canes or paddles.
The soft leather fronds at the tip feel fantastic when drawn over sensitive skin, and the sensation they deliver is akin to that from a flogger or cat.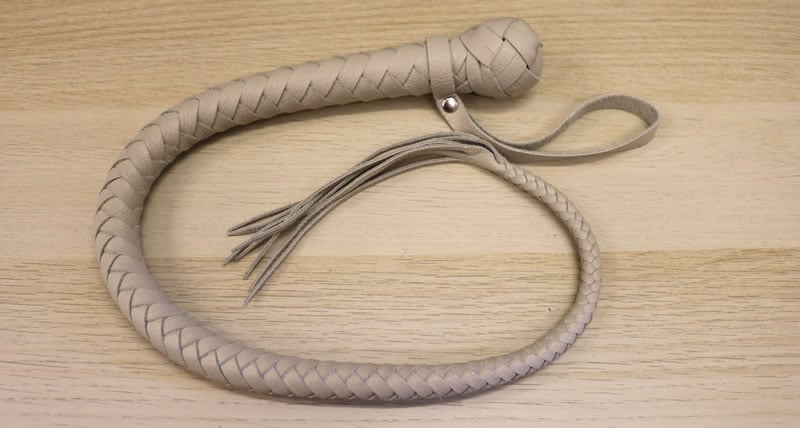 This 80cm/31.5" whip is actually the perfect length for me to be able to use it accurately.
I like this BDSM whip, and it is one that sub'r' now often asks to have included in my selection of impact toys when playing.
After all, that is the mark of good BDSM implements; it should be functional and perform well. If your submissive is actively asking for you to use it on him/her, it obviously satisfies the function and form aspect.
Passion Craft Store has yet again come up trumps, and this is another one of their products that I can give a heartfelt recommendation to anyone looking for an impact play toy that does the job well.
If you love hand made impact play toys then check out Joanne's review of the BDSM Whip with Tassles from Passion Craft Store.
Click to Tweet
Key Features
Key features:
Hand made from the finest leather.
A huge array of colour options to choose from.
Made to order.
Four sizes available.
Delivers nice stingy impacts that can be harsh or smooth.
I would recommend it to:
Anyone looking for a hand made impact toy for their BDSM toolbox.
Anyone looking for a whip in some very nice colour options.
Anyone looking for a whip with tassels.
Anyone who loves fien leather impact play toys.
I wouldn't recommend it to:
Anyone not into impact play (you don't know what you're missing).

These tassels really give this whip a unique feel and it is so much fun to use.
Final Thoughts
Passion Craft Store are artisans in the most accurate form of the word. A quick look around their site will highlight the unique nature of their hand-made products, and I love their eye for detail and the quality of the materials used in the products I have tried so far.
With so many BDSM toys being mass produced in China, India, or Pakistan, it is nice to find small independent companies that still focus on producing quality goods.
The BDSM Whip With Tassels is an excellent example of a hand-made product that looks as good as it feels. It is easy to use, produces some fantastic sensations and with so many colour and size options there really is one for everyone to enjoy.
It is an impact play instrument that will be getting lots of use going forward. If you are looking for your next impact play toy, then I can strongly recommend it.
I was sent the BDSM Whip With Tassel by Passion Craft Store and I would like to thank them for giving me the opportunity to review it for them.
Joanne's rating
Where Can I Get One From?
Grab one of these fantastic whips and choose from four different lengths together with a staggering array of different colour options from Passion Craft Store with prices starting at just 59$ (approx. £41.50 at the time this review was published). Take your impact play to the next level in style with one of these hand made whips.
Check them out and don't forget to tell them that Joanne says "Hi".
Disclosure
This review does not contain affiliate links, for more information about affiliate links check out my disclosure page.