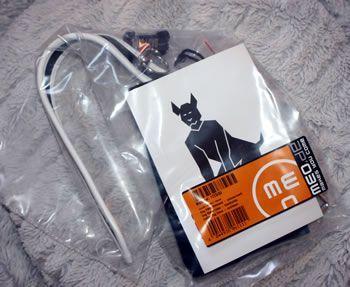 A quick word on collars in general, they are a staple feature of most BDSM relationships and are a potent symbol of submission and even ownership. For a submissive a collar is a very comfortable thing to wear psychologically, it can be relaxing, and when I wear mine, I immediately feel all of my problems drain away.
I am fortunate to have such a beautiful collection of collars, but each has a special meaning or memory associated with it.
Collars should be chosen with care and should be selected with the wearer's personality and likes in mind. This collar is a themed puppy play collar, and while this has been my first introduction to puppy play, it was most enjoyable. Anyway enough with the generalities on with the review.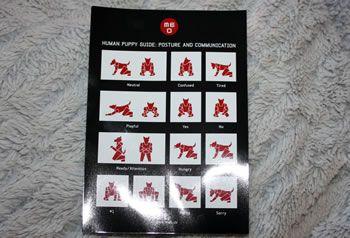 One thing I love about the MEO range of products is the minimalistic packaging used. This product comes in a resealable plastic pouch that also contains a BAD PUPPY information card which I thought was fantastic. This minimalistic packaging is good for the environment and keeps costs down.
The back of this card features communication postures for a puppy to use during play, and it is a great way to communicate when enjoying puppy role play games.
These postures cover all of the basics and are a great way for anyone new to puppy play to get into the scene. You can, of course, build on these postures with your pup to expand his or her vocabulary.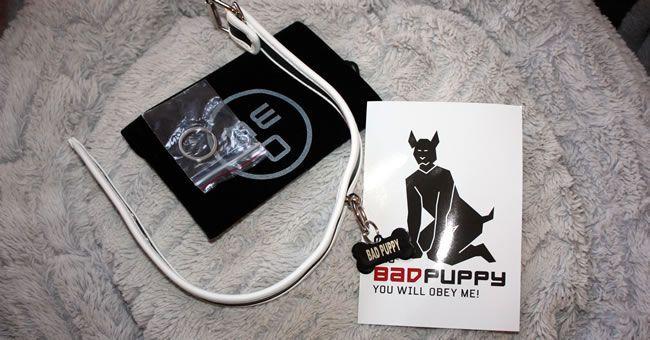 You get a storage pouch, a fantastic pup posture guide and a spare ring with your collar
You also get a MEO Play With Me storage bag for your collar and again this is fantastic. I have a huge box full of BDSM toys and paraphernalia, and it's nice to be able to store things neatly and securely in storage bags, They also help to keep your equipment in first class condition.
I must admit though that as soon as I felt the leather of this collar, I was taken by it. It is just so soft and luxurious. When I reviewed the Black and White Leather Bondage Collar for Meo, I commented about how stiff the black leather was, making it almost a posture collar on me. This one is the opposite; it is just so soft and comfortable having a very luxurious feel to it.
I love it, and it was with a very heavy heart that I agreed to let it become the new play collar for sub 'r'. She is starting to enjoy experimenting with puppy play and so it is only natural that this collar goes to her.


The collars furniture is solid and excellent quality
Before she got to earn this collar though, I had lots of fun with it. Featuring a black leather core with extremely soft white leather folded and stitched around its edges which gives it a high contrast look that is very BDSMish - is that a word?
The locking buckle and riveted eyelets on the collar give it six adjustments for fit, and the buckle features a roller to ease tightening of it.
The front of the collar features a metal 'O'Ring from which hangs the most delightful dog tag I have ever seen. It is black anodised aluminium and features the words "BAD PUPPY", and I love it.
This dog tag finishes the collar off well and makes it perfect for puppy play, and any pup would be honoured to wear it around their neck.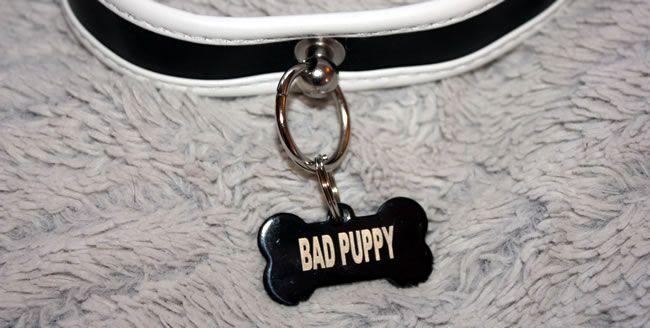 The BAD PUPPY dog tag steals the limelight and look fantastic
The collar is 1"/2.5cm wide and 18.5"/47cm long. The leather used is PU Leather, and this makes this collar vegan friendly.
One thing I love about this collar is its comfort; this isn't a collar that will put your submissive on edge. It is very comfortable to wear even for extended periods of time. The soft white leather feels very nice against your skin and covers the cut edges of the black leather completely.
The 'O' Ring at the front as well as carrying the dog tag can be used to restrain your puppy or to put him or her on a leash to better control them, especially in a training environment.
This was my first introduction to puppy play, and I loved it. Playing with a ball or a rag toy was a lot of fun and drinking from a bowl was similar to kitten play and lots of fun (I wish it were milk though instead of just water, kittens have it much better).
Meo.de have a fantastic range of puppy play products, and I am also reviewing a set of puppy knee pads for them so watch out for that review soon. Puppy play is a lot like kitten play; it allows you to leave all of your troubles at the door and regress into a primitive animal state where all that matters is pleasing your dominant, playing and sleeping. It might sound a bit weird until you have tried it but like most role-play scenarios it is a lot of fun and what you make of it.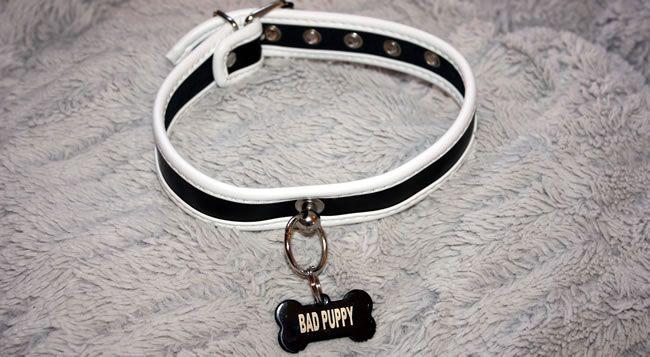 This collar epitomises function and form very well indeed
As a play collar this one excels, and sub 'r' loves it. It is comfortable for her and lightweight, and she loves being on a leash anyway, so it is perfect. She also loves the Bad Puppy dog tag, and it has stayed on the collar. She now wears it with pride when visiting swingers clubs or BDSM events.
I often wish that there were more colour options in the world of BDSM products and Meo have me covered there as this collar like lots of other collars and restraints is available in a myriad of different colours, so there is something for everyone's tastes. It is definitely a good idea to check out their extensive range of collars and restraints.
This is a collar that is going to be getting a lot of use, and I know that sub 'r' will look after it as she looks after every piece of BDSM equipment that she owns. She looks lovely in it as I am sure you will agree.
Puppies get the best kit, check out this review of a Black & White Dog Slave Collar from @MEO_TEAM.
Click to Tweet
Key Features
Key features:
Soft and flexible PU Leather
Vegan friendly
Fantastic BAD PUPPY dog-tag
Sturdy metal fittings including riveted eyelets
'O' Ring at the front
Pup guide included
Storage bag included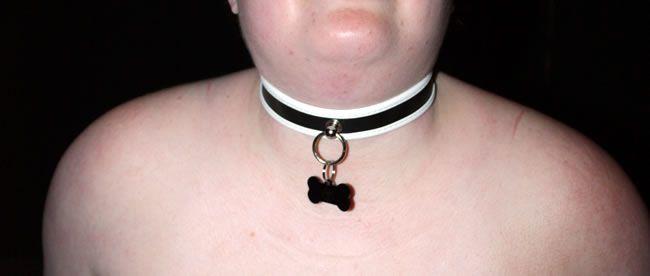 Submissive 'r' loves this puppy play collar and she enjoyed earning it
Final Thoughts
The BDSM Dog Slave Collar is another fantastic collar from Meo. I love its high contrast look coupled with the oh so cute BAD PUPPY dog tag. This is a comfortable collar to wear for long periods of time, and it is one that could be worn as a fashion accessory when out clubbing.
It is best used in a sub/dom scene though, and it is perfect for puppy play or any other BDSM session as well.
I love the fact that Meo supplies it with a storage pouch and that it comes with a puppy posture guide to help anyone new to pup play to communicate effectively while in character. There is nothing not to like about this collar, and it is going to be treasured by sub 'r' who like me adores it. If you are looking for a comfortable new collar, you won't go wrong with this one.
I was sent this Black & White Puppy Slave Collar by Wolf at Meo.de and I would like to thank him for sending it to me so that I could review it for them.
Joanne's rating
Where Can I Get One From?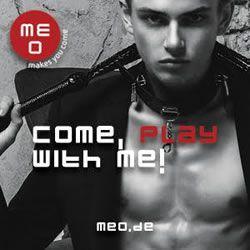 Grab one of these great Puppy Slave Collars from meo.de for just 39,00 € (£34.37) which is a great price considering its quality construction. I am sure that sub 'r' is going to really enjoy hers for a long time to come and I hope that your play time is as varied and interesting as ours.
Be sure to check out their other great BDSM products too.
Check them out and don't forget to tell them that Joanne says "Hi".
---
---
Disclaimer - I was sent this collar to review free of charge and this has in no way affected the outcome of this review. This post contains affiliate links and if you purchase something when you follow one of these links I may receive a small commission at no cost to you. For more information check out my disclosure page.